Canal Boating, the perfect post lockdown UK holiday
The reasons why you should be barging on the British waterways
So, with lockdown slowly easing and the longing to be on an idyllic holiday away from it all. We have the picture-perfect remedy for social distancing. A break that is a breath of fresh air to your well-being and an opportunity to be at one with nature.
The beautiful Wiltshire countryside from the Kennet & Avon Canal
Yes, a narrowboat holiday the ultimate quintessential British getaway. Meandering along the winding canals at a few miles an hour, passing through the lush English countryside.

Surely a barging holiday ticks all the Covid-19 deterrent boxes.
Here's why a canal boat trip is for you.
This is so easy to do on a barging holiday, as you have your own boat and your own space. You will also just be with your own family.

When you jump off the boat to open the locks, there is plenty of room to social distance. These locks are huge and allow ample of space for you to manoeuvre.
Preparing a lock on the Kennet & Avon Canal
If someone is on the towpath ahead just wait for them to amble by and then jump off the barge.

Majority of the time you are in the open-air, and if another narrowboat passes, you'll undoubtedly be 2 metres away.
Ideal for your well-being
This is an essential reason why you should be embarking on a narrowboat holiday. I've never known a break to force you to slow down and relax so much.

There are just two paces of life really, one is slow, and the other is stop. It does wonders for your mental health. You are at one with nature, and you'll be hard pushed to keep up with the ducks wading by your porthole.
The fast and slow pace of life
The DIY chores are a distant memory, and it's the cows, otters and kingfishers that you'll be dreaming about, once you've savoured your gin and tonic sundowner.
Kingfisher on the banks of the Kennet & Avon Canal
Boaters are a friendly bunch too, giving you a little nod or a wave as they drift by.
Check with you chosen barging operator prior to arriving, but more often than not your pet can hop along for the cruise too.

There may be a charge; however, that's a small price to pay for your creature comforts.
When moored up for the evening, you and your four-legged friend can go and discover the surrounding footpaths and parks.
Whether you're planning a road trip, plotting a hiking route or cycling one of UK's scenic trails, there's nothing quite like using a tactile paper map.
The Ordnance Survey folk are here to help, with maps, guides, gadgets and more. Take a browse through their vast array of maps and grab your ideal companion for your adventure.
One of the things that pleased me when we headed off on our family trip was that everyone, young and old wanted help out. It was all hands-on deck when it came to the steering of the barge and the cooking.

Then when it was time to jump off and open the locks, we were fighting over whose turn it was. All shipmates wanted to get involved, it was just great fun for everyone.
Canal boating is such a fantastic option for a family holiday, particularly when you are trying to keep social distancing down to a minimum.
Father & Son managing a lock
Don't worry if this is your first time on a canal boat, you're given all the training you need before you head off along the waterways.
The Skipper (Dad) guiding the boat
You'll receive a demonstration on how to operate the locks. However, by the end of the trip, you'll be a professional at this.
 
How to manoeuvre your trusty steed and all the 'Do's and Don'ts' to make this a memorable trip for everyone to enjoy.
Just be aware of your surroundings and others, don't be complacent at the strength of the barge and watch your speed.
As mentioned, this is an ideal holiday for keeping your distance from others, as you can bring all your own food, drink and other provisions if you wish. Then conjure up your favourite dishes together.

When we embarked on our canal boat holidays, the riverside pubs were open and thriving. However, with the way that businesses are now having to adapt to the 'new normal', they may now be offering take-outs. So, keep an eye out.
On the outskirts of Hungerford
Having said that this is also an excellent opportunity to support the local farm shops and independent stores that maybe dotted along the canal side. Moor up and have a stroll into the local town or village, you never know what ingenious ideas folk are coming up with now.
A canalside rest stop - pre Covid-19
I would suggest you check with your canal boat operator the measures being taken around handovers and barge hygiene.

Yes, you should continue to wash your hands and use a sanitiser. However, as you are living as one household in your own space, it is a lot easier to manage.
Looking out from your narrowboat
Also, remember each narrowboat is given their own 'lock key' you may even be given two. So, there is no need to use a lock key from another barge. Once you have jumped back on the boat wash and sanitise your hands and you are good to go.
Moored at Hungerford on the Kennet & Avon Canal
Keeping up with the exercising
Another reason canal boating is an ideal lockdown-easing break is that you can keep up with your new exercise regime. As not only are there miles of footpaths that you can stroll along once your boat is moored up. But you can also bring along your push bikes and take to the bridleways.
Negotiating a swing bridge on the Kennet and Avon canal - it's all exercise!
Or if yoga is your go-to workout, ensure you remember your mat.
The Canal River Trust website is particularly useful for planning your trip. It gives detailed information on the canals and the surrounding facilities.
If you are new to boating holidays or even if you are an 'old hand', ensure you check out the route you wish to take.

Have a plan of where you would like to stop along the way or moor up overnight. As you don't want to be manoeuvring your barge in the dark.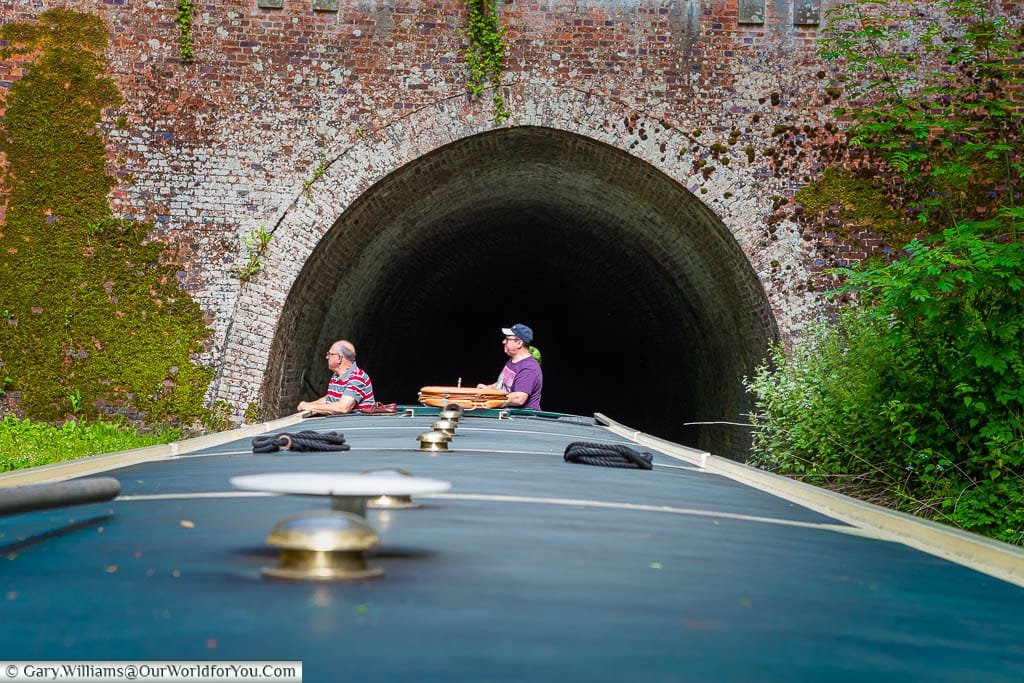 Exiting the Bruce Tunnel - all part of the plan
Allow plenty of time for your route as you are only travelling at a few miles an hour, and you want to make the most of this slower pace of life. You may find that if the waterways are busy, that it will take longer to negotiate the locks than you expected.

My brother had created a spreadsheet of where we would be at given times. This plan was immediately scuppered when we had to travel a couple of miles in the wrong direction to turn the barge around.
It can be slow going at times
This leads me on to other key factors. Firstly, you will probably not be on a circular route, so you will need to bear in mind that you will have to turn the narrowboat around. Some of the canal boats are long, so ensure the turning point is large enough.

Secondly, if there are a few of you on board, you may need to top up your water levels or dispose of your rubbish. Therefore, make a note of the stopping points and boating facilities en-route.
A few tips on canal boating etiquette
First and foremost, respect your fellow bargers, some folk live on narrowboats 365 days a year.
Home to many - the British Waterways
One of the most important issues is your speed, on British canals the speed limit is 4mph. When passing moored boats, you must slow down further as you do not want to create a swell when you cruise by. As this may rock the moored barge and dislodged the mooring pegs/stakes.
Ensure you dispose of your own rubbish sensibly, as I mentioned there are facilities along the canal for you to utilise. You should not be leaving your waste for the wildlife to discover.
A personal narrowboat moored up
Always read the signs on the locks as some operate differently to others. You may be required to leave a lock open.
Lastly and by no means least, help your fellow bargers. If there are only two people on a boat, it will help them if you were to assist in opening one of the locks.
* This post may contain links to affiliated sites where we earn a small commission at no additional charge to you.
Inspired to take to the British waterways?
Enjoying life on the waterways
It's a really great way to unwind, relax and slow life down a little.
If you're interested in reading our adventures from our Kennet and Avon Canal trip, then why not check out our post 'I would do it all again.'
The open roads await, pop in your location details then
Rental Cars
will search well-known car hire brands and discover the deals that suit you the best.
(Why not Pin It for Later?)
If you enjoy what you see, and you'd like regular updates then join us for a monthly newsletter.