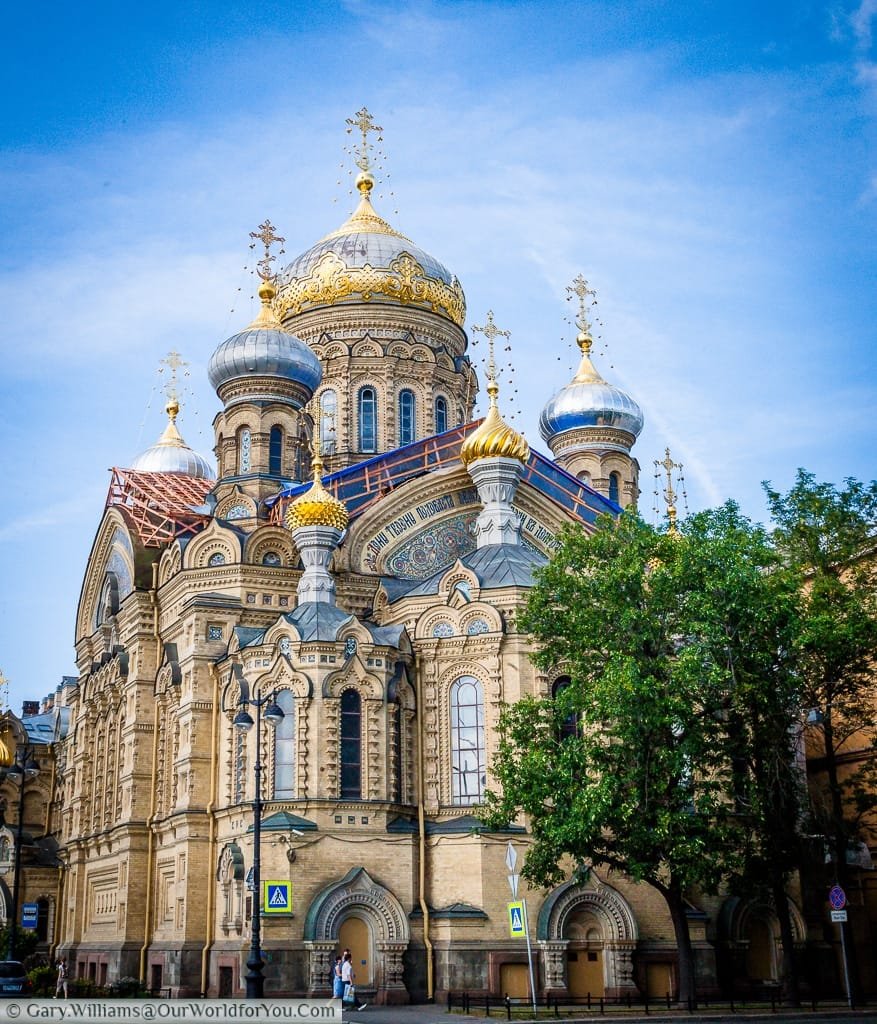 A city of mystery to me: St Petersburg, Russia
 Here's why I wanted to visit...
St Petersburg is a city I have wanted to visit for years, and every year I have thought 'right for my birthday this year it is going to by St Petersburg'.
St Isaacs from the Moyka River
My birthday is in August, so at about January time I start looking at the flights and they are so expensive, so then I put it off for another year.

Eventually I thought no, enough is enough I really want to see this city, I'm going to book it, so very early January 2014 I booked the flights.
Who would have predicted that only 10 days later, Russia decided to pick on Ukraine and spark civil unrest throughout parts of the country…...why did it have to be 2014?
 
Anyway, it's too late we're going, we'll just have to pack our hard hats.
This Global Block does not have any content.
This city has always evoked mystery and clandestine rendezvous to me, so it was that feeling and the amazing architecture, like I had never seen before, that attracted me to St Petersburg.
The Beloselskiy-Belozerskiy Palace
Russia is so rich in history from the Tsars, the communism and the role it plays in the world today.

These are just a few reasons why St Petersburg was my birthday destination for 2014;
If you've yet to discover the incredible history and architecture in St. Petersburg, you're in for a treat. I found this DK Top 10 Pocket Travel Guide invaluable, they're extremely informative, easy to follow and the pictures and maps tempt you into discovering more.
We used a previous version of this book to plan our St. Petersburg adventure, now you can grab the revised copy.
Saint Petersburg's distinguishing architecture
Just by undertaking a little research and flicking through some websites I anticipate just how incredibly breath-taking the architecture is going to be throughout St Petersburg.
Here is a selection of the historic buildings I'll be going on the hunt for;
- The Hermitage museum – Winter Palace
- Palace Square
- Church of The Savior on Spilled Blood
- St Isaac's Cathedral
- Peter & Paul Cathedral
- Peter & Paul Fortress
- Kazan Cathedral
- Mariinsky Theatre
- House of Books (Singer House)
- St Nicholas Naval Cathedral
- The Admiralty
The Church of the Savior on Spilled Blood
Cathedral of Our Lady of Kazan
Don't just take our word for it!
If you're tempted by the intriguing city of Saint Petersburg and its beautiful architecture and waterways, take a look at the '
Visit Saint Petersburg
' official website.
Discovering the canals and waterways;
Saint Petersburg has often been referred to as the 'Venice of the North'. With the love I have strolling by canals and rivers and gazing across open seas, I couldn't wait to explore.
Well, I'm not too sure what we'll find on the cuisine front. Surely Beef Stroganoff must be on the menu, along with Blini and Borscht.

The local tipple has to be Vodka, doesn't it? Although, who knows what other beverages Russia is famous for (there is only one way to find out).
This Global Block does not have any content.
These enchanting wooden dolls with their family hidden inside, will always be a lasting childhood memory for me. Their Russian name is actually
Matryoshka Dolls
.
Mmmmm… well our mini break was in early August and the research I had completed for this time of year, was that the temperature should be early 20's.

How wrong was I, it was early 30's (lovely if you laying on a beach, not so good for a mini break)?
A beautiful weekend in Saint Petersburg
This Global Block does not have any content.
Inspired to visit Saint Petersburg, Russia?
Does the yyy tempt you? would you like to see the zzzz?
Why not checkout the latest deals on Booking.Com?
Search for your flights in one easy place with
ebookers.com
and open up a world of options. Over 400 airlines are scanned for your favoured routes and chosen dates.
(Why not Pin It for Later?)
* This post may contain links to affiliated sites where we earn a small commission at no additional charge to you.