A little taster of what you'll discover
Sandeman Rabelo on the Douro
Gary and I really enjoyed our visit to Porto.
It was recommended to us a few times by a friend of mine, whose husband is Portuguese, and she knew we would love it.
So, we also had some tips on what to do and where to eat.
Here is a selection of things that we recommend you should try and squeeze into your trip.
Our recent new found love is Portugal, it is such a beautiful country. While planning our trip, I used the DK Eyewitness books. I find them extremely informative, easy to follow and the pictures and maps tempt you into discovering more.
We used a previous version of this book to plan our north to south Portuguese road trip, now you can grab the revised copy.
You've probably seen images of the iconic Dom Luís I Bridge in Porto, well this is definitely the place to head for an incredible view across the city rooftops. Take a stroll over the bridge towards the Gaia side of the river. Believe me, you'll keep stopping to take photos.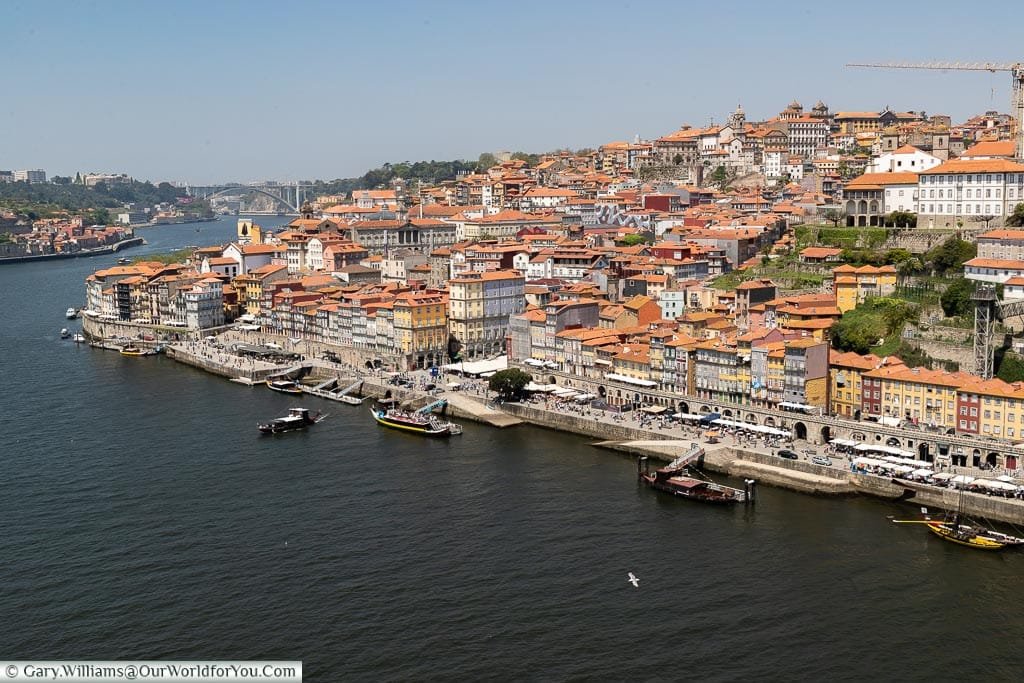 Once across the bridge take the final climb up to Mosteiro da Serra do Pilar, from here you'll also get the Dom Luís I Bridge in your shot as well. It's most certainly worth heading up to.
Looking over Porto from the best viewpoint
One of the most prominent buildings in Porto is Sé do Porto, its cathedral. This eye-catching building sits high above the city, overlooking the bustling streets below.
Take a wander inside as the Gothic cloister is impressive. Encircled by blue and white Baroque azulejos, which were added from 1729 -1731. It's free to enter the Cathedral and just a few euros to visit the cloister.
Inside the Cathedral cloisters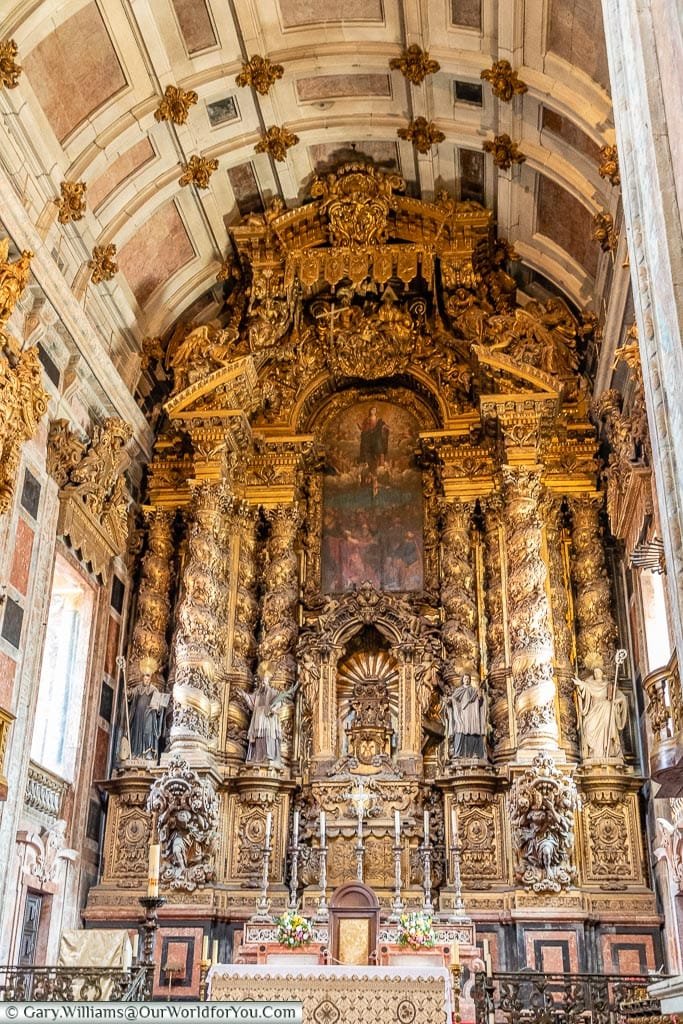 The altar in the Cathedral
Ahhh, you can't visit Porto without taking a Port tasting tour, and there are so many to choose from. We decided to head to the Sandeman Port house.  They run different types of tours depending on which Ports you would like to sample at the end.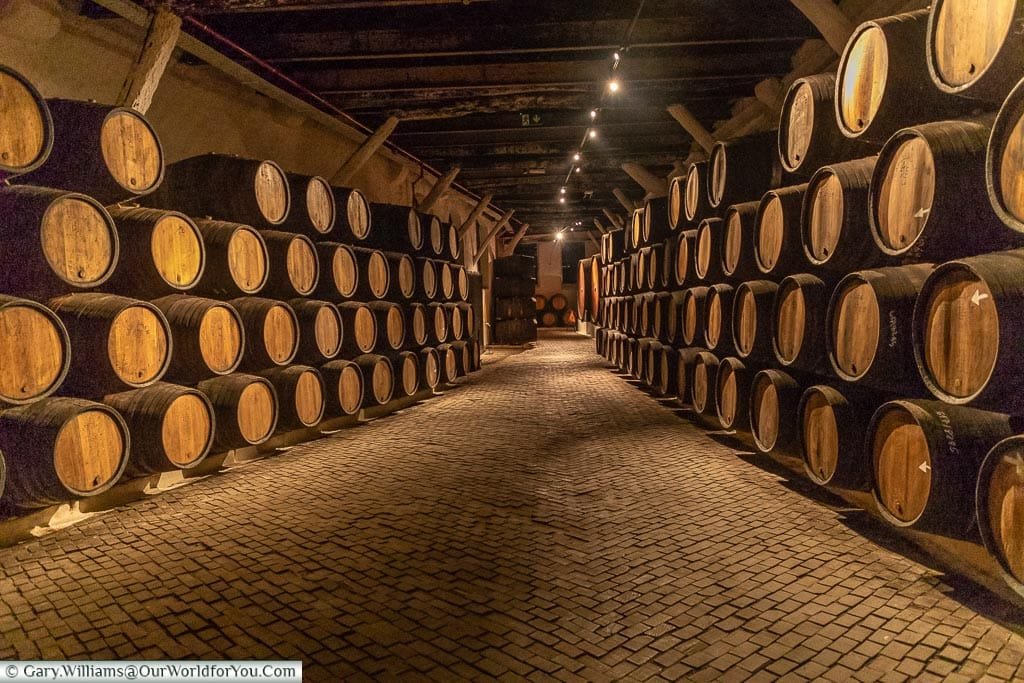 Ageing barrels, Sandeman house
You may want to take the weight off of your feet, if you've done a lot of walking, or you just fancy a tram ride. I suggest taking one of Porto's Heritage Trams. Route 22 is a circular route and takes you through some of Porto's popular spots, and it's a great experience.
5
Visit Livraria Lello bookstore
This little bookstore built in 1881, is beautiful inside and out. Although I have to confess now, we didn't manage to get inside due to our timing; however, I recommend you do.
My advice is to arrive early or late to visit Livraria Lello.
The queues are long, and you must buy a €5 voucher from a shop close by.
The voucher can be redeemed against a book purchase.
6
Stroll the Ribeira – day and night
Ok, I suppose this may go without saying, however, head down to the Ribeira in the evening as well as during the day. There's a lovely relaxed atmosphere and seeing the city lit up at night it looks amazing. Oh, and you could grab a sneaky Port as well.
The Luís I Bridge - Ponte Luís I
Start creating your own Portuguese adventure and discover the colourful lanes of Porto for yourself, easyJet & British Airways are just a couple of options.
7
Dine at the elegant Majestic Café
For a little bit of indulgence head to the Art Nouveau Majestic Café along Rua Santa Catarina. This attractive café which opened in 1921, not only serves exceptional coffee but the surroundings are beautiful too. (You may have to queue for a table).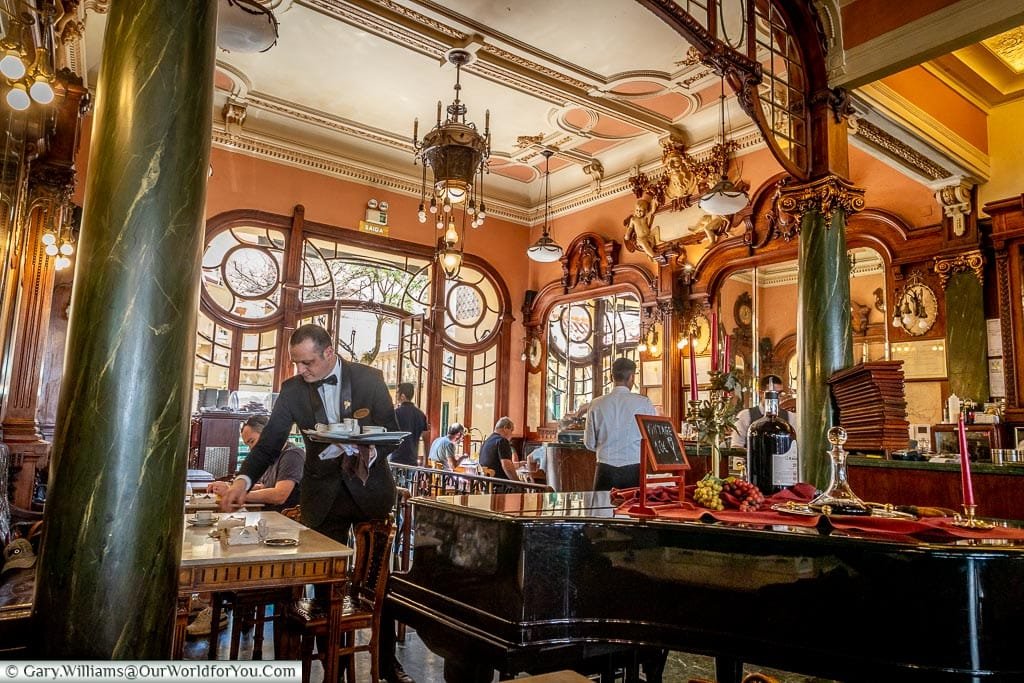 The interior of the Majestic café
Well if you've made it to the top, on the Gaia side of Porto, your first thought may not be let's jump on a cable car back down. However, I recommend it for the wonderful views you get across the Old Town and the experience as you soar high above the red rooftops of the Port houses.
Taking the cable car down
Something to make your travels easier?
9
Enjoy Porto's Architecture
One of the things I really enjoyed when visiting Porto was just wandering through the colourful streets. There's a fantastic mix of architecture around every corner.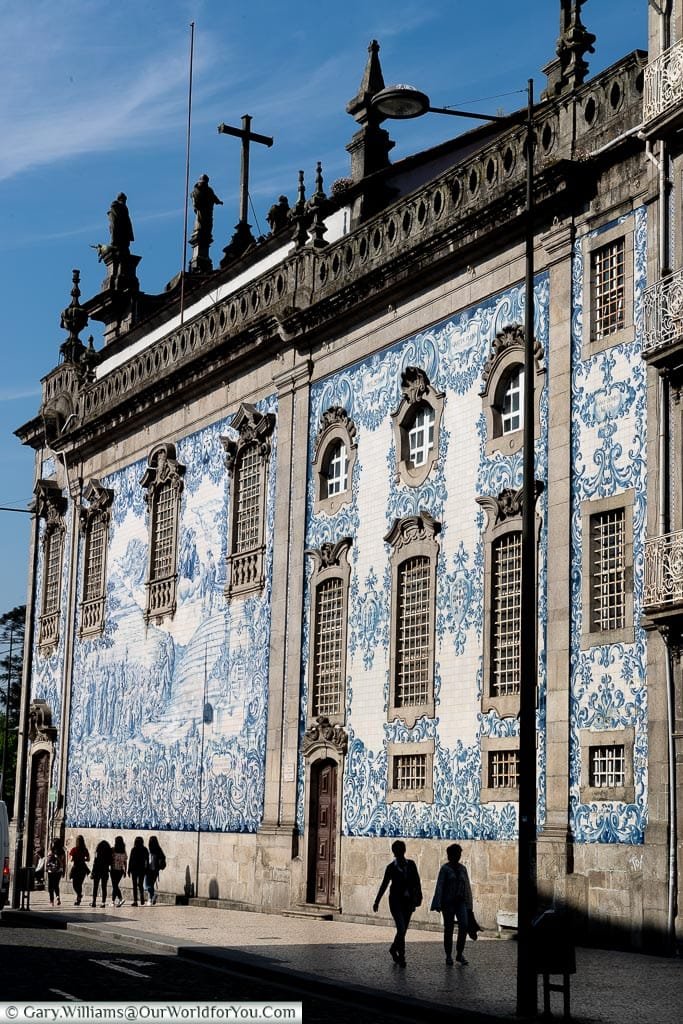 The iconic Blue & White tiles
Who could resist the wrought iron balconies teetering over the lanes and the locals sharing a story across the alleys?
You need to keep in mind before you order a Francesinha that this is certainly not a dish to choose if you just want a light snack.
The Francesinha is native to Porto, and it's essentially a sandwich; however, inside is ham, smoked sausage, regular sausage, steak, cheese then a tomato & beer sauce. If you're feeling hungry, you can also add an egg (we didn't).
Café Santiago for the best Francesinha
My friend's Portuguese husband said Café Santiago serves the best in town.
Discover more of historic Portugal and tour its picturesque countryside around the Douro Valley or even head south to the Algarve coastline. You can do it all on a road trip, SIXT car hire cover all budgets and allow you to pick up and drop off at different destinations.
11
Marvel at the train station foyer
Now, you may think that adding a train station foyer to a must-see list is a bit odd, but you need to visit Porto's São Bento train station and see for yourself. The azulejo tiling in the entrance hall is so striking it's very impressive. The tiling tells a picturesque story of Portugal historic past.
The ticket office of São Bento train station
Something from Get Your Guide?
Why not check out what else is on offer through Get Your Guide.
(These options are provided by GetYouGuide.Com. We will earn a small commission, at no extra cost to you if you book through our site)
Explore the streets or while away some time enjoying a glass of Port by the Douro River. Porto has so much to offer
Why not checkout the latest deals on Booking.Com?
For further information on things to see and do in Northern Portugal, take a browse around Visit Porto & The North local tourist website.
(Why not Pin It for Later?)
* This post may contain links to affiliated sites where we earn a small commission at no additional charge to you.