A day in and around Harare, Zimbabwe
So many smiles on the streets of Harare
We were staying with relatives during our visit to Harare and, they had lent us a set of wheels for the day.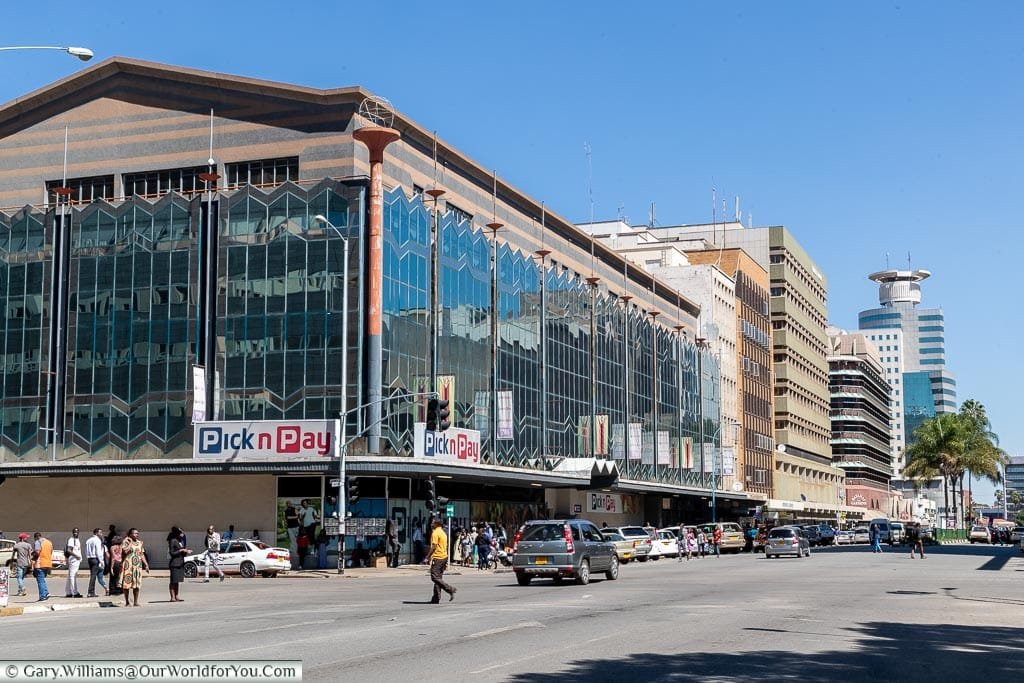 I know it's not always convenient but, if you are up for negotiating the hectic Harare traffic.  The oh so frequent pothole, it's the easiest and quickest way to get around Harare.  To be perfectly honest, it's part of the fun and certainly memorable, you know you are in Africa.
Saying that, if you're in Harare for a stopover or layover, there's enough to keep you amused in the heart of Harare city.
Off to the Newlands craft market in Harare
On our way to Harare city centre, we wanted to pop into the roadside Newlands craft market. We'd seen these handicraft sellers a few times along Enterprise Road. And as we were getting to the end of our 3-week Zimbabwean adventure, we wanted to take home a couple of the stone sculptures.
I know when we are back home in the UK seeing one of the little souvenirs will bring back so many memories of the trip.
If you're considering an adventure around Zimbabwe, then your in for a holiday of a lifetime. I always find it incredibly useful to plan our trips with the help of a guide book.
Take a look at this informative Bradt guide, it will give you great tips and advice.
Would you like your hippo in wood, stone or wire?
Parked up, we strolled into the market, which is spread out along the side of the road. Immediately the local vendors are greeting you with smiles and reassuring you that the items they have on their stall are the best.
So much to choose from at Newlands craft market
There's no pressure, we take a look around see if there is anything that catches our eye, then move onto the next stall.
It's slightly overwhelming at first as you don't know which way to look as there is such a selection. We didn't arrive with anything specific in mind, so it was a hippo and elephant overload. The choice was yours; you could have it in stone, wood or wire.
Newlands craft market along Enterprise Road
So many memories of Harare
We'd visited Zimbabwe 20-years ago, and there were so many familiar-looking pieces; however, I couldn't resist it. The locals are so friendly, and we found some great keepsakes that will ensure our memories are topped up for years.
Stoneware at Newlands craft market
A stone hippo, a wire warthog a batik wall hanger, and a couple of other stone carvings are what we narrowed it down to. Although if you had a craving for a 12-foot wooden giraffe or a life-size metal rhino, then your prayers would be answered. 
Back in the truck and we're off into town, and we're heading for the council car park in Park Lane. Harare's Park Lane is a little different from the one in London; however, the parking is a lot cheaper, at two Zimbabwean Bond (40p), what a bargain.
Just nearby are Harare Gardens, which is a pleasant park to stroll through and to catch some shade in the heat of the day. We pass by fruit sellers, ice cream vendors and friends out enjoying themselves.
Take a peek at our other Zimbabwe posts and start creating your own adventure for yourself.
Search for your flights in one easy place with ebookers.com and open up a world of options. Over 400 airlines are scanned for your favoured routes and chosen dates.
Along Central Avenue in Harare are few iconic buildings, the first is the National Gallery of Harare. The National Gallery of Harare was opened by Queen Elizabeth the Queen Mother in 1957. It's a Contemporary Gallery and home to thousands of local pieces of art.
National Gallery of Harare
Just along from the art gallery is Cecil House. Part of the National Museums and Monuments of Zimbabwe. This attractive single-storey building with its ornate scrolled ironwork gable was constructed by the De Beers in 1901. Cecil Rhodes, the founder of De Beers, died the following year and was laid to rest at Matobo National Park, just outside Bulawayo.
Cecil House, Central Avenue
On the corner of Central Avenue is a very modern-looking building and home of the Social Security Centre.
Social Security Centre, Harare
Samora Machel Avenue, Harare
We then head onto Samora Machel Avenue, this is a huge road with four lanes on each side of the wide central reservation. When we'd driven along this road previously, it was unbelievably chaotic, commuter buses dodging in and out. You have to avoid them, as they don't necessarily avoid you.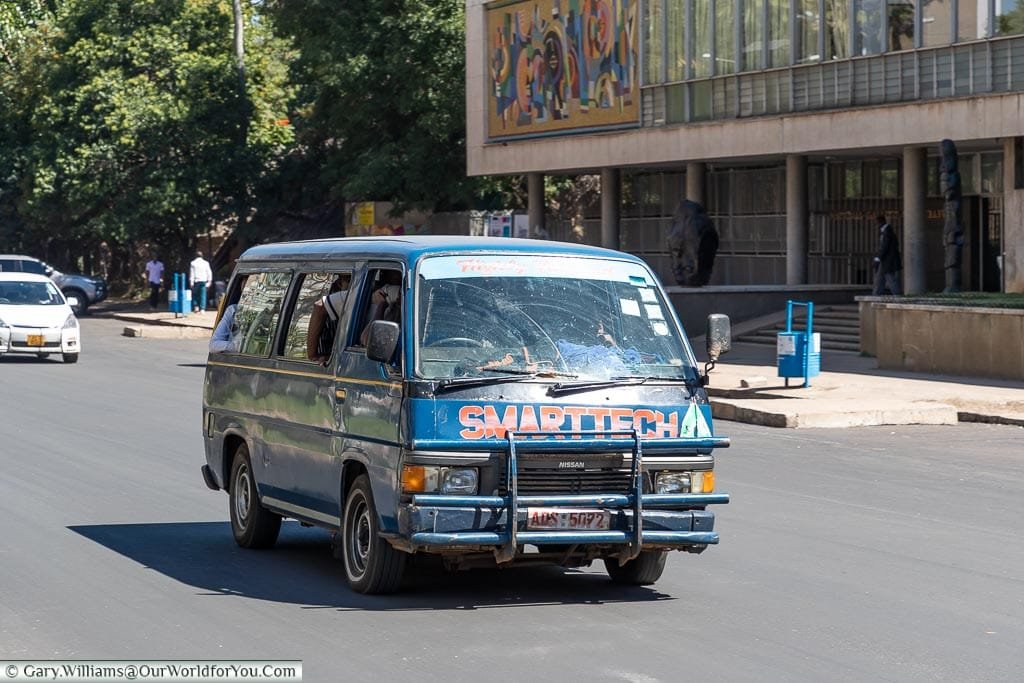 'Smarttech' commuter bus along Central Avenue
Along this busy road is the tallest building in Zimbabwe, the New Reserve Bank Tower. Built-in 1997, it stands at 394 feet (120 metres), which isn't that high in comparison to some sky-scraping city centres, but still looks quite impressive, nonetheless.
Just down from the New Reserve Bank Tower, is the Pearl Assurance House another one of Harare's standout buildings, which constructed in 1959.
Have you visited Zimbabwe or any of its neighbouring countries, share with us your memories and drop a
comment
below?
In the other direction along Samora Machel Avenue, is the High Court of Zimbabwe which is housed in the elegant cream and grey Mapondera Building, this was built in 1932.
Then there is the immaculate Constitutional Court and Supreme Court of Zimbabwe, in the now Mashonganyika Building.
Originally when it was built in 1899, it was the Standard Bank building, then the Charter House and since 1926.
It has the name it bears today.
Mashonganyika Building 1899
There was another old attractive building along here; however, we were told politely by a policeman not to take a photo of it.
We stroll along to Africa Unity Square, also known as Cecil Square (in honour of Cecil John Rhodes). It's a great place to sit and watch the world go by. In the past, this square has played a significant role in Harare's history.
Unity Square was built in 1890 with some interesting buildings located around the perimeter. One of them being the Meikles Hotel, which was opened in 1915. Thomas Meikle was one of three brothers who emigrated to South Africa from Scotland in the late 19th-century.
Along one side are traditional flower sellers, who have become a familiar sight on the square, although of recent years their numbers have become fewer.
Flower sellers in Africa Unity Square
We wandered further around the city centre, then headed up to the Roman Catholic, Sacred Heart Cathedral. It was quite subdued inside, compared to some cathedrals we'd visited around the world, and also had a timber roof. 
The nave of the Sacred Heart Cathedral
Spiral staircase inside the Cathedral
If you would like to try some Zimbabwean cuisine, particularly 'sadza' head to Gava's, it serves "sadza with soul". Sadza is traditionally eaten with your fingers and mixed with a stew of your choice.
This was a great experience within a very relaxed environment, although try and arrive early as Gava's is popular with the locals.
It was really pleasurable strolling through Harare city centre. Dotted around the streets are people selling refreshments, these young ladies buying their juice, were more than happy to give us a smile.
Beaming smile at Flavourlitious
While we wandered around Harare, we were stopped a few times by local Zimbabweans who just wanted to chat to us and say hello. It was very heart-warming that they made us welcome. I think tourists are a little few and far between now.
Lady in red, oh, and grey!
I love this photo; it just says 'Africa' to me.
Not too many people could wear a lovely summer red dress, a knitted bobble hat and carry them off so well.
Bearing in mind that our visit to Zimbabwe was in April, I also had to do a double-take when I spotted a guy walking along the street wearing a Christmas jumper.
We now jumped back in the truck as we were heading in the direction of Harare Airport, as this is where the Shona Sculpture Gallery is located.
The Shona Sculpture Gallery has an indoor gallery with smaller pieces of art. Within its lush, secluded garden, there are some beautiful larger pieces nestled amongst the foliage.
"Adult Literacy" by Jonathan Mhondorohuma
The Chindu "Wedding Gift" by Tonderai Sowa
The works that are on display here are incredible, the sculptures are all produced by Zimbabwean artists, some of which are by 3rd generation carvers.
There was one exhibitor that was born in 1916 and is still carving today.
Entrance to the Shona Sculpture Gallery was free of charge, and we were given a one to one tour and a detailed explanation of each work of art.
A Shona Sculpture, the elegance is beautiful
A Shona Sculpture, incredible colours from one piece of stone
I must admit some of the pieces were astounding, I would have loved to have taken one home.
Since returning home, I found out that their sister company, Guruve, is only around one hour away from me. So, the seed was planted, and for my birthday I bought a piece of work by Jonathan Mhondorohuma. It's beautiful, and she just makes me smile.
* This post may contain links to affiliated sites where we earn a small commission at no additional charge to you.
Inspired to visit Harare?
Search for your flights in one easy place with
ebookers.com
and open up a world of options. Over 400 airlines are scanned for your favoured routes and chosen dates.
(Why not Pin It for Later?)
If you enjoy what you see, and you'd like regular updates then join us for a monthly newsletter.