A touching visit to Dachau Concentration Camp Memorial Site, Germany
This can never be forgotten
What I find incredible to comprehend at times is that Adolf Hitler became Chancellor of Germany in 1933. We so often associate him with World War II and forget that he had been brainwashing his country with propaganda for years.  
The Jourhouse, or main entrance, of the Dachau Concentration Cam
Dachau Concentration Camp is a clear indication that his authoritarian ways started way before then.
Just around seven weeks into his reign of becoming Reich Chancellor on 30th January 1933, Dachau camp was set up on 22nd March 1933.
For a few days leading up to our visit to Dachau, we were fortunate to have been enjoying blue skies and sunshine. On this June morning, it had changed, a greyness and slight chill in the air sombrely fitted the surroundings of Dachau concentration camp.
Site of prisoner's barracks, Dachau Concentration Camp Memorial
We strolled along the path towards the Jourhaus, which was the main entrance building into the Dachau camp. It was here that every prisoner would have had to enter through and see the words on the wrought iron gates of 'Arbeit macht frei', or 'Work Sets You Free.'
Arbeit macht frei - 'Work Sets You Free'
What tormenting thoughts must have been chasing around their minds, Gary and I could not even begin to comprehend.
Prior to wandering through the main gates, we head opposite to where the old railway tracks can scarcely be seen. Alongside is a small section of the crumbling deserted station platform, that would have greeted thousands to their final destination in life.
Dachau crumbling station platform
What now remains of the cold grey iron tracks, just lead off into the distance to nowhere.
It was quite moving here, and as you stood back away from the entrance. You could envisage the incredibly touching site of row upon row of prisoners shuffling towards the gates.
We entered through the infamous gates of the Jourhaus and immediately you are faced with the vast roll-call square. I was lost for words and can't even begin to imagine what these poor men must have thought as they wandered into this hell-hole.
The daily roll-call for these prisoners was held in a bleak, grey expanse of misery. This routine in Dachau and other concentration camps was enforced on all men. Even the recently dead would need to be carried or dragged out by their friends or comrades. They could barely support the weight of their own bodies, let alone the indignity that had befallen their friend.
Roll-call square & Administrative buildings
This awful act was carried out morning and evening, and prisoners were counted, to ensure that no one had escaped that day. Who would blame them for trying to escape when the alternative was life under these savages?
Dachau is only around 19 miles (30km) from Munich, so, you could easily make it into a day trip.
The roll-call square in Dachau could hold forty to fifty thousand people.
A large amount of the maintenance buildings and storage rooms still remain and are now home to a compelling museum. As you wander through the exhibition, there is so much information to take on board; however, it is extremely interesting and unbelievably touching.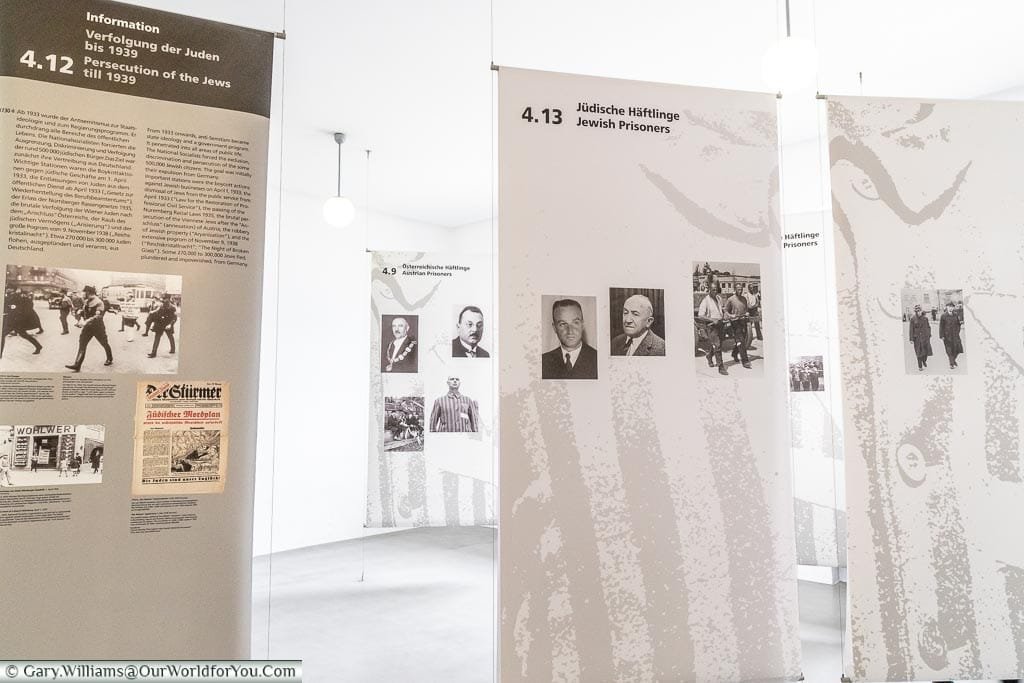 Exhibits in the museum
The presentation focuses on the path and the awful fate of the prisoners. It explains in detail why these innocent people were targeted, humiliated, tortured and murdered by the SS.
There were also moving first-hand stories of those liberated to their freedom.
Prisoners waiting in Dachau
Taking instructions
Dotted around the rusty barbed wire perimeter fence, are still some of the restored watchtowers. These give such a spine-tingling reminder of many prison camps around the world. And a tiny inkling into the big brother world that was the prisoner's day to day lives.
Security around the perimeter
On one side of Roll-Call square and opposite the Jourhaus is the International Memorial. It is dedicated to all the political opponents of Hitler's Nazi Party. There were so many people from different walks of life that were being persecuted. 
Initially, Dachau camp was populated by mainly Germans but, as the months and years ticked by, and they entered into the very early years of the Second World War this changed.
More and more people from other European countries were being sent to Dachau. The largest nationality within Dachau soon became to be the Polish.
The monument was designed by the Yugoslavian artist and concentration camp survivor, Nandor Glid.
Allow at least a few hours to appreciate Dachau fully; it is worthy of every minute you can give it.
As we wandered down the middle of the tree-lined former Camp Road, it really felt quite strange and almost oppressive.
Even though all of the barracks that the innocent people were confined to, were destroyed in the 1960s. You are still able to see the layout of the dorms and where 34 of them once stood. 
Looking across where the dormitories once stood
The concentration camp was initially built to hold 6,000 prisoners. Unbelievably when Dachau was liberated on 29th April 1945 by American troops, there were over 30,000 people suffering in the horrendous conditions. 
A couple of the barracks have since been reconstructed, to provide a tiny insight into how the living quarters of the camp would have been.
The most horrific and poignant part of the Dachau Concentration Camp Memorial Site is the crematorium. You are literally lost for words.
How one human being could inflict these atrocities on another is unfathomable.
As you climb up the steps to where the de-robing room, the gas chamber and the incinerators are, part of you is saying don't go in. Yet another part of you is saying, you must. Gary and I wanted to try and comprehend the extent of what went on behind these walls.
"Brausebad" – The showers, or what the prisoners believed
Memorial to "The unknown prisoner" by Fritz Koelle
It was horrific, and personally, I don't think words are enough, these people were barbarians.
In the Memorial Site archive, 32,000 deaths are registered; many thousands more were not. A memorial to these unknown prisoners stands by the crematorium as a reminder of this.
During the years that Dachau operated as a concentration camp, people from many different religious faiths and backgrounds passed through the gates.
The Mortal Agony of Christ Chapel
Within the campgrounds today, various religious memorials have been dedicated to these faiths. Some of the survivors from the atrocities have since returned to pay their respect to the inexcusable loss of lives.
Amongst the different monuments are The Mortal Agony of Christ Chapel, which is seen the length of Camp Road. The Carmelite Convent, the Protestant Church of Reconciliation, the Jewish Memorial and the Russian-Orthodox Chapel.
Horrifically Dachau camp served as a model for all later concentration camps. In the twelve years that Dachau Concentration Camp was in operation (1933 to 1945), over 200.000 people from all over Europe were imprisoned there, and within its 140 subcamps. It is believed that one in five persecuted prisoners, perished in Dachau. Around 41,500 people were murdered until American troops liberated them on 29th April 1945.
The official

 

Dachau Concentration Camp Memorial Site, website has a fantastic amount of useful information
It is not recommended that children under 12 visit the camp.
Admission is free of charge.
Opening hours at 9am to 5pm (Closed 24th December).
Guided Tours for individual visitors are €3.50 for 2 ½ hours.
Audio guides €4.
You can also download for free, the Dachau Memorial Guide app, by the Bavarian Memorial Foundation – this provides all useful current visitor information.
* This post may contain links to affiliated sites where we earn a small commission at no additional charge to you.
Inspired to visit the Dachau Concentration Camp?
Whilst it may be challenging, the history at the memorial must be remembered, and it must never happen again.
Search for your flights in one easy place with
ebookers.com
and open up a world of options. Over 400 airlines are scanned for your favoured routes and chosen dates.
(Why not Pin It for Later?)
If you enjoy what you see, and you'd like regular updates then join us for a monthly newsletter.