A day out at Bletchley Park, Buckinghamshire, England
Codebreaking in the English countryside
We finally made it. I was so looking forward to visiting Bletchley Park. Come on, who doesn't love the thought of spying, espionage and secrets?
The Mansion, Bletchley Park
The incredible work that was undertaken by the women and men at Bletchley Park, during World War II, was invaluable to our future.
It was so secretive at Bletchley that even the families of the people that worked there were unaware of what was unfolding behind the closed doors.
Who would expect back in the late 1930's that a charming Mansion set within the English countryside would hold so many secrets?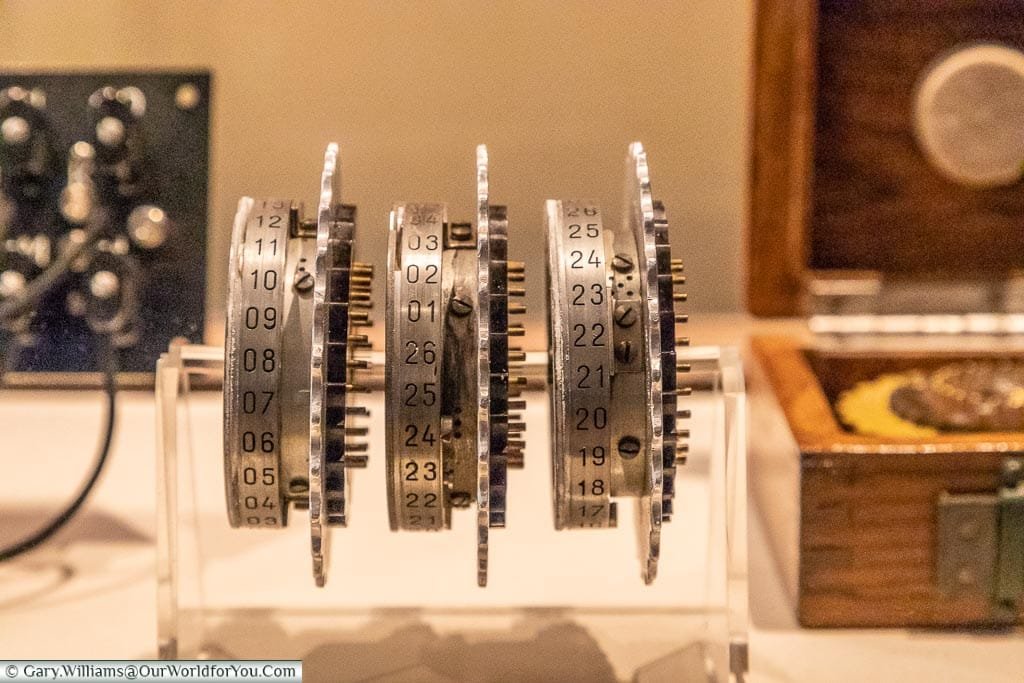 Secret Spindles
So, armed with our annual ticket, we enter the world of codebreakers. First, you stroll through the visitor's centre where there's an introduction to 
Bletchley Park
 and all its goings-on. Here you can test your own codebreaking skills and interact with the exhibits. 
The Importance of Bletchley Park
This is not just for the little kids amongst us!
Cross-referencing in multiple languages
Everything documented
We grabbed our audio guide, which is included in the price of the ticket, and went to uncover the hidden enigmas for ourselves.
It's hard to imagine in the times we live now, how this whole operation was kept such a secret. At its height, nearly 10,000 people working here, most of which were women. The codebreaking factory ran day and night, the staff worked 6-days a week, across three shift patterns.
Very hush-hush
All level of skills were required to keep this well-oiled machine running.  A large number of employees were Oxbridge educated and were sought after if they spoke different languages.  Particularly the Italian, German, Japanese and French speakers.
Making it lighthearted
There's no set route at Bletchley Park, you are free to wander around as you wish. We headed to Block B first, which now houses the main museum, the world's largest public display of Enigma machines and an exhibition to Alan Turing.
Bomb-proofed Block-B
Block B was built along with Block A in 1941/2 and was bomb-proofed. These blocks were created due to how quick the codebreaking factory was expanding at Bletchley Park. They had outgrown the Mansion and The Huts. 
A cypher machine
You'll need to allow quite a bit of time here as there's a considerable amount of interesting information to absorb in the museum, we were pleased we headed there first. 
A mock-up of a listening station
Why not buy your tickets directly online, to guarantee your entry and you'll jump the queues.
Pricing; From 1 March 2021 (Your tickets are valid for a year)
Adult £21.00, Concessions £18.50, Children (12 – 17) £12.50, Children (Under 12) Free & Family Ticket £33.60 - £54.60 T&C See here
There's detailed information on how the incredible mathematician Alan Turing, and his colleagues, broke the codes on the Enigma and Lorenz machines, along with other cyphers. Fascinating stories into people's lives as double agents and spies.
Statue of Alan Turing made from Welsh slate by Stephen Kettle
That Bletchley Park has hit the Silver Screen on a few occasions. In 2014 
The Imitation Game
 starring Benedict Cumberbatch (as Alan Turing) and Kiera Knightley (as Joan Clarke) was filmed, in part, here.
After our self-guided lesson into codebreaking, we headed towards the Mansion and strolled around the picturesque lake. Bletchley Park has catering facilities, however, bringing your own picnic and enjoying the surroundings is another way to go.
Relax in the shade
Grab yourself a bench or a deckchair and sit back and immerse yourself in all the whisperings and secrets, that would have been circling around during World War II.
Bletchley Park lake and Mansion
What is fun to listen out for as you wander around Bletchley Park are the different sounds being played out. You can hear planes flying overhead, steam trains running by and balls being hit on the tennis court. They sound like they are happening right next to you.
The Mansion dates from 19th-century. This is where the codebreaking began, on the ground floor of the beautiful manor house.
The Office in Bletchley Park Mansion
Along with Commander Denniston's office, you can wander through the rooms reading some of the intriguing personal stories, of the men and women who worked at Bletchley Park. It really is fascinating the lives that they lead and the secrets they kept.
If you have any relatives that worked at Bletchley Park during WWII, you can search their "Roll of Honour" in the Mansion, to find out a little more about them.
We then headed onto the Stableyard and cottages, where the groundbreaking discoveries were made by Alan Turing and his colleagues, of the daily changes on the German Enigma.
Gatehouse to the stableyard
Dispatch riders would also arrive at the Stableyard gate to deliver hundreds and hundreds of messages, day and night.
The Polish Memorial
There's a lovely Memorial here to commemorate three Polish mathematicians, who also worked on the Enigma code in 1933 and who handed over their findings to the British in 1939.
In huts around the park during WWII the magic was taking place. Specific huts would be responsible for deciphering information from particular forces. For example, Hut 6 was used for decrypting the Enigma messages from the German Army and Air Force.
Codebreaking at Bletchley Park
Deciphering within the huts
Hut 8's responsibilities were for the Navy; these huts would then have additional staff working with them to translate and analyze the information. Hut 3 worked in conjunction with 6 for Army and Air Forces and Hut 4 operated along with 8 for Navy translations. A chute was built between the two so that they could send messages to each other. Quite crude in construction, but hey, it worked.
Don't Help the Enemy
Manual, repetitive tasks
Huts 11 and 11a were built to house the Bombe machines developed by Alan Turing, Gordon Welchman and Hugh Alexander. These machines were continually maintained throughout each day by the Wrens codebreakers. Repeatedly changing settings and running each drum through its 17,576 positions. 
Replica of the Bombe machine
The cyphers that the codebreakers produced could only be useful for decoding messages that had been received within the 24-hour window. As the Enigma machines settings would be changed by the Germans at midnight every day.
Bombes operated by Wrens
This whole process was continually challenging, and we owe a great deal to the codebreakers at Bletchley Park. I could easily return here again as there was so much to digest, and it was incredibly interesting.
* This post may contain links to affiliated sites where we earn a small commission at no additional charge to you.
You can catch a train from London Euston direct to Bletchley, which takes 40mins, then it's just a 5-minute walk.
Alternatively, if you are travelling by car, there is an onsite car-park, which is free of charge.  Tip; if you're using Sat-Nav, enter Sherwood Drive, Bletchley, MK3 6DS. It was so well hidden we drove straight past.
Inspired to visit Bletchley Park?
Why not pack a picnic and come along and enjoy the fun?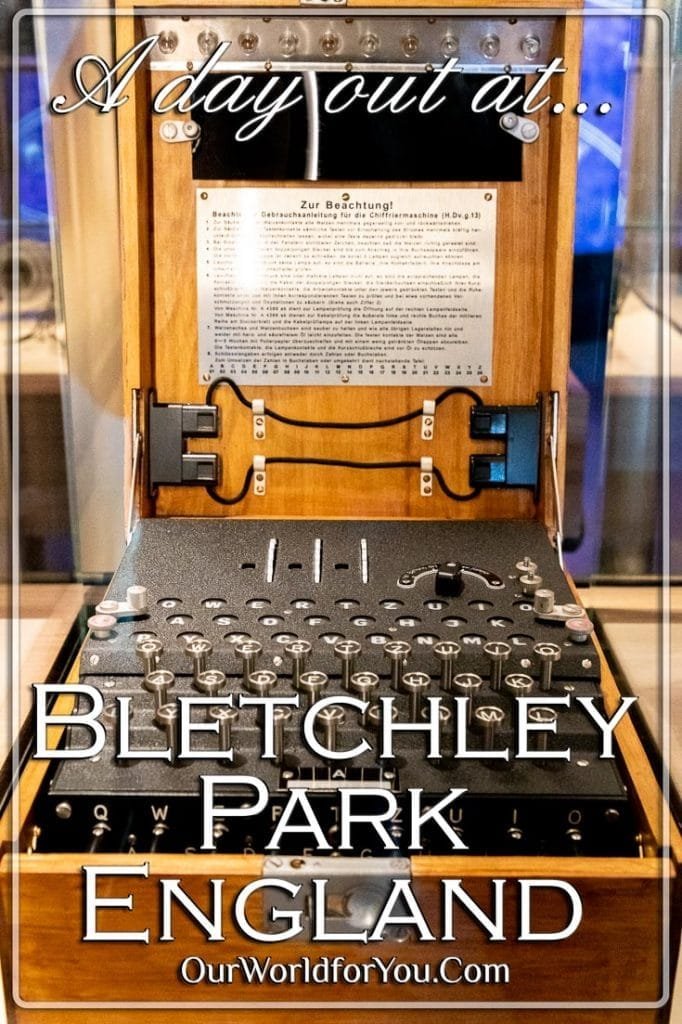 (Why not Pin It for Later?)
If you enjoy what you see, and you'd like regular updates then join us for a monthly newsletter.