A visit to Lille in northern France
If it's a day trip or mini-break, you're spoilt for choice in Lille
If you're looking to visit France and you feel that you would like somewhere more sedate than Paris, then I can highly recommend Lille.
Place du Charles de Gaulle, Lille
It has beautiful architecture within colourful grand surroundings, and the café culture is delightful. You can brush up on your French and immerse yourself in moules frites or waffles (definitely waffles for me).
What is even better for those heading from the UK is that Lille is just a relaxing train ride away. In fact, from London, it only takes 1 hour and 22 minutes on the Eurostar, no time at all.   You could even visit as a day trip.
Once you arrive, Lille is your oyster, and the mains sights and shops are within easy walking distance of each other.
You'll be sampling the exquisite French patisseries and enjoying the warming aroma of the freshly baked baguettes, wafting from the boulangeries in no time.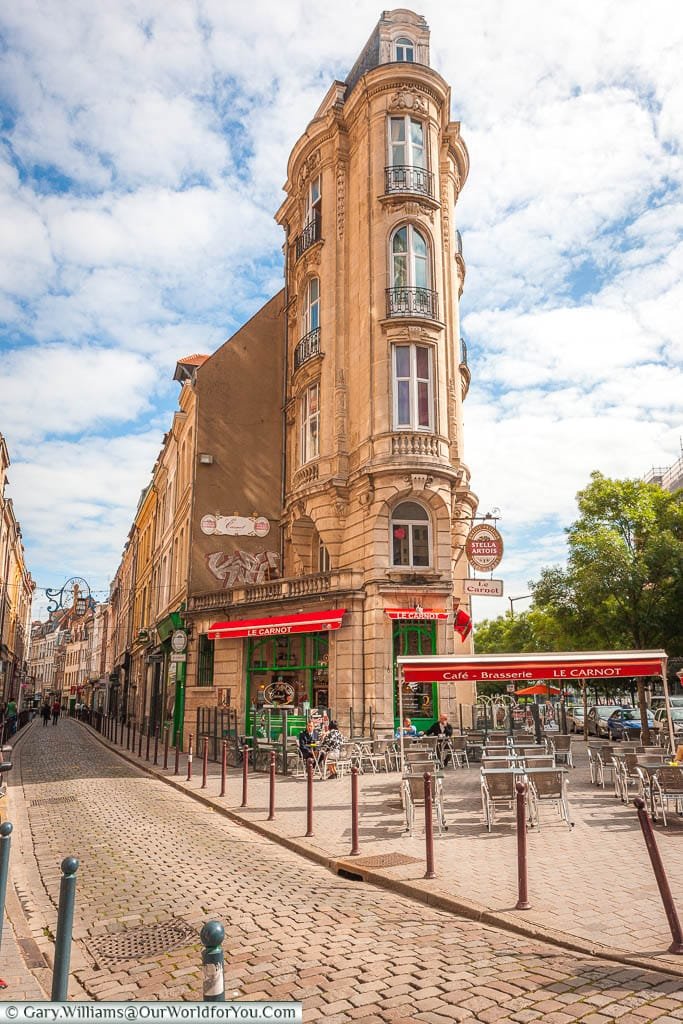 Le Carnot Café & Brasserie
Lille is located in the northern Hauts-de-France region; therefore, it has gained influences from its Flemish Belgium neighbours across the border.

This is one of the reasons I love visiting France, is that you gain such a strong feel of the true essence of where you are. These regional variances are so often what makes any country.
With Lille, it has embraced the Flemish culture that is knocking on their doorstep.
Sitting in the bars and cafés, you peer around, so many of the locals are enjoying a beer. As opposed to the cheeky glass of wine that is partaken in a lot of other French regions.
You'll also notice that on so many menus there will be a Carbonnade flamande as the plat du jour. This is a Flemish dish primarily made with beef and beer. It's win, win really, well perhaps not for everyone.
I love nothing more than planning a trip through France and so often I use the DK Eyewitness books.  I find them extremely informative, easy to follow and the pictures and maps tempt you into discovering more.
We used a previous version of this book to plan our French road trips, now you can grab the revised copy.
There was no time for dilly-dallying over lunch, Gary, and I took to the streets. We strolled around the old town admiring the elegant buildings and enjoyed window shopping in charming boutiques along the narrow cobblestoned lanes.
We love history and architecture, so visiting Lille ticked so many boxes for us.
Detailed architecture throughout the Old Town
Within the Grand Place, there are some incredible buildings, all shapes and sizes, rubbing shoulders with each other. The 17th-century Vieille Bourse (Old Stock Exchange) was built between 1652 and 1653 and is particularly eye-catching
The Vieille Bourse or Old Stock Exchange
Also, within Lille's Grand Place is La Voix du Nord (Voice of the North) a regional daily newspaper.

La Voix du Nord was one of the underground newspapers founded in France during the German occupation in World War II. The paper first appeared in Lille in April 1941
Taking pride of place in the centre of Place du Charles de Gaulle stands the 'Column of the Goddess'. This commemorates Lille's resistance to the Austrian siege in 1792.
Strolling further around the Old Town you'll sure to head towards the Place du Théâtre. This is another stylish, elegant square and you'll instantly be drawn to the Opéra de Lille.

This beautiful neo-classical opera house has been designed with Belle Époque detail on the front, and it is so striking.

The Opera was built between 1907 and 1913, internal and external renovations have taken place since the last was completed in 2004.
There are so many colourful buildings in Place du Théâtre and one that is very prominent and can be seen for miles if the Chamber of Commerce and its Belfry.

The Chamber of Commerce in Place du Théâtre was built between 1910 and 1921 in the neo-Flemish style. The belfry stands at around 250 feet (76 metres) high and is decorated with four clock faces.
Belfry on the Chamber of Commerce
Belfry on the Chamber of Commerce at dusk
Lille has been through some turbulent times over the centuries, and in 1792 the Austrians invaded. Their artillery destroyed many houses around the city, during the eight days of the siege; however, Lille didn't surrender.

On the building opposite the Chamber of Commerce, you are still able to see Austrian black cannonballs lodged into the side of the wall.
Building in Place du Théâtre with Cannonballs in the wall
If you want to find out more about Lille's history and updates on events in the city, then have a browse through the Lille Tourism website.
 
While in Lille, why not catch a performance at Opéra de Lille, here is their official website.
The construction of Lille Cathedral first started in 1854. However, due to disputes and lack of money and wars, the cathedral wasn't fully completed until nearly 150 years later, in 1999.
 
The Cathédrale de la Treille has a mixture of styles including neo-gothic. However, what makes it so eye-catching is the white marble within the modern façade.
Take a wander further around the city, and you'll find some other lovely spots, particularly around Lille's parks. If time allows there is also a Citadel and zoo for you to visit.
If time is of the essence and you want to ensure you soak up all the delights of the Old Town, then jump on this reasonably priced 2-hour walking tour.
Deûle River around the Citadel and zoo
La Braderie (flea market)
If you love rummaging around flea markets, you'll need to book early. On the first weekend of September, Lille hosts an annual Braderie. It is the largest flea market in Europe and attracts over two million visitors, in one weekend.
* This post may contain links to affiliated sites where we earn a small commission at no additional charge to you.
Grab your overnight bag and make a weekend of it.
Search for your flights in one easy place with
ebookers.com
and open up a world of options. Over 400 airlines are scanned for your favoured routes and chosen dates.
(Why not Pin It for Later?)
If you enjoy what you see, and you'd like regular updates then join us for a monthly newsletter.