Antiques, Cockerels and a Thespian all in the lush Surrey Hills
We were staying in the heart of Dorking nestled in the Surrey Hills and home to one of southern England's largest vineyards.
Dorking sits along the ancient Roman Road of Stane Street built by the Romans to connect London with Chichester.
Dorking's history doesn't stop there; however, it has tales of a Pilgrim Father, a Dickensian coaching inn and is the birthplace of a thespian of note, to mention just a few.
This former 18th-century coaching inn is where Charles Dickens is said to have scribed some of "The Pickwick Papers" that was, in part, set in Dorking.
A Pickwick Papers Triptych in the White Horse Hotel
The papers originally selling for one shilling an instalment then became Dickens first novel.
Pickwick's Papers from the the White Horse Hotel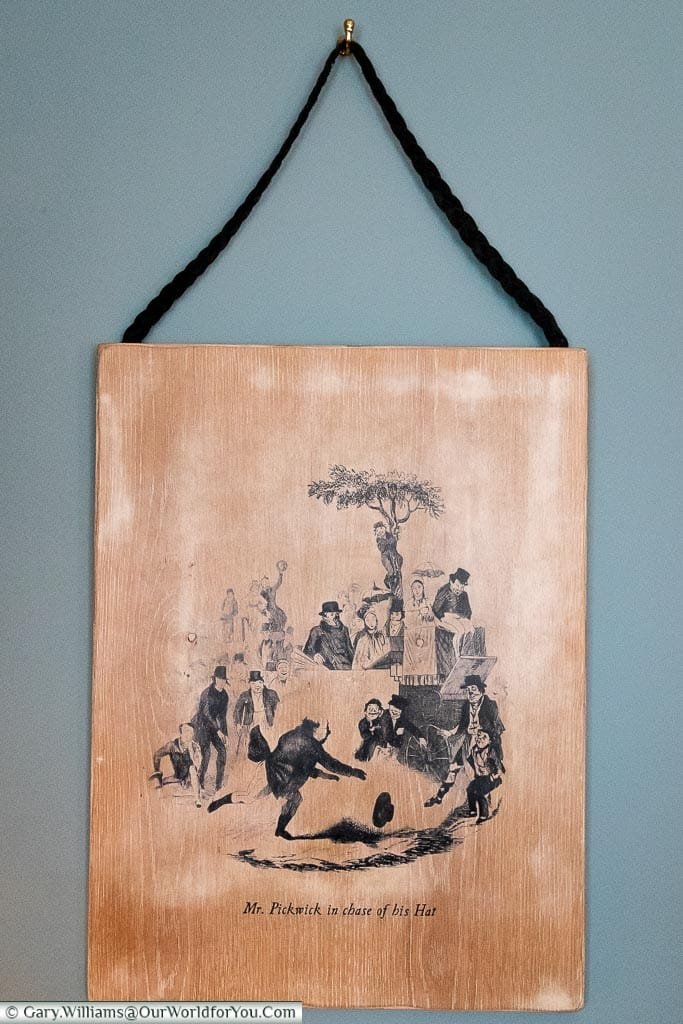 Pickwick Papers artwork in the White Horse Hotel
So, to discover a little more of what the ancient market town of Dorking had to offer, Gary and I just took a couple of steps from the coaching inn, and we were on Dorking's Heritage Trail.
The Dorking Heritage Trail
Just so you know, there are two self-guided trails signposted around the town.
As you stroll through Dorking, you'll come across the informative plaques that give you a little bit more of the local history.
Also, an insight into who would have frequented these streets and lanes in years gone by.
To find out even more about the historic town of Dorking take a journey around the Visit Dorking website.
We found out that Dorking has a cockerel named after it, and not just any old cockerel, this one has five toes.
It also seems to be a theme that runs throughout the town, you'll see chicken references pop up everywhere.
Dorking Museum & Heritage Centre
For just a couple of pounds take a wander around the Dorking Museum & Heritage Centre.
It may look relatively small, but it is full of plenty of local history, interactive exhibits and great insight into the folk of Dorking.
Dorking Museum & Heritage Centre
We didn't know prior to visiting Dorking's museum that one of the original Pilgrim Fathers, William Mullins was born in the town.
A Blue Plaque to William Mullins - A Pilgrim Father
He set sail with his family on the historic "Mayflower" voyage over to America in 1620. Unfortunately, his story was short lived as he perished in the first winter of arriving in the New World. Keep a look out for the blue plaque on his house in West Street.
Now, if you like antiques, you'll enjoy visiting Dorking. It even has its own little antiques quarter along West Street. You'll find a fantastic mixture of art, furniture, jewellery and curios. You may even be able to pick yourself up something cockerel related.
This a charming part of Dorking to stroll around, as it has lots of quirky shops, boutiques and plenty of tea rooms.
Have you visited any of England's old market towns, drop a comment below to tell us where you enjoyed visiting?
What can't have gone unnoticed as you wander through the town, is the fantastic blend of architecture. This is what really stood out for us.
Different periods in time, seamlessly mixing together. Make sure you keep looking up, there so many interesting little points of detail along the rooftops and skyline.
Robert Dyas - Hardware store
So often shopfronts mask what's hidden behind them; however, Dorking has made an effort to keep its unique charm where it can. Incorporating modern stores into characterful buildings.
Something to make your travels easier?
One intriguing doorway that caught our eye was the Oddfellows Hall.
The hall is still being used today for local events, dance classes and just a pleasant place for friends to come together and enjoy each other's company.
Talking of friends of the town, another famous resident of Dorking was the thespian Laurence Olivier. And they don't really come more well-known than "Larry" in the theatre and silver screen world. You'll find another blue plaque along Wathen Road, where Mr Olivier was born in 1907.
Laurence Olivier's Blue Plaque in Wathen Road
Laurence Olivier portrait at the White Horse Hotel
Amongst other local people of prominence was the architect Thomas Cubitt.
Notable for the building and design of some of London's historical and beautiful squares, around Bloomsbury and Belgravia.
A monument to Thomas Cubitt
Just opposite the statue for Thomas Cubitt stands a sculpture of Ralph Vaughn Williams, the English composer and conductor.
The figure takes pride of place outside Dorking Halls Theatre, where Ralph Vaughn Williams staged some of his performances.
A statue to Ralph Vaughn Williams
The Dorking Halls was originally built in 1931 in Art Deco style, although it has recently been refurbished; the original Art Deco lines are still kept.
What Dorking certainly doesn't lack are restaurants, bars and traditional pubs. There are so many to choose from. Along West Street, once you've grabbed yourself that rare antique, take the weight off of your feet and enjoy a local ale.
Or if you're in the heart of the High Street pop into The Dozen bar in the White Horse coaching inn.
Themed with all things equine and a nod to Charles Dickens "Pickwick Papers".
Whether you've driven to Dorking or you've arrived by public transport, you wouldn't have failed to have noticed the rolling Surrey Hills. This area of southern England is designated as an Area of Outstanding Natural Beauty (AONB).
The vineyards of Denbies Wine Estate
It's delightful for all levels of rambling and hiking. Also, budding cyclists will have heard of Box Hill, which was used as part of the course in the 2012 London summer Olympics. You'll regularly see lycra-clad bodies taking to the route.
If cycling isn't your thing then perhaps wine is. As I mentioned previously, England's largest vineyard Denbies Wine Estate is located within this rich countryside. Acres of rolling vines are just a couple of miles outside Dorking town.
You can catch a train from London Victoria or Waterloo direct to Dorking (Main) Station, which takes around 50 to 55 minutes.
Our chosen transport option was to drive, as it gave us the freedom to tour around. Take a look at the car hire comparison website Carrentals.co.uk covers all budgets and allows you to pick up and drop off at different destinations.
Something for the Traveller
Inspired to visit Dorking?
(Why not Pin It for Later?)
* This post may contain links to affiliated sites where we earn a small commission at no additional charge to you.