by Janis /
0 comments
- Orginally published:5th October 2021
Where in 1066, William the Conqueror defeated the English
Yes, it was actually in the delightful town of Battle in East Sussex that England's most famous skirmish unfolded. It's around seven miles from the renowned town of Hastings, the Battle's namesake.
We'll dig a little deeper into Battle Abbey and its battlefields a little further down. However, I'm going to share with you some wonderful things to see and do in the charming town of Battle. From exploring its eye-catching architecture, visiting its quaint local shops and some fascinating facts on the town.
Why not Pin it for later?
Abbey Gatehouse and Abbey Green
- By Train
You can catch a train from multiple London Stations to Hastings Station.
The journey time is around 1 hour, 30 minutes to 2 hours, depending on your route.
- By CarBattle in East Sussex is a short distance from the historic village of Robertsbridge along the A21.
Take the John's Cross exit onto the A2100, and it's just a few miles to Battle. There's a central car park in the town which is reasonably priced.
A little slice of history on Battle
From the Normans to the Battle Bonfire Boyes
The small town of Battle in East Sussex is located in the beautiful High Weald region of the southeast of England, an Area of Outstanding Natural Beauty (AONB). There are so many delightful towns and villages across The Weald that it's ideal to base yourself and set off on a voyage of discovery.

The character of Battle town grew up around Battle Abbey and the striking Great Gatehouse that elegantly dominates the southern part of the High Street overlooking Abbey Green.
Abbey Gatehouse and Abbey Green site of ancient bullbaiting
The Abbey was built by the Normans on the orders of Pope Alexander II in 1070. It was for the horrendous number of killings during the Battle of Hastings.

The Benedictine Abbey and its surrounding buildings survived until 1538. During this time, King Henry VIII ordered the destruction of an endless number of churches due to the Dissolution of the Monasteries.

The Battle Abbey Gatehouse still remains along with the Abbott's House (a private school) and several emotive ruins.
Battle Abbey Dormitory
During the 17th & 18th centuries, Battle became renowned for producing gunpowder in its mills and was referenced by Daniel Defoe as the finest in Europe.

Annually the Battle Bonfire Boyes hold a bonfire procession through the streets of Battle, parading the towns 'guy'. This is to mark the town's gunpowder history, Guy Fawkes Night, and the burning of 17 Protestant Lewes Martyrs 1556 and 1557.
In and around Abbey Green, Battle
Exploring the historic architecture
The area in front of Abbey Gatehouse is known as 'Abbey Green'. For centuries this public square has seen many gatherings from ancient bullbaiting to medieval fayres and Battle bonfire celebrations.

Nowadays, it takes on a more relaxed approach to life and is an ideal place to sit and watch the world go by. Grab a seat amongst the fragrant flower displays and enjoy.
The view from Battle Abbey to Abbey Green below
All around Abbey Green are incredible examples of period architecture. Langton Hall was initially built during the 16th-century as a two-storey half-timbered budling. However, the plans changed, and around 1700 it was heightened, and a façade of terracotta hanging tiles and a balustrade were added.

This building is also home to Battle Memorial Hall, which the local community uses for social events.
16th & 17th-century Langton Hall
A charming group of 17th-century buildings line Abbey Green and what was once an old coaching inn. Also nearby the gatehouse is the Pilgrims Rest, a 15th-century black and white half-timbered hall.
A group of 17th-century buildings
If you wander a little beyond Battle Abbey, you'll spot the Norman church of St Mary the Virgin. Built nearly 900 years ago circa. 1115 AD.

The church was erected on the battlefield as a peaceful retreat for the community outside of the walls of the Benedictine Abbey.
St Mary the Virgin, Battle
Where to stay in Battle, East Sussex
- 
The Abbey Hotel
- Located within the picturesque town of Abbey, this delightful Grade II listed building has recently been refurbished. You have history literally on your doorstep.
-
Wesleyan Lodge
– Located on the outskirts of Battle, this delightful period holiday cottage for 4 is peaceful and idyllic.  Ideal if you're exploring the surrounding towns of Hastings and Rye. You can also bring along your pooch.
Strolling Battle's ancient High Street
Amongst the footsteps of centuries gone-by
We stroll north through the High Street keeping an eye out for all the historic architecture along the way. There are so many charming shopfronts, with leaded, bowed and sash windows. Delightful timber-framed and white weather-boarded buildings, all with many tales to tell from the past.
Eye-catching architecture throughout Battle
Prior to visiting Battle, I never realised that it was historically a town popular for watch and clockmakers. There are still a few goldsmiths and jewellers in the town; however, during the mid-18th-century, there were five watchmakers along the High Street. They must have been excellent timekeepers in Battle.
Battle Goldsmiths
No.21 'slip' & No. 22 Old pharmacy est.1740
No. 21 is an interesting building as it was built along what was once a passageway. This narrow early 19th-century building is a known as a 'slip'. No.20 to its left, 'Raggs Boutique' was built in 1595, and the attractive half-timbered double-fronted shop to its right was once an old pharmacy est. in 1740.
Raggs Boutique built in 1595
Battle is a delightful town to visit with so many independent stores, delis, galleries, tearooms, florists, bookstores, and quirky features throughout. Head off through the characterful mews to see what you can discover.

The Bull Inn located in the middle of the High Street was rebuilt in 1688 using stone from the demolished kitchen in Battle Abbey.

Just along from The Bull Inn at no.29 is a quaint narrow historic half-timbered dwelling, built in 1642 the Friar House.
No.29 The Friar House est.1642
If you're intrigued by Sussex's fascinating past and weird and wonderful history around the county, then take a peek at "The A-Z of Curious Sussex".
You won't be able to put it down, you can pick it up for your Kindle or in good old paperback.
Through the lanes of Battle
It's all in the façade
Take a wander along Mount Street as there are some very attractive cottages and historic buildings here. Each home is full of such character, some of which date from the 15th & 16th centuries.
A glance along Mount Street
The contrasting heights and differing frontages make this street so appealing. A few of the homes are decoratively weather-boarded; some have façades with gorgeous hung terracotta tiling and, of course, more of the pretty timber-framed houses.
Lewinscroft cottage
Hiking the East Sussex Countryside
Battle is located in East Sussex, nearby the seaside town of Hastings and the historic village of Robertsbridge. This region of Sussex is ideal for hikes as it is in the High Weald (AONB), an Area of Outstanding Natural Beauty. To explore the trails in this region of East Sussex, the Ordnance Survey map that will help you along the route is no. 124, 'Hastings & Bexhill'.

Alternatively, why not purchase and download the OS Maps App, which covers all of Great Britain.
The Battle of Hastings
The Normans paved English history
One of the most significant battles in English history was the Battle of Hastings on 14th October 1066, over 950 years ago.

William, the Duke of Normandy, landed at Pevensey with his forces on 28th September 1066, with the one intention of defeating King Harold and gaining his English crown.

Only three weeks previously, King Harold had fought off an invasion at the Battle of Stamford Bridge in Yorkshire. He then hastily headed south with his infantry to East Sussex to confront William, Duke of Normandy.
On the Battlefield looking up to the abbey ruins
Needless to say, the Normans were slightly more prepared than the Saxons and arrived with a considerable number of cavalry and archers. Harold intended to surprise William; however, scouts had spotted the English army, and William marched onwards to confront the Anglo-Saxons.

The whole bloody skirmish lasted just one day, and by dusk, King Harold was dead, and his remaining limited troops retreated.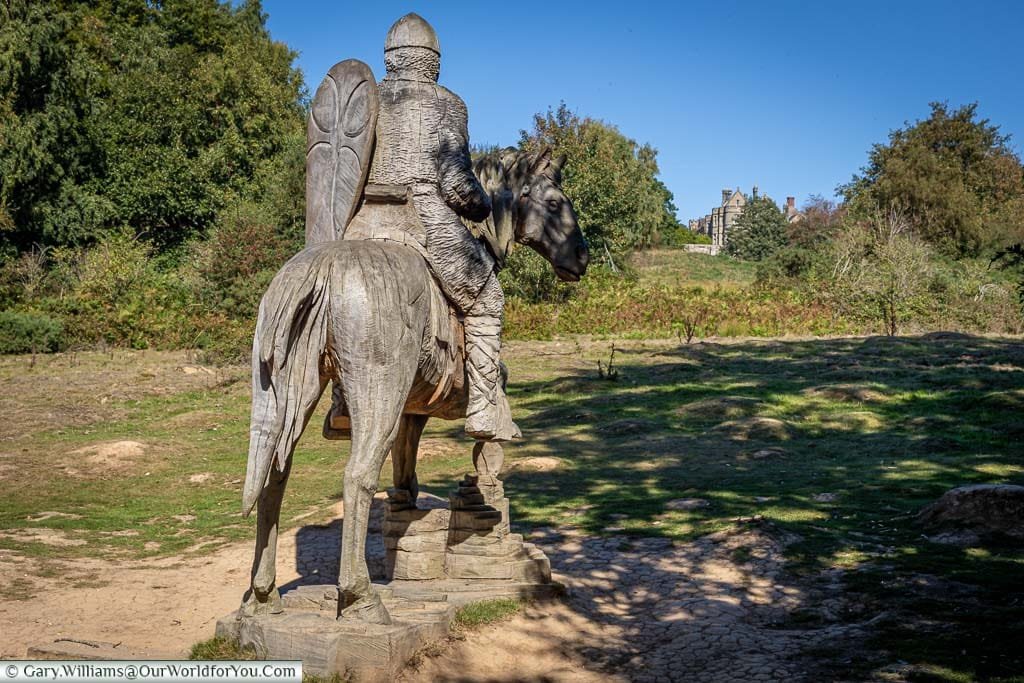 Cavalry heading into battle
William the Conqueror was crowned William I on Christmas Day 1066 in Westminster Abbey.
Battle Abbey, the ruins, and its poignant battlefield is an incredible place to visit. English Heritage manage the site wonderfully and at times is quite touching.
For a little more insight into our visit to Battle Abbey, take a peek at our post.
Where to eat and drink in Battle
From tearooms to craft brew
Battle has a great selection of cafés, restaurants, and inns. Just nearby Battle Abbey Gatehouse is the quaint Bluebells Tearoom and Burtons Restaurant, both with unparalleled views of the Abbey.
Just a short hop along the High Street is Battle Deli & Coffee Shop, offering delicious homemade cakes, chutneys, and cheeses. If you're in Battle early, grab yourself some breakfast.
Bluebells Tearoom
Battle Deli & Coffee shop
If lunch is calling or you just fancy taking the weight off your feet, head to the charming Abbey Hotel, a Shepherd Neame pub. It's actually a Kent brewery but let's not worry about that.
Also, if craft beer and cask ales are your thing, then visit Battle Brewery's Bottle Shop and Tap Room. Battle Tap offers cask ales directly from the stillage, and I recommend you select a designated driver first.
Ffrench's Fish
Battle Tap
Lastly, if you're staying in self-catering accommodation in Battle, why not pop into
Ffrench's Fish
, the local fishmongers. Their fresh fish is caught from shores nearby on day boats and offer a fantastic variety. They even have an in-house smokery.
Battle Town Council have created a historic trail around the town; here is the link to the map and its interesting facts.

Also, head to the official Visit 1066 Country website for more information on Battle and its surrounding villages, towns and countryside.
* This post may contain links to affiliated sites where we earn a small commission at no additional charge to you.