The history behind the walls
Within the ancient city of Córdoba, there is just so much history at your feet; it's difficult to know where to start. Just wandering the whitewashed lanes is a fantastic experience in itself.
However, a visit to the Alcázar de los Reyes Cristianos goes without saying, climbing the towers gives you some amazing views of the historical city, along with the Guadalquivir River and the wonderful Roman Bridge that straddles it.
The high walled Alcázar itself is almost a perfect square, with striking towers on three of its four corners. Within the walls, you'll find a very peaceful Mudejar courtyard still in its classic style, but this is just a taster to the elegant gardens that follow.
Start creating your own Spanish adventure and discover its historical towns and cities for yourself, easyJet & British Airways are just a couple of options.
Although today this charming Alcázar greets visitors welcomingly, this fortification was once used to hold tribunals for the Spanish Inquisition, and sections of the Alcázar were converted into cells for its prisoners.
As you continue around the ramparts you are greeted with a birds-eye view of the Royal Stables below; you may even catch a peek at the Andalusian horses being trained.
Discover more of Spain, its historic town's & cities, the vast countryside. You can do it all on a road trip, SIXT car hire cover all budgets and allow you to pick up and drop off at different destinations.
One of the highlights for me was walking from the castle into its magnificent gardens. The terraced pools and formal planting that layout before you were quite unexpected.
The stylish upper pool, now home to shoals fish, appears to have once been used as a bathing pool, with steps leading into it. I don't think you would get a private moment here today.
As you step down to the lower pools and among the fountains, it really does feel like you are in a secluded oasis, if you didn't venture into the Alcázar, you would never know it was here.
Meandering off, and strolling along the tree-lined avenues, it isn't too difficult to find a peaceful corner to sit and relax and admire the surroundings, in particular, the mosaic pools.
Something from Get Your Guide?
Why not check out what else is on offer through Get Your Guide.
(These options are provided by GetYouGuide.Com. We will earn a small commission, at no extra cost to you if you book through our site)
Visited the historical Alcázar of Córdoba, did you catch a glimpse of horses training the in the Royal Stables?
Inspired to visit Córdoba?
What is your favourite location within the ancient walls? Take a look at our post on Córdoba's Mezquita, this place is amazing.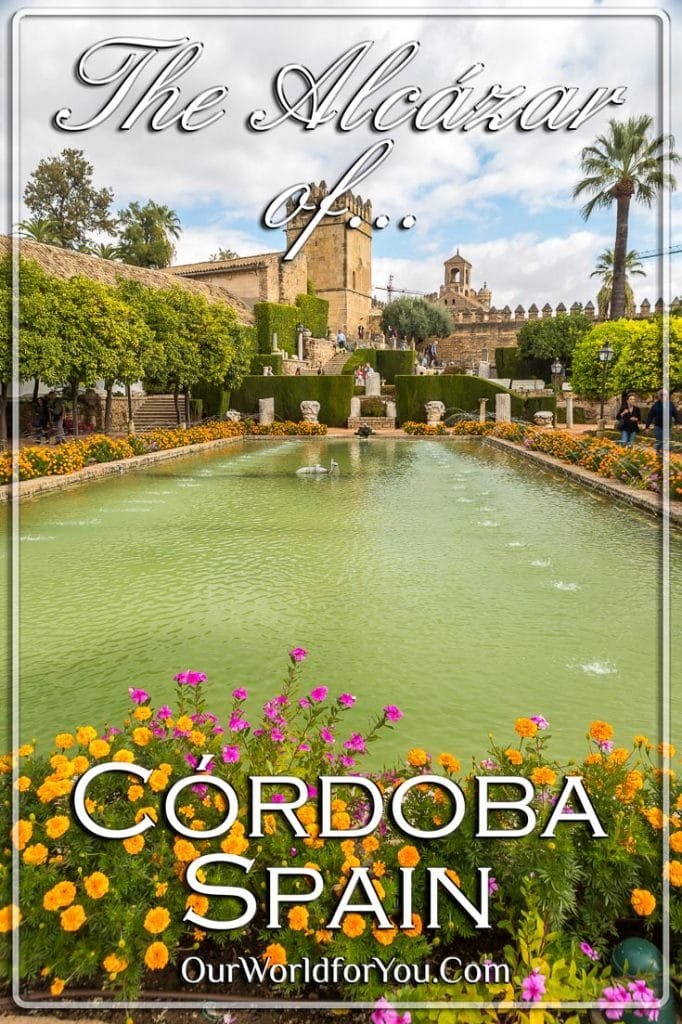 (Why not Pin It for Later?)