An African safari, 11 things to know, before you go
A piece of my heart still remains in the wild
Have you ever had a feeling in life, where you are immersed so deep into your surroundings that you wonder whether this awe-inspiring experience will ever be matched? This is how I felt when we visited Lake Kariba in Zimbabwe.

There was nowhere else in the world I'd wanted to be, lost in the moment, standing silent in our windowless, stilted thatched hut. Gazing out at the new morning's sun unhurriedly rising across the African bush and the wilderness stirring in the vegetation all around me.

I will savour that moment for the rest of my life. I had found my nirvana.
Sunrise in our lodge, Rhino Safari Camp, Lake Kariba, Zimbabwe
Every safari is a special experience, particularly your first encounter. You'll imagine it in your mind at how you will feel when those magnificent unimpeded creatures emerge peacefully from the undergrowth.

Yes, your heart will be racing, adrenaline will be pumping; however, each encounter is personal, savour the moment, value the surroundings and just relish the beasts whose world you are passing through.
A little knowledge goes a long way
You'll be briefed on the do's and don'ts of an African safari by your guide. However, sometimes there are little snippets of knowledge which are handy to know before you venture off on one of the most memorable trips you'll ever take.
Spotted at the watering hole, Etosha National Park, Namibia
I have family in Zimbabwe, so, I've been lucky enough to visit three times over the last 20 years. The economy may have changed, but the friendliness of the locals and the African bush is relatively unchanged.

In my opinion, you can never embark on too many safaris in your life. So, to top up my craving for the African wind-blowing through my hair, and the thrill of off-roading across the plain. We've also toured Namibia on a 3-week self-drive safari.

With the knowledge that we've gained from our safaris, we'd love to share with you some tips, advice and just good to know info, prior to you donning your khakis.
On the veranda, Hwange, Zimbabwe
Let's remember, we're not at Disney here, this is AFRICA. You are visiting the territory of some the world's most dangerous, yet supremely graceful creatures. If you respect them, they will cautiously respect you too.
Let them pass you and let them be inquisitive, just sit back in silence and relish this moment, you'll be grateful that you did. More often than not, they will give you a wide berth and keep their distance.
Heading off on safari can be a waiting game, some you win and some you lose. We've been out a few times and barely seen any wildlife at all. At the end of the day it doesn't matter, it's the thrill of the unknown and when you do experience that special moment it's all the better.
My advice is if the opportunity to head out on a game drive is offered, then go. The whole safari lodge experience is often quite relaxed, so you are not pressured into going. Then again, why wouldn't you?
During our visit to Hwange, Zimbabwe in 2019, we had a free afternoon. We chatted to the lodge guide, and an additional game drive was on the cards. This particular experience was unforgettable as it was the first time, we got to see the grace and elegance of lions in Zimbabwe.
We chose British Airways, and it was all done with a few clicks. A brief stopover in Johannesburg and our luggage was there waiting for us on arrival at our end destination.
 
Search for your flights in one easy place with ebookers.com and open up a world of options. Over 400 airlines are scanned for your favoured routes and chosen dates.
Don't be fooled into thinking this is Africa, I don't need a coat or a jumper. Prior to the sun rising and heating up the African golden sand or when the night sky has descended, and the nocturnal species are beginning to awaken, believe me, you will need it.
There's no better way to bring to a close a thrilling day than sitting around the Boma firepit. Reliving your unforgettable tales and swapping incredible stories with your fellow adventurers. A pair of long lightweight trousers will also come in handy too.
Now, keeping to the clothing theme, bear in mind you are here to blend in with the African backdrop, and you want to avoid getting spotted. So, steer well clear of anything bright, I'm not saying that you need to arrive in a full safari outfit with a multi-pocketed gilet.

Stick to bush green, grey, beige, brown or khaki, and you'll blend in a treat.
Janis, camouflaged, with Hippos in the background.
Oh, yes and don't forget a hat, you'll need it, preferably one with a brim. Although, not one you would wear to the beach as it can get breezy in the back of an open truck and it will require a chin strap.

As you can guess, a safari experience isn't haute couture.
There are not too many experiences that will give me so much pleasure at the thought of jumping out of bed at 5am, than an African safari.

The early daybreak wake-up calls are all 'part and parcel' of the fun. Grab yourself a pullover, and a quick coffee and the lodge will have you heading into to the bush in no time. You'll soon forget the resonating sound of your alarm.
Morning mist over the dry vlei
Just as the sunlight is breaking through for a new dawn, the African wildlife is stretching its legs for the fresh day ahead. As it's a cooler part of the day, the formidable creatures are more likely to saunter out and reveal their striking posture.
This is obviously a personal point of view. However, we have found that the smaller the safari lodge, the higher level of one to one care and attentiveness is given to their guests.

On regular occasions in Namibia and Zimbabwe Gary and I were the only two venturing out on the game drive. Often, we'd see other safari trucks hurtling from one bush to another with every seat in the vehicle taken.
At times we'd sit in one location, patiently and peacefully waiting for the wildlife to reveal itself to us. Regularly the guide would consult with us when to move on and certainly didn't mind pausing for us to take photos.
Don't be afraid to ask your guide questions, they are incredibly knowledgeable. They have trained long and hard to learn all aspects of the African wilderness, from the commanding and powerful beasts of rhinos and elephants to the soaring gracefulness of the birds of prey and the persistence and vigour of the dung beetle.
In our experience, the guides love parting with their knowledge and educating visitors on the tiny nuances that each species of animal lives their life.

Furthermore, trust your guide. They will not place you or themselves in a risky situation. On a couple of occasions, a stray elephant from a herd came close to our open-back truck. I was informed that elephants don't have excellent eyesight, so if you are sitting stationary for a while, then they may be unaware of you and come close while moseying on by.
An elephant, close-up on safari
Listen to the advice given and remain silent and still. You'll probably feel exhilarated and terrified all at the same time. The fact that you can almost see their eyelashes will astound you.

Just stay calm.
Firstly, heading off on an African game drive is all about the experience, and the memories will last with you forever. However, you'll still want to capture the magnificent sights that you see and share with your friends and family when you get home.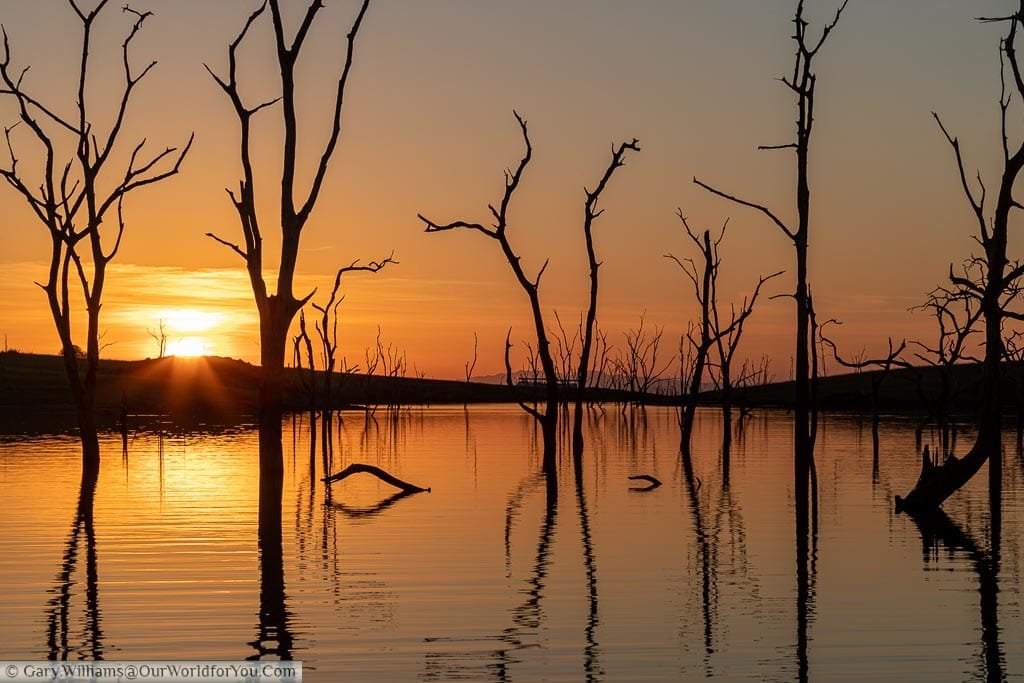 Farewell to the sun on Lake Kariba, Zimbabwe
Gary uses Canon DSLR, which takes astounding photos day and night. My advice would be, spend as much you can afford and protect it from the elements.
 
It's going to get bumping along the tracks so take care and grip the camera firmly.
 
Personally, I would recommend binoculars as well as your camera, as the beautiful beings that you are trying to capture on the camera will often keep their distance. Zooming in with a pair of binoculars takes the intricate details of the war-torn beauties to another level.
A pod of Hippos in Lake Kariba, Zimbabwe
My other piece of advice is, when the truck is safely pulled up, just sit and soak up the whole atmosphere and feeling, put your camera aside and enjoy the moment. You never know when you'll have this experience again.
We took a small
solar panel
with us, which we used to charge our battery packs, phones and tablets.
When heading to Africa, you are going to witness some jaw-dropping night skies. Out in the wilderness, there is little or no light pollution at all. Therefore, the evening sky will be awash with stars and nebula all around the galaxy.
The night sky at Rhino Safari Camp, Zimbabwe
Just with the naked eye, you'll observe some treasured nights under the stars. In the short time that we were chaperoned to the outskirts of the lodge, we witnessed three shooting stars.

The African night skies appear to instantly turn dark, it's like someone flicks a switch and the darkness has entirely descended, and the nocturnal activity slowly comes alive.
Have you embarked on a safari adventure in Africa, share with us your memories and experiences, and drop a
comment
below?
African safaris are not all about jumping in the rear of an opened backed truck and watching from a safe height. You can set off on-foot on an accompanied bushwalk too. Neutral coloured clothing is essential for this trip, you wouldn't want to be picked off.
Tettindra guiding us through the dry riverbed on bush walk safari
If you are offered this incredible opportunity, you must experience it. There were just six of us on our bush walk and two guides with guns (obviously for extreme circumstances only).

You need to walk in single file, stay quiet and keep your eyes peeled, we're all on tracking duty here. It certainly gets the adrenaline pumping. Astoundingly not only did we come across tortoises and termite hills; we were stopped in our tracks when our guide spotted a lion sunning itself in the dry riverbed.

Needless to say, our moonwalking skills were brought to the fore.
Buffalo watching us, watching them on a bush walk safari
We also observed a herd of buffalo trekking across the plains and hippos wallowing in the last of the riverbed waters.
One other thing to be aware of is that often the lodges are unfenced, so the wildlife moves freely through the National Parks and the private camps.

You are briefed on the do's, and don'ts and during daylight hours keep to the tracks and keep your eyes peeled. During darkness, you will be escorted to and from your chalets.

I thought to myself surely in daylight we'd be ok, how wrong was I.
I couldn't tire of this view, Rhino Safari Camp, Zimbabwe
At 4pm one afternoon we were heading off on a game drive. At around 3:30pm from our chalet, I thought I heard snapping and cracking of undergrowth; Gary heard nothing. I carried on applying my sun cream in preparation for the safari, and I heard it again, this time, Gary caught it too.   I didn't know who or what it was, but it sounded close.   Suddenly there was a rustling, and movement in the trees next to us. We took a closer look out of our windowless stilted-chalet, and we could see the glimpse of white, it was an elephant's tusks, and it was a bull elephant.
An elephant walking through the camp
Watching in disbelief, it was stripping the leaves off the trees next to us. The elephant didn't even notice we were there. We then heard further crunching and realised there were more elephants out there.

Wow, now tell me why you wouldn't want to make this trip of a lifetime?
* This post may contain links to affiliated sites where we earn a small commission at no additional charge to you.
Inspired to journey to Africa?
Why not stay at Rhino Safari Camp on Lake Kariba, take a look at the offers on Booking.com.
Search for your flights in one easy place with
ebookers.com
and open up a world of options. Over 400 airlines are scanned for your favoured routes and chosen dates.
(Why not Pin It for Later?)
If you enjoy what you see, and you'd like regular updates then join us for a monthly newsletter.