Bards & Boating, Stratford-upon-Avon, England
"To go, or not to go": that is the question?
Along the River Avon
Stratford-upon-Avon is located on the banks of the River Avon and around 100 miles (160km) north-west of London.
You don't need to be a huge fan of William Shakespeare to visit here, as it is such a beautiful town in its own right, and full of so much history.
However, if you are a fan, it certainly helps.
Discovering Stratford-upon-Avon
Go for a stroll
The best way to explore Stratford-upon-Avon is most certainly on foot, it is incredibly easy to stroll around and a really friendly town.
The Library and Registry Office
You'll need your camera to hand continually, as it is so picturesque. Half-timbered buildings, quaint shops, the River Avon and some beautiful statues.
Take me to the River
The River Avon that is!
Gary and I instantly headed to the river, wherever we are I always seem to be drawn to water. The day visitors were just starting to arrive, and the River Avon was beginning to limber up for the sunny day ahead.
The River Avon
Canal boats, rowing boats, pleasure trips you name it, the choice was yours. There is even a little chain ferry to take you across the river for 50p, which is the first ferry from 1937.
The chain ferry
On a summer's day, the river and Bancroft Gardens is a bustling part of the town, lots going on for all the family. You can sit and watch the world go by on a deck chair or take to the skies on the "Big Wheel'.
The Ferris wheel
What you must see in Bancroft Gardens is the Shakespeare Memorial by Lord Ronald Gower. Surrounding William Shakespeare is four eye-catching bronze statues that depict the literary characters of Falstaff, Hamlet, Lady Macbeth & Prince Hal.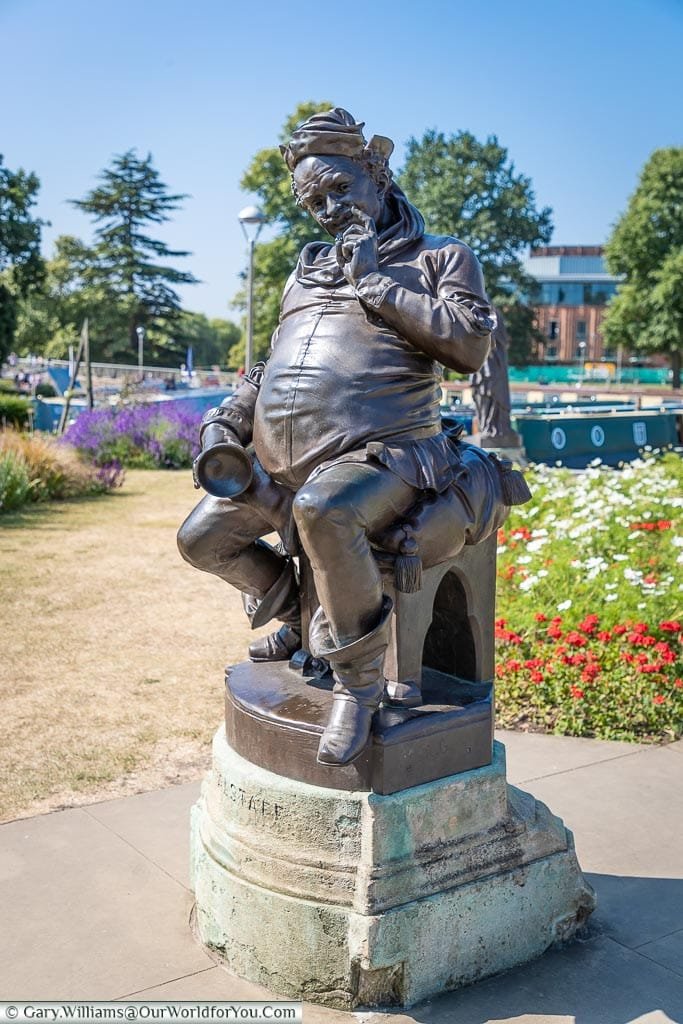 The Flastaff statue
The statue to Hamlet
The statue to Lady Macbeth
Statue to Prince Hal
What you must see in Bancroft Gardens is the Shakespeare Memorial by Lord Ronald Gower. Surrounding William Shakespeare is four eye-catching bronze statues that depict the literary characters of Falstaff, Hamlet, Lady Macbeth & Prince Hal.
Discover the beautiful town of Stratford-upon-Avon for yourself & tour the picturesque English countryside around the Cotswolds. You can do it all on a road trip, 
Rental Cars
 searches multiple well-known car hire brands and discovers the deals that suit you the best.
William Shakespeare
The man himself
William Shakespeare, the famous playwright, was born and raised in Stratford-upon-Avon, and evidence of his life here weaves its way through so many of the ancient streets and lanes.
Shakespeare's Birthplace
Shakespeare birthplace and his childhood home is a fantastically restored 16th-century half-timbered building along Henley Street. Now a Grade I listed property and a museum dedicated to Shakespeare; however, it was in this house that he grew up in with his siblings and also where he shared the first five years of his married life to Anne Hathaway.
The Guildhall, Shakespeare's Schoolroom & Almshouses
Shakespeare is believed to have been educated at King Edward VI Grammar School in town, which is along Church Street from the ages of seven to fourteen years. There are records that the school was established as early as the 13th-century. Adjacent to the school and the Guildhall is the Guild Chapel.
The sign outside the Guildhall & Shakespeares Schoolroom
William Shakespeare's Life
The family years
Shakespeare and his family owned a few properties around the town, New Place, where Shakespeare lived later in his life and died in 1616, is now an attractive garden. A later owner of the property had it demolished in 1759.
Nashs House
Standing next to where New Place was, is Nash's House, built around 1600 and home of Thomas Nash who was the first husband of William's granddaughter Elizabeth.
 
Both Nash's House and the site of New Place were acquired in 1876 by Shakespeare's Birthplace Trust.
Halls Croft
Another building in town associated with Shakespeare is Hall's Croft, which was owned by William's daughter and her husband Dr John Hall, a physician. Located along Old Town, this is another wonderfully kept example of Jacobean House, it was built in 1613.
Anne Hathaway's Cottage is slightly out of town in a village called Shottery. Anne Hathaway was Shakespeare's wife, and she lived in the cottage from birth in 1556 until they married in 1582. The cottage is lovely and is over 500 years old, the planting is incredible and so in keeping.
If you wish to visit more than one of the sites owned by 
Shakespeare's Birthplace Trust
 (there are five), you should check their website. As not only is it cheaper to buy a 'Full Story' ticket it is also discounted online.
William Shakespeare's Resting Place
Holy Trinity Church
Shakespeare's life ended where it started really, in Holy Trinity Church. William was baptised on 26th April 1564 and is buried in the same church after his death on 23rd April 1616 aged 52, next to his wife.
The grave of William Shakespeare
A monument to Shakespeare
When you have a wander around you'll see a funerary monument dedicated to William Shakespeare.
The Royal Shakespeare Company
At home in Stratford-upon-Avon
The Royal Shakespeare Company as you would expect is based in Stratford-upon-Avon. It has regular performances in London and often tours the UK, so if you're unable to pick up a production here, then keep a lookout locally.
The RSC has three theatres in Stratford-upon-Avon, the main one is the Royal Shakespeare Theatre and sits pride of place along the River Avon. This theatre was opened on Shakespeare's birthday on the 23rd April 1932, in 2007 it was closed for a multimillion-pound refurbishment & reopened in 2010.
The Royal Shakespeare Theatre, Stratford-upon-Avon
Nestled at the end of the Royal Shakespeare Theatre is the Swan Theatre, occupying what was once the Shakespeare Memorial Theatre and also continually holds performances.
The Swan Theatre
Just a short stroll from here is The Other Place, as 200-seat studio theatre, this also had a recent refurbishment and opened on 21st March 2016, in time for the 400th anniversary of William Shakespeare's death.
A Royal Shakespeare Company performance
Wherefore art thou?
For once, forgetting to pre-plan worked out, our luck was in, not only did we pay a 'Standby' price of £25 for a stalls ticket of £62.50, the performance was of Romeo & Juliet.
Our Romeo and Juliet programme
It was a modern take on one of William Shakespeare's most famous productions, and it was absolutely fantastic.
The cast was incredible, full of energy and transported you into their world. The cast member Charlotte Josephine played an amazing role as Mercutio.
Historic Stratford-upon-Avon
Sheep Street
One of Stratford-upon-Avon's most historic streets is Sheep Street, many of the buildings along here are from 15th & 16th-century.
Sheep Street, aptly named as this was where sheep were brought from the nearby Cotswolds for trading. We've come across a few Sheep Streets on this road trip.
The Golden Bee
Shrieve's House is one of the oldest still lived in houses in the town, during the 16th century it was an Inn and which was run by William Rogers. It is believed he was the inspiration for Shakespeare's character Falstaff.
Shrieve's house
Signs of William Shakespeare everywhere
Quirky Statues
Just up from Shakespeare's Birthplace on Henley Street is a jolly Jester from Shakespeare's play "As you like it".
The Jester
The Interesting Lampost
Keep an eye out for the lamp post along 'Waterside', the little sculptors sitting on top are of "Bottom" the Ass from "A Midsummer Night's Dream" and "Topol" from "Fiddler on the Roof".
The Stratford-upon-Avon Canal
Go with the flow
If you fancy a bit more of a sedate way to tour the local countryside, there's always a canal boat. We've made a few canal boat trips, and they are great fun for young and old.
The waterway and locks that lead into the canal basin at the River Avon are the Stratford-upon-Avon Canal.
A canal boat navigating the locks
The Canal Locks
The canal was built between 1793 and 1816, it starts at Birmingham 25.5 miles (41.0 km) north of Stratford-upon-Avon and winds through the countryside. Surely there's no better way to arrive in town than mooring up for the evening and enjoying a waterside pub.
Moored canal boats
Visited Stratford-upon-Avon, did you get a chance to hire a boat, we'd love to know if you enjoyed the town too?  Leave us a
comment
below to tell us of your adventures.
The best of Stratford-upon-Avon
Mixing with the locals
We'd read that the Garrick Inn was reputedly to be the oldest pub in town, so for research purposes, of course, we had to check it out.
The sign outside the Garrick Inn
It's full of wooden beams, nooks and crannies and a great little snug bar at the front.

It's been an inn since 1718 in its current Elizabethan style, however, the building dates back a couple of centuries further and is known to have been an Inn during the medieval period.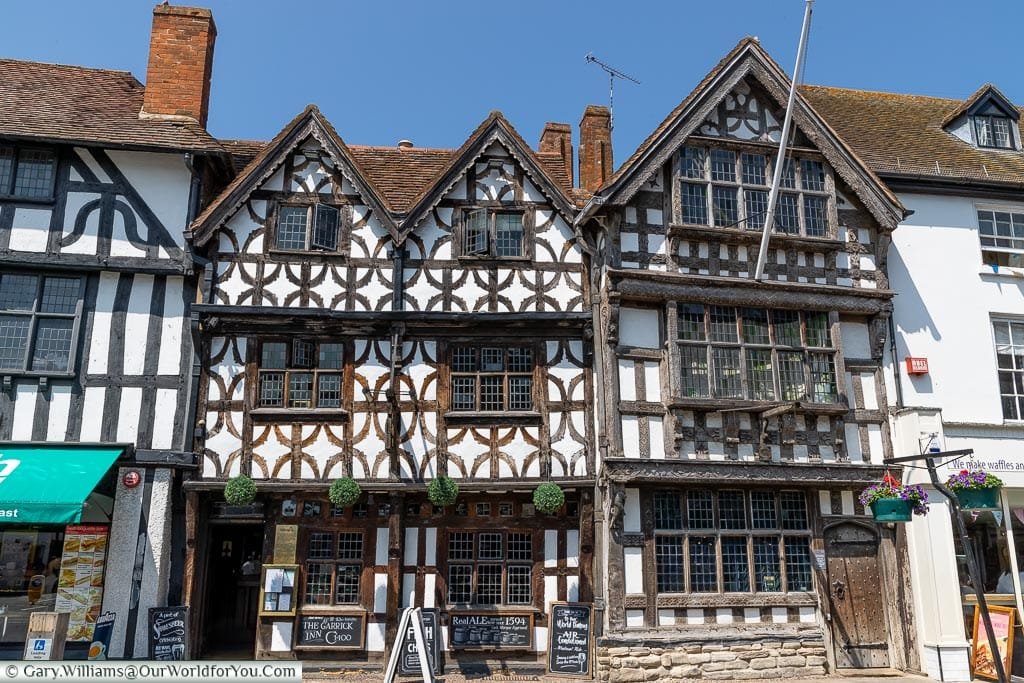 The Garrick Inn
We got chatting to some fascinating, friendly locals, who despite knowing we were just passing through, welcomed us into their local haunt with open arms. One of them gave us a great restaurant recommendation.
Would you like a little more?
We have created a little YouTube video of Stratford-upon-Avon - why not check it out?
Why not subscribe to our YouTube channel and get the latest clips as we post them?
Eating in Stratford-upon-Avon
Where we ate
Well, this follows on nicely from above, as we headed down Sheep Street and called into the 
Vintner Restaurant
. Another incredible building, constructed in 1490 & restored in 1910, it is still privately owned after 500 years.
The Vintner Restaurant, Stratford-upon-Avon
Our meal here was lovely, the ingredients are locally sourced and a mixture of different cooking styles.
A main dish - Chicken in Lime with a Mango & Curry Sauce
* This post may contain links to affiliated sites where we earn a small commission at no additional charge to you.
Inspired to visit Stratford-upon-Avon?
Why not make a couple of days of it and stay and watch a performance at the RSC?
The open roads await, pop in your location details then
Rental Cars
will search well-known car hire brands and discover the deals that suit you the best.
(Why not Pin It for Later?)
If you enjoy what you see, and you'd like regular updates then join us for a monthly newsletter.