by Janis /
0 comments
- Orginally published:11th December 2018
Visiting Bremen's Christmas Markets, Germany
A perfect location for your first Christmas market taster
Woohoo, we'd arrived in Bremen our first destination on our 2018 German Christmas market road trip.
It was a bit of a long drive from Calais (410miles/660km), but once again Gary got us there safe and sound.
All checked in and parked we had 2 nights to discover Bremen's delights. Time to dust off our 'Things to do in Bremen' list and hit the markets.
Why not Pin it for later?
Discover Bremen at Christmas
A short hop
The hotel we'd chosen (details below) was in a great location, just around an eight-minute walk. Crossing through Wallalagen Park, bypassing the Am Wall windmill, and we were in the heart of Bremen's Altstadt and Christmas Markets.
Just along Sögestrasse (Sow/Pigstreet) is a delightful little sculpture of a swineherd.
It's one of those bronzes you just want to touch, that's probably why the pig's noses are now extremely buffed.
Looking down Sögestrasse
The Christmas Markets at Bremen
Instant winner
Gary and I instantly loved Bremen, we both immediately had a warm feeling about the city. The architecture all around the Marktplatz was incredible, it made it such a wonderful backdrop to the Christmas festivities.
The Rathaus with the Dom in the background
After strolling around for a little while, we both agreed that Bremen is a perfect size for an introduction to your first German Christmas market.
Or if you wanted a location that wasn't too tiring on your feet, as the two main markets are within a short walk of each other.
Feuerzangenbowle glühwein – the fiery one
I love nothing more than planning a trip and so often I use the DK Eyewitness books.  I find them extremely informative, easy to follow and the pictures and maps tempt you into discovering more.
We used a previous version of this book to plan our Germany road trips, now you can grab the revised copy.
Exploring Bremen at Christmas
Go with the flow
We arrived around 5pm, so the sun had already set, and like all Christmas Markets, they truly come alive after dark.
Our first Glühwein of the season, in wine glasses too!
There was no holding the revellers back, the bratwurst & glühwein was flowing, and of course we didn't want to stand out from the crowd, so thought we'd join in.
Bratwurst and Currywurst
Bremen's Weihnachtsmarkt
To give it its proper name
Bremen's central market is the Weihnachtsmarkt, which meanders all around the Rathaus, Bremen Cathedral and across into the picturesque square in front of the Guild House (Schütting).
Weihnachtsmarkt sign with a symbol you'll soon become familiar with
The Guildhouse
This market is beautiful, it has a really quaint quality about it, and full of all those wonderful gifts and decorations that we've truly come to love.
As we have so often come to find, that the Christmas markets in Germany are for the enjoyment of all ages.
However, there is a very colourful and bright part of the market by the Dom, that young children will love.
Carousels, mini-rides and who doesn't love a Ferris wheel?
The kids side of the market
A German market wouldn't be quite complete if it didn't have the traditional Käthe Wohlfahrt cabin, selling the amazing soldier nut-crackers and smokers, for once we held back.
The Käthe Wohlfahrt pop-up store
Of course, we had to have another cheeky glühwein and eierpunsch (egg-nog) and sample some schmalzuchen, which are little doughy pillows sprinkled with icing sugar. They are rather nice if not a little moisture-sapping.
Our glühwein, eierpunsch & schmalzuchen
The tram intersects between Weihnachtsmarkt, so ideal if you're heading in from out of town.
Bremen's Schlachte Magic Christmas Market
Something a little different
Or, the medieval and swashbuckling market as we came to affectionately name it.
Set along the edge of the River Weser, no detail has been left out here.
As you stroll in you are greeted with the delightful sound of a harpist.
The Harpist with his medieval harp
And wander on a little further & potions are being mixed, blacksmiths are busy at the anvil, and medieval gifts are being crafted. What's not to love?
The Blacksmith's stall - check out his footwear!
Visited any German Christmas markets, let us know which ones you enjoyed, as we're always looking to discover more?
Enjoying Bremen's Christmas Markets
"Pieces of eight"
Heading further through the Christmas market and all things medieval are left behind and you then stroll into a swashbuckling market with sawdust under your feet.
A view of the pirate river market
The pirate's ship washed up in the middle, cunningly disguises a bratwurst stall. Buccaneers are racing up rope ladders, shanties being sung by the bars, and a grog or two being enjoyed.
I really adore these themed Christmas markets, you can't help but smile at all the costumes, antics and everyone enjoying themselves. And although they come into their own in the evenings, they are still really enjoyable to stroll around during the day and are usually a bit quieter.
Discovering more of Bremen
The Local Brew
It would have been rude not to sample the local brew, I know you can enjoy a Becks in a lot of places around the world, but surely it's best to try it at its spiritual home. Or even one of its contemporaries Haake Beck.
A cool glass of Haake Beck
Popping into a bar also gives you the opportunity to mix with the locals.
So while having a little chat, our plans for the following day were given the thumbs up, and Schnoor was definitely the place to head.
Comfy shoes and warm layers are a must. 
There's more to Bremen than Christmas
A historic German city
Bremen is a lovely city and one we could easily visit any time of the year. Actually, with the Christmas markets taking pride of place in Marktplatz, you are often distracted by the amazing surroundings.
Marktplatz with the Rathaus & the Dom spires in the background
One of Bremen's must-see sculptures is "The Town Musicians of Bremen" The sculpture depicts a donkey, a dog, a cat, and a rooster the fairy tale was first published in Grimms' Fairy Tales in 1819.
By touching the Donkey's front hooves, your wishes are said to come true. These characters have become a city emblem and can be seen in all different guises around Bremen.
The "Town Musicians of Bremen"
The "Town Musicians of Bremen" in lights
Also, keep a lookout for the Roland statue, this was erected in 1404 and stands facing the cathedral.
The Roland monument at night
The statue of Roland is also inscribed on the UNESCO World Heritage list.
Start creating your own German Christmas Market adventure. Search for your flights in one easy place with ebookers.com. Over 400 airlines are scanned for your favoured routes and chosen dates.
Or alternatively, like us discover a few of Germany's Christmas markets on a road trip. If you're venturing from the UK, jump on Le Shuttle.
Although, if you're unable to bring your own car or you are flying into this lovely country give Rental Cars a go. They search multiple well-known car hire brands for the best deals.
Bremen's Dom
The city's Cathedral
Bremen's cathedral is so colourful inside, I just didn't expect it. As soon as I stepped in, the enormity of the interior just hit me, it so attractive.
Interior of the Cathedral
It has beautiful arcades running through the central nave in Gothic style and incredible vaults above the cathedral's main organ.
This cathedral is certainly worth a visit in opinion.
Not to be missed in Bremen
Schnoor
We strolled down to the Schnoor district of Bremen, and although it was on our list to visit we had heard some lovely things about it. And, we certainly were not disappointed.
A charming restaurant in Schnoor
The cobbled lanes of Schnoor
There were tiny cobbled lanes, quaint little homes and shops and some delightful architecture.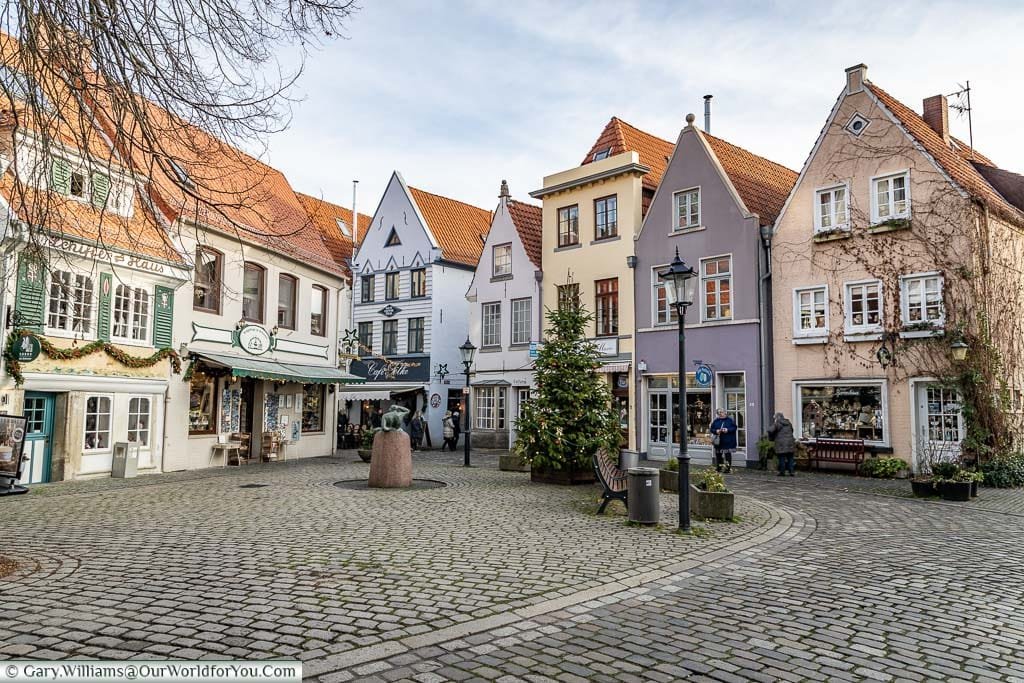 A quaint little square
We just couldn't resist popping into one of the little cafés and enjoying what felt like quite a decadent brunch.
Being a little decadent - and why not?
Gary had a rum flavoured hot chocolate, apple strudel and cream, and I had peppermint hot chocolate, and my cake was apple, chocolate and rum.
Mmmm it was lovely.
The charming streets of Schnoor
A must-see in Bremen
Glockenspiel
Another area not to miss while in town is around Böttcherstrasse, just south off the main square and very quaint. Beautiful architecture and of course the cities' Glockenspiel House.
The Glockenspiel House
The 30 Glockenspiel bells chime three times a day and the whole display last around 8 ½ minutes. While the bells are chiming a panel within the tower to the left of the bells rotates, and depicts pioneering seafarers and aviators.
Watch the Tower, Bremen!!
Our video of Bremen at Christmas
The Christmas Markets experience through our eyes
We have created a little YouTube video of Bremen at Christmas
Also, why not subscribe to our YouTube channel and get the latest clips as we post them?
* This post may contain links to affiliated sites where we earn a small commission at no additional charge to you.