Bubbles & Vines, Champagne, France
Memories remain even after a couple of flutes
Our Champagne road trip through the sweeping vineyards of Champagne-Ardenne certainly didn't disappoint us.
Our first stop was to Troyes, a relatively familiar town to us as we had stayed there briefly a couple of times previously.
However, the next two destinations of Châlons-en-Champagne and Reims were there for us to discover for the first time.
Along with the oceans of vineyards surrounding them.
If like us, you love visiting different regions of France then this Michelin guide will definitely assist in your planning.
We used a previous version of this book to plan our eastern France road trips, now you can grab the revised copy.
To appreciate this region to the max, you really need to experience a tour through the lush rolling fields of vines, which interlink idyllic tiny French villages from one to the other.
These wonderful little wineries conceal within their unseen cellars, fruit jewels that will be made into a glass of bubbles.
Troyes really is a lovely picturesque town.
Even though this was our 3rd visit to Troyes, we still enjoyed and appreciated the history as you enter the old town and stroll along the cobbled streets, amongst the wonderful half-timbered buildings.
You feel like you have stepped back in time.
Whilst based at Troyes we set off upon our 'Bar to Bar in a Car' mini road trip (which didn't include alcohol), through the surrounding vineyards.
We planned a stop at Essoyes, once home to the famous French impressionist Pierre-Auguste Renoir.
This is such a charming village and memories of Renoir's works can be seen along the 'Chemins de Renoir'. Renoir, his wife and family were laid to rest in Essoyes and their headstones can be found in the cemetery on the edge of town.
Although Reims Cathedral was partially covered in scaffolding, it certainly didn't hinder the evening sound and light ceremony, that was projected on and around 'Our Lady of Reims'.
It was a fantastic display of the Cathedral's 800-year history and its reconstruction.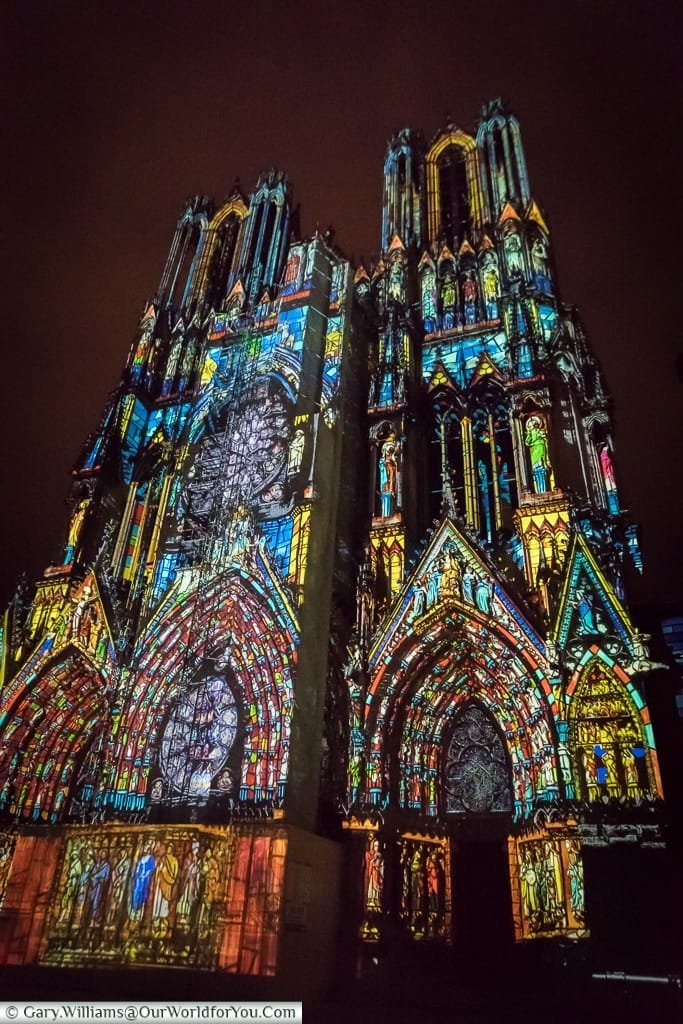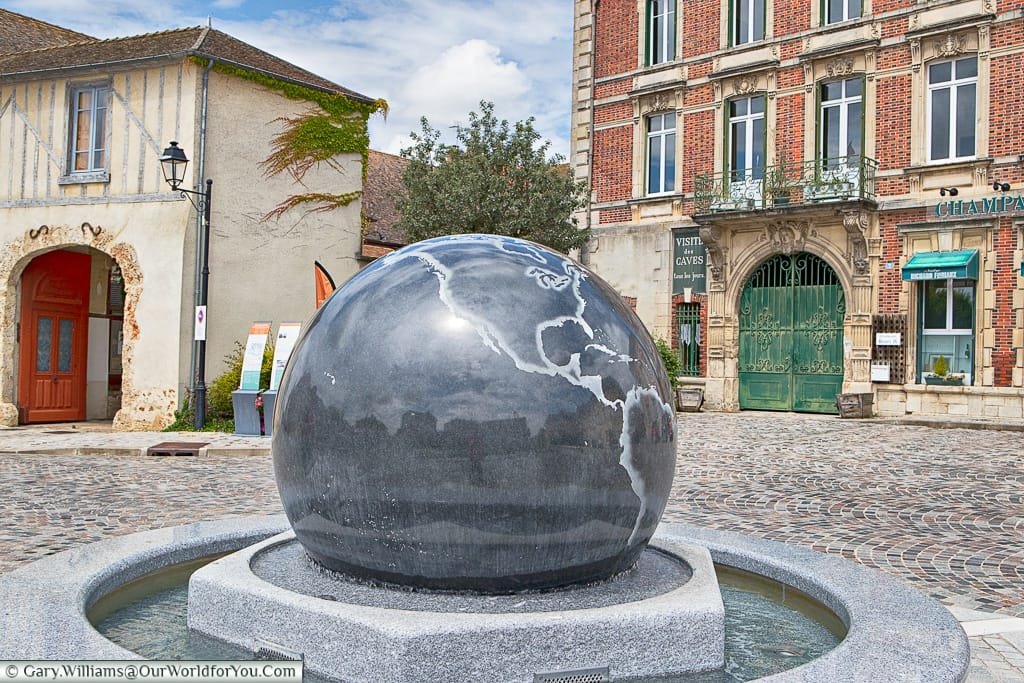 This included a wonderful stop at Ay for lunch and a stroll around the picturesque town, which is home to many well-known Champagne houses, one of which is Bollinger. Watch out for the unusual tractors weaving in and out of the vineyards.
A journey to this region in our opinion wouldn't be complete without a tour of a Champagne house.
Whilst we were staying in Reims we chose to visit G.H. Mumm, located within the town. It was an enjoyable tour of the cellars and extremely informative.
Make sure you dress warmly; it is a bit chilly down there!
On the Saturday evening that we were staying in Troyes a quayside night market was taking place.
There were some great food stalls, local crafts, music and salsa dancing. It was a fantastic way to spend a lovely June evening.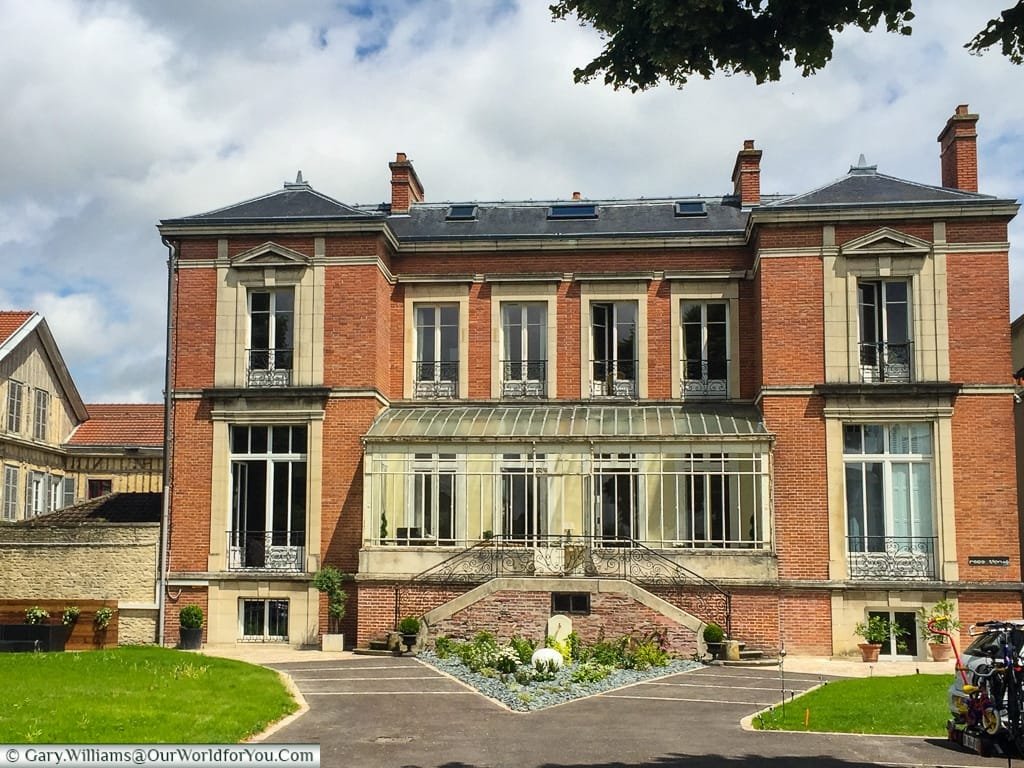 It's situated along the quay of Canal du Trevois and just a short stroll to the town.
Along with visiting cemeteries on any of our trips, it also wouldn't be the same if a motorsport reference wasn't made. Just outside Reims in the tiny village of Gueux. is the remains of a piece of motor racing history, the Circuit Reims-Gueux.
This wonderful reminder of a bygone era in motor racing is tastefully maintained by 'Les Amis du Circuit de Gueux'.
As mentioned I often visit local cemeteries, the history can be very poignant.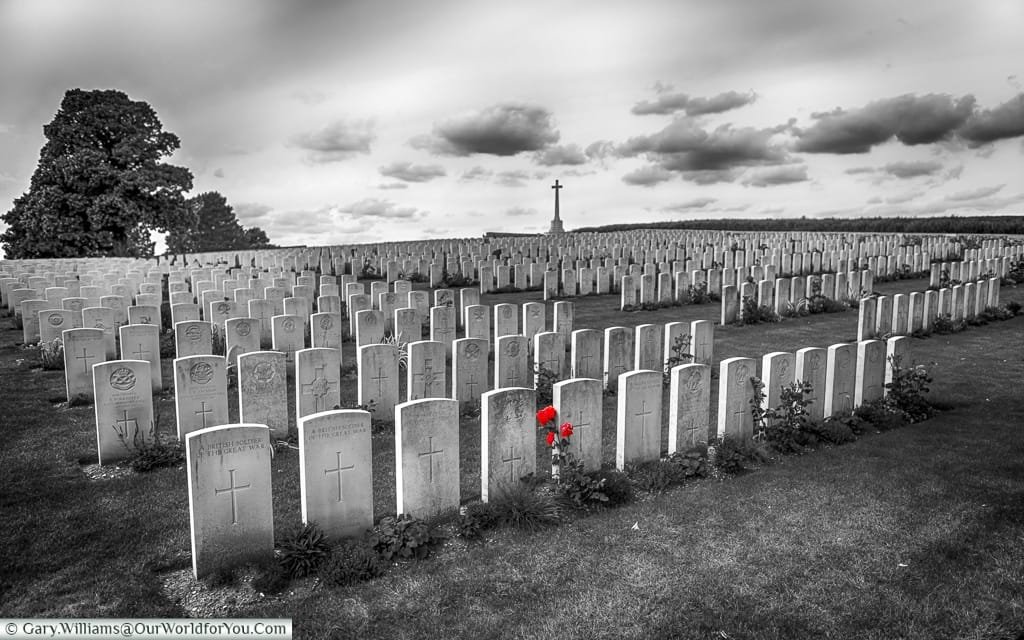 The WWI British Cemetery in Marfaux is very moving, with over 1,000 graves and a memorial to 10 casualties of the New Zealand Cyclist Battalion, who have no known graves.
We really enjoyed our adventure in the Champagne region of France and when we return we will ensure that we include a stay at Épernay.
I found it funny - Andouillette de Troyes (local sausage), is not for the faint hearted.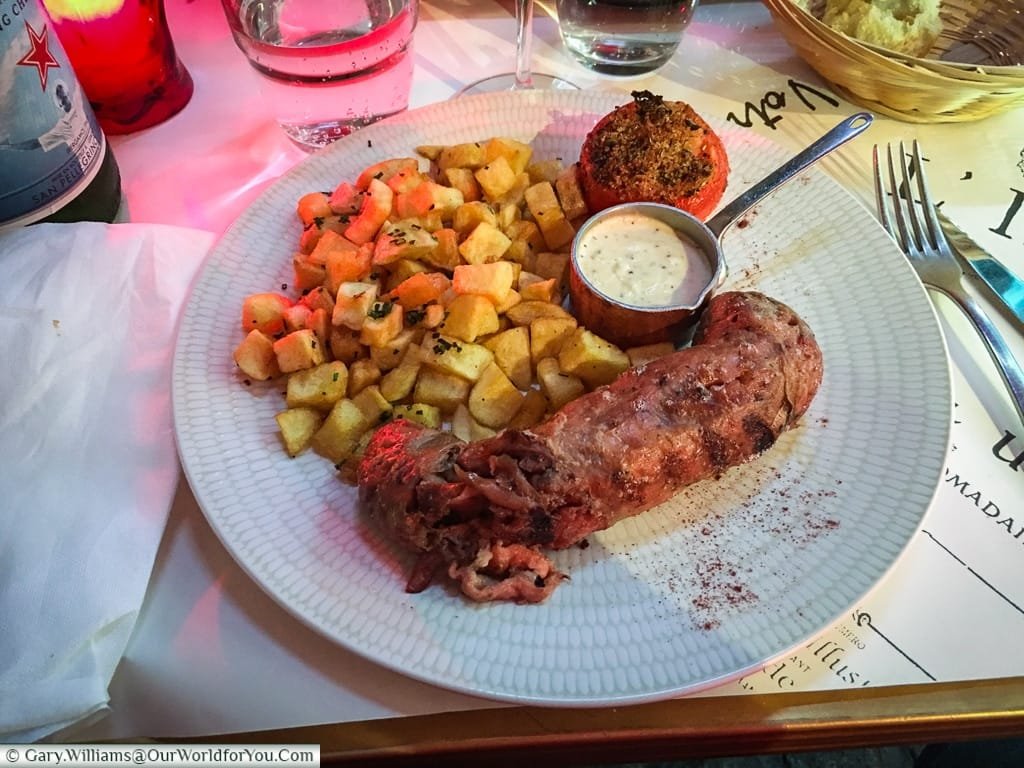 This was Gary's choice; he is always of the opinion 'when in Rome'. But I think even this was a step too far, the unique smell still remains with him to this day.
Whilst in Reims we really wanted to see La Porte de Mars, which unfortunately was under restoration, along with La Fontaine Subé and the front of the Cathedral.
That Verzenay (just outside Reims) which is 140 miles/225Km from the sea, has a lighthouse.
Climb the 101 steps to view the sea of vines.
Verzenay also has a windmill and sits proudly overseeing the G.H. Mumm vines at its feet.
That Champagne corks start their life cylindrical and not mushroom shaped. They are compressed to fit two thirds into the Champagne bottle. The portion in the bottle will swell to the size of the bottle neck and the external part will expand into the mushroom shape we know and love.
Closing thought
We really enjoyed our Champagne road trip and will definitely go back again one day.
If you get the opportunity to visit and you are not on 4 wheels, we would highly recommend hiring a car for a day, you won't be disappointed.
Fond memories of a trip to France? exploring amongt the vines and enjoying the bubbles at the end of the day? We'd love to hear your stories too.
Inspired to visit the Champagne region.?
It's so close to the Le Shuttle it'd make an idea romatic weekend away.
Why not check out the latest deals on Booking.Com?
(Why not Pin It for Later?)