One for next time, Burgos, Spain
Before we finalised our 9th destination of Logroño in La Rioja, for our 2016 Spanish road trip. We were also toying with staying at Burgos in Castile y León.
We chose Logroño for its tapas and Rioja wine, but not to feel left out on our way to Santander we visited Burgos.
In the brief time that we were in Burgos we felt that more time should certainly be dedicated to this place, particularly it's amazing cathedral.
Just to give you a taster, here are a few shots we took whilst strolling around.
I love nothing more than planning a trip and so often I use the DK Eyewitness books.  I find them extremely informative, easy to follow and the pictures and maps tempt you into discovering more.
We used this version of the book to plan the northern part of our Spanish road trips.
The Cathedral at Burgos was declared a UNESCO World Heritage site in 1984.
The construction of this magnificent Gothic cathedral started in the 13th century, but was not completed until the 15th and 16th centuries.
This Global Block does not have any content.
The elegant 14th-century city gate Arco de Santa María, was once the main gate of the old city. It looks down upon the lovely pedestrianised Puente de Santa María which spans River Arlanzón.
Discover more of Spain, its historic town's & cities, the vast countryside. You can do it all on a road trip,
Rental Cars
searches multiple well-known car hire brands and discovers the deals that suit you the best.
Along the banks of the River Arlanzón is Paseo del Espolón, which is a charming tree-lined promenade.
The Spanish certainly know how to create delightful parks to shade themselves from the warm summer months.
Slowly meandering through the Medieval lanes its lovely when you turn a corner and stumble across another traditional plaza or courtyard.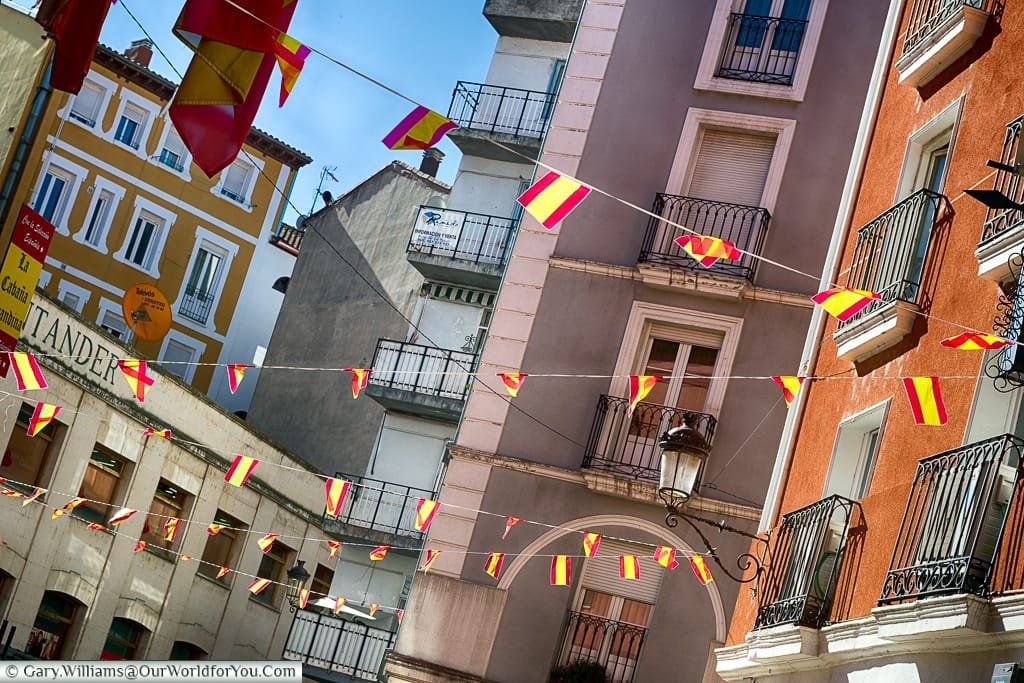 The early 14th century former Catholic Church of San Esteban, is now the Museo del Retablo which is located in a tranquil courtyard, just adjacent to Burgos castle.
This Global Block does not have any content.
Start creating your own Spanish adventure and discover its historical towns and cities for yourself, easyJet & British Airways are just a couple of options.
Like other Spanish towns and cities, we have seen some wonderful sculptures & street art. Burgos was no different, with some lovely bronzes rubbed for luck by passersby.
The amazing door of Salon de Recreo was originally made in 1904 and continually gets restored to keep it look as striking as it does today.
Whilst strolling the streets and lanes of Burgos we came across an outdoor escalator, right in the middle of town - Yes an escalator.
 
How bizarre, I was just so surprised and didn't expect it in a Medieval town.
Visited, or stayed at Burgos? Let us know if you can give us any tips on Burgos, for when we return again.
This Global Block does not have any content.
Inspired to visit Burgos?
We are and will explore it further on our next road trip to Spain.
But if you fancy getting there first why not checkout the latest deals on Booking.Com?
(Why not Pin It for Later?)