The beauty of a Champagne road trip.
From the terroir to the glass
In 2016 we realised a long held wish - to tour the French Champagne region. Within easy driving distance of Calais, the Champagne region was there to explore.
It was another grand tour - it may have only lasted 8 days, but it ticked a lot of our boxes;
Visit a Champagne House
Drive amongst the Vineyards
Revisit Troyes
Drink Champagne
Bring back some Champagne
So the failure to bring back some Champagne was an oversight, and not something we'll do on our next visit to this fabulous region.
If like us, you love visiting different regions of France then this Michelin guide will definitely assist in your planning.
We used a previous version of this book to plan our eastern France road trips, now you can grab the revised copy.
As we'd mentioned in our inspiration for the trip, we'd passed through the region many times on our travels through France. In fact we had stayed at Troyes twice before.
In the early days, and before the Reims orbital was completed, it's famous Cathedral tempted us but it took until the summer of 2016 to tour the area.
So the planning starts with picking a base, or two, or three. Three as it turns out. We decided to return to Troyes in the south of the region, a wonderful town that we had really enjoyed in our previous visits.
Then of course it had to be Reims. This historic city, the de facto capital of the region, had so much history to explore.
So we then opted for Châlons-en-Champagne as the third location, sitting between the too.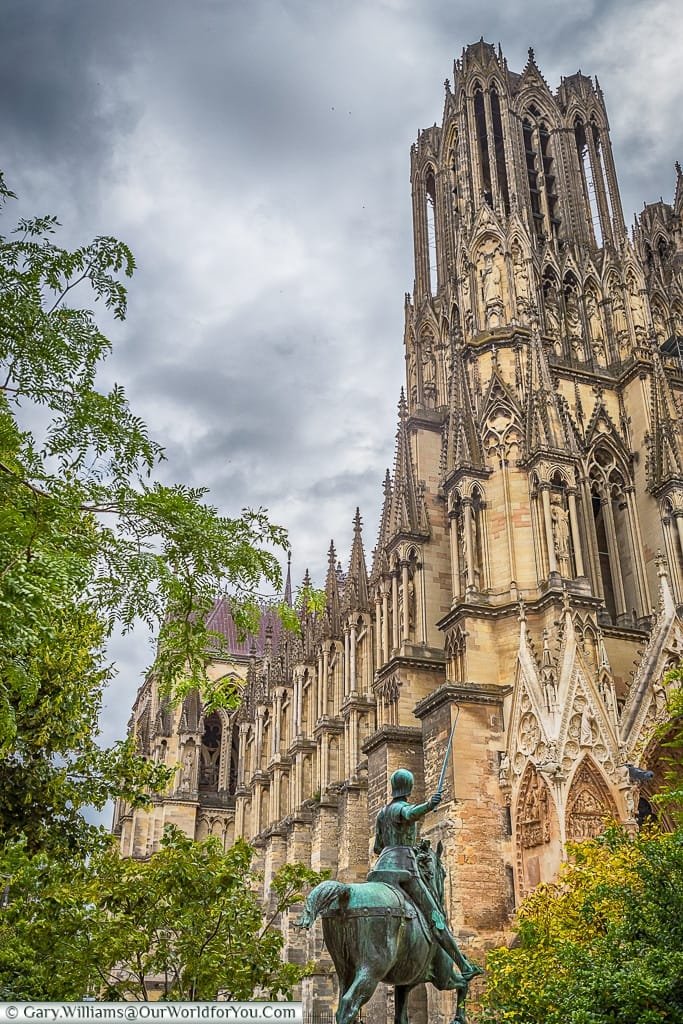 The order was important too. Heading south to Troyes, and a more leisurely cruise back north was the order of the day.
So we set about booking, selecting accommodation with secure parking was a must.
For Troyes, we selected the wonderful Maison M, a short stroll from the town centre and ticked all our boxes. We'd certainly stay here again.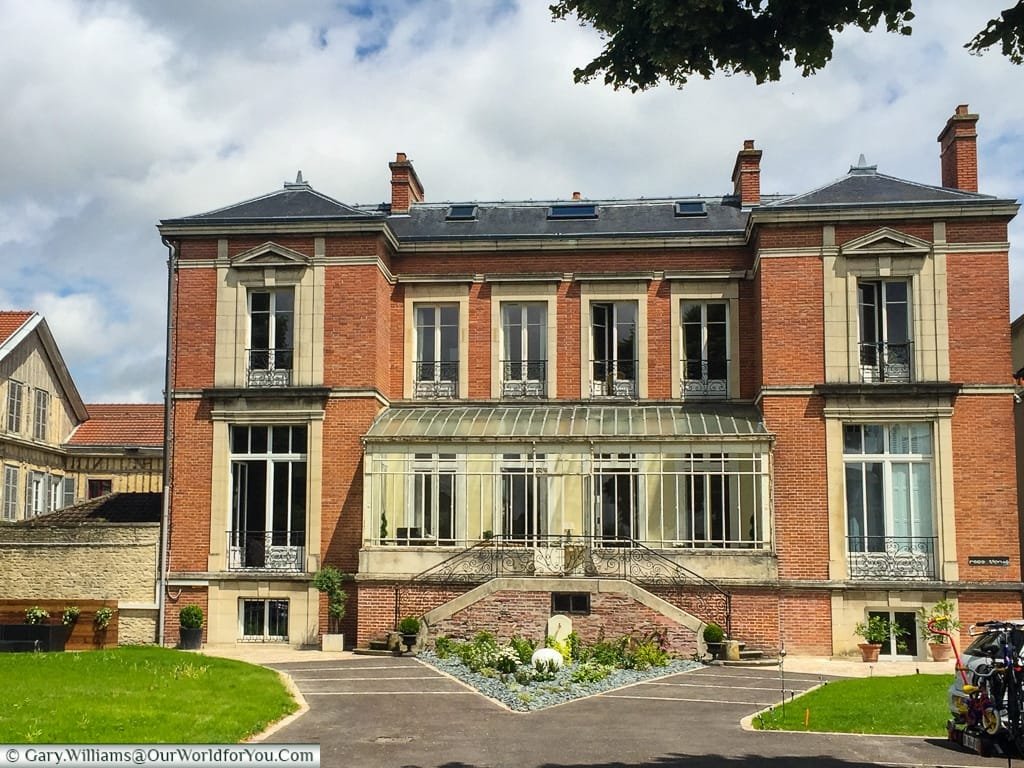 In Châlons-en-Champagne we chose Hotel D'angleterre, not for its name, but again well placed closed to the town. A charming hotel, if a little dated in places.
Finally, in Reims we opted for a central location - so that was the Best Western Plus Hotel de la Paix. It certainly was central, although our street facing room, during the Euro '16 football competition, proved it could be noisy too.
This Global Block does not have any content.
Calais is our chosen point of entry into Europe as we depart Le Shuttle. Due to the switch of time zones, we immediately lose an hour. So an early departure takes the sting out of that and with any luck we're heading eastwards along the A16, before quickly switching to the A26 in a more southerly direction. We're following the signs for Paris to start with, and in truth the French capital is within easy distance of Calais too - but that'll be another day.
Today's route takes us passed Saint-Quentin, (I have normally broken into a little Johnny Cash by now, predictable, but unavoidable), before skirting Reims & Châlons-en-Champagne and arriving at Troyes. Google has predicted around 250miles/400km taking 3hours 34minutes. The car's own navigation did not disagree. However in reality the journey took a smidge over 4 hours but the mileage was spot on.
We were able to check-in a little early at Maison M, so with the car secured we head into town.
Troyes, an old favourite.
Now, as I said, this is not our first time in Troyes, indeed it's our third. The first in 2008 as the first stop in the journey south towards Millau and that impressive Bridge - but that's another tale. Again in 2010 as part of a Burgundy wine mini-break. So we know Troyes - or do we? Each time we come to Troyes we see another side of it. Sure the half-timbered buildings that make Troyes so attractive are the same, but we notice some stunning works of public art have cropped up.
There is also a beautiful energy about this place - we cannot recommend Troyes enough to anyone who'll listen. Granted the restaurants that line Rue Champeaux and the surrounding streets are there for the tourists, but I'm never left disappointed.
It is also the base for our Bar-to-Bar day trip, and as we head off a couple of days later en-route to Châlons-en-Champagne through the vines, we cannot help thinking we'll be back.
Through the vines to Châlons-en-Champagne
The reason I love a road trip is that you have the chance to explore, and the drive to Châlons-en-Champagne is no exception. Again not the direct route but via Brienne-le-Château & Moncetz-l'Abbaye - all to the soundtrack of Edith Piaf, Serge Gainsbourg & Yves Montand to name but a few.
After a day on the road we slot the car into the carpark of Hotel D'angleterre. We have arrived at Châlons-en-Champagne.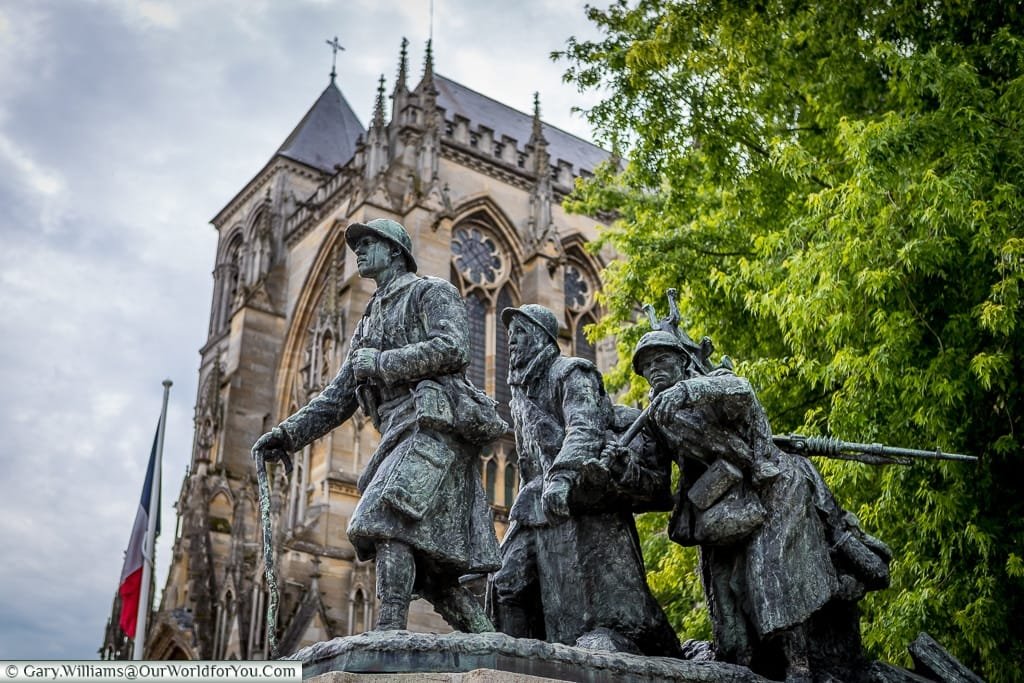 In fact it's a great base to explore the region from the comfort of a reasonable sized town, it also has the Cimetière de l'ouest - a cemetery Janis can stroll through - she loves a good cemetery, and this one didn't disappoint.
After a stroll around the town we head-off for a day amongst the vines. A great day exploring the best of the region.
The couple of nights in Châlons-en-Champagne flew by, and in no time we were heading to our final destination of Reims.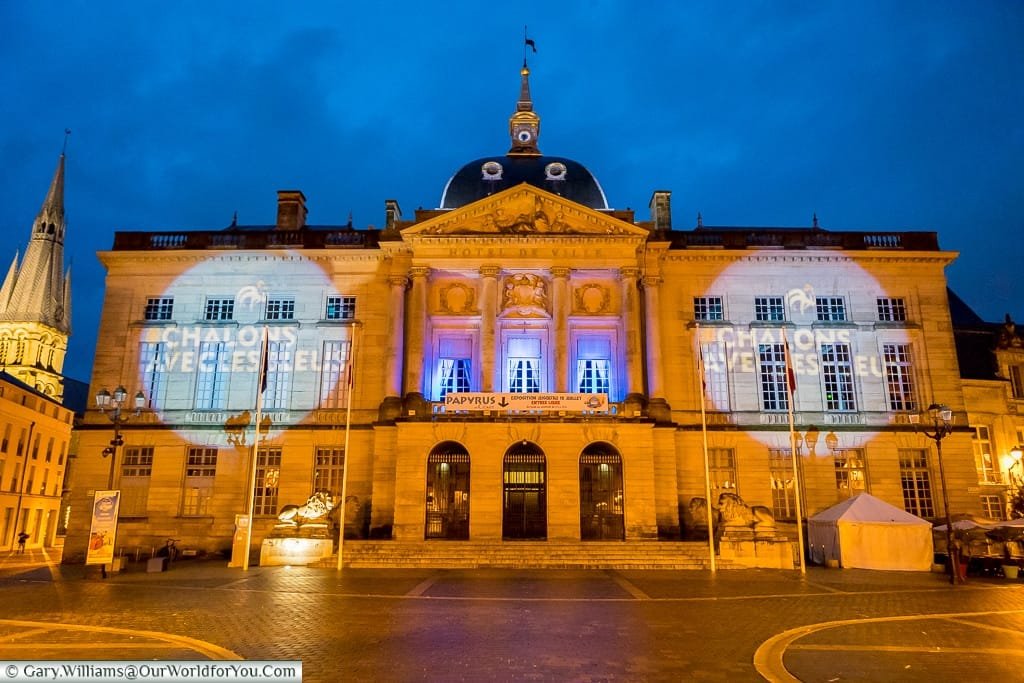 This Global Block does not have any content.
Our foray the previous day through Épernay had left us wanting a little more. A chance to stroll around, and confirm, if confirmation was needed, that this could be a future base for an exploration of the region.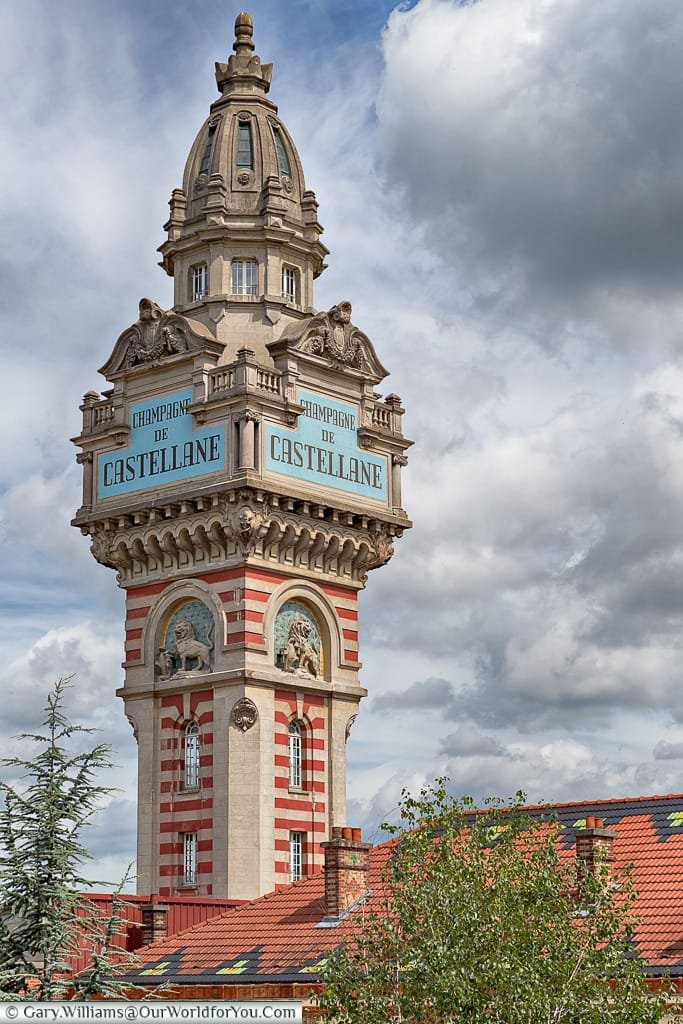 Into Épernay itself and we find a spot off of the Avenue de Champagne to explore this kilometre long 'Rue de bubbles'. As we discovered the names of the winemakers is long and distinguished. Names like Moët et Chandon, Champagne Pol Roger, Champagne Perrier-Jouët & Champagne de Venoge, and others which I hadn't heard of.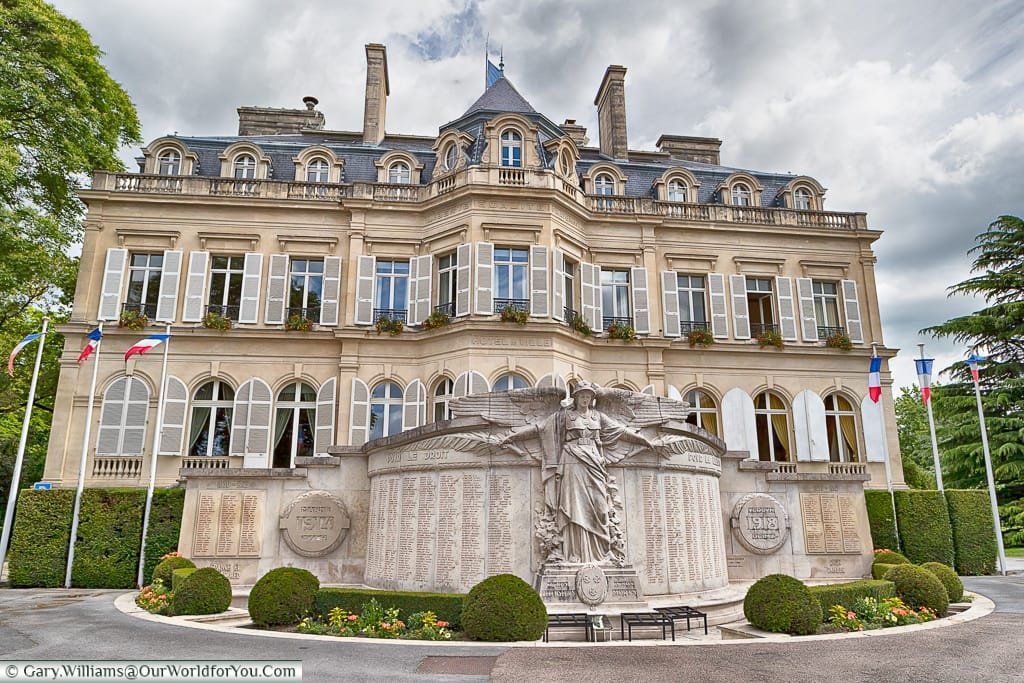 A visit to the local tourist information, and a quick reflection at the war memorial and wander past l'Hotel de Ville to its gardens at the back. It's surprisingly tranquil considering.
Épernay deserves more time, but we have more to see.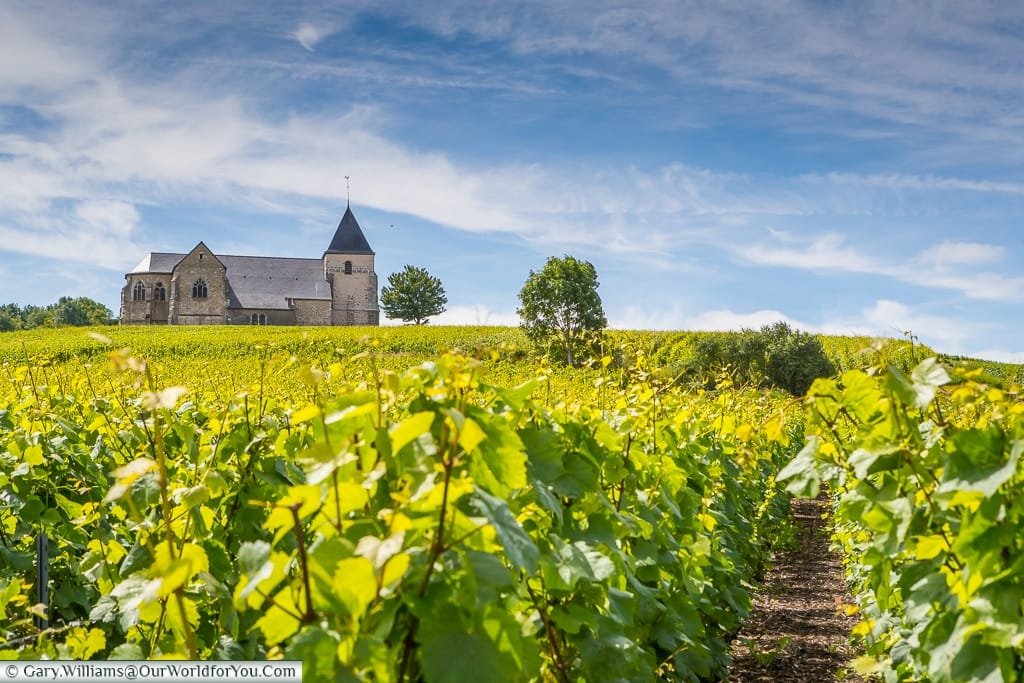 Heading south towards Chavot-Courcourt, and the Église Saint-Martin de Chavot high above the vines before heading west. We flit through beautiful villages such as Saint-Martin-d'Ablois before heading on towards Crézancy. Now we begin the loop back, this time on the north bank of the Marne, popping into Hautvillers, home of a rather famous monk in these parts - Dom Perignon
One final item on the list for the day, whilst in the region, is to remember the fallen. Driving amongst the vineyards, enjoying the beauty of the French countryside, it's hard to imagine the ravishes of war - and this region has seen plenty of it.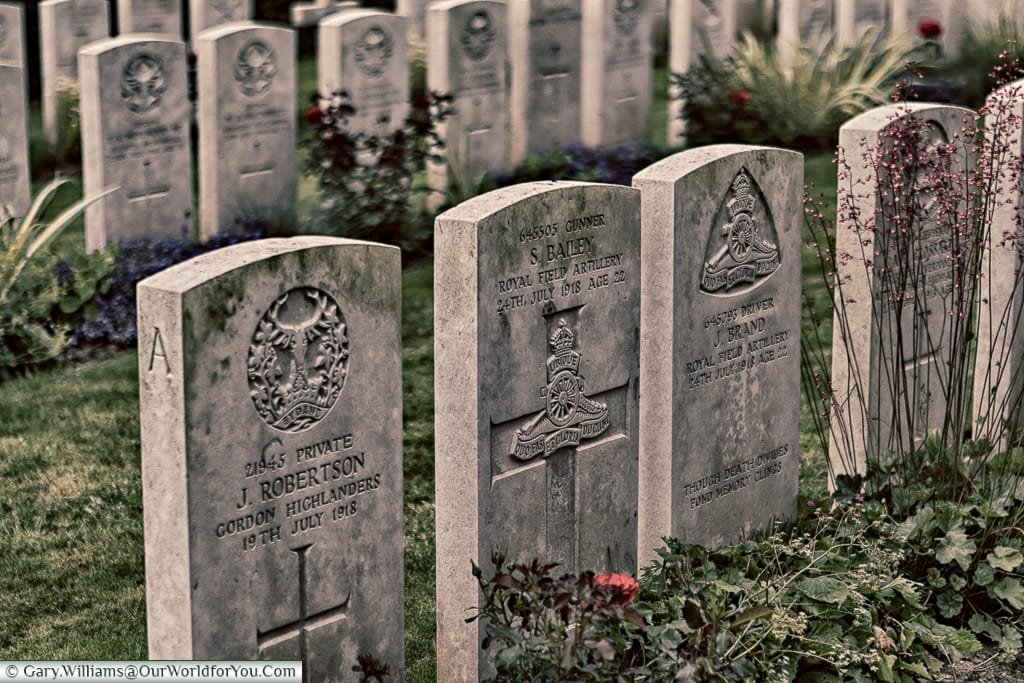 So the first stop is to St Imoges, and the Carré Militaire Britannique. In this sleepy village, in the corner of the churchyard is the last resting place of 70 British soldiers.
Then a few kilometers north, just before the town of Marfaux is the site of a British Cemetery, and a memorial to 10 casualties of the New Zealand Cyclist Battalion, who have no known graves.
As you stroll amongst the graves you can see the impact this must have had on the towns & villages where the youth were being wiped out.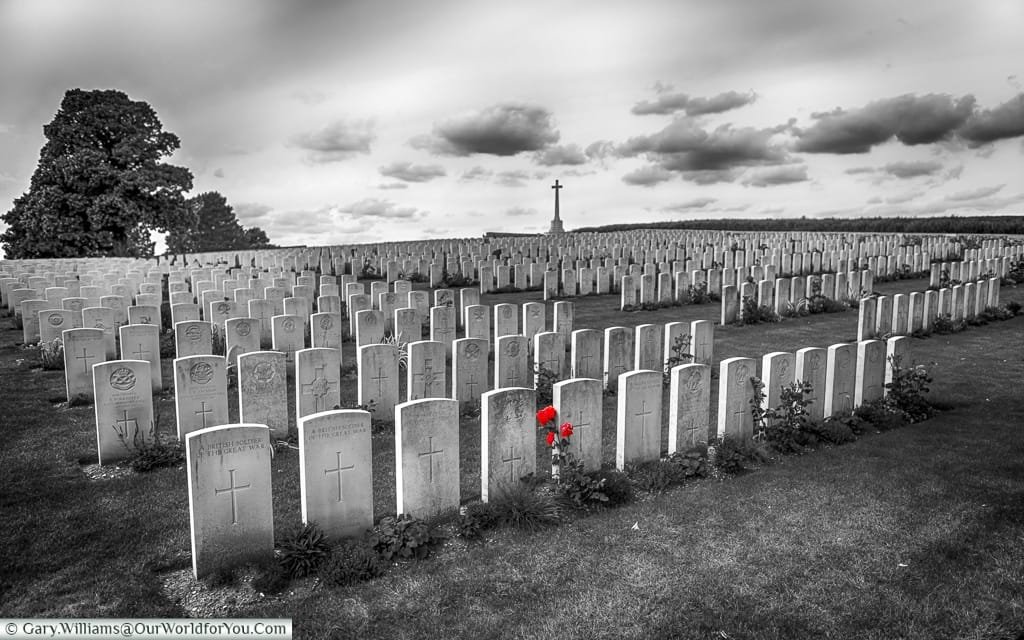 Having had a great day on the road, and travelling 138 miles/223kms taking in the scenic route, rather than direct 29 mile/47km, we arrive at Reims.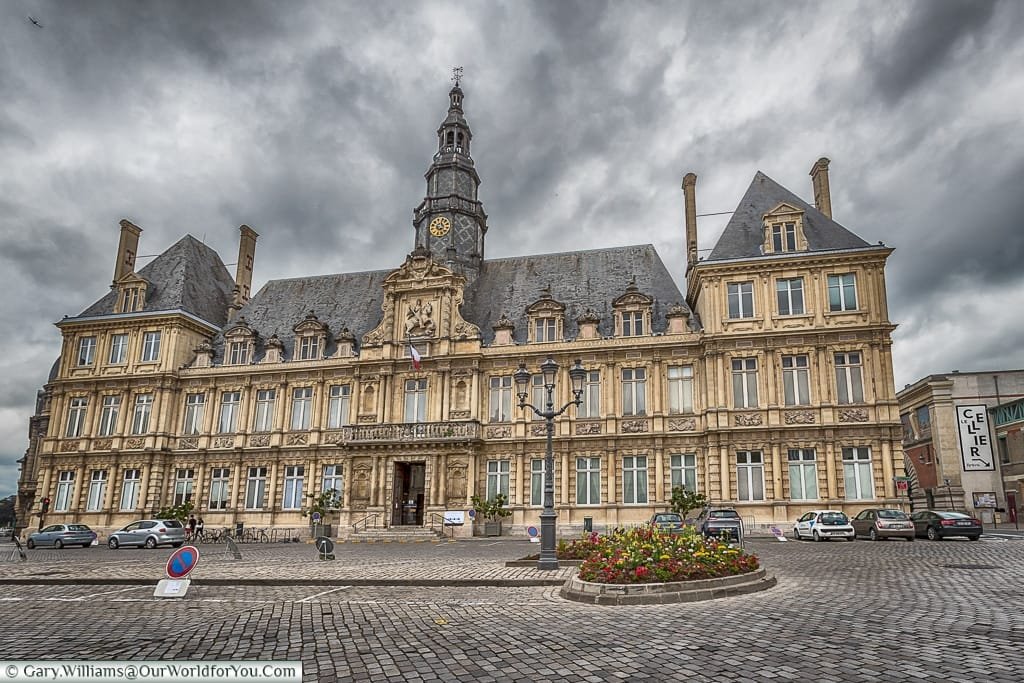 We park up and set about exploring the city, and seeking refreshment at one of the many bars along Place Drouet d'Erlon.
Reims is our base for the next 3 nights, and we use this as an opportunity to enjoy the product of the region - and why not? We also take in a tour of a Champagne house, oh another cemetery and enjoy Reims fantastic architecture. It's slightly disappointing to learn that La Fontaine Subé, La Porte de Mars and the front of the Cathedral are all under restoration. Ho-Hum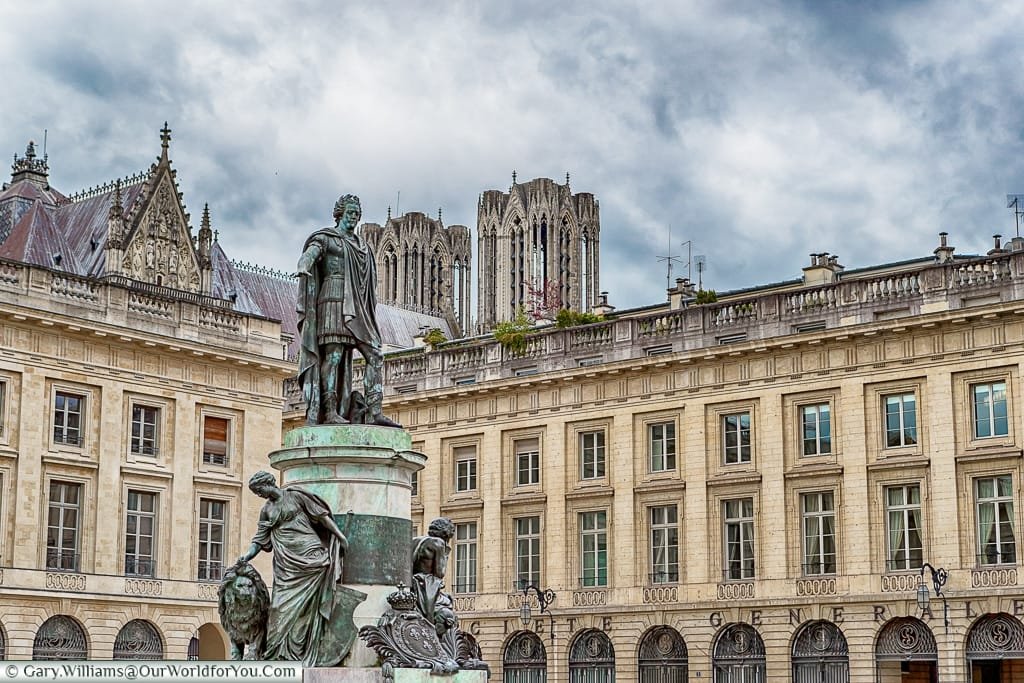 After a few great days in Reims it's time to head home.
However, it's not all over…
Oh no. Our tour of the G.H. Mumm Champagne house has given us somewhere else to visit. The Windmill at Verzenay, also a lighthouse - yes a lighthouse some 140 miles/225Km from the sea.
There's also an interesting site at Gueux. The well maintained remains of the Circuit Reims-Gueux sit at the edge of the roadside and are just magnificent. I close my eyes and I can imagine the drama of the 70's formula 1 circus, flared trousers, big glasses & sideburns - magnificent.
Now just the drive back to Le shuttle, and a chance to get that hour back.
So here's the details of the individual legs;
Calais to Troyes - 250 miles/403km
Onward to Châlons-en-Champagne - 110 miles/177km
The slow road to Reims - 138 miles/223km
Back to Calais - 210 miles/339km
So in total the total distance around France was 981 miles/1,582 km
Inspired to create you own Champagne road trip?
Why not start as we did in the south of the region and head north?
Our destination of choice would of course be Troyes.
Check out the latest deals on Booking.Com?
(Why not Pin It for Later?)
This Global Block does not have any content.
Pottered around this area of France? marvelled at it's rolling landscape and enjoyed the country at its best? What has been your highlight?