by Janis /
0 comments
- Orginally published:28th December 2016
A hop, skip & a jump from the Thames
Where the magic happens
London is a huge city at the best of times, but in the festive season, there are glistening lights and twinkling trees tempting you everywhere.
So, which way do you turn?....... if you only have a few hours you'll be amazed at what you can see.
The 14th century Leadenhall Market is a striking sanctuary in the City of London for 11 months of the year, but at Christmas time Harry Potter's Diagon Alley is magical.
With Christmas trees peering down on all the boutiques and bars.
Why not Pin it for later?
The centre of Leadenhall Market at Christmas
Christmas in the shadow of the Tower
One of London's Ice Rinks
Heading southeast you reach one of London's iconic landmarks the
Tower of London
. If you peer over the wall into the moat, where in 2014 a sea of poppies flowed through, you are now greeted by a sea of ice, with one amazing backdrop.
Skating on ice in front of the Tower of London
Remember to book your one hour slot.
The Tower of London at night
Christmas by the Thames
Down by the river
Your eyes are automatically drawn to another London icon,
Tower Bridge
. For me this bridge means London like no other landmark. Every commuting day for 27 years I travelled past it and never became bored of its presence.
Tower Bridge
If you've yet to discover London and its ancient history, then let's start planning. I find these DK Eyewitness Travel Guides invaluable. They're extremely informative, easy to follow, and the pictures and maps tempt you into discovering more of those fascinating sites.
You can now grab a recently revised copy of this guidebook, so you won't miss a thing.
Hidden Christmas in London
St Katharine Docks
Before you rush south across the bridge take a few steps back to the hidden oasis of St Katharine Docks.
The 45ft Christmas tree here is wonderful, set on a central pontoon floating in the middle of the dock. On the hour, the 14,000 twinkling lights and the 5ft star come alive.
The Christmas Tree in St Katharine Docks
Have a wander as you'll see some of the yachts have had a little festive splash on them as well.
The twinkling marina at St Katharine Docks
Christmas on the Southbank
Now I'll let you cross Tower bridge
A Christmas tree in front of Tower Bridge
From the south of the Thames, Tower Bridge and the City of London look amazing, and Christmas time is no exception.
Tower Bridge at night
As you stroll past City Hall you meander into the 'London Bridge City Christmas Market'.
The tree at City hall
Walking along the 'London Bridge City Christmas Market'
There are over 100 German-style cabins here, tempting you with delicacies and gifts from near and far.
Kisses for a pound at the Christmas market
Christmas everywhere in London
Hays Galleria
Sandwiching this market is Hays Galleria. This elegant Grade II listed building was once a working wharf in the Pool of London, for ships to bring in tea & other produce.
The Navigators Sculpture in Hays Galleria
The Christmas tree in Hays Galleria
My Dad worked on the Thames as a Lighterman for many years, so this part of London always brings back happy memories to me.
Today the impressive glass vaulted ceiling gives you cover to shop and dine in stylish surroundings.
The London Bridge City Pier
We have a little book on our shelves that we sometimes delve into when we're about to hit an area of London.
Packed full of historical facts, and broken down into the different regions of London, it's a great resource to help you see what's hidden in plain sight.
Available in Kindle & Hardback editions, it's an excellent addition to anyone's collection who loves London.
Lighting London at Christmas
The Shard
This impressive glass structure piercing through the sky comes alive of an evening. With a wonderful light and beam display illuminating the London skyline until 2am.
The Shard and the ruins of the Winchester Palace
The Shard light display
One side of London at Christmas
Keeping south
Up and over London Bridge keeping south, you drop down into Borough.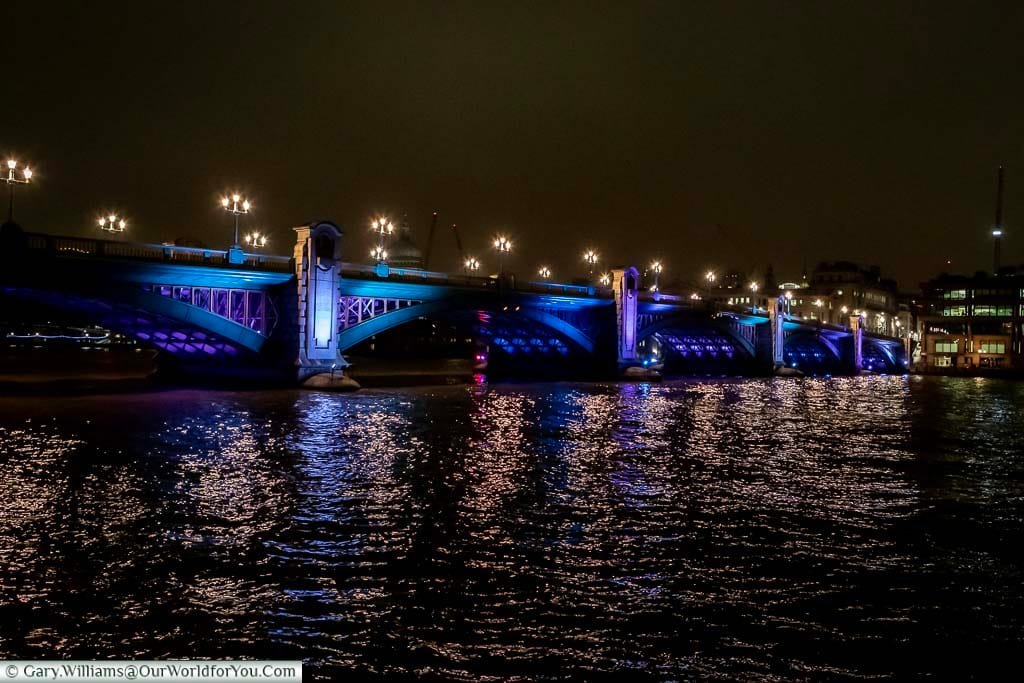 Southwark Bridge
As you continue hugging the backs of the Thames, you pass some fine pubs if you fancy a pit stop.
The Mudlark pub
The Anchor Pub at Christmas
The Globe Theatre
Christmas in the Shadow of the Tate Modern
Off to the Gallery
The Christmas Market at Tate Modern on Bankside returns for the 3rd year.
This lovely traditional style Christmas market is full of tempting goodies from candles, wooden toys, decorations, baubles and many other handmade items.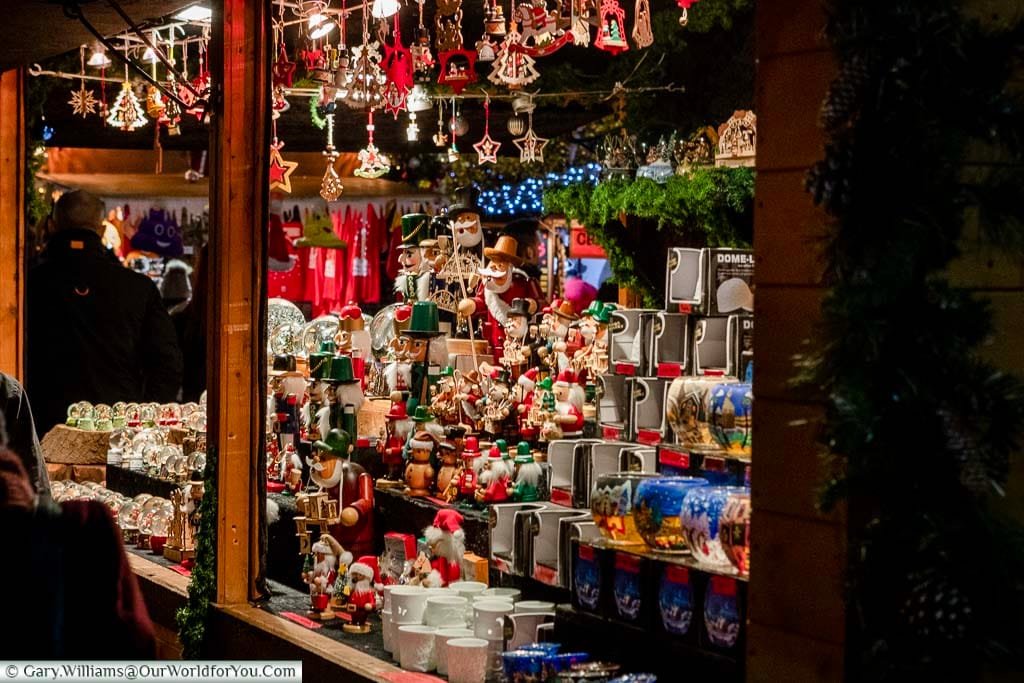 Traditional gifts
That's before you even start on the festive food and drink, it wouldn't be the same without a bratwurst and gluhwein.
Mulled cider
Something to eat
Then if you are brave enough there is the Victorian carousel for the young and old. There's even a traditional Christmas wooden pyramid.
The pyramid at the Tate Modern Christmas Market
The carousel at the Christmas Market at the Tate Modern
Christmas in the centre of the City of London
St Paul's Cathedral
Strolling over the Millennium bridge heading north across the Thames, you are greeted with another iconic landmark.
The amazing St Paul's Cathedral, in all its wonderful glory.
St Paul's Cathedral from One New Change
A Christmas tree in front of St Paul's Cathedral
Another sight you could never get tired of.
Lights over Bow Lane
St Mary-le-Bow
Over Bow Lane
Short and sweet…just how I like my glühwein
Although this is a very short glimpse of London at Christmas, it takes you through some extremely historical areas of this glorious city.
* This post may contain links to affiliated sites where we earn a small commission at no additional charge to you.