by Janis /
0 comments
- Orgininally published:15th June 2017
The Norman's left their mark
As part of our 'Norfolk' road trip, we based ourselves for a couple of nights in Norwich, an incredibly historic English city, right in the heart of East Anglia.
In 2012 Norwich became England's first UNESCO City of Literature.
Why not Pin it for later?
The open roads await, pop in your location details, then
Rental Cars
will search well-known car hire brands and discover the deals that suit you the best.
Norwich's Historic Cathedral
Standing for over 900 years
Very few buildings could boast this accolade; however, Norwich Cathedral has stood for over 900 years, and the impressive Norman Tower still remains today.
 
Norwich Cathedral is beautiful inside and out, and whatever religious persuasion you are it is a delightful place to visit.
Once you've strolled throughout the Cathedral, I highly recommend that you head outside. The enchanting cloisters are incredible and they the second largest in England after Salisbury Cathedral.
The cloisters, Norwich Cathedral
Amazingly, Norwich Cathedral is free of charge to visit, along with its guided tours.
Edith Cavell
A Great War Heroine
One of Norfolk's most famous daughters is the nurse, Edith Cavell, who was executed behind enemy lines for nursing and sheltering Allied forces.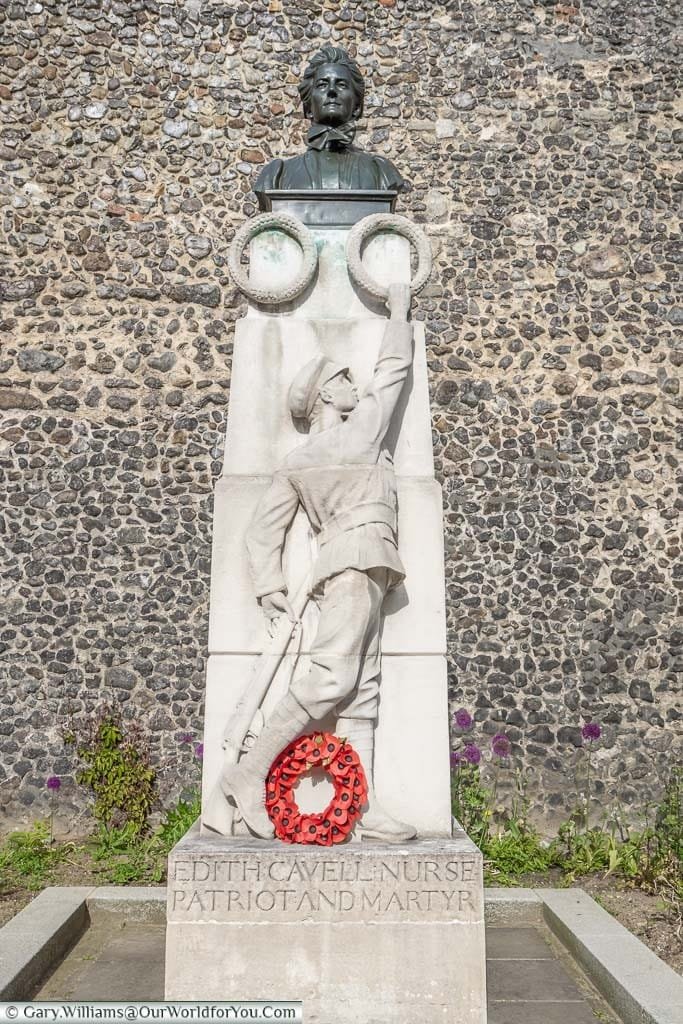 The memorial to Edith Cavell
Edith Cavell never discriminated between nationalities and she helped all that were in need regardless of which side of the war they were fighting on.
Edith was given a state funeral in 1919 at Westminster Abbey and now rests in "Life's Green" at Norwich Cathedral.
Historic Norfolk
80 listed buildings
Erpingham and Ethelbert gates lead you into the Cathedral and its enchanting 44-acre surrounding Close.
 
It is so serene & peaceful, wandering around the beautiful grounds day or night you feel like you have stepped back into a slice of idyllic English life, with its cobbled streets and manicured lawns and gardens.
Grab a picnic and admire the many listed buildings within The Close, then take a stroll down to the Pulls Ferry & the riverside walk.
If you're intrigued by Norfolk, a UK county with an interesting past, then why not check out  "The Little Book of Norfolk".  Full of facts and obscure information. It's a fun read on the region.
You can pick it up for your Kindle or in good old hardcover. (Depending on region)
Norwich Castle
Not to be outshone
Another iconic sight in Norwich is its castle, built by the Normans for William the Conqueror as a royal palace
Norwich Castle
Originally taking the form of a motte and bailey, the castle is now home to a museum and art gallery, with fantastic views across the city.
Norwich's Historic Districts
Cobbled lanes
Another area of Norwich that we loved was the labyrinth of cobbled lanes and medieval Tudor buildings in the Cathedral Quarter along Elm Hill & Tombland.
A view of Elm Hill in Tombland
The Britons Arms coffee house was the only building on Elm Hill to escape the devastating fire in 1507 and has a cellar dating from 13th century.
Stylish Norwich
Art Nouveau
One of the most eye-catching buildings in the centre of Norwich is the wonderful Art Nouveau Royal Arcade, designed by George Skipper.
The entrance to the Royal Arcade
His work also includes Surrey House the headquarters of Norwich Union; and the Hotel de Paris in the delightful nearby seaside town of 
Cromer
.
Discover more of the historic county of Norfolk from east to west, north to south. You can do it all on a road trip,
Rental Cars
 searches multiple well-known car hire brands and discovers the deals that suit you the best.
Norwich has the largest six-day open air market in the country, housing up to 200 stalls. Historically a market has been held here since the 11th century, and it is looked down upon by the Art Deco City Hall.
If you're tempted by the beautiful English county of Norfolk and its incredible far-reaching coastline take a look at the '
Visit Norfolk
' official website.
Have a peek at the latest offers from
Booking.com
, our preferred hotel booking website.
If you get a chance to stroll along the River Wensum by Pulls Ferry, you'll be rewarded with a lovely view back to Norwich Cathedral.
A view of Norwich Cathedral
Also along the walk, you'll find the Cow Tower, an artillery tower built between 1398-1399.
The tower was built to defend the north-eastern approach to Norwich from the French.
Are you searching for a tranquil hideaway to unwind in, while you explore the picturesque Norfolk landscape?
After a day visiting the golden beaches or touring the charming, quaint villages return to one of the handpicked properties and unique retreats at Holiday Cottages.
Norwich's famous son
Horatio Nelson
Norwich is not only full of historical architecture it has had some notable residents as well, one of which was Horatio Nelson, who attended grammar school here.
Discovering Norwich
So many churches & barbers
What we noticed about Norwich was that there so many churches (along with two cathedrals). I have since discovered that no other county in Britain is richer in its historic churches than Norfolk - there are over 650 of them.
For some reason, Norwich also has a lot of old style barbers….who knew?
Our choice of hotel while we were in Norwich, was the historic 
Maids Head Hotel
, fantastic location only a few steps from Erpingham Gate and the Cathedral. Also, it had free onsite parking.
If you enjoy a steak, this is the place to go, the 
Prime Restaurant
 located in Tombland. You cook your own steak on a piece of volcanic rock.
It's worth booking with Prime Restaurant in advance.  We walked in on a Monday evening, and we were lucky.
We also opted for the Tasting menu at the Wine Press - The restaurant within the Maids Head Hotel.
Each of the 5 courses were served with a matched wine. In all, an enjoyable experience.
With the tasting menu at the Wine Press you need to book in advance.
Dessert at the Maids Head Hotel, Norwich
Norwich Pubs
Where we had, a pit stop
Just for research purposes (honest…), we stopped at the Adam & Eve, Norwich's oldest pub established in 1249.
Gary also managed to find a brewhouse - St Andrews Brewhouse to be precise. A great selection of beers & knowledgeable staff.
Our few days in Norfolk gave us some wonderful memories,  Why not check out our posts on the places we visited with tips & inspiration to get the most out of your visit?
Would you like a little more?
We have created a little YouTube video of Norwich. Just a 3 minute snippet of this great city.
Also, why not subscribe to our YouTube channel and get the latest clips as we post them?
* This post may contain links to affiliated sites where we earn a small commission at no additional charge to you.