The call of the desert, Namibia
Here's why I wanted to visit
Namibia had been on my wish list for quite a few years, I think this was because we had previously visited Zimbabwe and really loved the wildlife and the diversity of the country. This gave us the taste to discover more of Africa independently.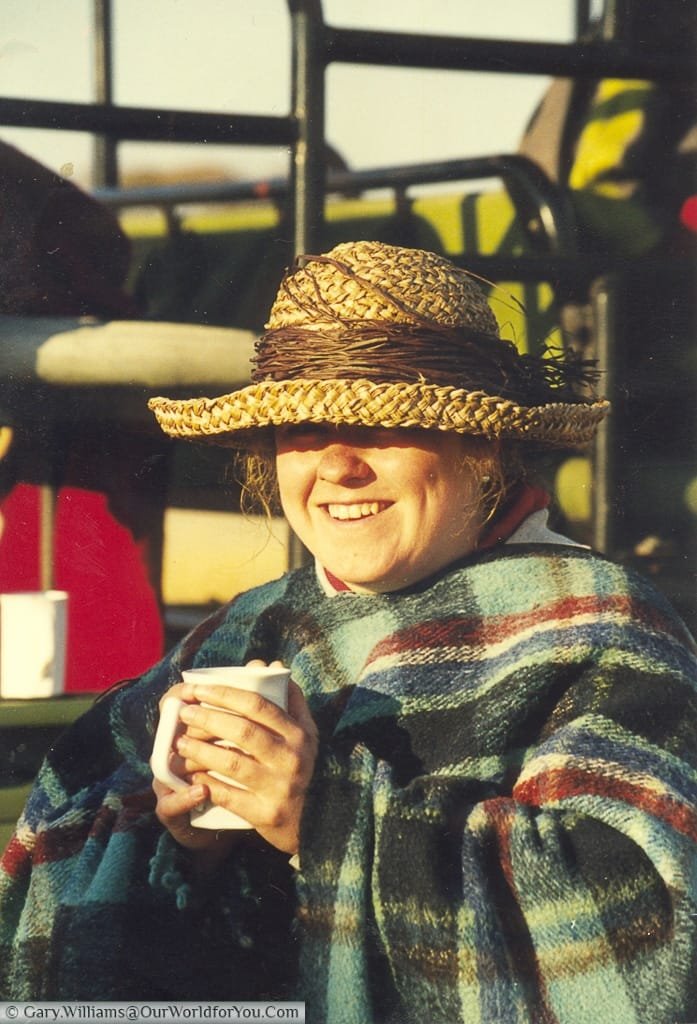 Well for some reason or another, I would put it off time and again. In 2013 I made the decision this was going to be the year.
I knew there weren't any direct flights from the UK anymore, but if you want to see some amazing places in the world then a little bit of effort is required.
So, to combine our other love of 'road trips', a 3-week self-drive safari it was going to be.
I enlisted the help of a small independent local travel company 'Discover Namibia Tours and Safaris'. Who were extremely helpful and didn't mind me asking random questions from time to time.
I knew the locations in Namibia we wanted to travel to, so they co-ordinated the accommodation and the hire of the truck for us.
 
 
These are just a few reasons why Namibia was our long-awaited destination for 2013;
If you're considering a road trip through Namibia, then your in for a holiday of a lifetime. I always find it incredibly useful to plan our trips with the help of a guide book.
Take a look at this informative Bradt guide, it will give you great tips and advice.
The African wildlife was the main spur for me. The excitement and anticipation of jumping in the back of an open safari truck, in search of wildlife is unsurpassed.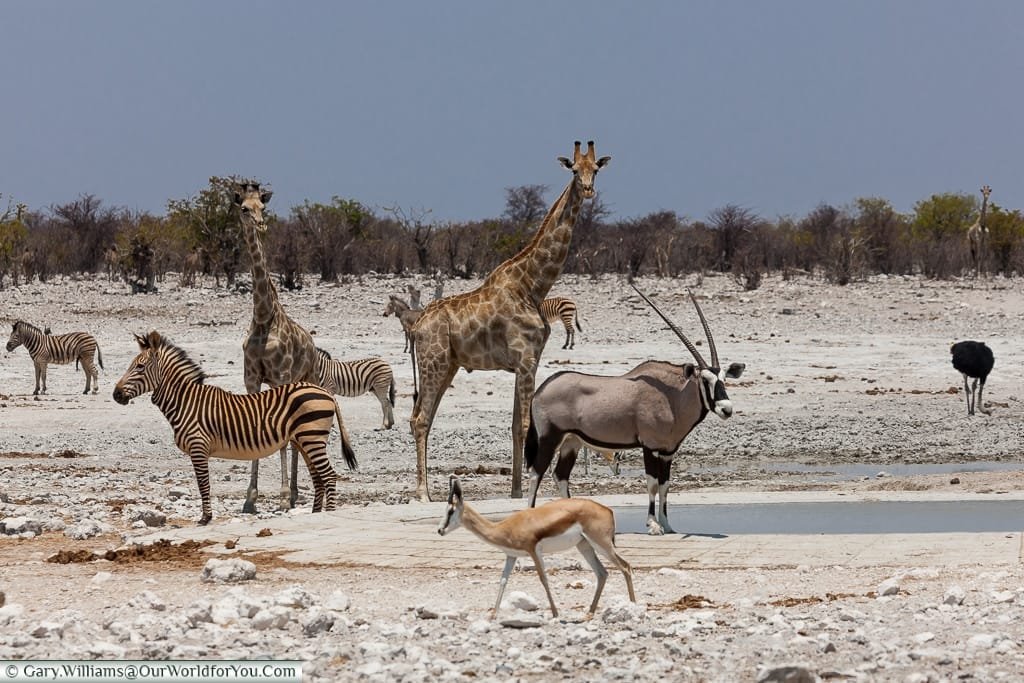 I had read about the Desert Elephants, which are now only to be found in the Kunene region of Namibia and Mali in North Africa…..Would we be lucky?
The thought of driving through parts of the Kalahari Desert was going to be magical, this had only previously been in dreams.
The UNESCO site of the Namib Desert, this is home to so many iconic shots from Namibia of sand and sea.
Photography opportunities
Any amount of research into Namibia, will give you an indication of the endless photo opportunities.
What could be better than combining 2 loves in life, Safaris and Road Trips – a 'self-drive safari'.
The research we had completed for this trip, indicated that the driving could be time consuming over uneven terrain, but in general the road infrastructure looked ok. Oh and they drive on the left, so for a Brit that's always a good start.
Although Sossusvlei should actually come under the Namib Desert, I was really looking forward to seeing this part of the country. We had pre-booked a sunrise dune trip.
This must go without saying really, but in addition to the above, I was looking forward to driving along the Skeleton Coast, a very harsh environment, particularly for a mariner.
This is not so much scenery, but the sky at night, as the pollution and light levels are minimal in Namibia, so hopefully we should get some starry starry nights.
Start creating your own adventure, and discover the amazing scenery & African wildlife of Namibia for yourself.
We chose British Airways, and it was all done with a few clicks, a brief stopover in Johannesburg, and our luggage was there for our arrival in Windhoek.
This is a deserted mining town, and it looks amazing. It appears that the residence just packed up and left and then the desert moved in.
Namibia can be visited all year around, it is wetter the first few months of the year. We chose October (should be better for wildlife viewing), although one of the hotter months it doesn't appear too extreme.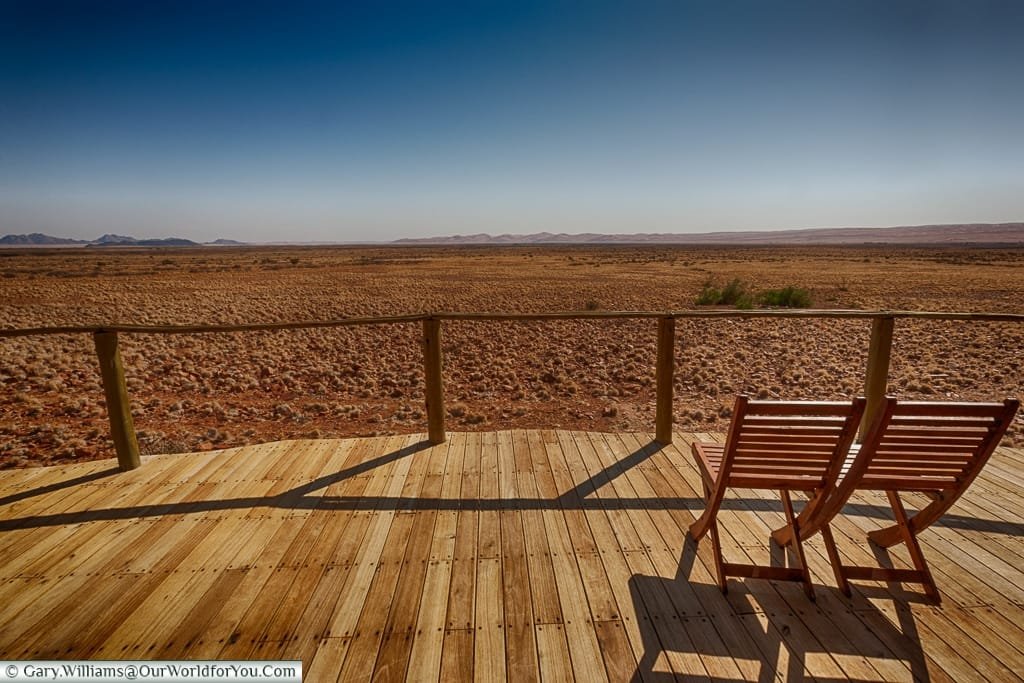 As you'd expect the deserts may get a bit scorchio during the day.
There are no direct flights from London, we chose to change in Johannesburg using British Airways and then their affiliate flight company COMAIR. This took around 15 hours.
Vaccinations, check with your doctor for up to date requirements, as it depends on where you are travelling within the country to what you will need.
You need to have at least 6 months left on your passport before expiry.
Pack a hat, sun cream, insect spray, camera, binoculars to name just a few essentials.
There is quite a notable German influence in Namibia, as it was colonised in the late 19th century. It appears that some of this has never left, although the official language is English.
Apparently, there is a bakery in a town named Solitaire, along the Guab Pass. It is meant to serve a mean apple pie. Not too sure if we are passing through as it looks as though it is in the middle of nowhere.
I first heard about this bakery on the 'Long Way Down' motorbike tour, which Ewan McGregor & Charley Boorman completed.
Inspired to visit Namibia?
Do you share the same passions as us. Would you like to experience something siumilar?
Why not checkout the latest deals on Booking.Com?
(Why not Pin It for Later?)