The Kennet & Avon Canal trip
Honeystreet to Hungerford
As a celebration for my parents 50th Wedding Anniversary they chose to revisit a canal boat trip we embarked upon a few years prior, which they absolutely loved.
Having used Moonraker luxury canal boats previously, we didn't hesitate to use them again.  This time, instead of heading west towards Bath, we sailed east towards Newbury.
In addition to the 6 family crew members we had in 2009, for this trip we press-ganged my 12-year-old nephew, William, into coming along.
The boat we choose to house us all for the long weekend was 'Moonbeam', a 65ft x 10ft (20x3 metres) wide beam canal boat, complete with all luxuries including a Jacuzzi whirlpool bath (although it never got used). It had everything, all you needed was food, drink and clothing. This was going to be fun.
This Global Block does not have any content.
We were lucky enough to pick up our vessel, 'Moonbeam', a couple of hours early on the Friday. This gave us a head start on the itinerary from hell….. Oh, had I not mentioned the infamous 'spreadsheet' that my brother, Andrew had put together.
Andrew has a bit of a reputation for spreadsheets and thought it was a good idea to plot us a route, with stopovers, for our 2 ½ day journey.
This turned out to be a standing joke throughout the trip. As it became clear from 1 hour 50-minute detour to turn the boat around due to the boat facing Bath, when we intended to head to Newbury. As a result, we had already missed his deadlines before we passed Honeystreet for the second time.
Our new port of call for the first night had now been revised to Wootton Rivers. Although I mocked the itinerary, Andrew had done his research and assured us that there was a pub just a 10-minute stroll from the canal side. We still had a few hours boating before we were due to moor though.
We continued to meander through the beautiful English countryside. One of the major upsides for canal boating is it makes you slow down and relax.
There really is only one pace of life on the canal and that's 'slooooow'.
You will be amazed how long it takes to cover a short distance on a canal. After a few hours plodding steadily along, time was now ticking by. With a very enthusiastic crew, we successfully navigated ourselves through the only 2 locks we were completing that day. It was now time to find an ideal moorings to settle down for the night.
We urrrrmed & arrrred, as the canal was quite shallow in places, but after some helpful advice from a local Boater, we found a suitable spot to moor up.
Don't expect to have lovely manicured moorings all along the way.
It is a matter of stepping off the side of the boat when you are close to the edge.  Then easing the boat along the bank until you find a place to moor. With a bit of brute force hammer your mooring pegs into the ground and tie up securely.  Remembering to lay the gang plank in place, for the smaller crew members amongst you.
So after a quick spruce up, we wandered out to find the local pub, 'The Royal Oak' . Wootton Rivers turned out to be a quaint little village with an abundance of thatched cottages.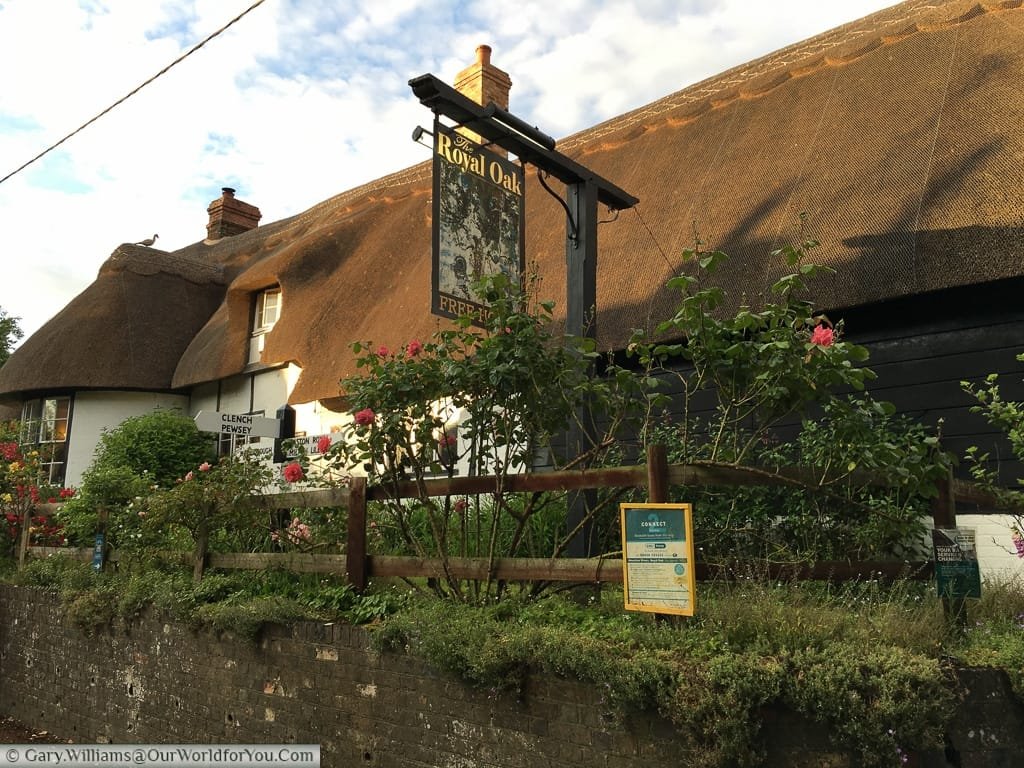 The pub was serving traditional food and ales, what could be better!!!!!
The day of the Anniversary
The next day was my parents actual 50th Wedding Anniversary. As a surprise for them we decorated the main cabin with banners and balloons, so that it greeted them when they awoke in the morning.
A wonderful way to start their special day.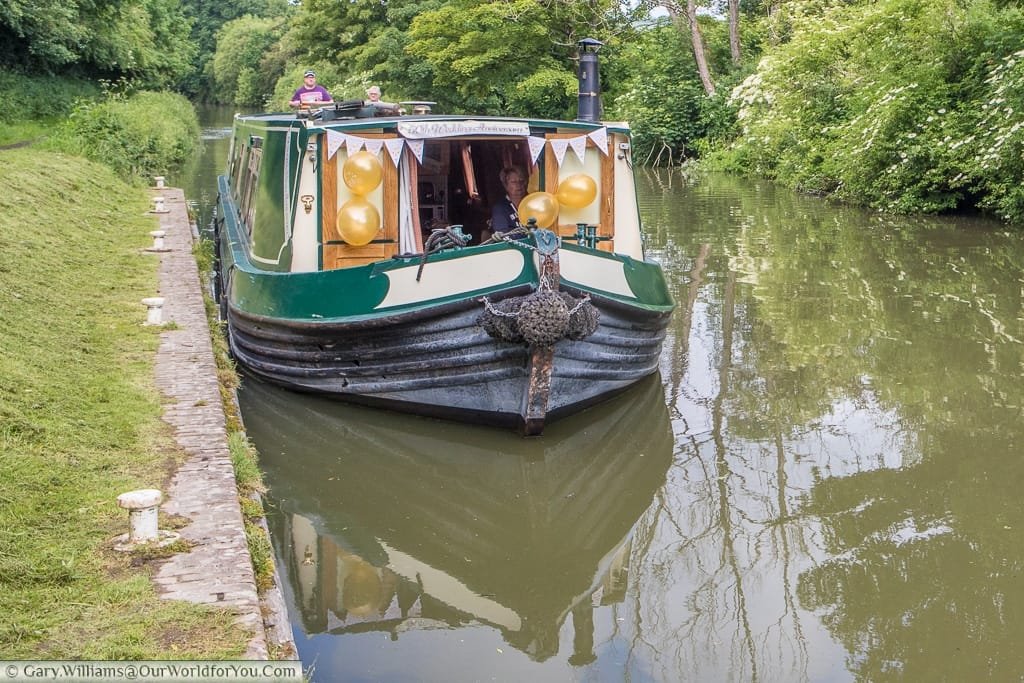 But time waits for no man, we cast off about 8:30am as we have a long day ahead.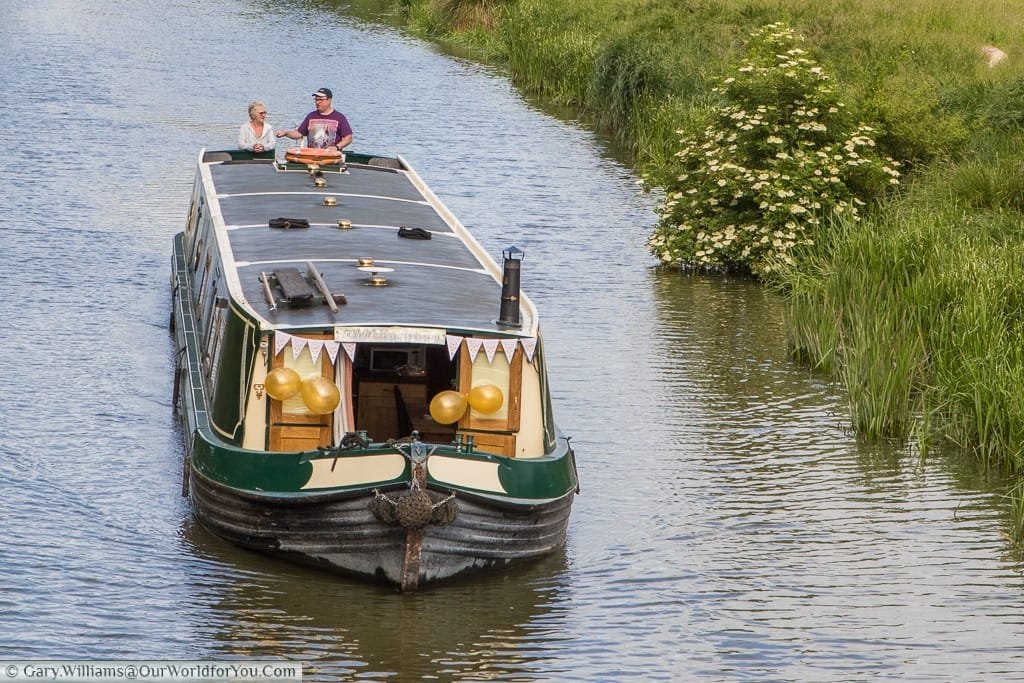 Immediately we have two more locks and then meandering along for a short distance further we approach the 'Bruce Tunnel'. This tunnel was named after a local landowner Thomas Brudenell-Bruce and was constructed between 1806 and 1809, it is about 1,500 feet (459 metres) long.
There isn't a towpath through the tunnel, so when canal boats were pulled by horses, the bargemen had to haul boats through the tunnel by hand, pulling on chains that ran along the inside walls, which are still to be seen today.
The Bruce Tunnel is only wide enough for one barge at a time, so turn on the searchlights, beep your horn and off you go.
It is quite eerie and dark drifting through the tunnel, but all part of the fun.
We have cleared four locks so far, and, in fairly quick succession, we have a further seven locks ahead of us. To give us all a boost of energy, we moor up prior to the Crofton Beam Engines and have a hearty brunch.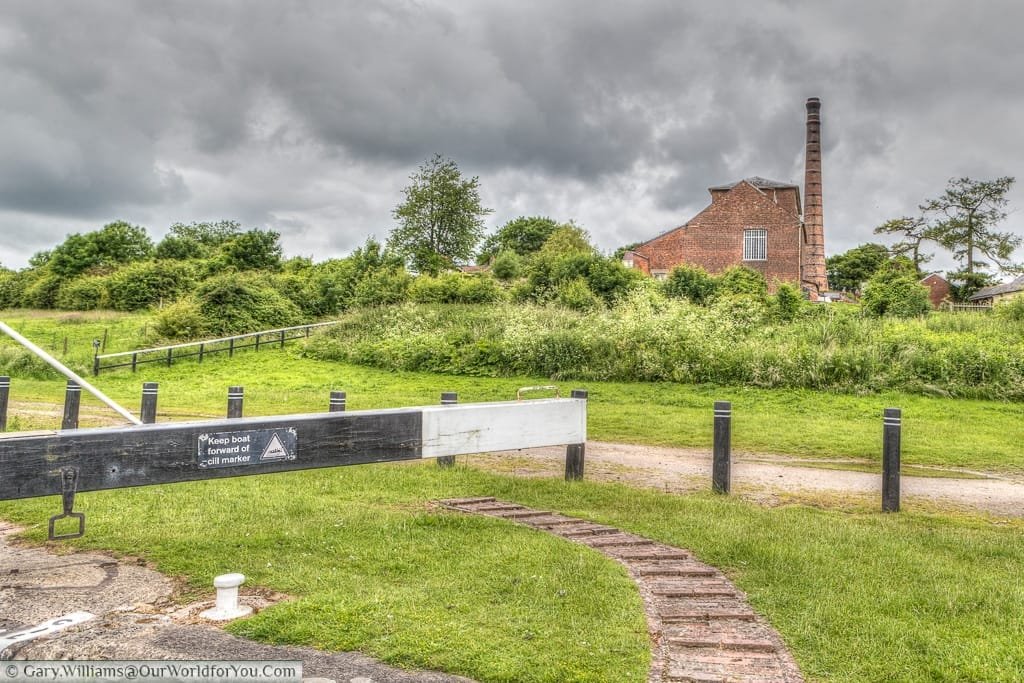 Off we go again these locks weren't going to open themselves. It is such a great way to spend time together as a family and none of us are shirking our responsibilities.
Through a few more locks and we come to Great Bedwyn, this looked like a lovely village and ideal stop for all your barging needs. As some of the locks are not too far apart it is sometimes pleasant to stroll between and enjoy the countryside.
This Global Block does not have any content.
Now that the planned route had been scrapped, we decided that we were going to head on to Hungerford and base ourselves there for the evening celebrations.
Chugging along the canals you definitely get a different perspective on your surroundings, it so peaceful and I would think a birdwatcher's paradise.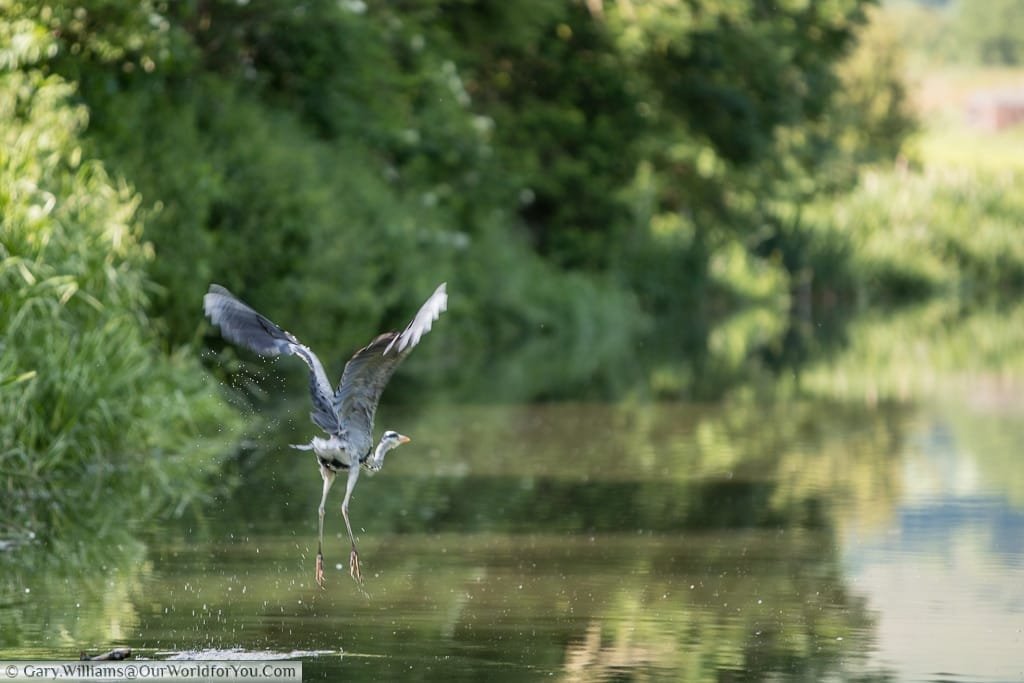 You meet so many friendly people along the way, often waving and usually more than willing to help you with the locks if they see you flagging.
When passing moored barges, it is important that you drop your speed to a 'tick over' as a slight current could dislodge some boats from their moorings.
Another 3 locks down we pass through Little Bedwyn.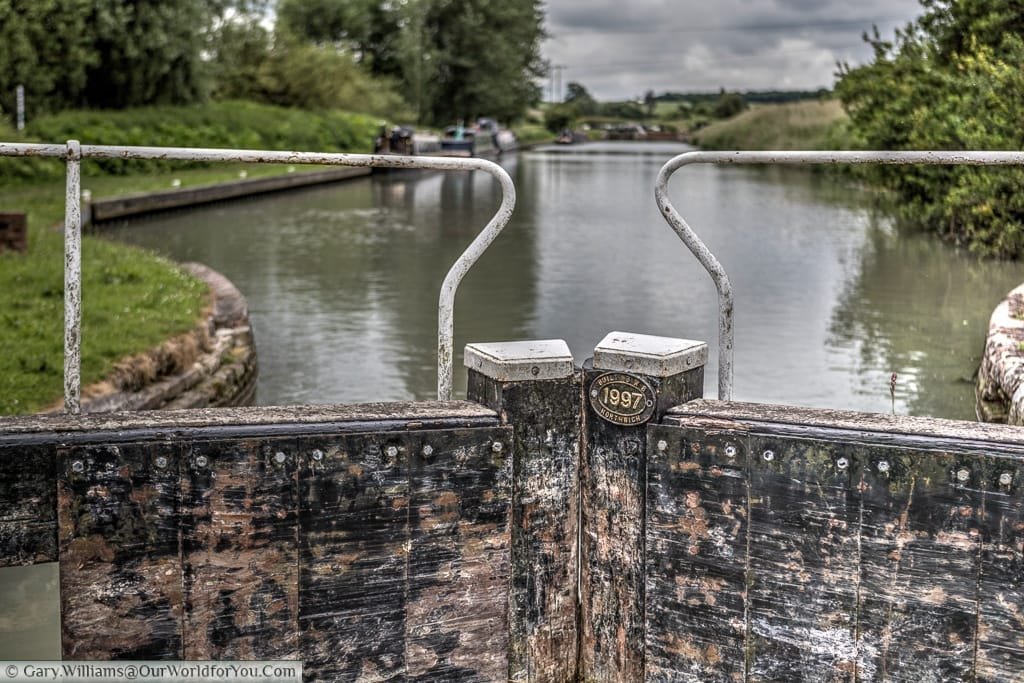 It's now around mid-afternoon and we have 7 more locks and 2 swing-bridges to go, but no one is complaining even though the Great British weather could certainly perk up a bit.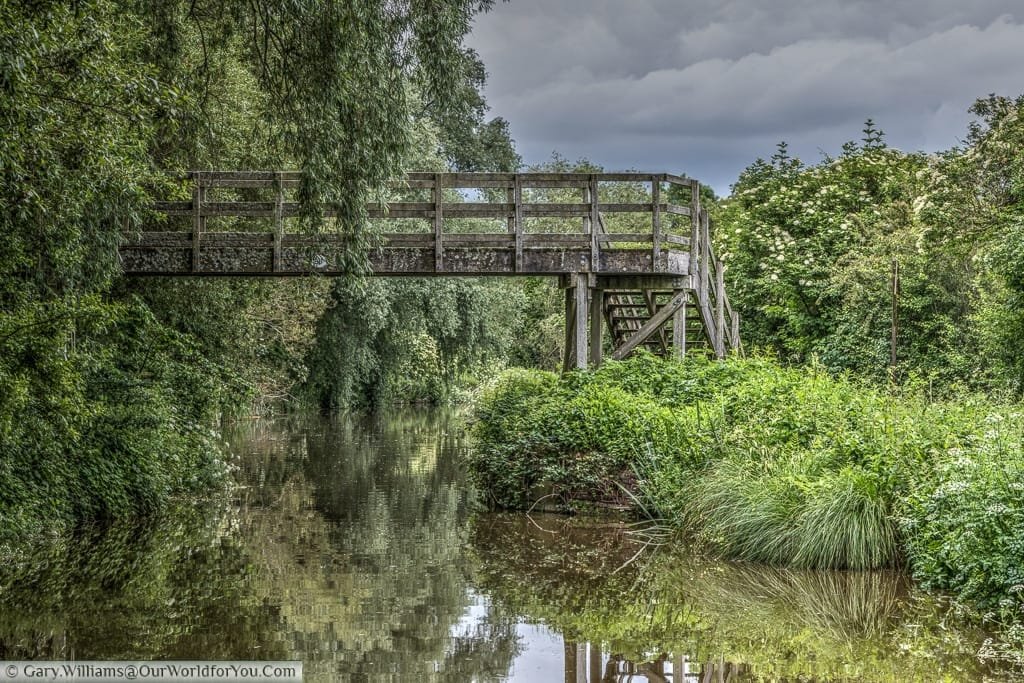 The approach to Hungerford is very picturesque, with a lovely church and colourful barges moored along next to it.
One more lock and we reached our destination. Prior to mooring up we noticed our water levels were running down, so we headed onto to the watering station just beyond Hungerford town, topped up and disposed of our rubbish and recycling (how rock and roll are we).
Safety on the canal is so important and it is easy to get complacent. William gave us a fright by slipping and nearly falling head first into the canal. A reminder to all of us to slow down a little and take care.
As this was our furthest point on our trip we also had to turn the barge around.  There are turning points along the canal, but ensure you find one big enough for your barge. Our boat was 65ft (20m) long so we need a turning point on the large side.
Heading back into Hungerford we found a perfect mooring spot right near the town. Andrew and my Mum headed into town and booked us into a Gastropub for the evening.
Then the lovely June sun came out, so did the Prosecco and anniversary cake.
We had a fantastic evening at the John O'Gaunt Inn.  I cannot recommend the pub highly enough and the team there went out of their way to make us feel welcome.
Mum and Dad really had a fantastic day, but tomorrow it was all being done again but in reverse….
With the boat all prep'd we set off around 8:15am and immediately into the first of 24 locks, 2 swing-bridges and 1 tunnel planned for the day. Who said barging was relaxing…..
We need to drop Moonbeam back by 10am Monday morning. Therefore, tonight we were heading to Pewsey Wharf. That meant that the distance we had to travel on Monday would be fairly short.
Although we are covering the same route back, you see the countryside from a different viewpoint. Chugging along the canal, we witnessed the wonderful sight of Kingfisher glistening on the bankside of the canal.
We navigate our way back through the locks and stop for a hearty brunch mid-morning. Still full of enthusiasm, we continue to meander along, taking it in turns to jump on and off the barge to open and close the locks.
It's important to read the signs on each of the locks. For safety reasons some of the them need to remain empty.
Time is disappearing rapidly and so was the June sunshine.
Light at first, it begins to drizzle, slowly increasing to the 'this isn't funny' proportions.
However, we were not going to be beaten.
The early evening air was encouraging the insects to descend upon us in full force, but as luck would have it, they thought Andrew was the tastiest among us (don't forget to pack your mozzie spray).
You can't plan for everything
We chugged onto Pewsey Wharf with brave faces and the British stiff upper lip. We moored up at about 6:30pm, a bit sodden but certainly not down hearted.
Although we – Andrew – had clearly done his local pub research, what we didn't take into account was that the lovely welcoming pub on the side of the canal, did not serve food on a Sunday evening.
Mmmm lets think, what would be open in a small town on a Sunday evening, an Indian restaurant, admittedly not everyone's first choice, but this was Hobson's choice.
After a stroll back to the boat equipped with waterproof jackets, umbrellas and torches and trying to dodge whatever was crunching under our feet. We enjoyed the rest of the evening having a few nightcaps and reminiscing.
We got our reliable companion back to Honeystreet by 10:05am, which wasn't too bad.
Thanks to my family for a holiday full of memories.
This Global Block does not have any content.
Inspired to explore the Kennet & Avon Canal?
A few days on a canal boat, travelling at a slow walking pace, taking in nature as you go, is a great way to unwind.
Why not give it a try?
(Why not Pin It for Later?)