Lisbon – The City of Seven Hills
A view of the Ponte 25 de Abril across Lisbon
Portugal's ancient capital city of Lisbon can boast to be one of the world's oldest cities, Lisbon even pre-dates other European cities like Rome & London by centuries.
Unfortunately, Lisbon has had an ongoing history of earthquakes, but it was on 1st November 1755 when a devastation struck at a magnitude of around 8.5 to 9.0.
As the epicentre was in the Atlantic Ocean a tsunami was to follow.
The earthquake destroyed a considerable amount of Lisbon, but it was very soon after that spirited efforts were made by the Royal Family to begin rebuilding the city.
As a reminder today standing high in the city, are the ruins of the 14th century church & convent of Carmo. Restoration was carried out and you can now stroll through and admire the imposing Gothic pillars and arches towering above.
The remains of the Carmo convent
The window at the Carmo convent
Not just any old elevator
The iconic landmark of the Santa Justa lift was opened in 1902 and stands 45 metres (147ft) high. If you fear heights the terrace at the top maybe a bit tricky to overcome, but the panoramic views across the city and river Tagus below are amazing.

If you get the opportunity, take a stroll past it in the evening when it is lit up, it is quite impressive.
Elevador de Santa Justa at night
The view from the top of the Elevador de Santa Justa
We stayed near Largo do Carmo, so we were able to avoid the ascending queues and enter at the top. We caught the Elevador de Santa Justa back down and could use our return ticket later in the day when our legs most needed it.
Trams, trams and more trams
You really can't go to Lisbon and not catch a tram! The most popular is tram no. 28, as it guides you through some of the major highlights of Lisbon. But as this is the case, be warned it can get quite busy.
Tram 28 weaves its way through Lisbon
We jumped on tram 28 prior to it reaching the Alfama district and then rode it to the top all through the winding streets & lanes and got off at Graça. Here you can enjoy two amazing views over the roof tops of Lisbon, Miradouro da Graça & Miradouro da Senhora do Monte.
A view of the Ponte 25 de Abril across Lisbon
Our tram advice is to catch no. 28 to the top of Graça and then visit the historical sites on the walk back down. Just thinking of those tired feet.
Be sure to buy your ticket from the driver when you jump on.
Strolling back along the same route as the tram, you'll come across the imposing Mosteiro de São Vicente de Fora.
The church of São Vicente of Fora
Just beyond here is the Panteão Nacional, this wonderful piece of architecture houses the tombs of some of Portugal's major historic figures, including the legendary Eusébio.
You can climb to the top and enjoy the amazing views along the River Tagus & beyond.
Inside the National Pantheon
Strolling through the Thieves Market
Perhaps not the most tempting nickname, but on a Tuesday & Saturday the Feira da Ladra (flea market), transforms into a bustling and lively street market. You'd be amazed at the eclectic mix of oddities that are on display here.
For sale at the Thieves Market
The colourful Thieves Market
Heading further down through the historical Alfama district you can deviate off to Castelo de São Jorge. Lisbon's hilltop Moorish castle, which sits proudly overlooking the lively city below. Or continue further down to Sé Cathedral.
The Castle from the top of the Elevador de Santa Justa
Still on the route of tram 28, you'll come across Miradouro das Portas do sol & Miradouro Santa Luzia. These two viewpoints offer an amazing vista over Alfama and the Tagus River, Miradouro Santa Luzia has a tiled garden and a pergola veranda, if you are in need of a rest.
The view from Portas Do Sol
Lisbon's oldest church was originally constructed in 1147 on the site of where a Moorish mosque once stood.
The Sé Cathedral has gone through various architectural iterations, due to the number of earthquakes that Lisbon has suffered.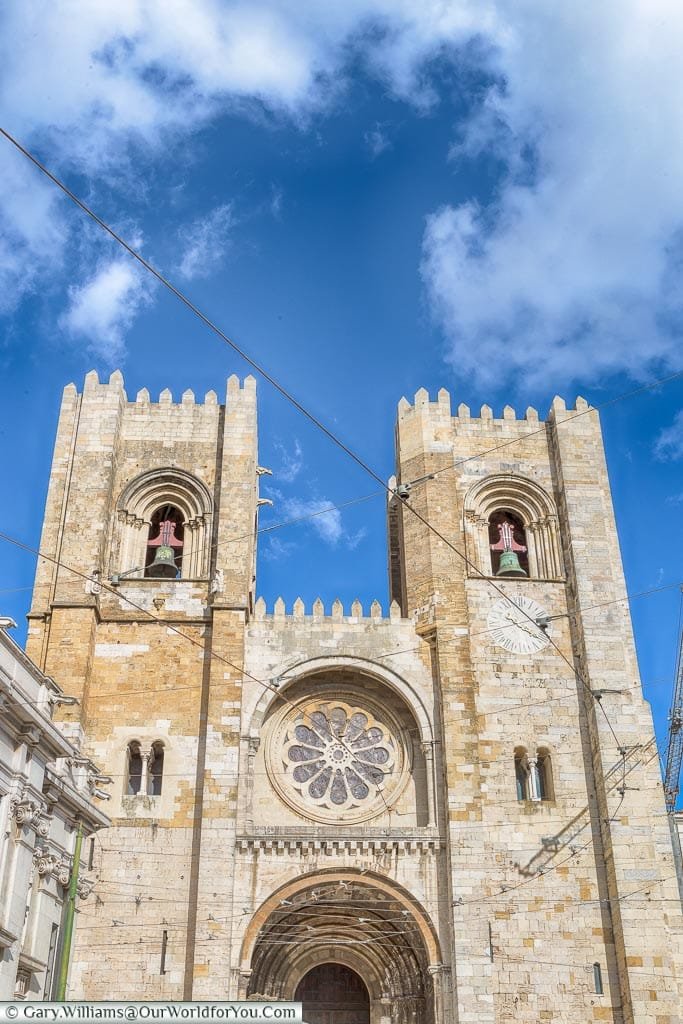 This Global Block does not have any content.
Lisbon is sometimes referred to as the San Francisco of Europe and you can see why. The wonderful 25 de Abril Bridge, resembling the Golden Gate Bridge, the trams manoeuvring the steep hills like the synonymous cable cars. And of course the wonderful seafood.
One of the grandest squares in Lisbon is Praça do Comércio, overlooking the River Tagus. With its ornate triumphal arch leading up Rua Augusta. This arch was erected in 1873 to commemorate the city's recovery after the 1755 earthquake.
If you head through the arch and stroll up Rua Augusta, you will come across Praça Dom Pedro IV, most commonly known by locals as Rossio Square (its original name). It has lovely Portuguese mosaics underfoot & a column dedicated to Pedro IV with two bronze fountains either end.
Rua Augusta - looking back at the arch
Just a shop hop to the east is Praça da Figueira & to the north is Praça dos Restauradores, with its centrepiece being an obelisk to commemorate the restoration of the Portuguese monarchy, in 1640.
This Global Block does not have any content.
If you are curious to know the names of the Seven Hills of Lisbon, they are;
Colina de São Jorge (or Castelo)
Colina de São Vicente
Colina de São Roque
Colina de Santo André
Colina de Santa Catarina
Colina das Chagas
Colina de Sant'Ana.
Whilst strolling around Lisbon you couldn't have failed to notice the swarm of Tuk Tuks that appear around every turn.

They are a fun and quick way to get about the city and complete with a guided tour.
Also, our experience with taxis around the city centre was fantastic, very reasonable & friendly. We wouldn't always resort to a taxi but at times the unexpected rain got the better of us.

Then there's the 3 funiculars Glória, Bica & Lavra, adorned with local art. We caught a ride with Glória, from the Restauradores Square up to Bairro Alto. Not the cheapest mode of transport, but enjoyable.
Inside the Elevador de Glória
Just like any city around the world, there is always certain food and drink synonymous with the region and Lisbon is no exception.
If you weren't familiar with the Pastel de Nata (Portuguese custard tart) before you arrived, you certainly will by the time you leave.

Our favourites are from Pasteis de Belém, which I'll explain why in our Belém post.
Pastéis de Belém
We tried some great cuisine in Lisbon, the local Bacalhau (salt cod), Porco a Alentejana (Pork and clams) & of course the piri piri chicken, which I had at 'Casa da Índia' (quite an earthy type of restaurant)
We found that cheese is often served as a starter/appetiser, we are used to this as an after-dinner pleasure. However, we struggle to say no to cheese, so when in Rome as they say, we gave it a go.
Just to note that often the appetisers, including bread & olives, that are handed to you when you sit down, are charged on a piece by piece basis. We were happy with this, but if you are unaware then you will get charged.
It's not just the Vinho Verde that is enjoyed in Lisbon, there is also the local tipple of 'Ginja'. Now how can I explain it, I think Gary would be better at this, as he particularly enjoyed it.
You can get the sour cherry liqueur almost everywhere, but the best places to try it is out of the two little shop fronts by Rossio Square. You really should give it a go.
For €1.40 you are served with a brimming shot glass full of the sour cherry liqueur and as a treat when you finish it (some down it in one), there is an ginja berry at the bottom infused with the liqueur.
These little shops are open from around 10am, so if you need a morning pick me up you can have one. But I would recommend saving the pleasure for later in the day.
For an experience a little more elegant then try Café Nicola, one of the most celebrated cafes in Lisbon. Overlooking Rossi square this 18th century establishment offers some fine pastries in a wonderful Art Deco environment.
Also, not to missed is Brasileira another of the city's famous cafés in Chiado, opened in 1905 with wonderful Art Nouveau décor.
Renowned for its literary clientele, one of whom was the poet Fernando Pessoa, whose bronze statue sits amongst the café dwellers.
The statue of Fernando Pessoa outside A Brasileira
Before we went to Lisbon we had heard about the Fado bars, as we have been regular listeners to the music.
We were really hoping to come across one of those dark cosy bars where you open the heavy entrance door to reveal another world beyond it.
Just before each singer would perform with their Portuguese guitar accompaniment, the lights would go down and the mood was set.
If you have never heard Fado then I urge you to listen, the melancholic tones and thought provoking laments are so moving, from both men and women.
After a couple of hours we did manage to squeeze on a bench and continued to listen into the early hours. This has to be one of the main highlights of the trip, give it a go if you get the opportunity.
If they have to try too hard
There are lots of places trying to tempt tourists into their bars with Fado, one's like Tasca do Chico don't, because they don't have to. It may have a few tourists, but it feels like the real deal.
The accommodation we chose whilst we were in Lisbon, was a luxury apartment in Chiado. Booked through Lisbon Rentals Luxury Apartments, the place was amazing and had everything you could hope for, including a bottle of vinho tinto on arrival.
We selected an apartment as we enjoy breakfast in a local cafés and didn't require on this occasion the amenities that a hotel could offer. Also we had a large relaxing lounge to come back to each evening.
We were met by Alex on arrival at the apartment and he spent a considerable amount of time with us, explaining the city and understanding what we wanted to get from the trip. Alex gave us a huge amount of useful local guidance on what to see & where to go, on top of what we had researched ourselves.
We would love to hear about your wonderful experiences in Lisbon, particularly any Fado bars you visited.
Inspired to visit Lisbon?
Does the ginjinha tempt you? It's a great City, but remember your comfy shoes!
Why not check out the latest deals on Booking.Com?
Search for your flights in one easy place with
ebookers.com
and open up a world of options. Over 400 airlines are scanned for your favoured routes and chosen dates.
(Why not Pin It for Later?)