My 27 point checklist for a road trip.
How I take the stress out of a road trip
This post is aimed at those who may be embarking on their first road trip in their own car, but some of the advice is equally important if you're picking up a hire car.
Packing up the Audi on the Tulips and Cheese Roadtrip
I hope there can be one handy or helpful hint that makes somebodies life a little easier.
Order of events
A few weeks out
Check when your car needs a service
If it's due, get it done before you go. ( I normally check at least 2 months before I go - give yourself plenty of time to deal with any gremlins)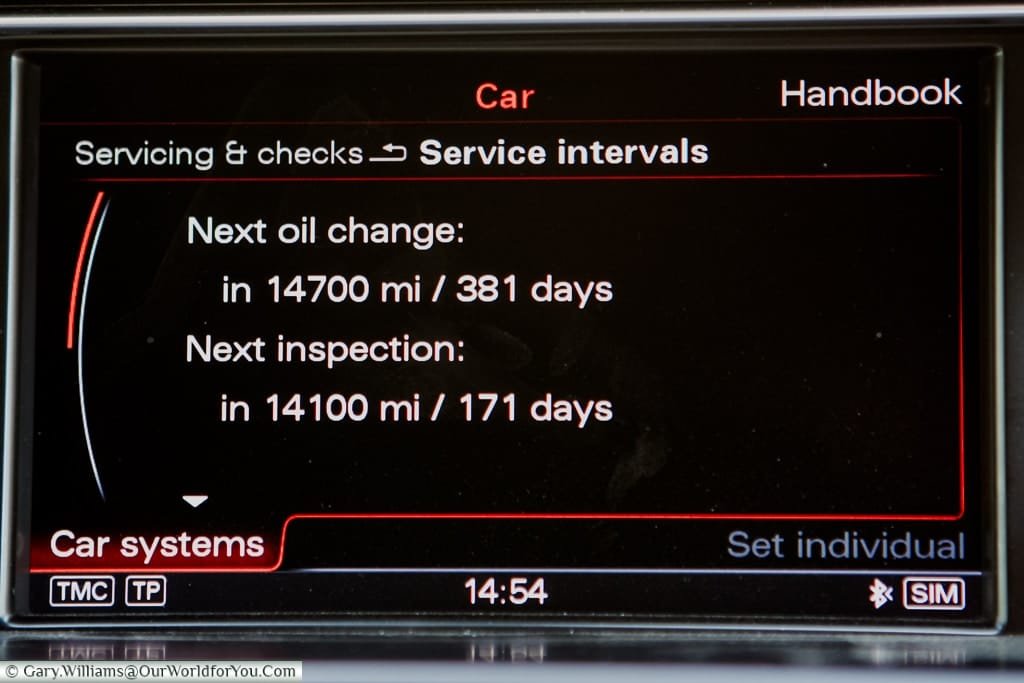 Oil
Water
Tyres - (including the spare!) - tread depth and any damage (pressures come later)
Travel Sweets
Check the legal requirements of the country(ies) you're visiting
Check country requirements in regards to vignettes, tolls and green cards, You may need to purchase the vignette prior to entering on a motorway. You can normally purchase them at petrol stations.
Some countries also have different durations for the vignettes. For more information check out the Tolls.eu site.
Make sure you're covered for your entire journey. If you're heading to the Nurburgring to tackle the green monster, or any other race course, make sure you have the correct cover.
Also, if you're planning on crossing country borders ensure you know the requirements of each country.
On our trip to Croatia, we also wanted to visit Mostar in Bosnia & Herzegovina, which is not within the EU, so a green card was necessary from our insurers.
If you are hiring a car, check your cross border agreements.
Check your breakdown/recovery cover
Nobody wants to think the worst may happen - but it can. Take the stress out of your road trip.
---
Check you driving licence
Make sure it's not due to expire. (There lies a story about our 2010 Canadian Road trip!)
---
Charging USB devices on the go
Do you need to charge a lot of USB devices on the go? Why not look at getting a multi-socket USB cigarette lighter charger.
Also consider a cigarette power splitter if you want to use the cigarette lighter, or you have a device that requires a dedicated cigarette socket).
Be it a Swiss Army Knife, a Leatherman or something similar - just real handy to have.
---
A paper map that covers my destinations
Ring bound, not fold out. I guess some folks are saying really? What's wrong with your Sat-Nav/GPS? Nothing, it's brilliant as an aid in getting from A to B via C, D E… Etc. However, this is a road trip and you'll probably want to explore a little. A map's much better for that.
Useful in so many ways - especially if language is a barrier, or you just need to note something down and hand it to somebody.
Have you got your sunglasses? I have prescription sunnies, so I can't just pick up a set along the roadside. It's also worth checking point 3 thoroughly because in certain countries if you need glasses to drive, you must carry a spare pair (for example Spain)
Take note of any touring pressures advised.
Your car handles differently with the weight of the luggage, and incorrect tyre pressures impact stopping distances & fuel consumption.
If you're like me you'll be forever cleaning dead flies off the windscreen.
Or get somebody to do it for you. That means inside & out - You're going to be spending a lot of time in your chariot, so make sure it's in tip-top condition.
Have you the right tunes for the trip. Build your ultimate playlist for your trip. Stack up on your CD's, fill your memory cards, just make sure you have something - local radio can sometimes suck...
Why not check out our post ' Soundtrack of a road trip'
---
Buy a couple of litres of water for the journey
Keep yourself hydrated and it'll help with your concentration.
Many handy uses to keep you fresh in your car. Especially if you like to pick up a snack en-route.
This is probably more handy if you have a convertible, it doesn't take long for my fair skin to flip to raspberry if I forget these. It's also handy if you take a tour of a town or a sight. Also packing these is a good reason for item 19!
Handy in the glove box to have travel painkillers that can be swallowed without water - and you're going to need them after the 'n'th argument over directions 😉
To remove what the occasional bird decides to deposit on your pride & joy. (I should also mention caution when parking under trees when on a road trip - again from experience!)
---
Travel sweets - Did I mention that already?
I take this planning seriously - A road trip without Werther's Originals does not bare thinking about.
Best to start the day with a maximum range.
Get together everything you'll need in the cockpit as you may need to charge your devices on the move.
Let's not put a downer on the trip - but we are British 🙂
---
Travel sweets - no really, it is that important.
I need a sweet treat every 50 miles or so - it helps count down those miles until I hit our destination.
Settle into your seat and relax - you're on holiday.
I hope this list has been of some use, and there's something here that can help.
If there's something you always check, or a ritual you follow before your road trip, let me know.
Any further suggestions? or is there something on this list that has helped you?
Inspired to plan you next road trip?
Why not pop open the map and get planning? The road awaits you.
(Why not Pin It for Later?)