Bilbao, A rough diamond in Spain's Basque country?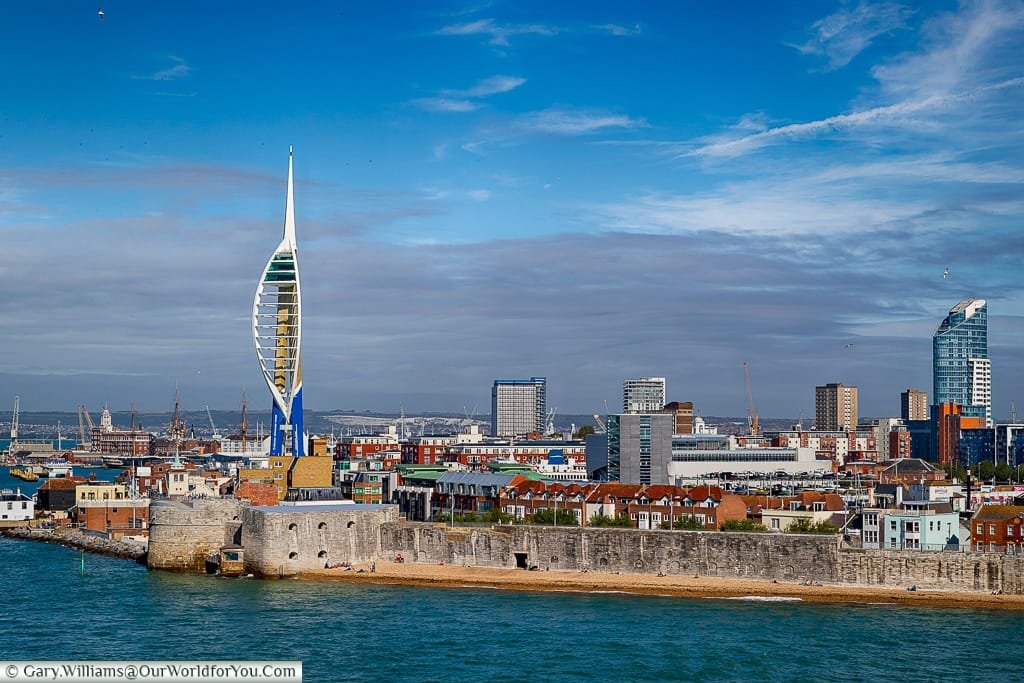 Bilbao was to be our first port of call on our 2016 Spanish road trip.
 
Prior to visiting the city of Bilbao, I only had visions of a busy industrial port, how wrong was I?
Fresh off the Brittany ferry sailing from Portsmouth, we head straight to the heart of the city.
This is a 12-mile (19 km) drive, so when you arrive in the centre, the bustling harbour has been well and truly left behind.
We arrived at our hotel, Mercure Bilbao Jardines de Albia, park up in the underground car park and we head straight out to investigate the city.
No sooner are we on the streets and we are surrounded by wonderful architecture.
From the Gothic church of San Vicente Martir to the Art Deco buildings and their bountiful wrought iron balconies.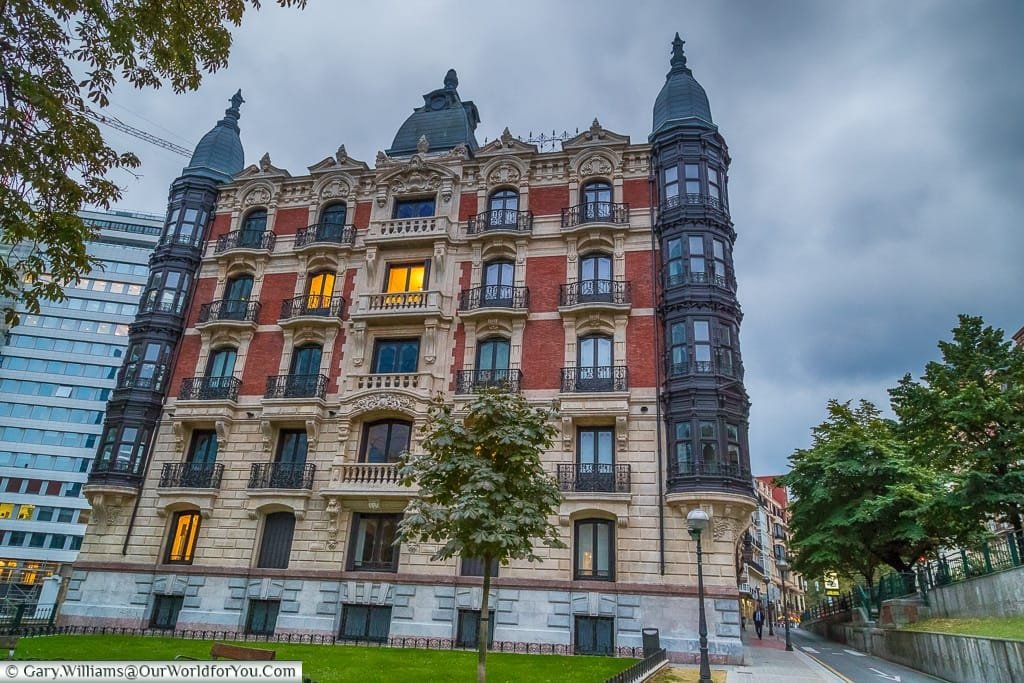 One of the main focal points in Bilbao is the River Nervion, which flows out to the Bay of Biscay and on the way, encompasses the city old and new.
This is such a pleasant river to meander along day and night, or you can just sit and soak up the relaxing atmosphere.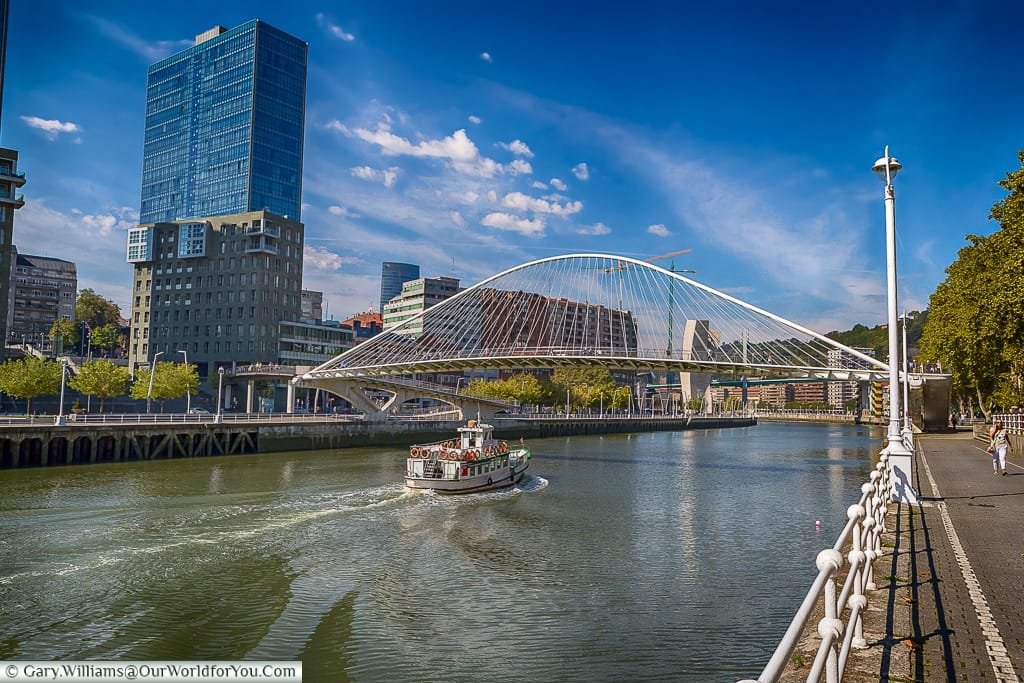 The eye-catching Zubizuri footbridge bridge, that sweeps over the Nervion river, is just one of the 17 bridges that span the river within Bilbao's boundaries.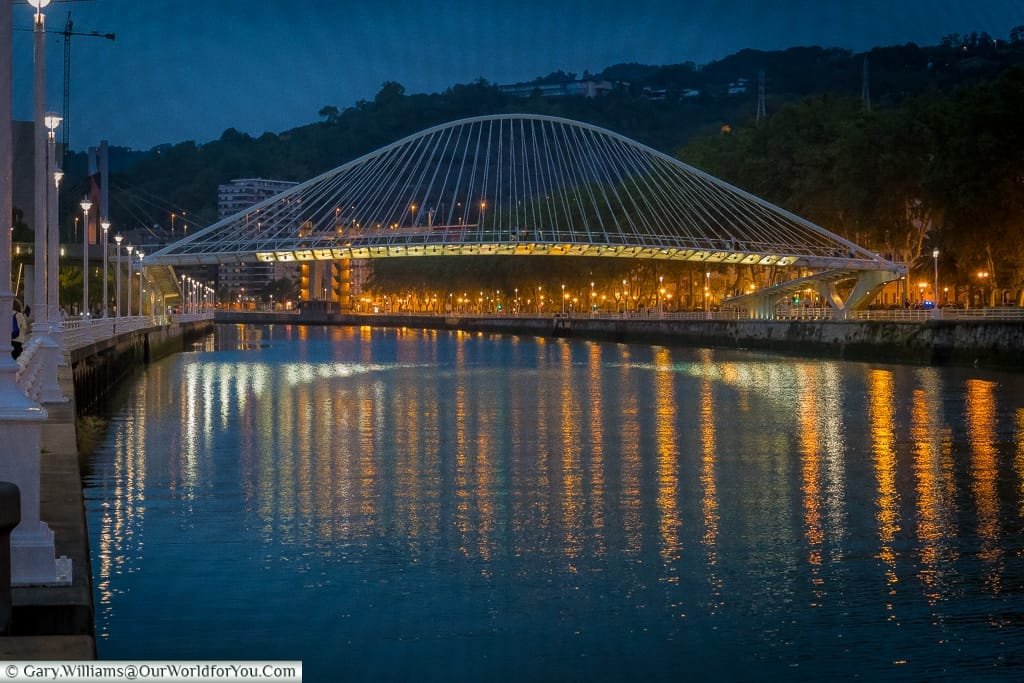 The 'White Bridge' (Basque translation of Zubizuri) which was opened in 1997, was designed by Santiago Calatrava.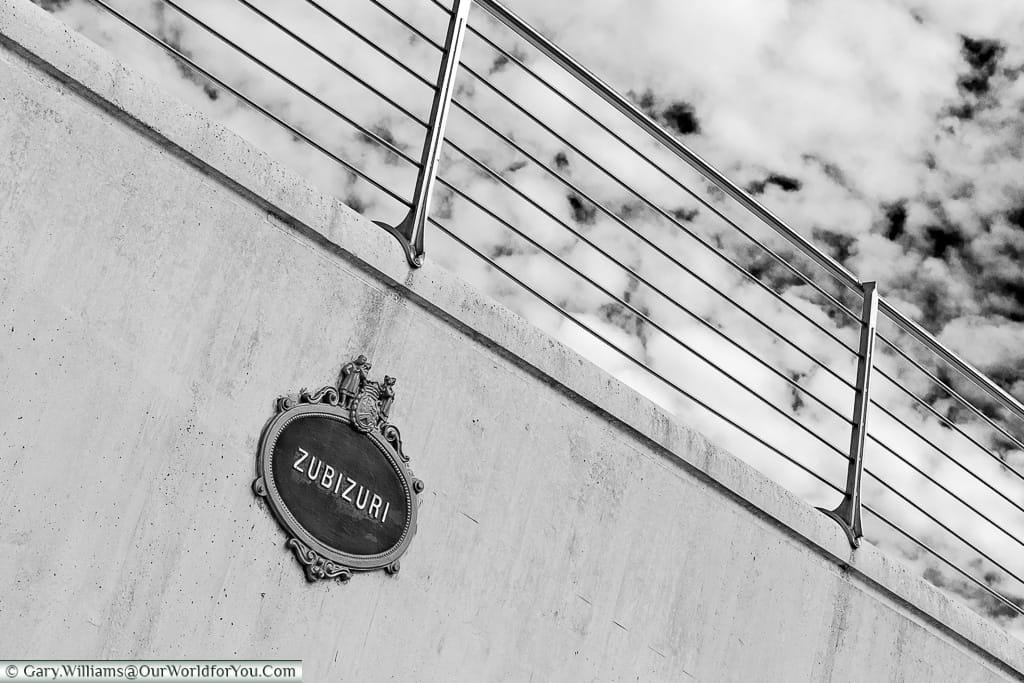 The bridge is supported by steel suspension cables from the arch above, which gives the effect of billowing sails on a ship.
I love nothing more than planning a trip and so often I use the DK Eyewitness books.  I find them extremely informative, easy to follow and the pictures and maps tempt you into discovering more.
We used this version of the book to plan the northern part of our Spanish road trips.
The tourism industry in Bilbao owes a huge amount to the stunning Guggenheim Museum, which was designed by Frank Gehry and inaugurated in 1997 by King Carlos I of Spain.
This wonderful structure has become quite an icon to Bilbao, so it isn't surprising that it is often a back drop to the Vuelta a España cycle race when it visits Bilbao.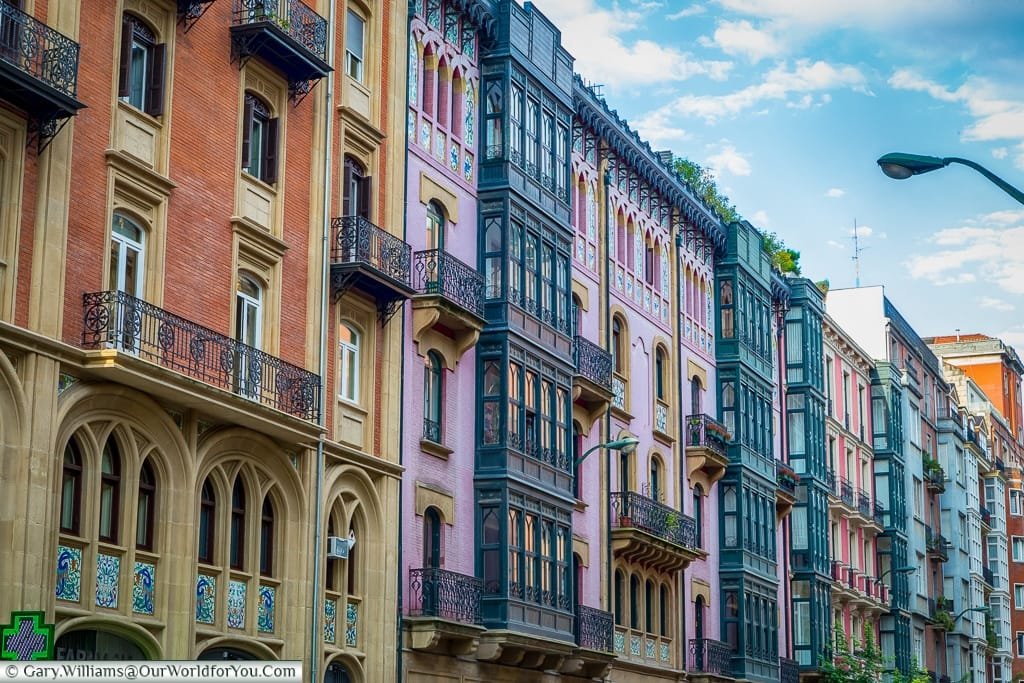 As we wandered along the bustling tree lined avenues, we couldn't help but notice the wonderfully maintained architecture, street after street.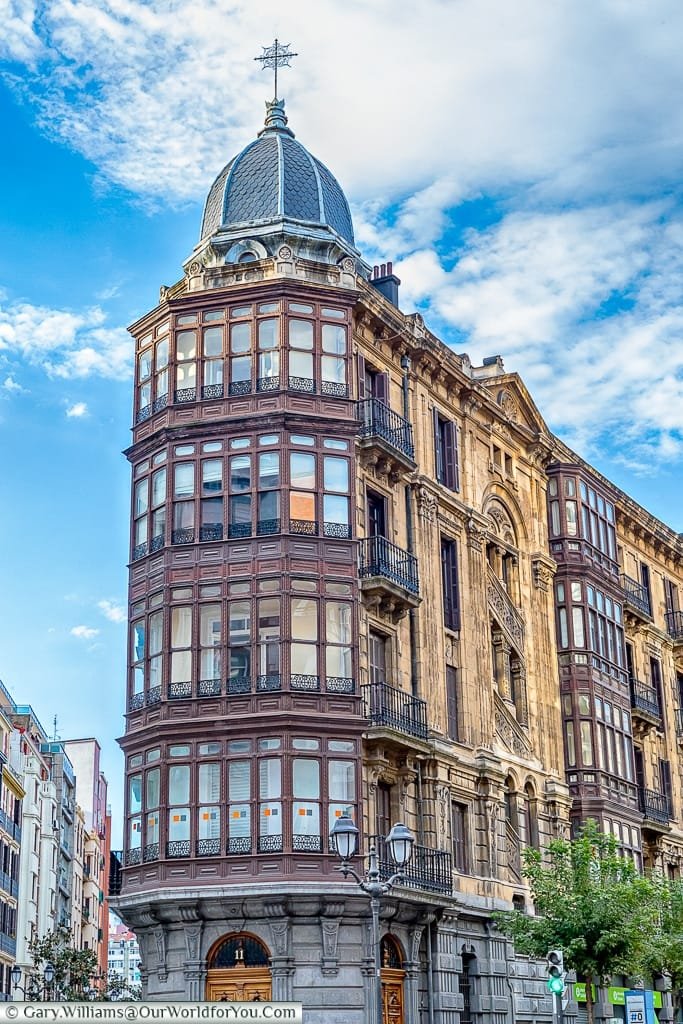 A delightful example of this is the Bilbao railway station, which opened in 1870.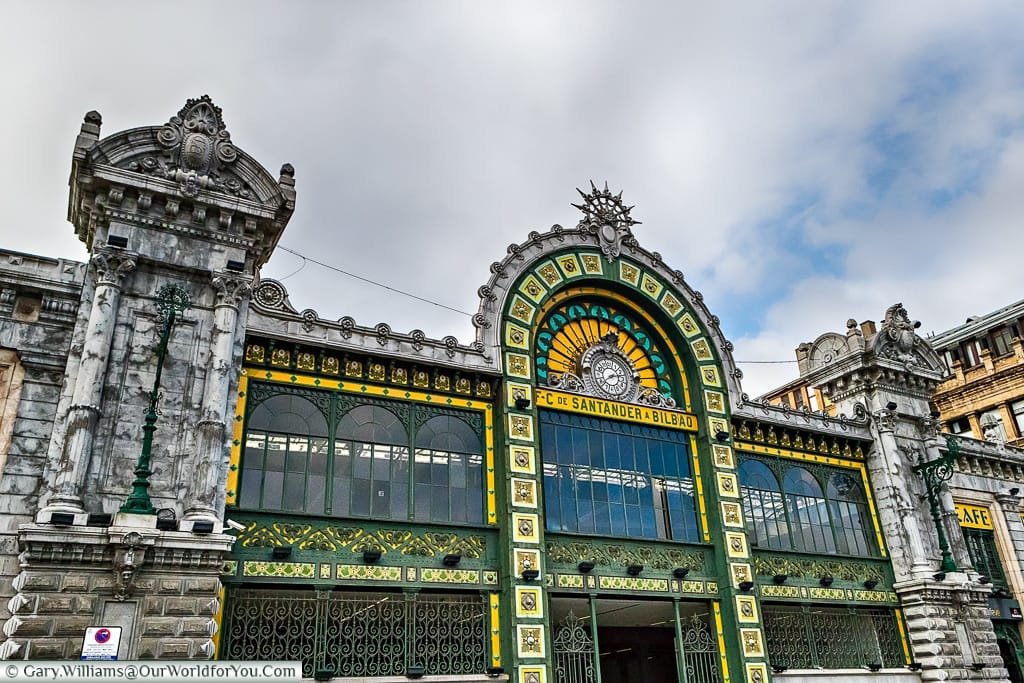 A short distance from the station on the right bank of the Nervion, is a very striking Art Deco bandstand.
Surrounded by the El Arenal park, this was a lovely part of the town to sit and relax.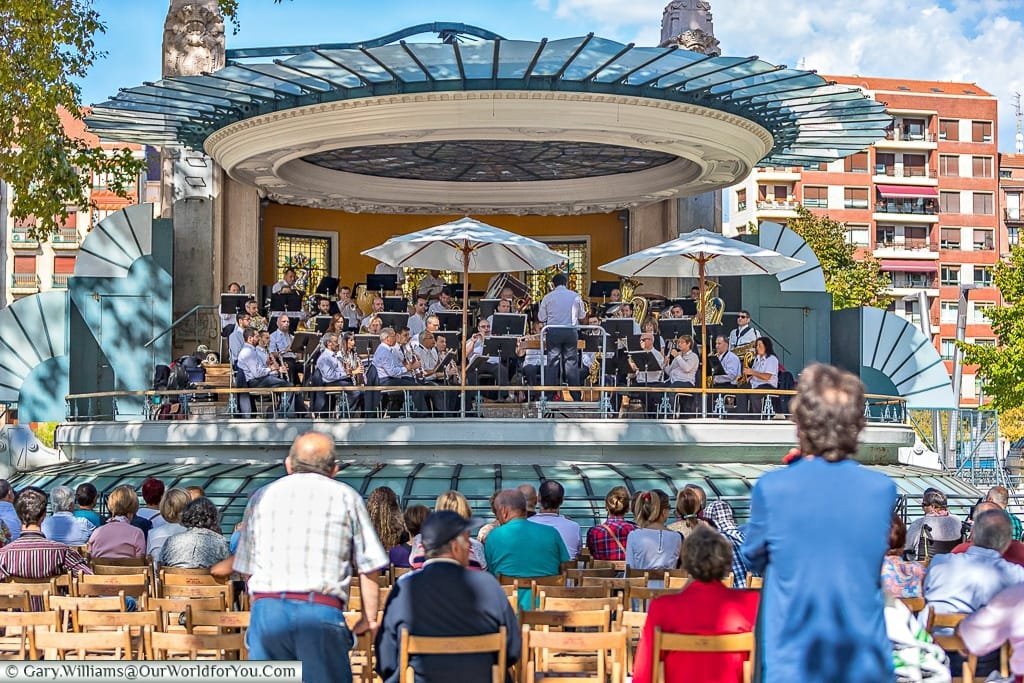 It makes it all the more special if you happen to be there when the local band are playing.
Europe's largest indoor market
Keeping to the right bank of the river, we head to the local Mercado de la Ribera.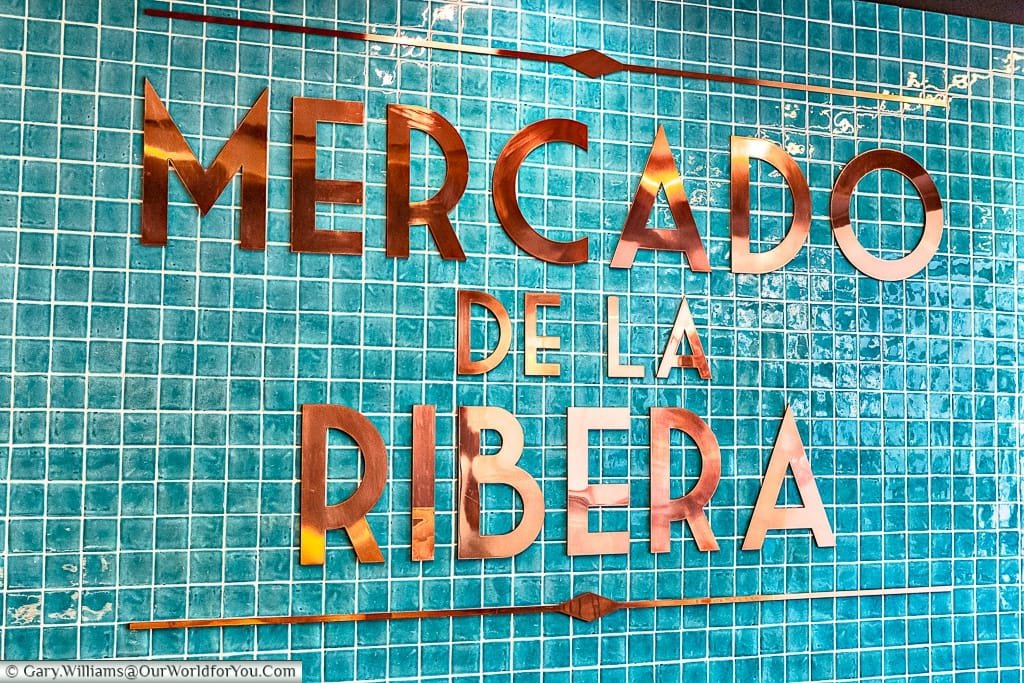 This Art Deco structure was built in 1929 and covers 10,000 square meters.
It can actually boast to be the largest indoor market in Europe.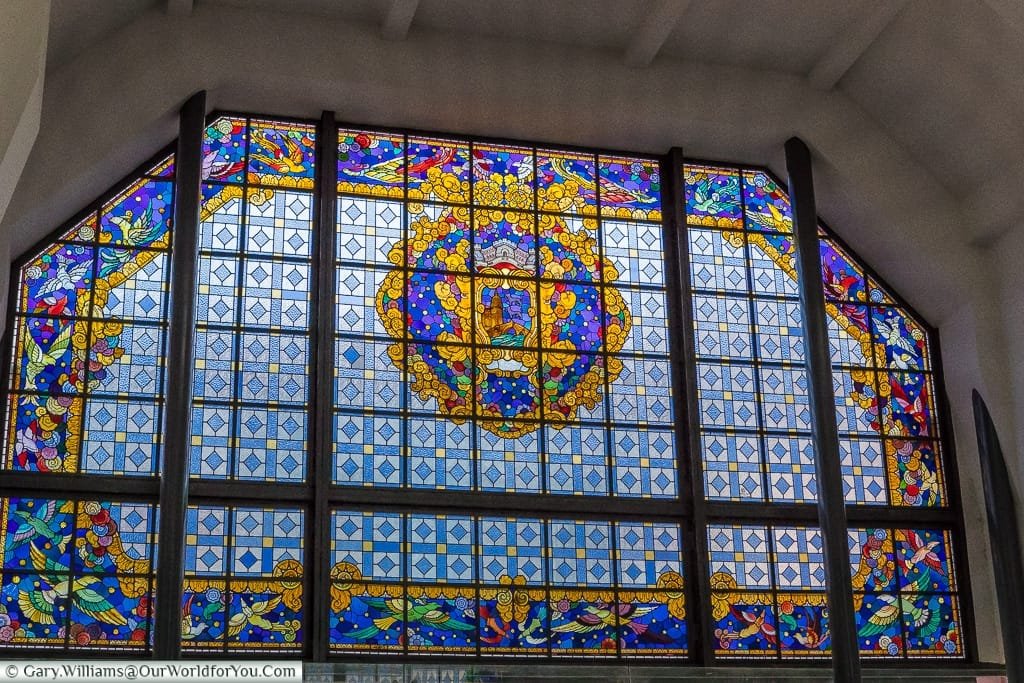 In 2009 the Mercado was renovated with a more modern twist and the natural just light pours in from every angle.
The incredible variety of fresh produce throughout market is amazing.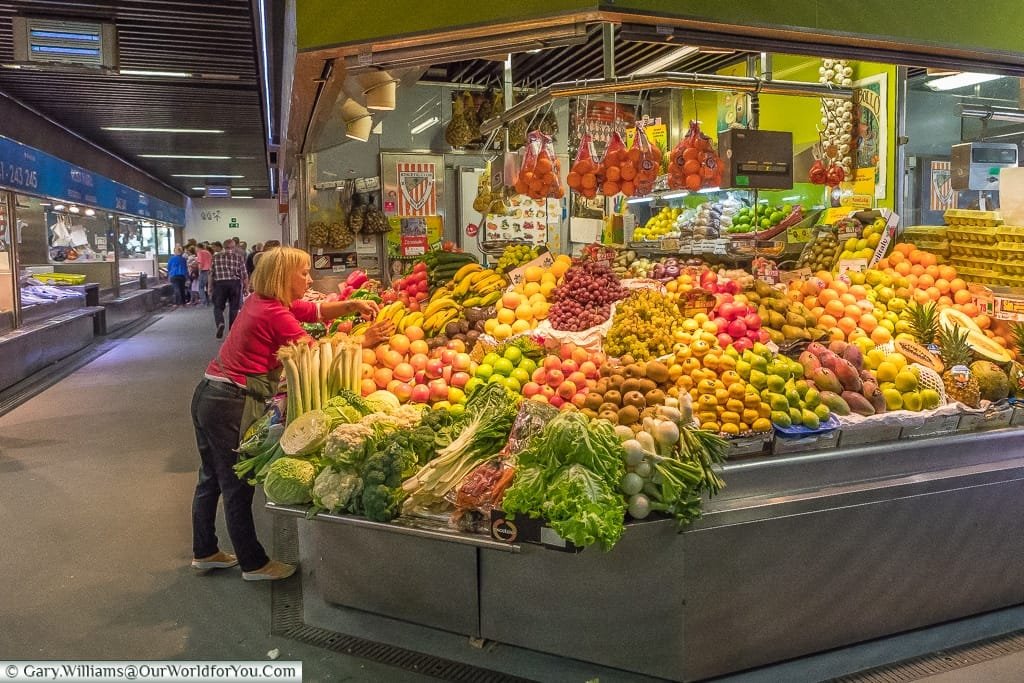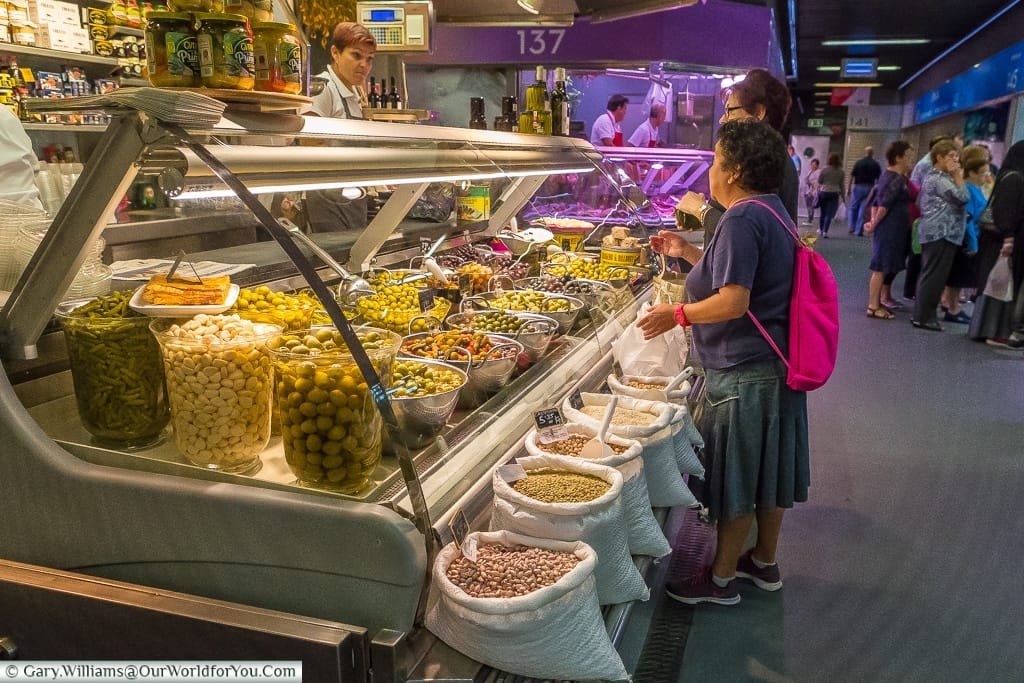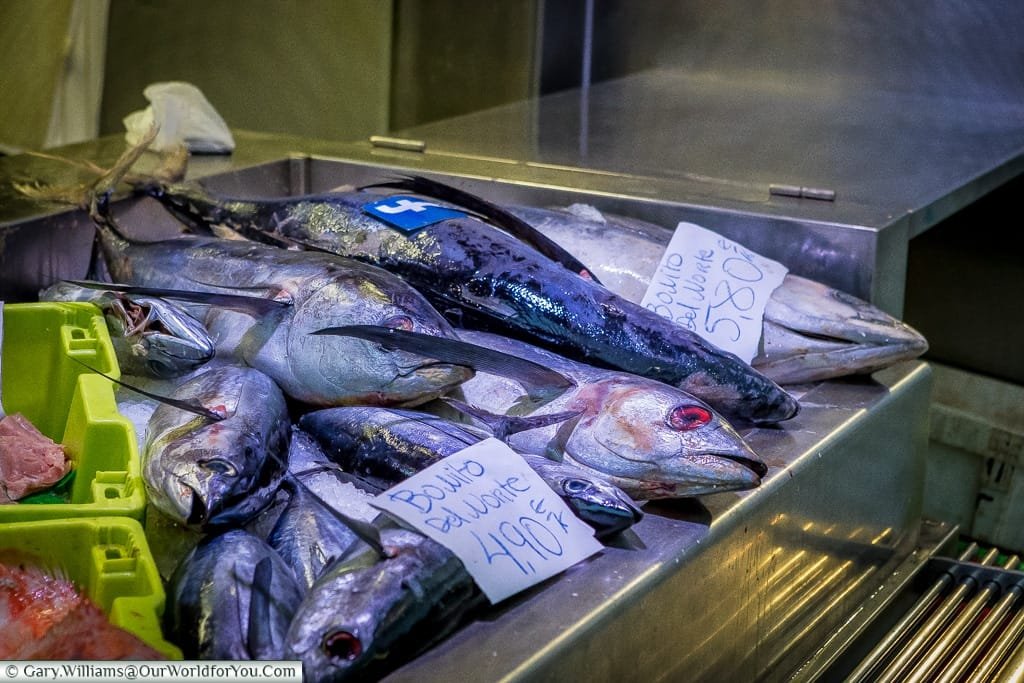 This a lovely place to take the weight off of your feet and enjoy the atmosphere while having a sneaky pintxos.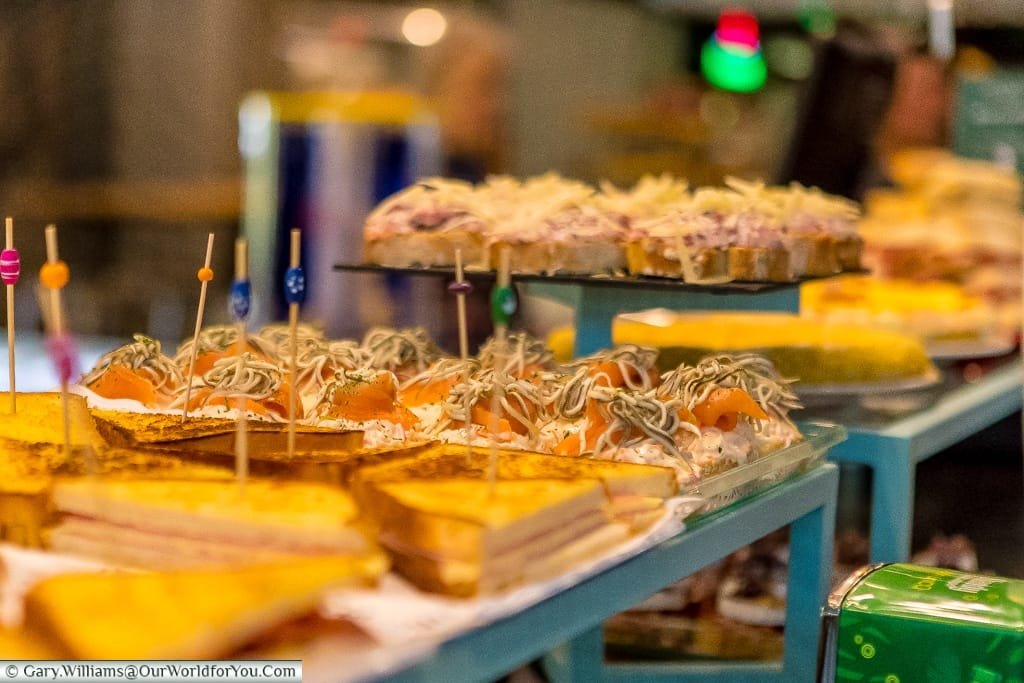 Heading a few steps north we are now entering the Old Town, within Casco Viejo the Medieval neighbourhood of Bilbao.
This part of the town was originally walled, but it still feels very intriguing as you wander through the narrow streets of 'Las Siete Calles' the historical 'Seven Streets', and weave between the few lanes that interconnect them.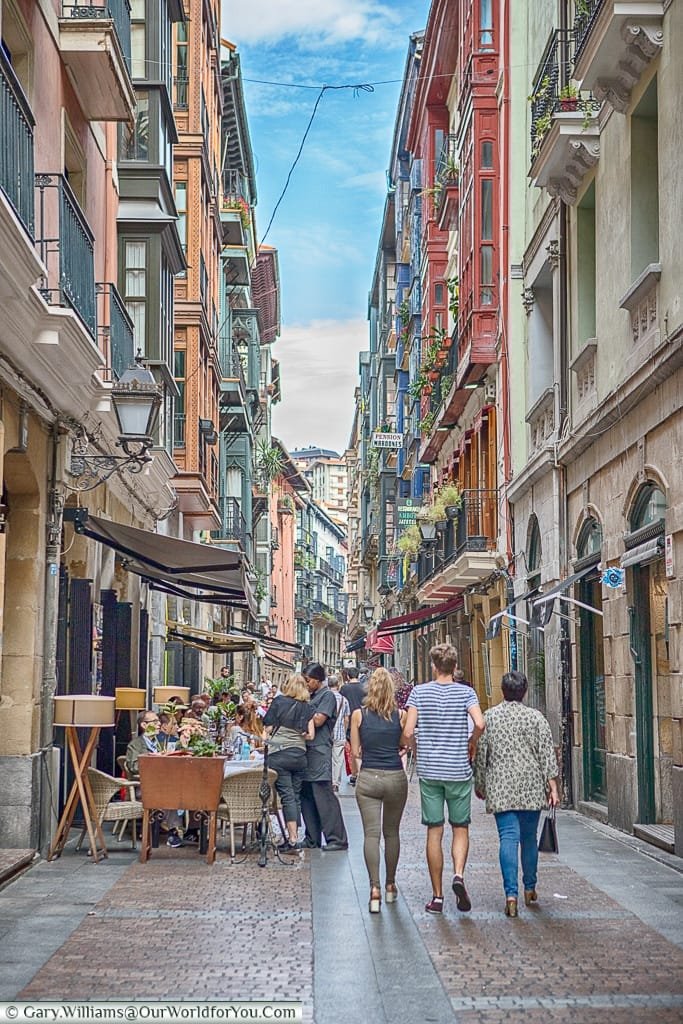 Through here is some wonderful architecture, including the Baroque Santos Juanes church constructed in 1622 and the Fuente del Perro.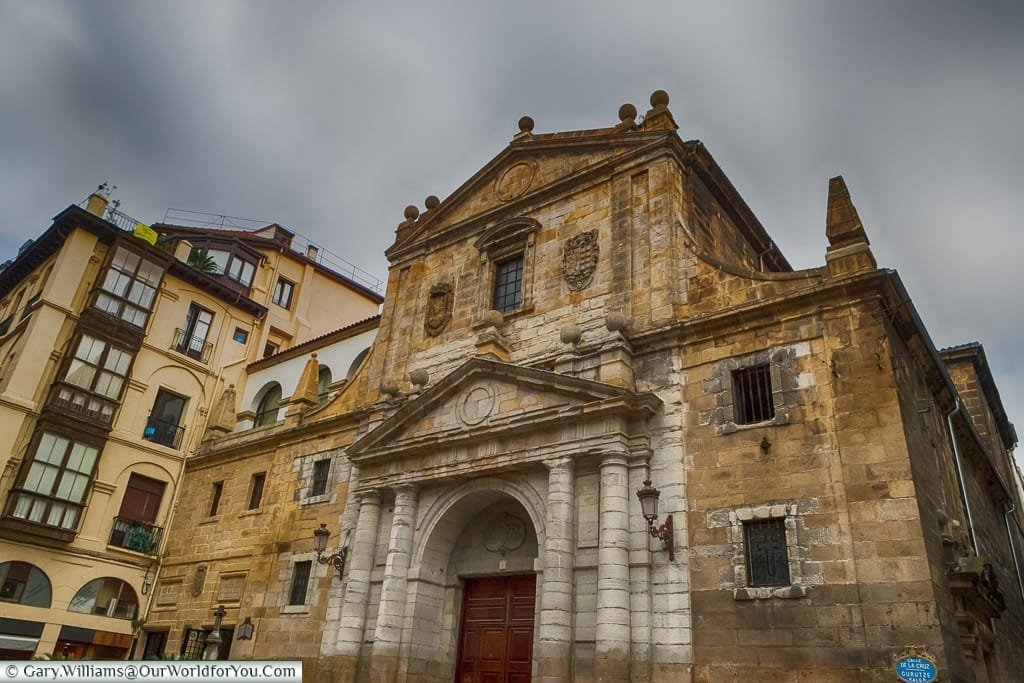 With the old there is always the new, a lovely little cheese shop.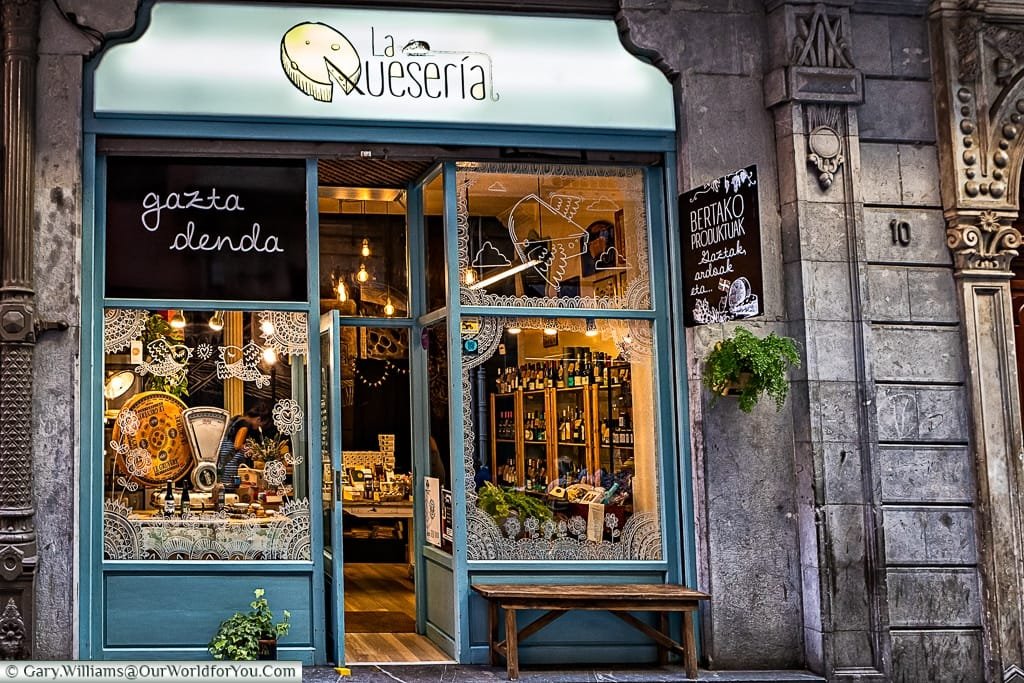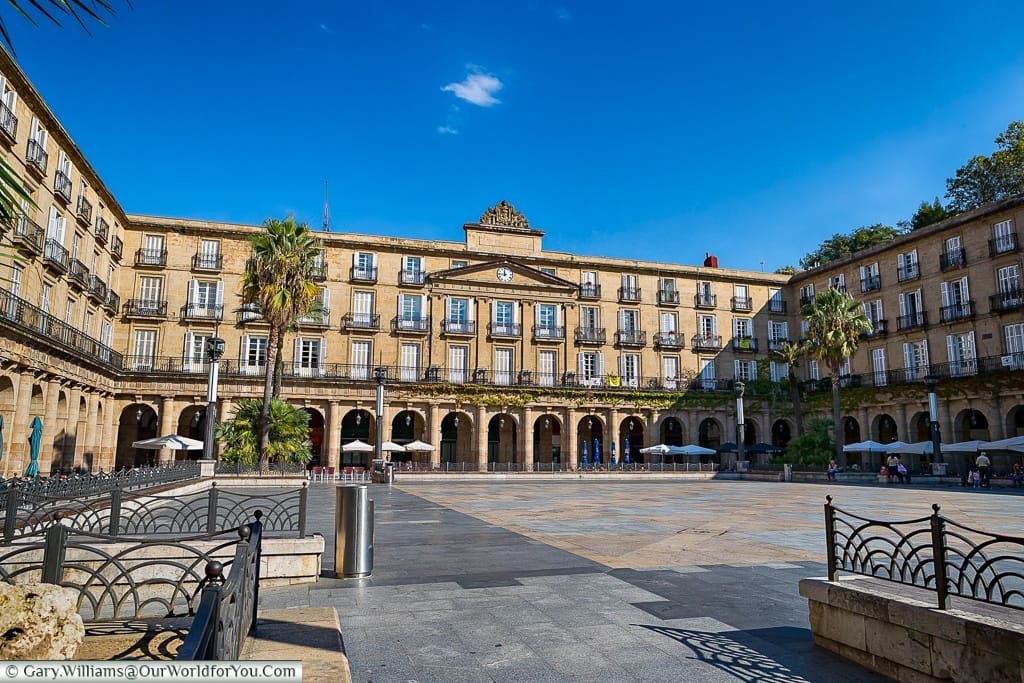 This impressive neoclassical square which was built in 1821, is enclosed by a surrounding arcade. I really didn't expect such a wonderful open space to be hidden within the narrow streets of Casco Viejo.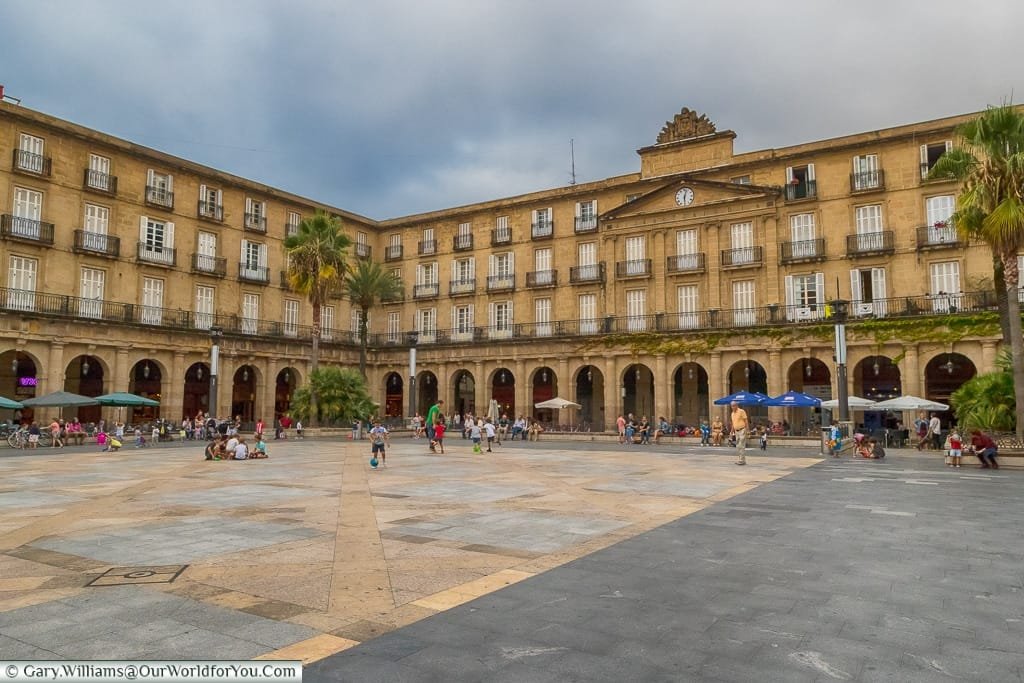 It's such a lovely plaza to relax in and if you peek through the arches you will find some great cafes and taverns.
We found some fantastic bars and cafés whilst in Bilbao, some we intentionally picked as they were recommended for traditional cuisine and their architecture. And others we found ourselves.
Before we left for Spain we did some research into local food and drink of each region. What we discovered about this part of Spain is the drink called Calimocho/Kalimotxo which is red wine & coke, with ice.
Now I know this sounds odd but don't mock it until you have tried it, it is actually very refreshing, (which could end up being a bad thing).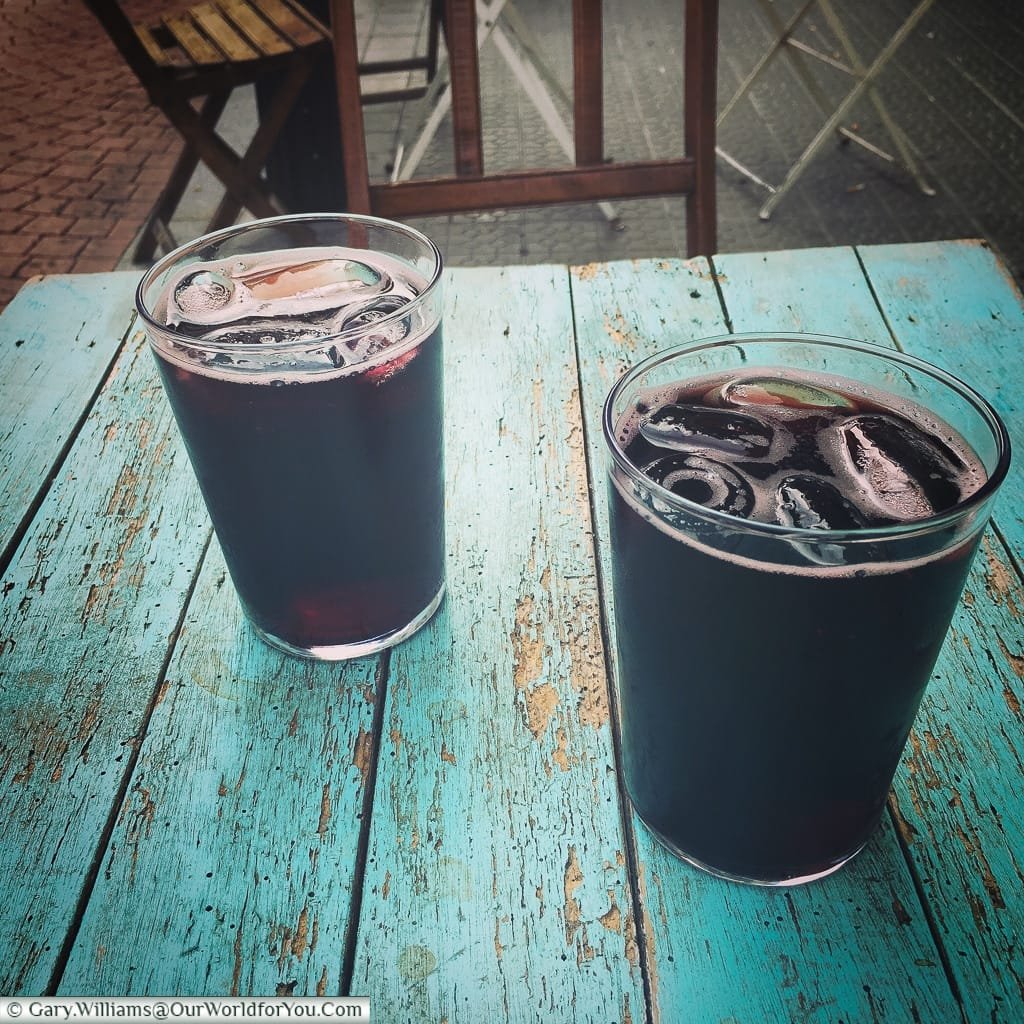 For the old-style style café in Bilbao, we had a brief stop at La Granja, this elegant café was built in 1926 and still preserves its traditional features.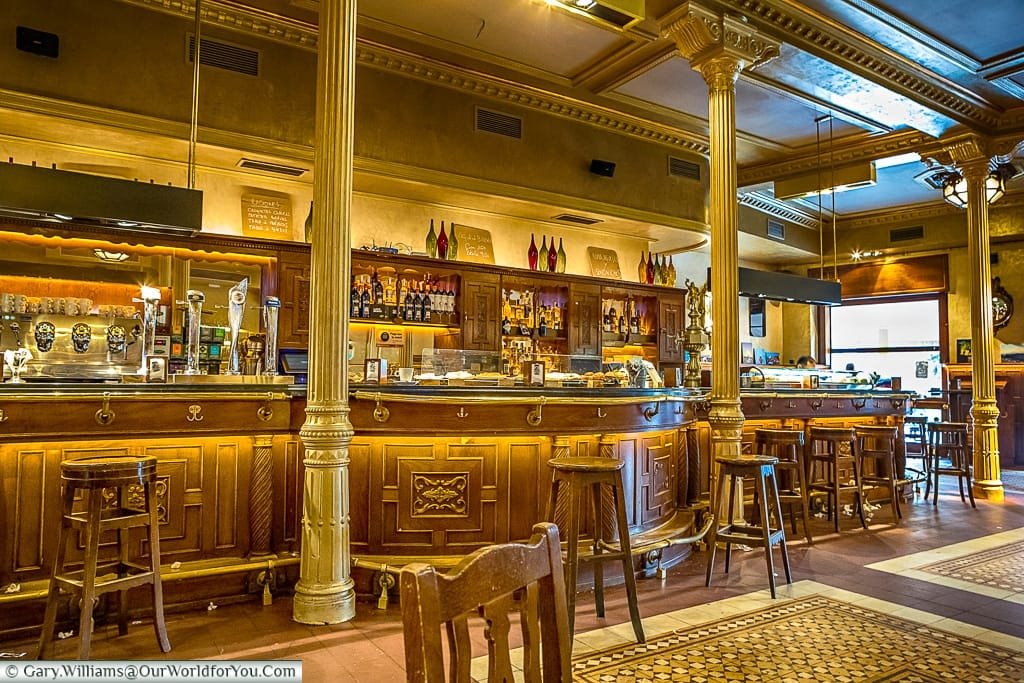 We have learnt that the Spanish way of enjoying a variety of pintxos, is to order a couple of items with a glass of your choice and then wander on and find another pintxos bar.
One was the Café Iruna, another old-style café/bar that was built in 1903. With amazing interior tiling and some very good pintxos.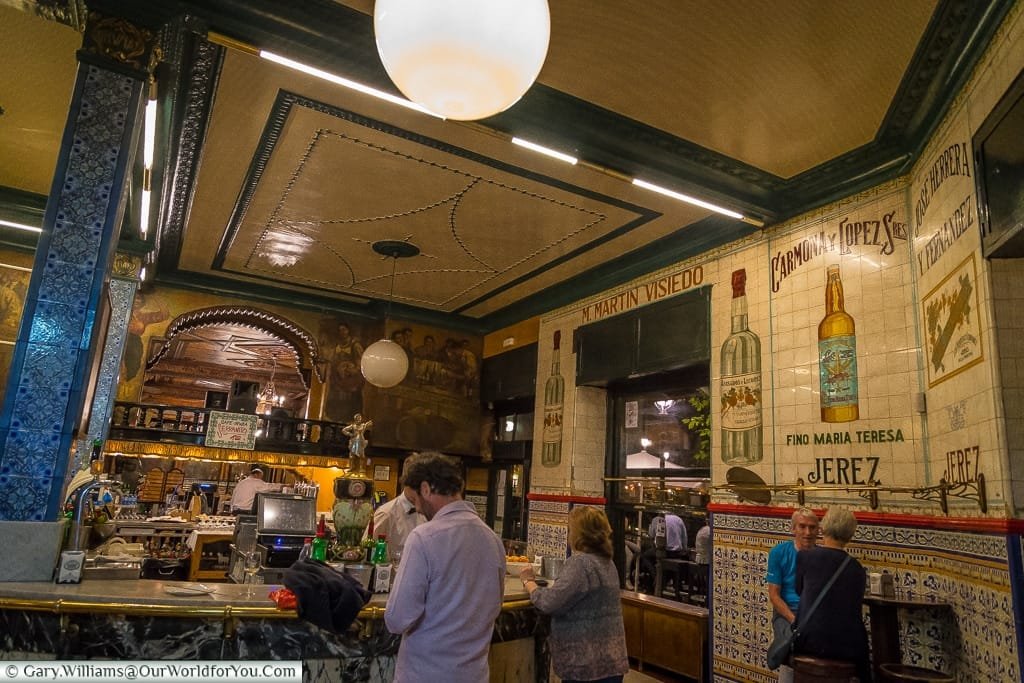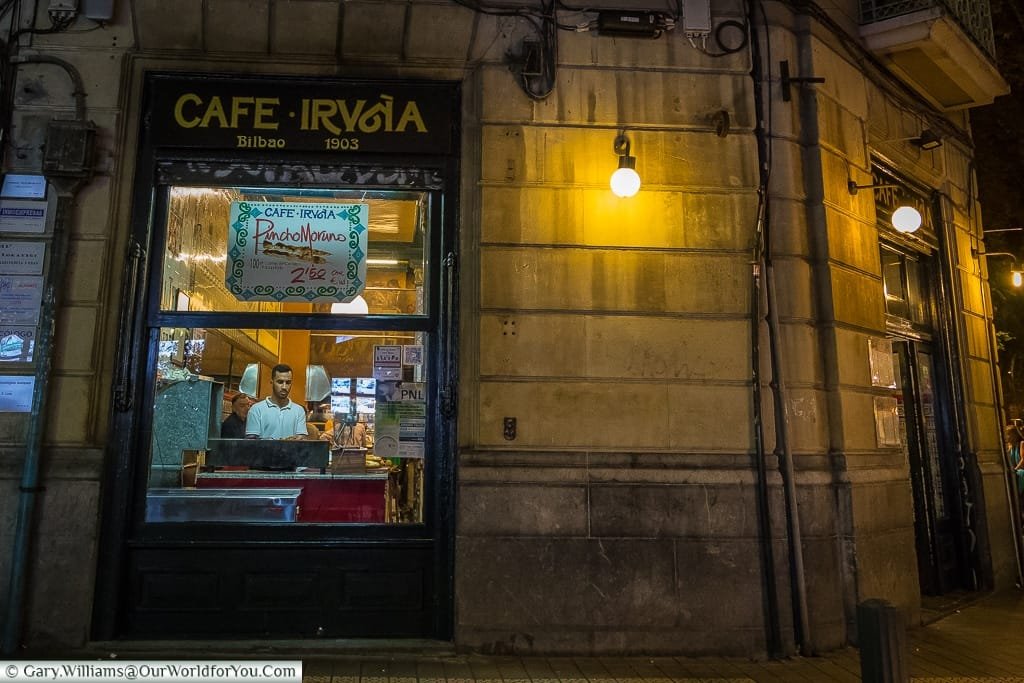 We tried the pincho moruno, which was being cooked over charcoal.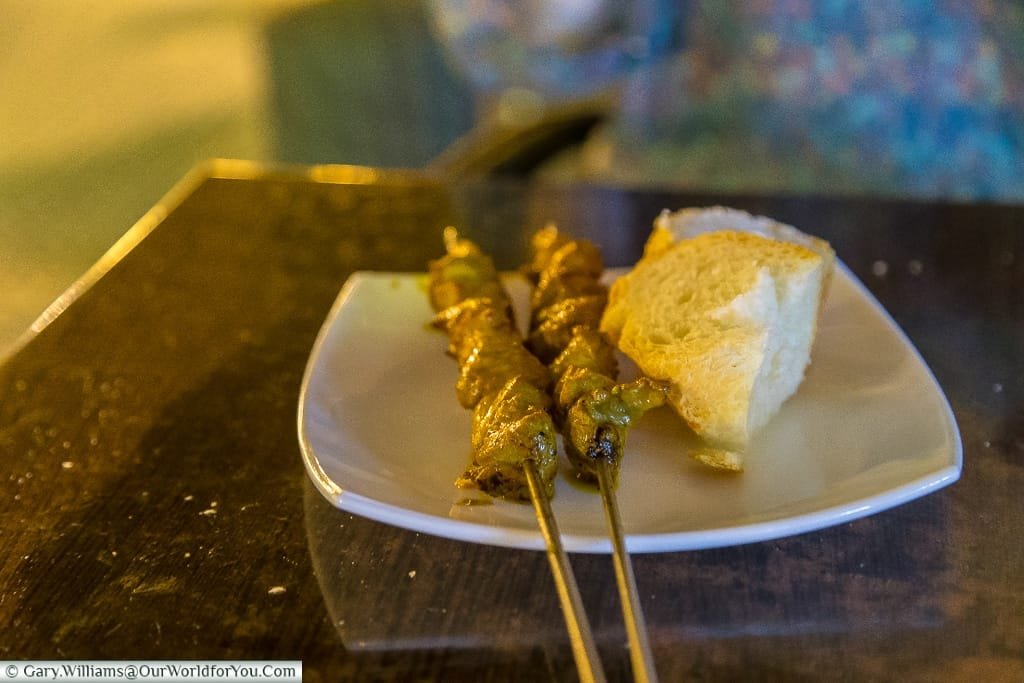 Heading on we came across La Mutua, so in keeping with the etiquette we popped in. Great staff and a superb selection of pintxos.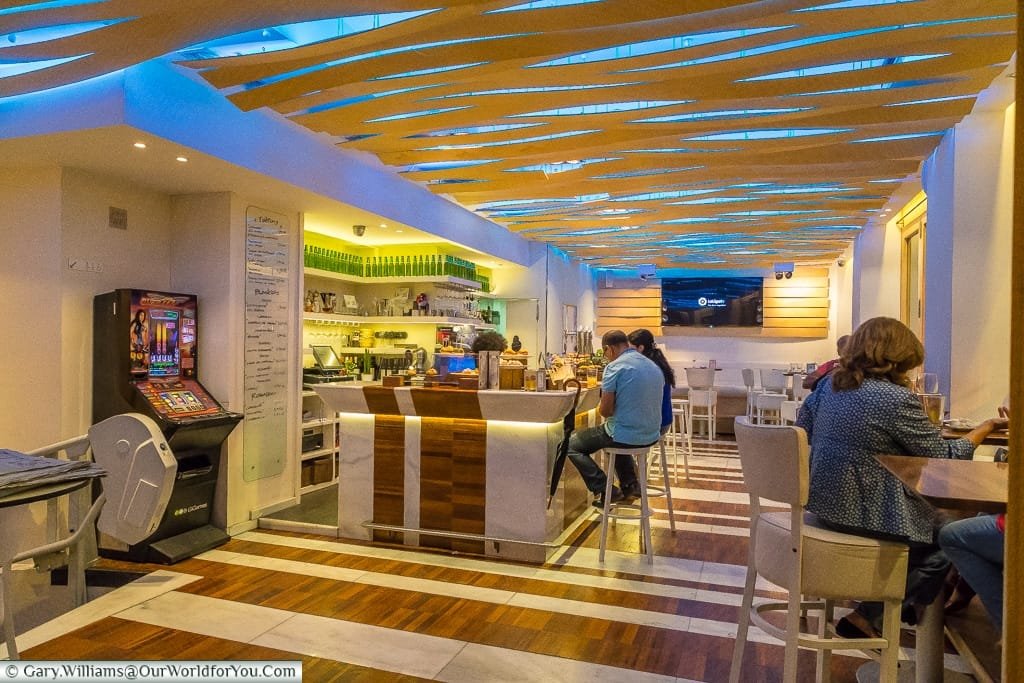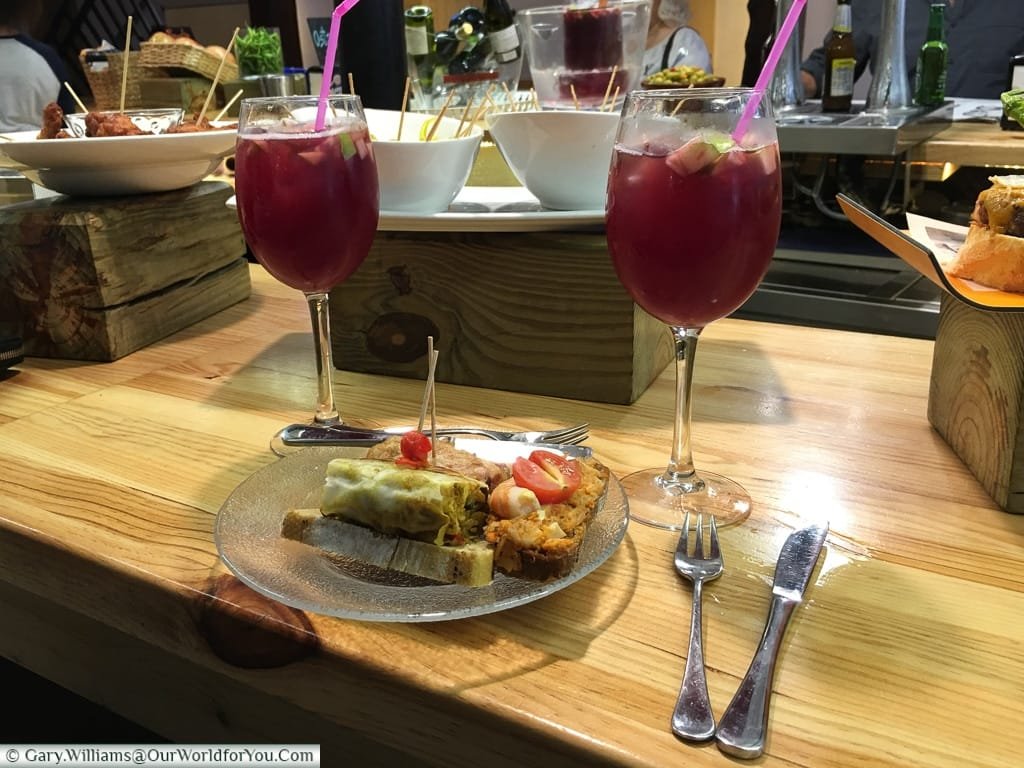 Whilst in the wonderful Plaza Nueva we popped into the Zaharra bar, tucked in one of the corners.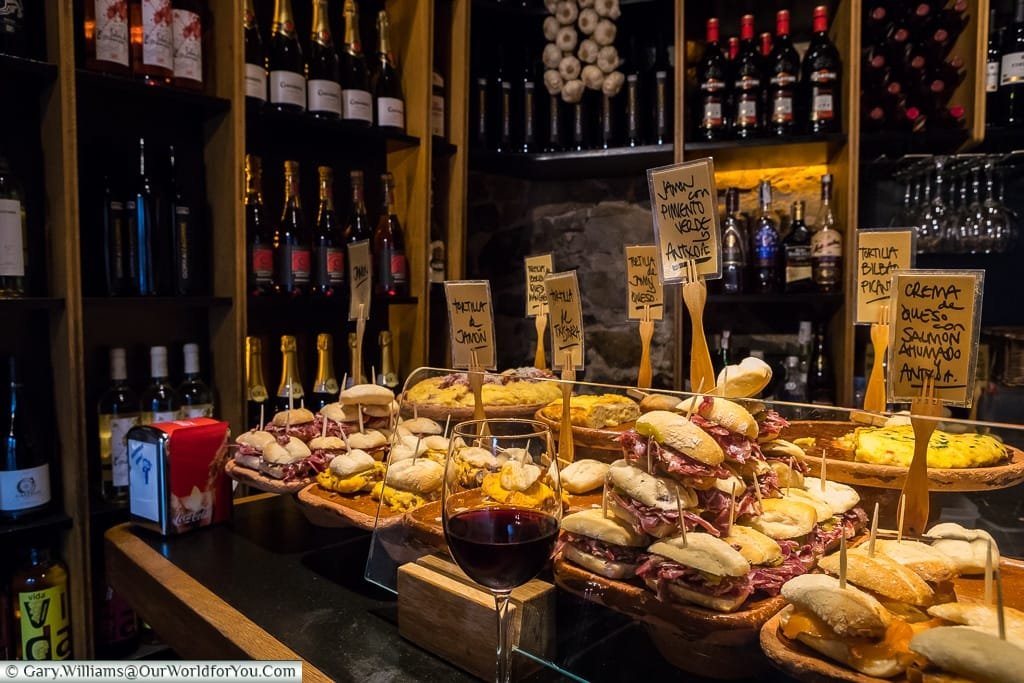 It had quite a surprising array of tortillas. This gave Gary an opportunity to have his first taster on this trip of morcilla (black pudding)
We have some wonderful lasting memories of this city and in particular how friendly the locals were, and how at ease you felt just wandering around.
There are free wifi hot-spots around town, we found this out whilst visiting the tourist office in Plaza Biribila
After 2 nights in Bilbao we start to head west onto Oviedo, but as this is a road trip, we are avoiding the motorways and drive along part of the Camino de Santiago route. Along the way we stop at beautiful village Santillana del Mar.
Something from Get Your Guide?
Why not check out what else is on offer through Get Your Guide.
(These options are provided by GetYouGuide.Com. We will earn a small commission, at no extra cost to you if you book through our site)
Inspired to visit Bilbao?
Do you want to be pleasantly suprised as we were?
Why not checkout the latest deals on Booking.Com?
(Why not Pin It for Later?)