by Janis /
2 comments
- Orginally published:4th October 2017
From sticks of rock to a regal splendour!
Gary and I had wanted to visit the county Norfolk for a few years now and more often than not we jump in the car and head across to mainland Europe. However, on this occasion, we decided 'no', let's dig deeper into our own lovely country.
Norfolk is situated on the east coast of England and shares its shoreline with the North Sea. For me whenever I hear the North Sea mentioned, it conjures up harsh conditions in my mind, so it was a welcoming site to see the waters on calmer days.
Why not Pin it for later?
The open roads await, pop in your location details, then
Rental Cars
will search well-known car hire brands and discover the deals that suit you the best.
Fish & chips by the seaside
You'll have to go a long way to beat this foodie experience. Does it get any better than sitting overlooking the sea, sun shining, seagulls circling overhead while eating fish & chips with lashings of salt & vinegar?
Fish 'n' Chips at No1 Cromer
Strolling through the historical cobbled lanes of Norwich was like stepping back in time, fantastic little buildings and quirky boutiques.
A view of Elm Hill, Norwich, Norfolk, England
The mixture of buildings & design throughout Norfolk is amazing, from the half-timbered homes & flint houses to the incredible Art Nouveau arcade in Norwich.
Inside the Royal Arcade, Norwich
Norfolk certainly has its fair share of history and a couple of its notable sons and daughters is the Admiral Lord Horatio Nelson. And the WWI heroine, Edith Cavell who sheltered allied forces and helped over 200 people escape.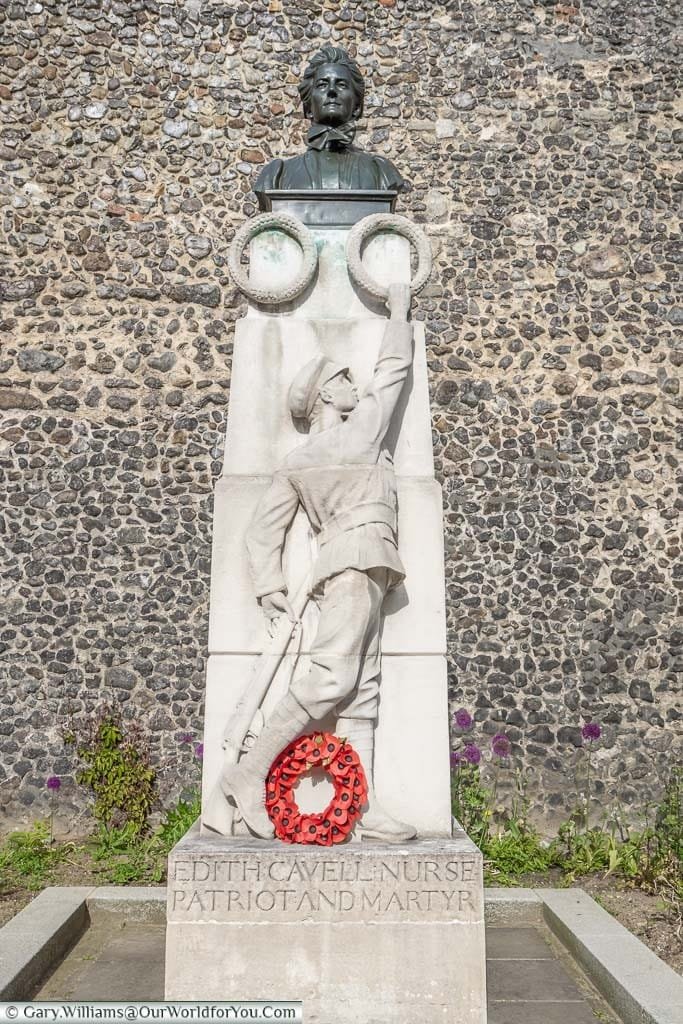 The memorial to Edith Cavell, Norwich
A statue of Nelson, Norwich
Even if trains aren't your thing, it is still a lovely sight, seeing a steam train passing through the countryside. The Sheringham to Holt Heritage railway is run by a very enthusiastic group of volunteers.
If you're tempted by the beautiful English county of Norfolk and its incredible far-reaching coastline take a look at the '
Visit Norfolk
' official website.
For our time in Norwich, we stayed at the Maids Head Hotel which offered, comfortable rooms, fine dining, a quiet bar and ample off-street parking. We'd recommend it.
We then headed onto Cromer and stayed at the Cliftonville Hotel, A charming hotel, with the feel of a bygone era, friendly staff and excellent access to Cromer.
If you're intrigued by Norfolk, a UK county with an interesting past, then why not check out  "The Little Book of Norfolk".  Full of facts and obscure information. It's a fun read on the region.
You can pick it up for your Kindle or in good old hardcover. (Depending on region)
Are you searching for a tranquil hideaway to unwind in, while you explore the picturesque Norfolk landscape?
After a day visiting the golden beaches or touring the charming, quaint villages return to one of the handpicked properties and unique retreats at Holiday Cottages.
I know it's a cliché but we were only in Norfolk for four nights, and there was certainly more to be discovered.
Our few days in Norfolk gave us some wonderful memories,  Why not check out our posts on the places we visited with tips & inspiration to get the most out of your visit?
He wanted to do it, honestly
Make sure you get your photo taken at one of the traditional 'head-in-the-hole' boards, along the boardwalk of the pier. Loving the quiff….
Yes goats, I certainly didn't expect to see these little fellas, munching their way through the clifftop vegetation in Cromer. Apparently, they are Bagot goats!!!!
The disappointment was we didn't get a chance to cruise the infamous Broads. I think we'll save this pleasure and hire a boat for a few days another time.
Is only open from around mid-April to mid-October, remember this regal retreat is still used by the Royal Family today. If you see our Queen at Christmas on TV, she'll be at Sandringham.
Visited Norfolk?  Do our memories strike a chord with you?  What's your favourite spot in this great county?
* This post may contain links to affiliated sites where we earn a small commission at no additional charge to you.
Thanks Kyle, Norfolk is a lovely part of the UK, we were only there a few days, but it has a little something for everyone, it can be like stepping back in time in places.Happy Travels Janis & Gary