by Janis /
0 comments
- Orginally published:26th October 2021
An English city brimming with a diverse history
The vibrant city of Bristol in southwest England has been on our 'visit list' for a while now. Finally, we were going to don our comfy shoes and begin exploring the eclectic city.

Before visiting, my thoughts of Bristol were of a city full of history, feats of incredible engineering to inspire the world, and some bleaker sides of humankind that need to be remembered.

Additionally, any city that has bustling harboursides and waterways will always be a winner for me. There's just something about watching folk having fun along rivers and canals that just makes you smile.

Another aspect of Bristol that we were looking forward to discovering further was its love of street art and how Bristol embraces the inspirational side of local artists.
Why not Pin it for later?
If you're tempted to visit the vibrant city of Bristol, and its striking street art, take a look at the '
Visit Bristol
' official website.
Bristol's distinct history
At the forefront for centuries
Bristol's location in the southwest of England on the River Avon propelled Bristol to become one of the most important ports in the UK. It was from the shores of Bristol that the Venetian explorer John Cabot set sail in 1497 to become the first European to disembark on mainland North America.
Bristol Harbour
Bristol's deep and diverse history continued to evolve over the centuries and, unfortunately, played a prominent role in the African slave trade. The MP and English merchant Edward Colston were at the centre of these atrocities. In June 2020, during some high profile protests, his statue was toppled from its plinth and bundled into Bristol harbour in support of Black Lives Matter.
The Clifton Suspension Bridge
One of Britain's most notable Victorian civil engineers, Isambard Kingdom Brunel, certainly left his mark on the city. He was a genius and the extraordinary brainpower behind many feats of breath-taking engineering. In particular, Brunel was the mastermind of the Clifton Suspension bridge, which spans the deep gorge over the River Avon. Even now, with modern-day technology, it would be a challenging undertaking.
The harbourside at Bristol
A stroll down memory lane
As we continue following Isambard Kingdom Brunel's footsteps, we hop aboard the engineer's
SS Great Britain
. This magnificent ship has had a very unusual journey before returning in 1970 to its original birthplace. The dry dock at Bristol's Great Western Dockyard where it was launched in 1843.
The bow of the SS Great Britain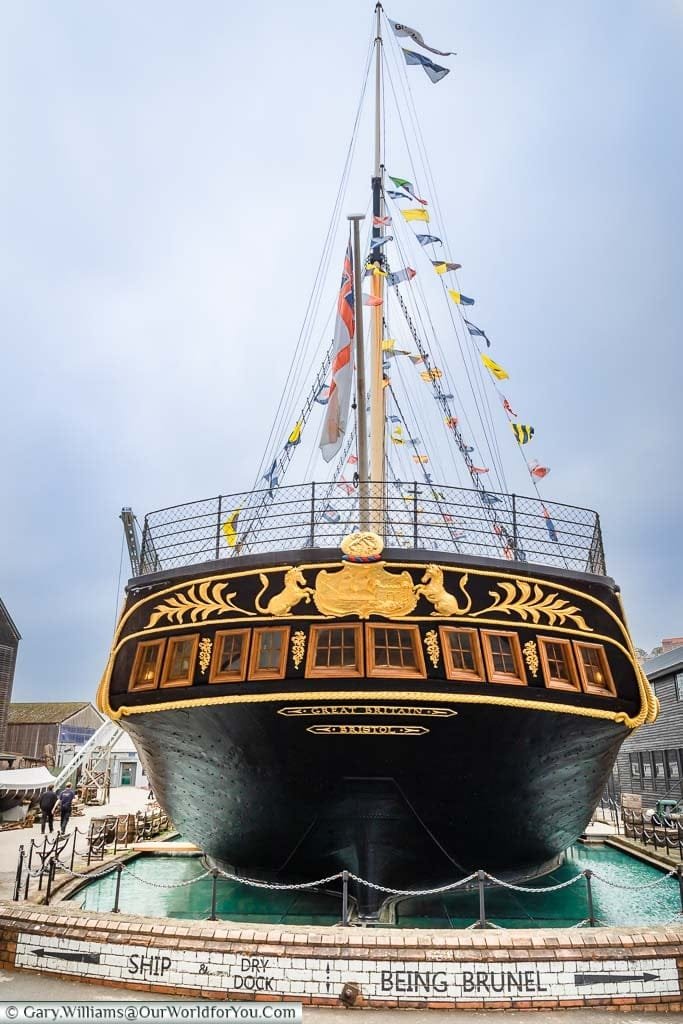 The stern of the SS Great Britain
The SS Great Britain was originally built as a transatlantic steamship; her first voyage was from Liverpool to New York in 1845. A few years later, she was to be in operational service from England to Australia carrying emigrants.

SS Great Britain had a brief spell carrying troops in the Crimean War prior to converting to a sailing ship to transport coal. Her voyage to the Falkland Islands in 1886 proved to be her last and suffered extensive damage en route, and was scuttled and abandoned.

Thankfully in 1970, a huge salvage operation took place. She was returned to Bristol and transformed into the beautiful ship she is today.
The first-class dining saloon on SS Great Britain
Meandering all around Bristol's harbourside, winding your way along the shores of the River Avon, you feel like you are strolling through a living industrial museum. It's fascinating to appreciate and understand Bristol's role in the maritime world.
The Harbourside
We also earmarked a visit to the
M Shed
, a museum on Bristol life and history. I love the four lofty dock cranes peering down from high above. Within the M Shed, you'll also find the fallen statue of Edward Colston salvaged from Bristol Harbour.
If you're intrigued to visit the historic cities of Bath and Bristol, then why not check out Lonely Planet's pocket travel guide. Full of helpful advice, interesting facts and time-saving tips.
You can pick it up for your Kindle or in good old paperback.
Bristol's charming mix of architecture
Explore the Welsh Back and beyond
Bristol was heavily damaged during World War II and, as a result, lost some significant historical architecture. Although today strolling amongst the cobbled streets, some incredible buildings will still catch your eye.
Little King Street
Charming merchant houses stand shoulder to shoulder, and quirky inns and homes can be found around the Welsh Back. Along the harbour are grand and imposing old warehouses. In particular, one striking is the red brick Granary, an example of Bristol Byzantine architecture, and once a jazz club and later a rock venue.

An area of the city not to be missed is College Green and Bristol's striking twin-towered cathedral. Originally consecrated in 1148 and over the proceeding centuries has been extended, restored, and lovingly cared for.
West Mall, Clifton
A little detour from Bristol city centre and we take a stroll around the elegant streets of Clifton Village. The tall, slim Georgian terraced homes are incredible to see. The wrought-iron balconies teetering high above give such a sense of prosperity and opulence.
-
Mercure Bristol Grand Hotel
- Our choice, located in the heart of Bristol and easy walking distance of many of the city's historic sites. This charming hotel is in a peaceful location, and on-site parking is available.
-
The Bristol Hotel
- Overlooks the bustling quayside of Bristol harbour and just a short stroll to SS Great Britain. The stylish hotel is surrounded by plenty of restaurants and bars and a great place to base yourself while discovering Bristol.
Bristol's Street Art
A city with culture and charm
Ahh, yes, in my opinion, a visit to Bristol wouldn't be complete without seeking out those quirky and vibrant pieces of street art. So often hidden around shady corners and along quiet alleyways. The talent of these artists is incredible and often with an important story to portray.
The Girl with the Pierced Eardrum by Banksy
We undoubtedly discovered a few of Banksy's pieces, checkout 'Where the Wall' self-guided street art tour. However, there are many more gifted artists leaving their mark throughout the colourful city.
We also included a visit to Bristol Museum & Art Gallery. Not only does the museum house a fascinating collection of history, art, and nature, but you must also keep an eye out for their photography exhibitions.
Following on along the Banksy theme, here you'll also spot the artist's 'Paint-Pot Angel'.
Inside the Bristol Museum & Art Gallery
If you love the world of science, then Bristol also has a captivating science centre named '
We the Curious
'. Here you'll be overloaded with amazing facts, journey amongst the solar system in the Planetarium and interact with all the fun gadgets.
Bristol on the television
History, food, and comedy
Over the last few years, we've watched some fascinating TV programs about Bristol's heritage and culture. This sparked our interest in discovering more of the historic city and encouraged us to delve deeper into its past and present.
Over the harbour
The first is the BBC Four documentary 'Blitz: The Bombs That Changed Britain', narrated by Shaun Dooley. The second is Series 3 of BBC Two's 'A House Through Time', presented by David Olusoga and traces the lives of the residents from an 18th-century house.
For something a little more lighthearted is the Michel Roux Jr and Fred Sirieix BBC Two series 'Remarkable Places to Eat'. Where they discover Jamaican jerk turkey and a delightful French bistro.
Then hot off the press is the brand-new dark comedy 'The Outlaws' starring Stephen Merchant, Christopher Walken and Jessica Gunning, to name just a few.
What we loved about visiting Bristol was the relaxed vibe of the city, the friendliness of the people and the whole welcoming nature of the locals.
This article was produced in partnership with
Visit Bristol
in exchange for an honest review and an account of our personal experiences.
* This post may contain links to affiliated sites where we earn a small commission at no additional charge to you.