Shadowing in the footsteps of Lord Nelson
The 15th-century Talbot Inn Hotel is a beautiful coaching inn located in the historic village of Ripley in Surrey.
Arrival at the Talbot Inn, Ripley
The Talbot dates back to 1453 and is situated on the old Portsmouth Road which during the 17th century became an important route from London to Portsmouth on the south coast.
As Portsmouth was one of the Royal Navy's principal ports, Lord Nelson passed by The Talbot Inn on several occasions. It is said that in 1798 it is from this historic timber beamed coaching inn, that Lord Nelson's relationship flourished with Lady Emma Hamilton. And their love affair began.
A brief history of The Talbot
Entrance to The Talbot
You can still wander into what is now Emma's room in the main coaching inn and snuggle up in the very same seat that the two of them shared at the open fire.
Overflowing with character
The Talbot Inn has so much charm and character that you'll just want to sneak around and search out all its original nooks, crannies and dark corners.
The Daisy Wheel
Towards the top floor of Talbot Inn
Head up the creaking staircase to the top floor of the main building, and on the old dark wood bannister rail, you'll see a Daisy Wheel carved into the wood. These are quite rare and are believed to ward off any witches or ghosts.
I think it may have worked as I didn't see any ghosts.
Arriving at the Talbot Inn was a pleasure, manicured Boston Ivy creeping up the ancient walls and coaching inn lamps to guide you through the gates.
The Talbot is deceptive in size, as its old stables and barns stretch back quite away from the road. Inside there's peaceful inner courtyard for you to enjoy and relax in.
As we strolled through the old wooden door into reception, we were met with a warm, welcoming greeting and a friendly proficient check-in.
As we were driving, it was important that the hotel had car parking. What was refreshing at The Talbot Inn was that there was ample parking and also it was free.
Don't worry if you have an eco-friendly car, The Talbot also has three electric charging bays (two Tesla & one universal)
The Talbot Inn is a non-smoking hotel and is part of the "bespoke" Hotels family. Its refurbishment has seamlessly managed to blend its 500-year-old historic features with the contemporary décor and style appreciated today.
'Emma's Room' at night
There are 43 stylish bedrooms throughout the hotel, including 9 traditional rooms in the original part of the Coaching Inn. The old wooden beams and fireplaces that you weave amongst really make you feel that you are experiencing a slice of its historical origins.
One of the function areas
Along with The Talbot's overnight accommodation, they also offer wedding and conference facilities for up to 120 guests. We were shown around the barns which have been beautifully decorated for that special occasion, and within the old stable are still the 500-year-old watering mangers for the trusty steeds passing through.
Our accommodation for the night was a 'Deluxe Room' the 'Trafalgar', I loved all the Admiralty references. The Vintage Four Poster Room was full of original features from the 15th-century coaching inn. However, it also had the feel of luxury with its modern-day facilities and cosy velour soft furnishings.
The four-poster bed
The 'Trafalgar' was a very spacious room and overlooked Ripley's historic High Street and one of the world's oldest cricket grounds beyond, which was established in 1749.
The view from the four-poster bed in the Trafalgar Room
Along with its subdued lighting, two relaxing lounge chairs and the coffee table was a spacious desk.
From here, you could catch up on the modern aspects of your day to day life.
Also what we found extremely handy was the USB ports located in the wall sockets.
There was plenty of storage available in the room for your clothing. The room also had a full-length mirror, which I always find a nice touch, and sometimes this can be missed.
Other in-room facilities were a flat-screen TV and a combination safe for your valuables. Also, there was a hairdryer, a fan, an iron and an ironing board.
Tea and coffee making facilities were in the room, along with some gluten-free cookies, a bowl of fresh fruit and two bottles of complimentary water.
Free Wi-fi was obtainable throughout the hotel, a passcode wasn't required, so it made access easy, and you weren't limited to the number of devices you could connect. 
The Wi-fi signal was excellent and was at a rate of 40Mbps+
Heading into the bathroom, the chrome antique-style fittings worked very well with the traditional theme of the bedroom.
There's a full-size bath with overhead showering facilities and 'Relax, Refresh, Revive' toiletries.
Fluffy towels can be found on the heated towel rail accompanied by a couple of plush bathrobes and slippers.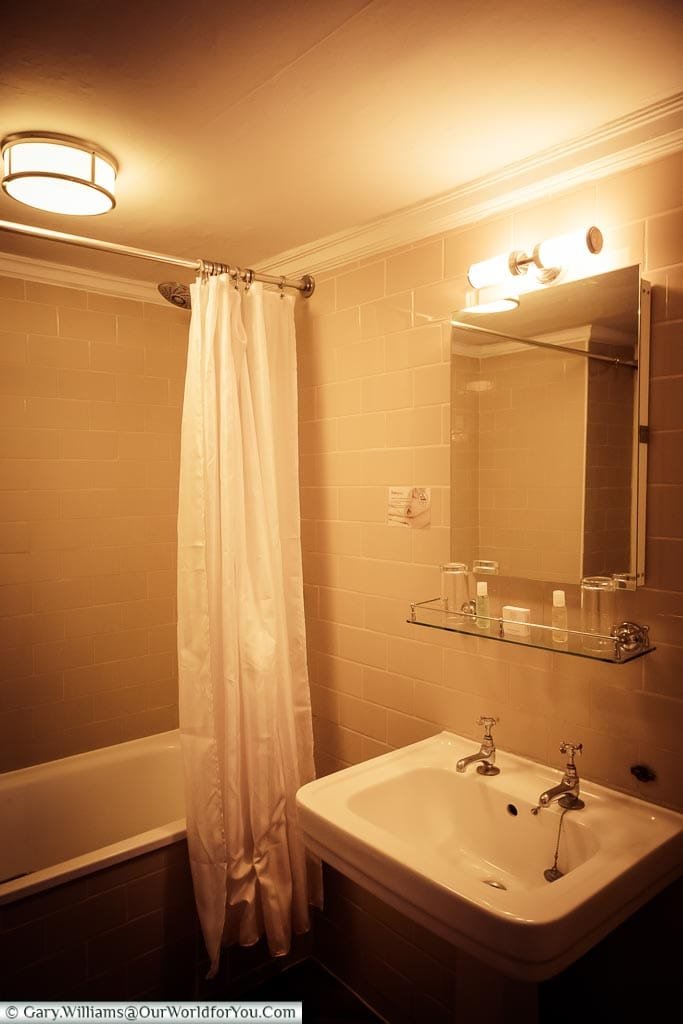 Bathroom in 'The Trafalgar' Room
One touch I personally appreciate although was absent was a double-sided magnifying mirror. But, hey, that's my preference.
Stroll around Ripley Village
Ripley itself is a quaint English Surrey village and has an interesting past all of its own. Along with its 20 historic listed buildings and cottages, it has an antique shop, cafés and other local stores and the village church of St Mary Magdalen.
Here you'll also come across a guitar studio. Which isn't too surprising as Eric Clapton was born in the village and is also now home to Paul Weller's 'Black Barn' recording studios.
In Ripley, you may also spot the Blue Plaque on the Old Pharmacy dedicated to Kenneth White. It commemorates the production of penicillin for the first time in the UK for civilian use during World War II.
History made
The Village Sign
Don't forget to stroll across the village Green and seen the Ripley cricket club that has been in existence for over 250 years.
Heading back to the Talbot Inn's cosy bar, with its low ceilings, you'll find local brews from Hogs Back Brewery, tasty bar snacks and lunchtime offers on food and drink.
Once again, the pleasant combination of contemporary seating along with its ancient wooden beams and open fireplaces really blends well together.
Still giving you the curious feeling as to who as passed through these doors in centuries gone by.
The traditional copper-topped bar
For our evening meal, we head to The Talbot's in-house restaurant. Which not only caters for its hotel guests, but it also serves local cuisine to Ripley's residents. The dining experience was relaxed and casual; however, the surroundings and cuisine were of high quality and tasted freshly prepared.
A glimpse of the elegant dining room
You have the choice of whether you wish to be seated in the front of the restaurant, located in the coaching inn. Or, you can also choose to sit at the rear of the restaurant, which is in a light, spacious area. This leads on to the summer terrace and garden beyond. We chose to be seated with a garden view.
The menu offers dishes which are locally and seasonally sourced where possible. They also use herbs from their own garden. After a bit of deliberation over the menu, which has a wide variety including, fish, poultry, steaks, and vegetarian options, I had made my choice.
Goat's cheese and beetroot
To start, I decided on the goat's cheese and beetroot, with the walnut and balsamic honey dressing salad. This was a fairly light dish to eat, and the balsamic and honey dressing went extremely well with the creamy goat's cheese.
Gary chose the Bon bon crab, brown crab mayonnaise and samphire salad. The crispy coating gave way to a perfectly seasoned crab ball that was complimented by a fresh light salad.
For the main course, I chose the Chicken Milanese, fries, rocket and parmesan salad served with garlic mayonnaise. This lightly breaded chicken breast tasted really fresh and tender and was served on a bed of fries. I thought it was going to be a lighter option; however, it was quite filling.
The Talbot harissa spiced lamb rump
Gary has had a bit of a weakness for Middle Eastern cuisine recently. So he chose the Talbot harissa spiced lamb rump, served with grilled baby gem lettuce and tzatziki.
The wonderfully tender & succulent lamb carried a subtle heat from the harissa that could be tempered with the tzatziki. Gary found it a beautifully balanced dish with flavours that complemented the meat perfectly.
We were both feeling a little full, but as we have a bit of a sweet tooth, the waiting staff let us take our time before we treated ourselves to a pud.
Mango and passionfruit cheesecake
I couldn't resist the mango and passionfruit cheesecake, with a coconut and mango salsa, which was delicious and quite refreshing to taste.
Gary chose the Peanut Parfait, this included roasted banana, caramelised white chocolate and a biscuit crumble.
The empty plate said it all.
The next morning after a good night's sleep, we headed back down to the restaurant area for breakfast. Once again you had the choice of seating options, I imagine in the summer months it's lovely to enjoy your breakfast out on the terrace.
Breakfast in the Garden Room
The Talbot served a hot buffet breakfast along with freshly brewed coffee. You also had a choice from the various continental options of cheeses and hams along with fruit, cereals, pastries, breads and juices.
A croissant, a coffee, and an orange juice
Gary's full English Breakfast
As part of our stay at The Talbot Inn, we were gifted two tickets to
RHS Garden Wisley
. This was a delightful addition for me, as I have fond memories of visiting there with my grandad years ago. He was very keen horticulturalist and would breed delphiniums and display them at exhibitions there.
Jellicoe Canal and the Laboratory at RHS Gardens Wisley
RHS Garden Wisley is a wonderful day out, strolling through the vast greenhouses with exotic plants, climbing through the rock garden and meandering between the vegetable patches. It is a relaxing way to while away a day and The Talbot Inn offers mini-breaks incorporating the two.
The Glasshouse at RHS Gardens Wisley
Other local attractions...
... to visit in the area are;
We would highly recommend The Talbot Inn, in Ripley, not only for its historical past and extremely warm and friendly staff, but also it is in an excellent location. It's a lovely alternative to the hustle and bustle of Woking and Guildford. You gain such a sense village life, even though the essential transports links are only a short distance away.
We imagine that when the Talbot was refurbished, that care, and detail was critical when the restoration was carried out on this historic building. We loved the historical references throughout the hotel of Lord Nelson and its Staging Inn past.
Our only noticeable comment is that if you are a light sleeper, then you may want to request a room at the rear of the main coaching inn. Or alternatively in the 'Stable Block' or 'Ripley Wing'. Not a lot keeps us awake, so it was fine for us.
The Talbot Inn is conveniently located just off the A3, less than 2 miles from J10 of the M25 and only half an hour from central London. It is also just 20 minutes from both Heathrow and Gatwick international airports.
Our chosen transport option was to drive, and we used the postcode below to navigate.
Other alternatives are to take a train to Woking Station, and catch the bus to Ripley, which takes around 35 minutes.
The Talbot Ripley
High Street
Ripley
Woking
Surrey
GU23 6BB
United Kingdom
* This post may contain links to affiliated sites where we earn a small commission at no additional charge to you.
Inspired to stay at the Talbot Inn, Ripley?

The open roads await, pop in your location details then
Rental Cars
will search well-known car hire brands and discover the deals that suit you the best.
(Why not Pin It for Later?)
If you enjoy what you see, and you'd like regular updates then join us for a monthly newsletter.
We were given a complimentary night at The Talbot Inn, Ripley in exchange for an honest review and an account of our personal experiences.