We drove into Poreč, and the rain had stopped yeh!!!
My initial reactions to Poreč was that it was quite busy, I shouldn't have been surprised as this ancient town is steeped in centuries of history and is a catamaran's ride away from Venice.
We wandered around the harbour front soaking up the atmosphere, and the view over the Adriatic Sea, nestled in the bay of Poreč and almost protecting it is the small island of Sveti Nikola.
Start creating your own adventure and discover the delights of Croatia for yourself, Easyjet & British Airways are just a couple of options.
You may even want to combine it into a road trip like us, SIXT car hire cover all budgets and allow you to pick up and drop off at different destinations.
Those lovely white cobbles
Heading into the Old Town, once again strolling on the shiny white cobbles, which for me have now become so synonymous with Croatia.
The Old Town of Poreč has some fantastic architecture, from the polished to the not so polished and the mixture gives Poreč quite a rustic charm.
Strolling around there are reminders of its past life of the Romans and Venetians. The ruins of the Great Temple of Neptune can be seen at the far end of the Old Town and would have once overlooked the Adriatic Sea.
But there is such a strong influence of Venetian architecture wherever you wander.
Weaving our way through the streets & lanes, we head along the north promenade and enjoy the beautiful views across the bay.
Our visit to Poreč was only for a few hours.
However, if you come here, you must tour the UNESCO World Heritage Site of the Euphrasian Basilica and the group of religious monuments that make up the complex.
Within the walls, you can visit the Basilica, atrium, octagonal baptistery and archbishop's palace. Also, make sure you climb the Bell Tower; the views are lovely over the rooftops of Poreč.
The amazing architecture and colourful mosaic detail, within the 6th-century Basilica, is stunning.
The original Basilica which stood on these grounds dates back to the 4th-century and part of the original mosaic flooring can be seen within the church garden.
Understandably restoration has taken place over the years; however, the centuries of history and detail is incredible.
Heading back to the car and the sun returns!!!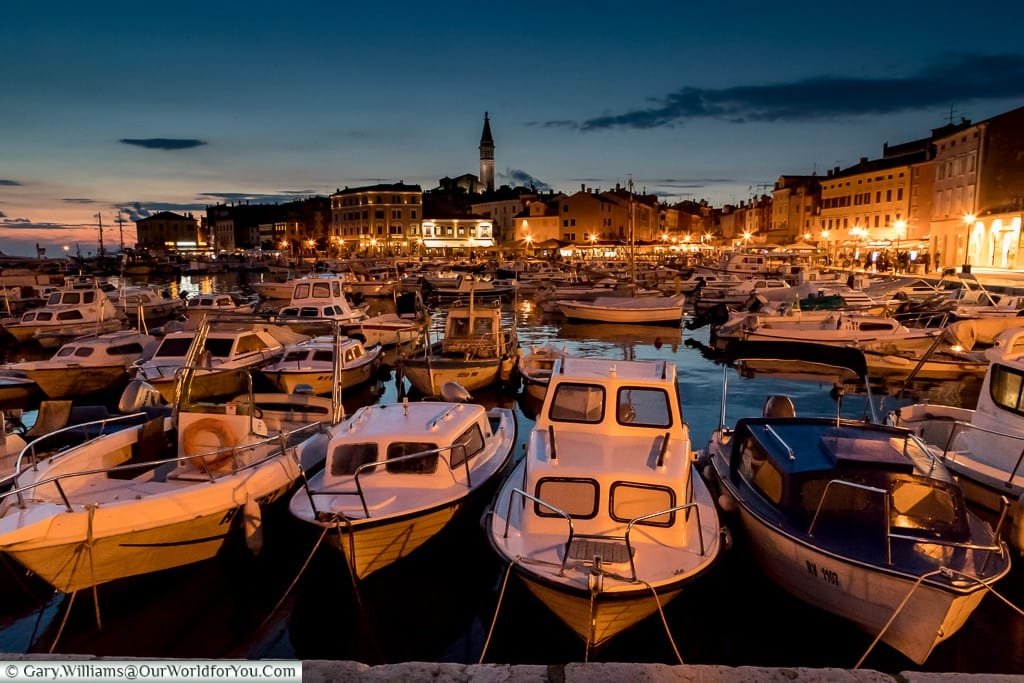 We enjoyed our visit to Poreč; however, we had gained quite a soft spot for Rovinj, so heading back and experiencing the sunset across the bay was a lovely way to end our tour of Croatia.
Poreč is a charming town, and also an ideal base to explore the Istrian peninsular.
Why not checkout the latest deals on Booking.Com?
(Why not Pin It for Later?)
Visited Poreč, and explored its ancient streets, did you manage to climb the Bell Tower and capture the view across the rooftops?