by Janis /
12 comments
- Orginally published:23rd November 2018
Stand aside Ebenezer, let the revelries begin!
If you don't mind wrapping up warm over Christmas, then I personally believe that there is no better place to be enchanted than London over the festive celebrations.
It has something for everyone and every age, and we're not just talking about the believers, non-believers are welcome here too.
The half-timbered buildings take you back to Dickensian times.
You can ice skate by the Tower of London, run amok in Hamley's toy store and indulge in the elegant shopping district around London's West End.
Who knows who you'll bump into.
Why not Pin it for later?
Trafalgar Square at Christmas
Hamleys on Regent Street at Christmas
Discover London at Christmas
So where do you start?
To be perfectly honest it doesn't matter; there are festivities around every corner. However, perhaps if you're not laden down with Christmas shopping, then start at an ice rink.
The view from Seven Dials in London's West End
There are a few to choose from, Natural History Museum, Hampton Court Palace, although, two of our favourites are the Tower of London and Somerset House.
The Tower and the City of London
Now, when I say our favourites, that may imply that we are ice skaters, that's a big NO. I think I'm slightly better at skating than Gary, but that's not setting the benchmark very high, as he was rescued by a skating rabbit.
If you are not a London dweller, then one of the easiest ways to get to the capital is by train.
Check the best prices with RailEasy.
Tower of London ice rink at Christmas
A great historic setting
The ice rink at the Tower of London is set within the dry moat of the Tower and makes such an incredible back-drop to the glistening ice rink.
Skating on ice in front of the Tower of London
Even if you are not joining in it is great fun to 'people watch', as you get a great view peering down onto the skaters below.
Bring a brolly, a warm coat and comfy shoes – it is London after all.
Somerset House ice rink
London's Best Christmas Ice Rink?
Somerset House is another beautiful London landmark, and at Christmas feels so romantic. It has been used many times as a filming location, you may remember it within the opening credits of "Love Actually".
On the ice at Somerset House at Christmas
Once again, the elegant store of Fortnum & Mason is sponsoring the event, their trees are so big they have Christmas hampers as decorations.
The best of London at Christmas
Let's hit the streets
As I mentioned so many of London's streets are festooned with decorations, however, there are always the key streets and lanes that you must head to.
One of my favourite areas is Covent Garden, there's always so much going on. Street entertainers, carols being sung and quirky gifts for sale on the market stalls.
The Christmas Tree in front of Covent Garden
Although saying that, last year we strolled around Seven Dials at Christmas and that was really charming.
A lot of the shops are boutiques or one-off stores, so the windows decorations are a little different.
Seven dials at Christmas
Stylist London at Christmas
The old favourites
Regent Street is always a great place to head, seeing the red buses travelling along, it looks so iconic. The shops really do make an effort to bring the festivities alive, Hamleys is a must-see for the young and old.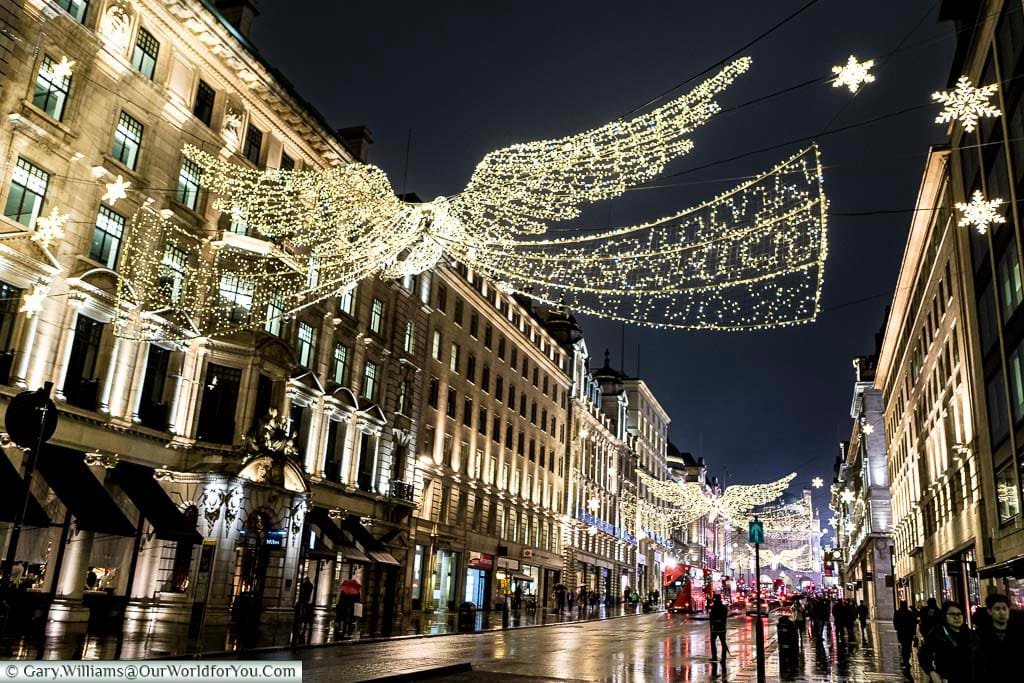 Regent Street Saint James's at Christmas
Just a short stroll from Regent St. is Carnaby Street, there's always a fantastic colourful spin to Christmas along here.
The view down Regent Street
Carnaby Street at Christmas from 2017
Another couple of our favourite streets are Haymarket, Regent Street St James's and particularly New Bond Street's display was incredible – no expense spared.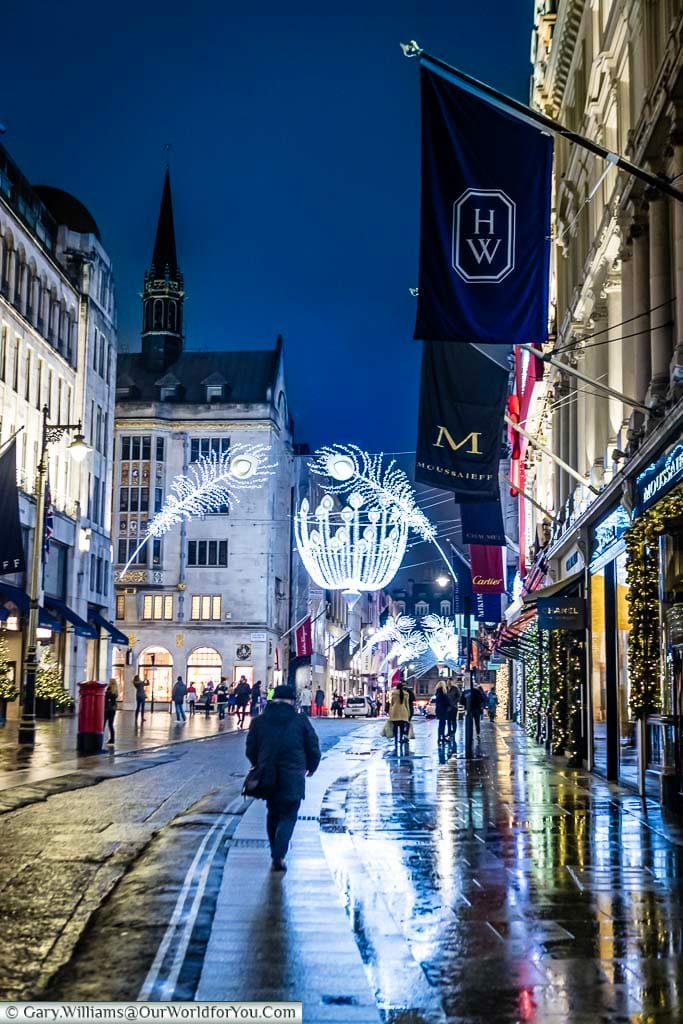 Looking along New Bond Street
The elegant New Bond Street
Avoid always taking the tube, your favourite places may be nearer to each other than you think.
Shopping in London at Christmas
The perfect gift
Every year the stores and shop fronts seem to get better and better, Cartier was wrapped up like a huge Christmas present and as usual Fortnum and Mason's surpassed themselves.
The Cartier store on New Bond Store
Fortnum & Mason's store at Christmas
I know I keep saying you must see this, you must see that, but, there are so many parts of London that make this incredible city so enchanting.
Take the stylish arcades of Burlington, Piccadilly and the Royal Arcade. These are wonderful all year round, however, at Crimbo time they take your breath away with their elegance.
The Royal Arcade at Christmas
Burlington Arcade
We have a little book on our shelves that we sometimes delve into when we're about to hit an area of London.
Packed full of historical facts, and broken down into the different regions of London, it's a great resource to help you see what's hidden in plain sight.
Available in Kindle & Hardback editions, it's an excellent addition to anyone's collection who loves London.
Christmas by the River Thames
Down by the river-side
One of the much-loved areas of London is down by the River Thames. At Christmas time dotted all along the South Bank from the London Eye to Tower Bridge little wooden cabins have popped up.
Strolling along the Queen's Walk at Christmas Market
Here you can grab your favourite German delicacies of bratwurst, gluhwein and little chocolate kisses. The bustling atmosphere really gets you in the mood for the Christmas celebrations ahead.
The carousel at the Christmas Market at the Tate Modern
Mulled cider in London at Christmas
Exploring London at Christmas
More we loved
A couple more places that caught our eye while we were soaking up the merry atmosphere was Leadenhall Market in the heart of the financial district. Leadenhall is an amazing piece of architecture, and Harry Potter performed some wizardry and turned it into Diagon Alley.
Inside Leadenhall Market at Christmas
Also, St. Paul's Cathedral is such an icon to this magnificent city.
I worked by St. Paul's for 24 years, so this place holds some lasting memories for me.
A Christmas tree in front of St Paul's Cathedral
If you've yet to discover London and its ancient history, then let's start planning. I find these DK Eyewitness Travel Guides invaluable. They're extremely informative, easy to follow, and the pictures and maps tempt you into discovering more of those fascinating sites.
You can now grab a recently revised copy of this guidebook, so you won't miss a thing.
More of London at Christmas
Afternoon Tea
If those feet are now becoming weary, give them a rest at the Ritz hotel and partake in afternoon tea in style.
Or like my mum and me, jump on an old-style double-decker bus and enjoy an afternoon tea while touring the London streets?
The Ritz Hotel at Christmas
A Routemaster bus in London
* This post may contain links to affiliated sites where we earn a small commission at no additional charge to you.