by Janis /
0 comments
- Orginally published:19th December 2016
What you'll discover in Düsseldorf's Christmas Markets
Elegant delight in Germany
The festive fun begins as soon as you arrive in Düsseldorf, as several bustling Christmas markets are dotted around the charming city.
Düsseldorf in west Germany is located along the banks of the Rhine and is the capital of the North Rhine-Westphalia region. Düsseldorf is a perfect location to visit and experience a traditional German Christmas market.
Düsseldorf is only around 250 miles (400km) from Calais and takes roughly 4 hours to drive. So, it's ideal to discover as a German Christmas market road trip. You can also squeeze in a visit to the historic city of Cologne.
Driving is our preferred mode of transport while visiting Germany's Christmas markets. It doesn't matter how many gifts we return with; or how much gingerbread (Lebkuchen, as the Germans say) we stock up on; there's room for it all.
Why not Pin it for later?
Seven festive markets are sprinkled around Düsseldorf, which are within easy walking distance of each other; this is greatly helped by much of the city being pedestrianised. Additionally, in Burgplatz on the bank of the Rhine, you'll spot the enormous Ferris wheel' Wheel of Vision'.
Are you ready to enjoy your first mug of glühwein and discover how Düsseldorf celebrate this enchanting time of the year….you certainly won't be disappointed.
The Engelchenmarkt in Düsseldorf
- By Air
The nearest airport is Düsseldorf International Airport, about 15 minutes (5mls/9km) from the centre of Düsseldorf by taxi. There are also public transport connections which take around 20 minutes. Take a browse through ebookers.com for departures from your local airport.
- By Car
If you're venturing from the UK, jump on Le Shuttle and tour Germany under your own steam.
Alternatively, if you're arriving into an airport it's so easy to explore on a road trip. Rental Cars searches multiple well-known car hire brands and discovers the best deals that suit you.
Weihnachtsmarkt at the old Rathaus
Discover the Artisan Market
The first of the Christmas markets we visit, and one of Düsseldorf's largest, is the 'Handwerker-Markt', the 'Artisan Market'. This twinkling market is nestled in front of the historic Rathaus (city hall) in Marktplatz, which is in the heart of Altstadt.
In front of the Rathaus of Düsseldorf
The Artisan Market has a great bustling family vibe, with charming cabins overflowing with an amazing selection of local crafts. These lovely handmade gifts make perfect presents for your friends and family, and you can watch local craftsmen and women demonstrate how they are made.
The tree in front of the Rathaus in Düsseldorf
What I particularly love about Christmas markets in Germany is the selection of incredible food stalls, and Düsseldorf is no exception. Not only can you get bratwurst in abundance, but there are also festive huts offering salmon, soup, chestnuts, and all things sweet.

We wouldn't want it any other way.
The vintage carousel
Also, within Düsseldorf's 'Handwerker-Markt', there is a beautiful vintage carousel. This enchanting merry-go-round is over 100 years old. It has been lovingly restored so children can continue to enjoy it.
Altstadt Markt
Strolling along Flinger Strasse
To keep the Christmassy theme flowing through Düsseldorf, from Marktplatz, you are naturally drawn along the glittering street of Flinger Strasse.

As you stroll through the colourful and bustling Altstadt Markt, it is a true feast for the senses. The lovely festive cabins are modelled on Düsseldorf's old burgher houses.

The Old Town Market meanders all the way along to Heinrich-Heine-Platz until you reach Engelchen, the Little Angel market.

However, before you catch a glimpse of the cupids, you will undoubtedly notice the centrepiece along Flinger Strasse, the rotating traditional pyramid tower.

Underneath the pyramid tower, take a little rest and indulge in a mug of heartwarming gluhwein.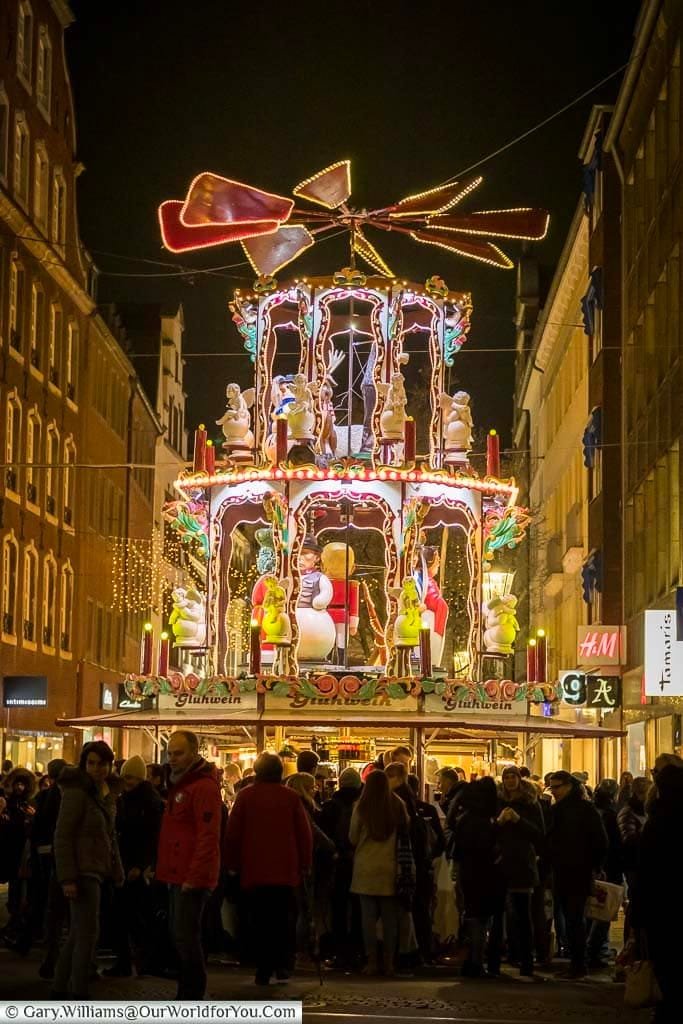 The pyramid on Flinger Strasse
Where to stay in Düsseldorf
Our accommodation for the two nights in Düsseldorf was in an apartment named Square Rooms. It was central to the Old Town, very clean and had everything you would expect.
Pino, who greeted us, was really friendly and helpful and informed us that all the drinks and food in the mini bar were free.
Alternatively, pop your dates in the
Booking.com
search box and discover further options for all budgets.
Engelchenmarkt
The enchanting Angel Market
After your festive refreshment at Altstadt Markt, continue to Heinrich-Heine-Platz, where you will be greeted with a vision of thousands of twinkling gold lights and adorable angels peering down from above.

Yes, you've arrived at Engelchenmarkt.
Engelchenmarkt or Angel Market
Angels in the bandstand
The 'Angel Market' is truly enchanting, and the angelic theme puts a smile on your face. There are plenty of Christmas cabins to keep you occupied in this charming square with gifts and decorations galore.

The centrepiece of Engelchenmarkt is undoubtedly the stunning Art Nouveau bandstand, nestled in the middle of the yuletide huts.
The bandstand at the Engelchenmarkt in Düsseldorf
Many months of the year, the bandstand lies empty. With the arrival of Christmas, the central pavilion is transformed into a parasol of glimmering lights, which encases a haven of hot chocolate and gluhwein. It's astounding how much work goes into creating the themed Christmas markets.
The rubber duck stall
The angel market surpassed all expectations and even delivered on the unusual gifts stall. I'd never previously thought of giving a rubber duck as a gift for Christmas.
Hot filled potatoes
And to keep the energy levels up, we chose a hot-filled potato dumpling for a snack. A savoury filling is encased within the dumpling and then placed in boiling water until they float to the top. I hadn't seen these dumplings before.

We had the addition of cheese with ours.
If you're tempted to visit
Düsseldorf
at Christmas, this informative website will guide you around Munch's magnificent Christmas markets.
A hop into Stadtbruckchen
Düsseldorf's 'Fairytale Market'
In no time at all, you are effortlessly drawn into the 4th market in Stadtbruckchen. The theme in this captivating twinkling courtyard is the 'Little Star Market' (Sternchenmarkt).
The Little Star Market in Düsseldorf
Adorning the Christmas cabins and hanging high above are glistening silver stars and crystals shining down on snow-covered huts.
The carousel at the Stadtbruckchen in Düsseldorf
And as a treat for little festive revellers, there is a delightful carousel for the children to enjoy.

It was also at this Little Star Market in Düsseldorf that we had our first taster of a marshmallow encased in chocolate, known as 'Kisses'.

I'll certainly be on the lookout for these again; they were heavenly.
Magical 'Märchen Markt'
Düsseldorf's 'Fairytale Market'
To uncover Düsseldorf's 'Fairytale Market', it's just a short stroll across Königsallee.

You're now sauntering into Düsseldorf's stylish shopping district; here, you will stumble upon the 5th market named Märchen Markt in Schadowplatz.
Roter Hirsch - Glühwein and more
Although you are in a modern part of the town, the lovely wooden wintry cabins transport your imagination to an enchanting faraway place.

Here you'll find a fantastic candle stall; we have a few of the glass globe candle holders at home. They look lovely flickering away next to our many Käthe Wohlfahrt decorations and toy soldiers.
The Christmas market candle stall in Düsseldorf
Fairytale Market is a bustling market day and night. There is a fine selection of crafts to be tempted with, and also the traditional German cuisine; one of my favourites is the currywurst. Washed down with a steaming mug of glühwein.
Glühwein at the Schadowplatz
Kö-Bogen-Markt
Home of Düsseldorf's ice rink
Not to be overshadowed by 'Schadowplatz' and 'Schadowstrasse', the 6th market we discover in Düsseldorf is at Kö-Bogen and is home to Düsseldorf's ice rink. Here you will find people of all ages trying to master their pirouettes.
Picking your gingerbread
The little cabins that line Kö-Bogen are a delight, tempting you with salmon, raclette, crepes and gingerbread, just to name but a few. All set against the backdrop of some amazing modern architecture.
Flamm Kuchen
Grilled raclette
The Kö-Bogen markt has now moved to Kö-Bogen II on Gustaf-Gründgens-Platz, which I believe is now bigger and better. In addition to this, Düsseldorf's ice rink has a new home and is currently located at Corneliusplatz. The new ice rink looks incredible and so much more extensive.
The Flammlachs Stall
I love nothing more than planning a trip and so often I use the DK Eyewitness books.  I find them extremely informative, easy to follow and the pictures and maps tempt you into discovering more.
We used a previous version of this book to plan our Germany road trips, now you can grab the revised copy.
Schadow-Markt
All your shopping needs
Just a short hop from Kö-Bogen, you'll arrive at Düsseldorf's 7th market on Schadowstrasse.

All along this bustling street in one of Dusseldorf's central shopping districts are decorative wooden cabins full of festive crafts and gifts.
Cookie cutters on the Christmas markets
The yuletide huts line Schadowstrasse, tempting Christmas shoppers out of the larger stores to purchase that Christmas present which is a little bit different from the norm.
Stalls along Schadowstrasse
There are cosy hats, gloves, and stylish accessories to suit all budgets. Here in schadow-markt, you'll even find cookie cutters in all shapes and sizes.

And as with all German Christmas markets, you'll be attracted to the tempting aroma of roasting bratwurst; it has to be done.
Cooking sausages
Start creating your own Christmas Market adventure and discover the culinary delights for yourself. Take a browse through ebookers.com for departures from your local airport.

Discover more of Germany on a road trip like us; why not check out Rental Cars as they search multiple well-known car hire brands for the best deals.
Christmas Village at Burgplatz
Hop on the 'Wheel of Vision'
If all these festive markets weren't tickling your Christmas taste buds, then head to Burgplatz on the banks of the Rhine, where the glistening 'Wheel of Vision' can be found.
The Schifffahrt Museum and Wheel of Vision
This eye-catching Ferris wheel is a temporary structure that stands 55 metres high and has 42 rotating heated gondolas.
The views along the Rhine and over the Altstadt (Old Town) are incredible. Journey around a few revolutions and see all the church spires piercing up through the city skyline.
The Wheel of Vision in Düsseldorf
The Village at Burgplatz
At the base of the 'Wheel of Vision' is the Christmas Village; this is a lovely market and perhaps less busy than the others.

I don't really know why it's quieter, as the effort that has been made in creating the village huts is fantastic; it almost feels Dickensian around the little village.
Discover Düsseldorf's fascinating history
700 years in one monument
If you are at Burgplatz during the day or have just had a promenade along the Rhine, there are few other things that will catch your eye here.

Firstly, the Alter Schlossturm, the old palace tower, now a shipping museum 'Schifffahrt Museum', you won't miss the building as it looks like a lighthouse.
Schifffahrt Museum
Then there is the statute to the Radschlager (cart-wheeler), an emblem of Düsseldorf.

The custom of cartwheeling dates back to 1288 when children spun to celebrate the success at the battle of Worringen.
The cartwheeling children fountain
The cartwheeling door knocker, things to see in düsseldorf, ger
This emblem can be seen at many points around Düsseldorf, even as door knockers.
The symbol of Düsseldorf
The river Düssel
But one of the most eye-catching monuments in Burgplatz is Stadterhebungsmonument next to where the little river of Düssel is last seen before it flows into the Rhine.
The Town history monument
This amazing Stadterhebungsmonument depicts the story of Düsseldorf's 700 years of history from when it was granted city status granted in 1288.
The detail in the Town history monument
The intricate detail is wonderful; you could stare at it for ages and still find tiny little aspects of the city's past.
Tempted by an Altbier
Just 5 breweries to choose from
Altbier is a hoppy ale and is quite unique to Düsseldorf; it is only brewed by 5 different microbreweries around the Altstadt.
You must give it a taster; a couple of the brauhaus that we can recommend and that serve Altbier directly from the barrel is Brauerei zum Schlüssel, which serves Schlüssel Alt.
Inside Brauerei zum Schlüssel
Schlüssel Alt Beer
Schumacher Alt beer
Inside Im Goldenen Kessel in Düsseldorf
Visit the Lindt chocolate shop
Go on, indulge yourself
Düsseldorf is quite well known as a fashion city and has some very select stores. So be careful that these tempting boutiques don't keep you away from the Christmas markets.
Also, there is a wonderful Lindt chocolate shop in Düsseldorf and the hot chocolate is amazing. You can indulge in a steaming mug of dark, milk or white hot chocolate.
Lindt hot chocolate
Don't forget to take home one of Düsseldorf's many souvenir Christmas market mugs. There are always lots to choose from and make a great Christmas decoration and a memory for years to come.
Glühwein in Snowmen mugs
Just a few points to note;
If you wish to fly, it only takes about 1 hour and 15 minutes from London.
You really need to book early as these markets are very popular.
Although all these markets are fantastic to visit during the day, they really come alive in the evenings, don't miss it.
Be warned these markets become extremely busy at the weekends, particularly in the evenings. Children may feel a bit swamped with the crowds.
Dress warm and comfortable; this is essential because it was cold in December.
Germany's Christmas markets are for all ages, don't be put off that it is all for children; it really isn't. We are all big kids at heart…..
* This post may contain links to affiliated sites where we earn a small commission at no additional charge to you.