by Janis /
0 comments
- Orginally published:16th August 2022
An enchanting step back in time
Lacock village is in the picturesque county of Wiltshire in the southwest of the UK. Lacock is such a pleasure to visit; you truly feel like you've travelled back in time and strolled into a little piece of England which has skipped the last couple of centuries.
The un-spoiled village, along with nearby Lacock Abbey, is owned and managed by the National Trust. Lacock village lies on the outskirts of the Cotswolds (AONB), and I think it would be rude not to include it as an add-on to your next Cotswolds tour. Especially when the beautiful Cotswold village of Castle Combe is only 9 miles away.
Why not Pin it for later?
How to get to Lacock Village
- By Train
You can catch a direct train from London Paddington to Chippenham Station, 3 1/2 miles from Lacock Abbey. The journey time is around 70 minutes.
- By Car
Lacock Abbey in Wiltshire is 3 miles south of Chippenham. M4 exit 17 follow the signs for Chippenham and pick up the A350 signposted Poole/Warminster until you reach Lacock. There's a free car park for National Trust members, or parking charges apply to non-members.
A little history of Lacock village
Lovingly cared for by the National Trust
Lacock is mentioned in the Domesday Book, which was created by order of William the Conqueror in 1086. At this time, the population of the village was around 180.
A few hundred metres away from the village lies Lacock Abbey, which was an Augustine nunnery set up by Ela, Countess of Salisbury, in 1232. The convent survived until the Dissolution of the Monasteries in 1539. Then Lacock Abbey, along with the village of Lacock, was sold to William Sharington.
Lacock village and WWI memorial
Lacock Abbey and Lacock were finally passed down by marriage to the Talbot family. William Henry Fox Talbot, who moved into the manor in 1827, was a scientist and inventor and went on to create the world's first photographic negative in 1835.

The abbey was eventually handed down to the artist Matilda Theresa Talbot, who then donated the Lacock Abbey and the historic village of Lacock to the National Trust in 1944.

Today Lacock is almost entirely owned by the National Trust.
Exploring Lacock Village
Strolling the enchanting High Street
Lacock Village is extremely pretty and an architectural historian's paradise. If you pop onto the Historic England website, you'll see that nearly every quaint home has a fascinating tale to tell.
When you first arrive at Lacock village, it really is a wow, moment. I know it sounds corny, but it truly feels like you've stepped onto a movie set; the quaint, idyllic cottages look so perfect. It's hard to believe that these exquisite villages still exist.
It honestly feels like a well-preserved open-air museum and is free to visit.
Lacock High Street
Strolling down the main High Street, there is one gorgeous home followed by another. Many of the cottages are built of honey-coloured stone, attractive stone slate roofs, and charming box sash windows.
Many attractive buildings date from the 18th-century and occasionally hide medieval structures beyond. There are so many Listed Buildings in Lacock that it is incredible; you just have to stand back and admire them.
Along with the quaint stone-built buildings, you'll also spot some eye-catching timer-framed homes.
National Trust shop
Strolling through the High Street, you'll notice one of the buildings is now a welcoming National Trust shop. A little further down on the opposite side is Lacock's village Post Office; no village is complete without a traditional red pillar box.
 Lacock Post Office
Opposite the Post Office stands the delightful stone-built local school, which dates from 1824. The school was founded by William Henry Fox Talbot, the owner of Lacock Abbey, to mark his 21st birthday in 1821.
Where to stay in Lacock Village
The Red Lion
– This charming pub located in the heart of the tiny village of Lacock makes a perfect base for visiting Lacock Abbey and exploring the countryside beyond. Breakfast is included, and free on-site car park.
The George Inn
– This delightful pub is also in the centre of Lacock, offering adult-only accommodation and within easy walking distance of Lacock Abbey.
Ambling Lacock's ancient lanes
Reminiscent of a period drama
As we turn right at the end of the High Street, we enter West Street, and the gorgeous quaint rows of cottages continue.
Passing by Lacock's WWI war memorial, we stroll further down and discover one of Lacock's inns, The George Inn. The George dates from the 14th-century and serves the ales from the local Devizes brewery Wadworth.
George Inn, Lacock
Ambling just beyond the pub, we head up to the raised pathway on the right, where you'll find a delightful store, 'Quintessentially English'. Stroll further along, and you'll arrive at Church Street,
Quintessentially English
Once again, Lacock just keeps giving, the ancient lanes overflowing with exquisite architecture. One timber-framed home led to another, only to be separated by further historic stone cottages.
Church Street
Wandering down Church Street, you'll spot the 15th-century coaching inn 'Sign of the Angel'. This charming half-timbered inn has so much character you won't want to leave. Attractive oriel windows, Tudor archways, exposed beams, and a roaring open fire.
As Church Street widens, it serves up even more architectural delights. I just don't know how anyone could resist passing by a local bakery with fresh bread and cakes on offer.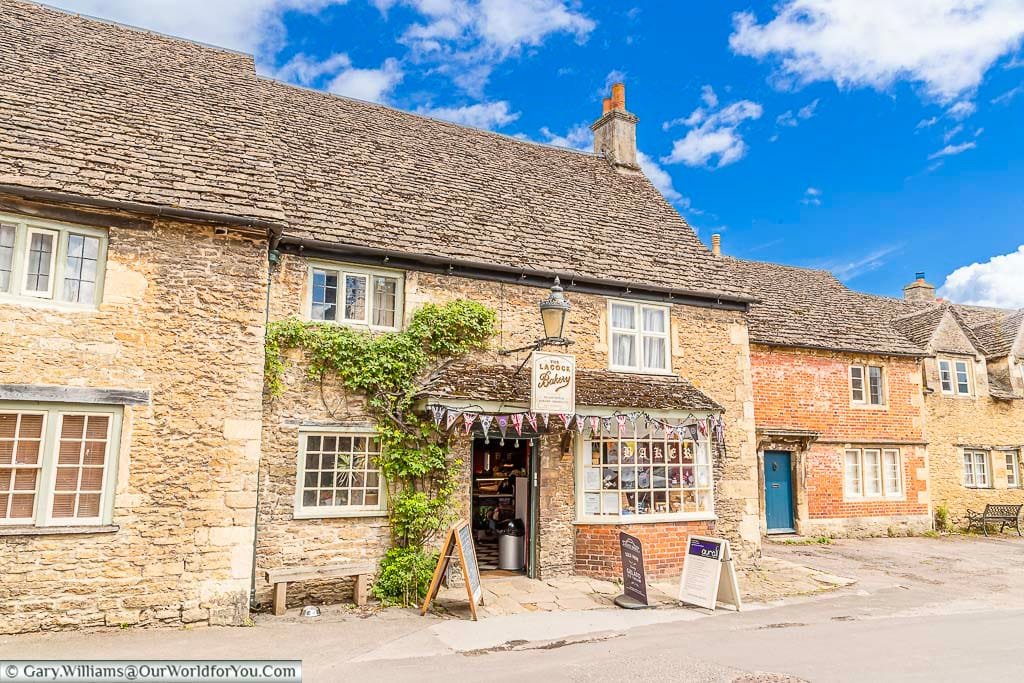 Lacock Bakery
Strolling further down Church Street, we arrive at the 14th-century Norman Church of St Cyriac. As with my usual fascination with churchyards, we take a little wander around and head back along Church Street.
Hiking the Wiltshire Countryside
Lacock Abbey and Village are located in the lush county of Wiltshire. This region of England, along with the beautiful county of Somerset and the Mendips, is perfect for hikes. To explore 28 delightful circular walks in this region, you'll want the Ordnance Survey Pathfinder guidebook no. 21.
Alternatively, why not purchase and download the OS Maps App, which covers all of Great Britain.
History through the streets of Lacock
14th-century gems
Halfway back along Church Street, we turn left and wend our way along East Street. In essence, there are only a few lanes and streets to explore in Lacock; however, in each one of them, you'll want to stop and keep admiring the pretty Medieval homes.
East Street is also full of little gems, including a tempting jewellery store luring you. A little further is Lacock village hall and adjacent is a courtyard garden and vegetable patch.
Tithe Barn
Inside the 14th Century barn
Then one of Lacock's most significant structures is the Grade I Listed Building, Tithe Barn. The barn dates from the 14th-century and is part of Manor Farm. It is believed that the medieval barn was used for agricultural use by the Augustine nunnery when Lacock Abbey was a convent.

Just before you head off and visit Lacock Abbey, why not pop in for some lunch at The Red Lion, another of Lacock's pubs? The Red Lion also serves Wadworth's beers which you can enjoy in their large garden.
The Red Lion
So, often with attractive places like Lacock, it is better to visit early in the morning or late afternoon. Many of the visitors have disappeared for the day, and an air of peace and tranquillity descends.
We discovered this fascinating book with tons of fun-filled facts about the county of Wiltshire.
Great to pick up and dive into to help you find out more of this glorious county.
Available in Kindle & Hardback editions, it's an excellent addition to anyone's collection who want to discover Wiltshire.
Lacock village on screen
Downton Abbey meets Wiltshire
Lacock village must be a location director's dream; it just cries out to be the setting of a period- drama.

In which case, it shouldn't surprise us that this picture-postcard village has been used twice for the celebrated TV drama and movie Downton Abbey.

In the final series of Downton Abbey, the whole of Church Street was transformed into a livestock market in the 1920s.

In the Downton Abbey movie, once again, Lacock stepped back in time with all day-to-day modern elements removed, and movie royalty came to visit. Even the local Lacock villagers played movie extras and dressed up in period costumes.
Church Street used for Downton Abbey
The BBC once again arrived at Lacock and filmed their award-winning Shakespeare adaptation TV series 'The Hollow Crown'. This acclaimed series starred Julie Walters, Simon Russel Beale and Sophie Okonedo, to name a few actors.
Lacock village was also used as a backdrop in Cranford, Pride and Prejudice and the movie The Other Boleyn Girl.
For Strictly Come Dancing fans Joe Sugg who was a runner-up on the 2018 show, grew up in Lacock; it isn't surprising that he was an apprentice roof thatcher when you see the styles of architecture around the village.
Why don't you extend your stay in this picturesque part of England and visit the UNESCO World Heritage City of Bath, only 15 miles away? Here are 15 things to do in Bath that will keep you occupied during your stay.
Are you in search of a tranquil hideaway to relax and unwind in, while you discover the beautiful British countryside?
Browse through the handpicked properties and unique retreats at Holiday Cottages.
* This post may contain links to affiliated sites where we earn a small commission at no additional charge to you.