Western Etosha & Dolomite Camp, Namibia
We arrive at Etosha, hoping to see lions.
Leaving Grootberg we are now heading for the western side of Etosha National Park, which should take around 3 hours.
The initial part of the journey was on gravel and this was for about 60 miles (97km).
We spot a giraffe trying to make out it is a tree and some more Mountain Zebra.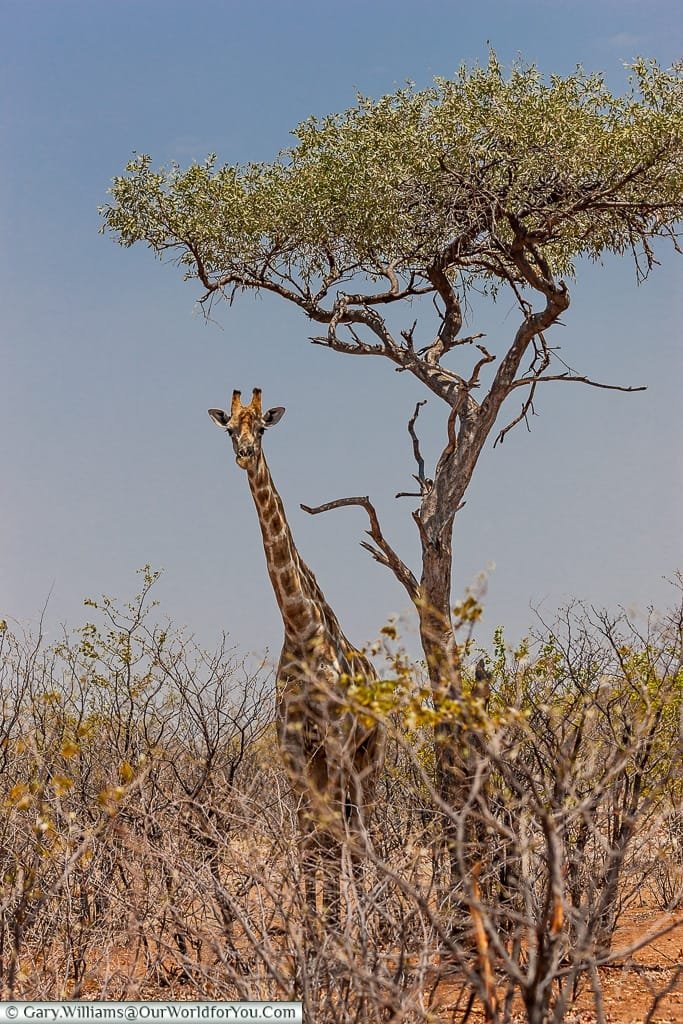 We have a brief stop at Kamanjab for some bottled water. We are then heading north, and are spoilt with the luxury of tarmac for 50 miles (80km) yeeeeh.
On entering the park, we are signed in by one person and then had to drive another 6 miles (10km) to then pay the park fees, a little odd that it couldn't be done together, but hey ho.
If you're considering a road trip through Namibia, then your in for a holiday of a lifetime. I always find it incredibly useful to plan our trips with the help of a guide book.
Take a look at this informative Bradt guide, it will give you great tips and advice.
Head to the watering holes
Not long after entering the park we head to a couple of the signposted watering holes. Unbelievable, although the western part of Etosha is quieter than the east, and there are fewer lodgings, they are certainly not short of wildlife.
We had a great drive through the west of the park where we saw giraffe, zebra, elephant, ostrich and various type of antelope.
Our accommodation for the one night in western Etosha was Dolomite Camp. Once again we were in luck, we were upgraded to a suite that had its own personal splash pool.
The vista was amazing across Etosha, the lodges in the camp were all set within a rock face and some had stunning views across a large watering hole.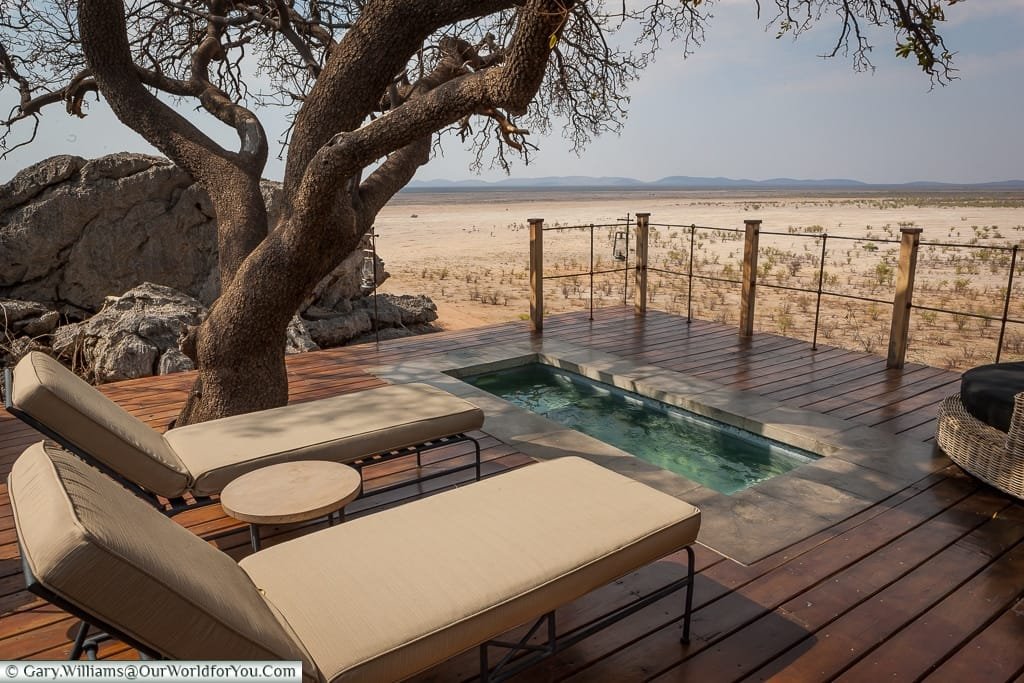 Start creating your own adventure, and discover the amazing scenery & African wildlife of Namibia for yourself. We chose British Airways, and it was all done with a few clicks, a brief stopover in Johannesburg, and our luggage was there for our arrival in Windhoek.
Short time after arriving a herd of 20 elephants, including babies trooped in and drank and splashed around in the watering hole, it was a wonderful site.
Watching them in amazement with the adult elephants at the front and the back of the herd, protecting the young. They didn't stay long, just refreshed themselves and headed back into the bush.
As Dolomite camp doesn't have any fencing, wildlife can roam as it pleases. So you always need to keep on the lookout for that stray giraffe.
 
Dolomite Camp offers a free buggy service to take you to and from your lodge down to the restaurant, bar and swimming pool. This is to ensure the safety of their clientele, after dark this is extremely useful.
 
Heading east further into to Etosha for the following few days, next stop Okaukuejo.
Inspired to visit Namibia?
Etosha NP is briming with wildlife and adventure. What are you waiting for?
Why not checkout the latest deals on Booking.Com?
(Why not Pin It for Later?)