by Janis /
0 comments
- Orginally published:27th March 2018
Discovering more of Iceland
Once was not enough…
Yes, we were off to Iceland again, admittedly it had been around 11 years since we were last there. However, this time we headed there in March instead of May, longing to catch those elusive Northern Lights.

Gary had wanted to return for years as he had loved the scenery and the ease of the driving. Bearing in mind our previous trip was in May and the threat of snow completely obscuring the road wasn't really an issue. The fact that we never saw darkness was what we found quite bizarre.
In 2007, while we based ourselves in Reykjavik, we toured the Golden Circle, dipped in the Blue Lagoon, took a whale-watching boat trip and tasted a few of Iceland's local delicacies. Now fast forward to 2018, and we are road-trippin' the Ring Road for 12 days.
Why not Pin it for later?
Here are just a few of our inspirations that lured us back, so, with our thermals packed and fingers crossed for the Aurora Borealis, we embark on an Icelandic road trip.
If you're tempted to tour the Land of Fire and Ice and would love to discover the whole country, then take a look at this  DK Eyewitness book. This Top 10 Pocket Travel Guide is invaluable, I find them extremely informative, easy to follow and the pictures and maps tempt you into searching for more.
You can now grab the revised copy.
Touring Iceland
Our destinations
Our chosen locations for the road trip were;
Selfoss
Vik
Höfn
Egilsstaðir
Reykjahlíð

Akureyri

Laugarbakki

Arnarstapi

Reykjavik
And our route would look like this;
We'd love to see in Iceland
The Northern Lights
Aurora Borealis: So the timing of this trip, the duration and the route were all for one thing really. Those Northern Lights. However, we have to be realistic, nature can be cruel so while we're doing everything we can to capture the natural spectacle of the Aurora Borealis, there is still a chance we my not see them.
Image Caption
In search of the Northern Lights in Iceland
If you are Northern Light hunting, you need to be aware of the sunset & darkness times and the KP Index for the evening. It also requires dark and partly clear skies.
KP Index scale ranges from 0 to 9;
0-2: Low
2-3: Moderate
4-6: A big solar storm is coming
7-9: Highly unusual
You can monitor this via the Icelandic Met Office which is updated around 6 pm.
Discovering Iceland
The landscape
Ok, so this does go without saying really, however, as we only visited Reykjavik and the Golden Circle in 2007, there is so much more for us to see.
Glaciers: We're particularly looking forward to seeing glaciers; and heading to Diamond Beach to see the incredible chunks of ice big and small, that lay glistening on the black sand.
Diamond Beach
Geysers & Waterfalls: We have to revisit the spouting geysers, this was quite a highlight last time, along with the tall gushing waterfalls.
Strokkur
Gullfoss on the Golden Circle
Volcanoes & craters: Well, Iceland does appear to have its fair share of them for such a small country. As long as they keep their bubbling under wraps, we'll be ok.
Snæfellsjökull - A Volcano
Natural Features: There is so much to see in Iceland's diverse landscape that makes you feel like you have entered another world, lava rocks, geothermal mud pools, icebergs and fjords.
The varied landscape of Iceland
Exploring Iceland
and its history
Viking Heritage: Iceland is quite synonymous with its Viking and Norsemen background; however, it also has a strong connection with the Scottish and the Irish who also settled here.
The Sun Voyager in Reykjavik
It must have been a harsh country to survive in, areas of Iceland today are incredibly remote, it's almost unimaginable how the climate would have dictated their lives.
Diving into Iceland
The Art & Culture
Iceland's Second City: During the trip, we will be spending two nights in Akureyri, Iceland's second-largest city. I'm looking forward to exploring this colourful fishing town, its museums and Lutheran church perched high above the town.
Akureyrarkirkja
Are you interested in Iceland?
After picking our destinations, we headed to Booking.com, our preferred option.
It made easy work of selecting the accommodation that suited us with the suitable facilities.
Why not check them out to see if they work for you?
Planning your trip to Iceland
So you're planning a trip to the Land of Fire and Ice? There is so much to see and do in Iceland that you'll wish you were staying longer. To ensure you make the most out of your visit, head over to the official website of Visit Iceland for a little help and guidance.
Have fun!
Man-made Iceland
Its architecture
Working Harbours: As Iceland's roots are very firmly within the fishing industry, the bustling working harbours will be impressive to see.
The harbour at Dalvik
Hallgrímskirkja church: A visit to the unique Hallgrímskirkja church, overlooking Reykjavik city is to be done, along with a trip to the top of its 73-metre tower, to catch the colourful rooftops of the buildings below.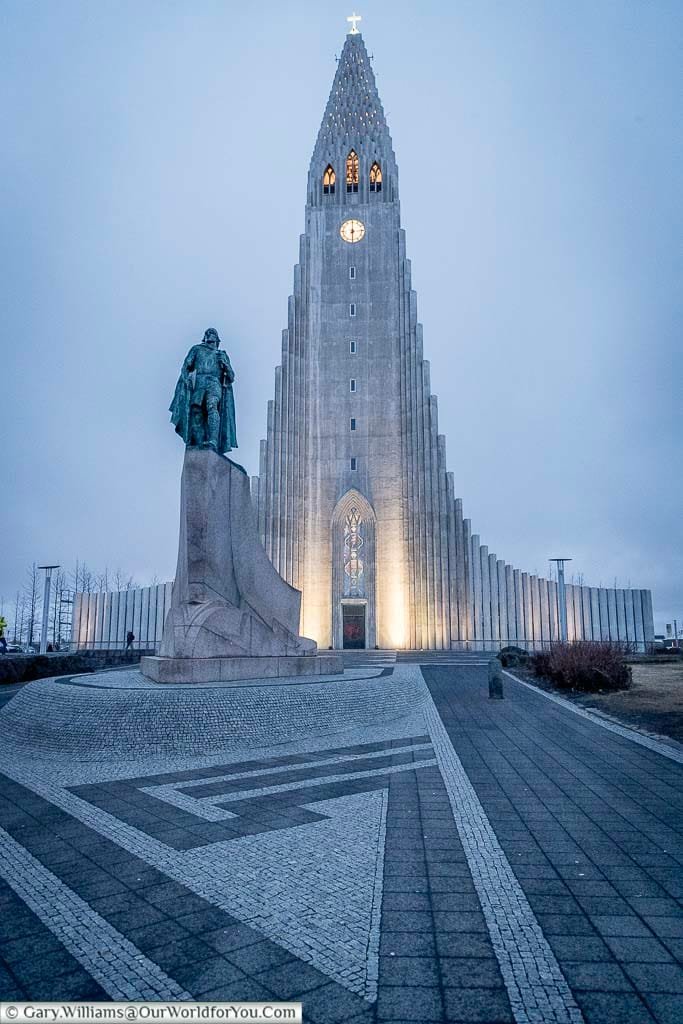 Hallgrimskirkja in Reykjavik
Finding the right car for your Icelandic Road Trip
Discover Iceland's enchanting Ring Road with its rugged landscape or the waterfalls and geysers around the Golden Circle for yourself.
If you want to explore Iceland's F-Roads, you must have a 4x4, but we'd recommend one anyway for the improved driving position, and if the weather turns, you have a touch of added protection.
We recommend Rental Cars as they search multiple well-known car hire brands and discovers the deals that suit you the best.
The taste of Iceland
Food & drink
Well, Gary and I do like to try local delicacies, and during our short stay back in 2007, we did manage to tick a few boxes. One, to this day I am still a bit ashamed of, and that was puffin (lundi), I can only apologise.
What will tempt our taste buds in 2018?
Brynja - The Ice cream shop
I've heard there is a tasty ice cream parlour in Akureyri called Brynja, I'm never one to turn down an ice cream, even if the outside temperature is below freezing.
Lo-Alcohol: I think we'll probably be avoiding the local tipple of brennivín, which is made from distilled potatoes. Most evenings we'll be tracking down the Northern Lights, so coffee it is then.
Would you like a spoiler?
Here is a look at a few random posts from our trip as we completed out journey around Iceland's route one and more.
We had a wonderful time as you can see from our tales - and adventure every day.
That's why we love Iceland.
Toured around Iceland's Golden Circle or Ring Road, do you have any experiences that you'd like to share?
* This post may contain links to affiliated sites where we earn a small commission at no additional charge to you.