We're heading back to Zimbabwe & now we're digital
How much will it have changed in 20 years?
And will we still love Zimbabwe?
Ok, so perhaps Zimbabwe may not be at the top of your African adventure list. However, we were kindly invited to a family wedding in Harare, and this could only mean one thing, another African safari was to be had.
An elephant, close-up on safari
My relatives have lived in Harare for around four decades now, so they have certainly seen some changes over the years.
Back in 1996 Gary and I, along with my parents visited Zimbabwe and then we returned again in 1998 with my brother, as the two of us loved it so much.
Now, wind the clock forward 20+ years, and we're heading back.  We're spending our first few days in Harare, catching up with the family and celebrating the nuptials of my second cousin.
On Safari in Zimbabwe back in '96
Then we're revisiting a couple of the regions and National Parks from the previous trips, as these were just too good to miss. And now that the digital camera age is upon us, unlike back in the 90s, we'll have hundreds of exciting photos to ponder over.
A Baobab: A symbol of Africa
Although it's now been a couple of decades since we returned to Zimbabwe, we couldn't stay away from Africa that long, it's an incredible continent. This, in turn, inspired our three-week road trip around Namibia in 2013 and wow, Namibia is a breath-taking country. A trip I can't recommend highly enough.
While this post is published after our travels, here are just a few of our inspirations that may lure you into a similar African adventure.
So, without further waffle from me, here are the locations we've chosen.
Matusadona National Park on the shores of Lake Kariba
If you're considering an adventure around Zimbabwe, then your in for a holiday of a lifetime. I always find it incredibly useful to plan our trips with the help of a guide book.
Take a look at this informative Bradt guide, it will give you great tips and advice.
The African Landscape
Zimbabwe's unique environment
Ok, so Zimbabwe has one of the most famous waterfalls in the world, Victoria Falls and even though we had visited it previously, this really was a must-see again. Autumn time in Zimbabwe the water levels are much higher.
Victoria Falls at high water
If you're on foot, then the best view of the falls is from the Zimbabwe side, within the Victoria Falls National Park, rather than crossing the border into Zambia. Watching the falls pouring over the edge and crashing into the Zambezi River below is breath-taking. However, the sound is absolutely incredible.
Back in 1998 we did, cross over the border into Zambia and took to the skies, for an aerial view. As you can imagine this was astounding too but, standing opposite Victoria Falls with the visual display and the mixture of the noise and spray, this really takes some beating.
Victoria Falls from the Zimbabwean side
Then, of course, there's the astounding scenery across other parts of the country. Lake Kariba in the north is the world's largest manmade lake, it was created in the late 1950s after Kariba Dam was built. The area was then flooded, and Lake Kariba was formed and now often used by locals and tourists, for recreational purposes.
The sunken forests of Lake Kariba
The landscape across the lake is beautiful and with it being flooded when the trees were still in situ, it has created something quite unique and sunsets I will never forget.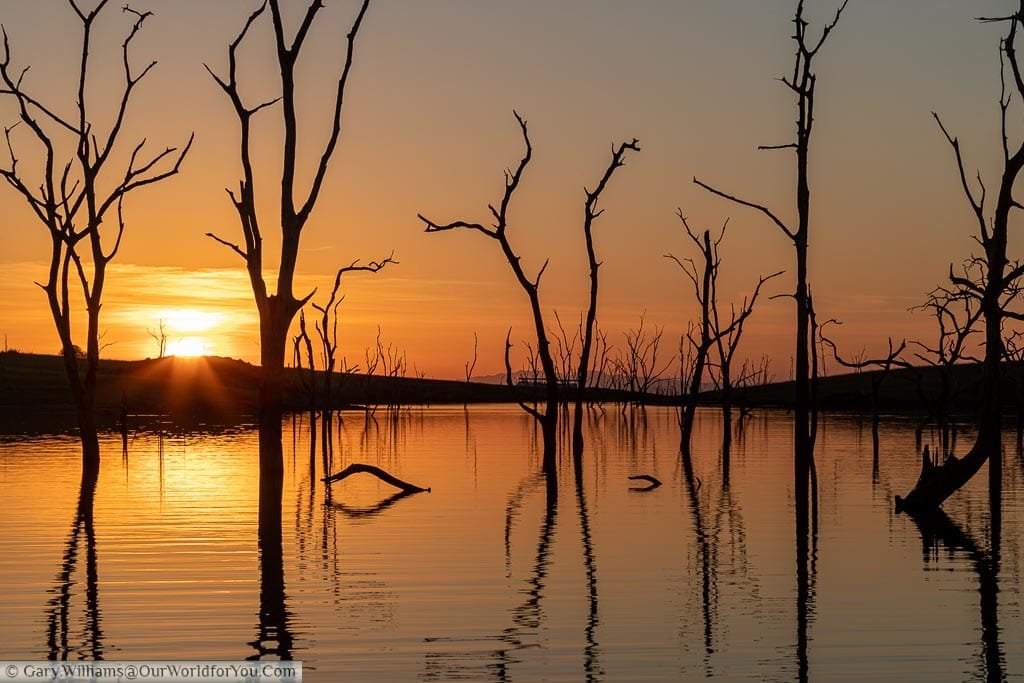 The wildlife of Zimbabwe
and not just any wildlife!
Oh yes, African wildlife is what I am really longing to see. We've been lucky to travel to so many places around the world and see so much, but the feeling you get when you jump into the back of a safari truck heading off into the bush is truly unsurpassable.
An Impala keeping track of us
We're keeping our fingers crossed on spotting the "Big Five", which are an elephant, lion, leopard, rhino and buffalo. Who knows what will see, part of the fun is the anticipation of what's lurking in the bushes.
A Lioness & her cub in Hwange
After Victoria Falls, we're heading slightly south to Hwange National Park, which from past experiences was incredible. Then we're off to Matusadona National Park in the north, on the edge of Lake Kariba, here I'm hoping to see one of my favourite wild animals the hippo.
A pod of Hippos in Lake Kariba
Are there some incredible countries that you've visited and held a lifetime of memories for you, then please share them with us?  Is Africa now tempting you?
Colonial Architecture
A reminder of the countries recent past
On this trip, we've included a stay at Bulawayo, which we never got to visit last time. I'm really interested to see the Colonial influences that that still remain through the city. Particularly the effect of the railways, which played such a significant role during the Cecil Rhodes era. 
When we were in Namibia, I was really surprised as to how much of the German influences still remain. It's great to see a mixture of cultures.
Africa's Night Sky
Does it get better than this?
Another lasting memory that I have of Zimbabwe and Namibia are the incredible nights skies. Without the light pollution from the towns and cities your are treated to a vision like no other. You are even able to see the Milky Way with the naked eye. I'm really hoping we get a few clear nights.
Quirky reminders
of our love for Zimbabwe & its people
I remember back in 1996 when we drove through parts of Harare, when we were out and about with our relatives, that you see some really quirky things, and you just look at each other and think "only in Africa".
There was a business on the side of the road selling fridges, and as a nod to the upmarket London store the owner had named his shop "Sell Fridges". We had to laugh.
A stone bust momento from Zimbabwe
A trip back to Zim wouldn't be the same if we didn't pick up some of the local crafts.
It's those little things that you glance at in weeks, months, years to come that hold so many memories and smiles.
What's there to eat?
Are you ready to go local?
Now from my memory of 20 years ago, there was a lot of meat and particularly game dishes. I'm actually quite happy with this as I love a BBQ or Braai as the locals refer to it.
Although, I think I'll skip the little grubs and insects that my cousins were trying to tempt me with last time. They were trying to convince me that they tasted of peanut butter. I think even if they'd tasted of chocolate brownie, I still don't think I would have been convinced.
One of Gary's favourite African snacks is biltong, which is a dried, cured meat. I can see us grabbing some of this for our car journey north to Kariba.
Biltong for sale at Lions Den
It's all about the memories
We do have some incredible memories from our two visits of 20 years ago. The exhilaration of whitewater rafting and bouncing through whirling rapids down the Zambezi River is one I'll never forget. We've now converted the video evidence to DVD.
Oh, I'm so looking forward to creating even more memories, that Gary and I can reminisce about in the future.
That African safari is calling you
Start creating your own adventure and discover the amazing scenery & African wildlife for yourself.
We chose British Airways, and it was all done with a few clicks, a brief stopover in Johannesburg, and our luggage was there waiting for us on arrival at our end destination in Harare.
Why not search for your flights in one easy place with ebookers.com and open up a world of options. Over 400 airlines are scanned for your favoured routes and chosen dates.
* This post may contain links to affiliated sites where we earn a small commission at no additional charge to you.
Inspired to visit Zimbabwe?
The country holds so many opportunities to explore the best of Africa, and there's nowhere quite like Lake Kariba.
Search for your flights in one easy place with
ebookers.com
and open up a world of options. Over 400 airlines are scanned for your favoured routes and chosen dates.
(Why not Pin It for Later?)
If you enjoy what you see, and you'd like regular updates then join us for a monthly newsletter.