Discover Kent's delightful market towns and villages, rolling hills and ancient inns
The Kent Downs stretch from the White Cliffs of Dover on the eastern shoreline, to the Surrey borders in the west of the county.

Winding its way across undulating scenery, through quaint half-timbered villages and treading in ancient footsteps along the Pilgrims Way.
Half-timbered homes in the picturesque village of Chilham
This section of the Kent Downs is also referred to as the North Downs. Along with the High Weald in the south, this picturesque region has been designated an Area of Outstanding Natural Beauty, due to its distinctive character and exceptional landscape.
Gary and I live in Kent and treasure the fact that we have this on our doorstep. What's wonderful is that just a short hop off the key routes through Kent, and you enter peaceful lanes, serene countryside and orchards weighed down with apples and cherries.
 
We chose a circular route that can be easily accessed from the M20 (jct. 8). Selecting a few historic villages in and around the Downs and slightly to the north, the Medieval Market Town of Faversham.
Open farmland around Oare in Kent
The entire route of the road trip is only around 40 miles (65.5km). However, you will undoubtedly be jumping out to stroll around the delightful villages and historic lanes. Even better, why not make a weekend of it and stay overnight at one of the ancient inns in Faversham?
 
There are so many lovely walks in this region of Kent, the Stour Valley Walk starts in Lenham.
As you arrive at Hollingbourne don't be put off by the pillory, they're a friendly bunch here, honestly.
Hollingbourne pillory village sign
Heading into Hollingbourne, you first enter Eyhorne Street which is a little hamlet south of Hollingbourne. You must definitely park up and stroll around here it is so quaint, with half-timbered homes and delicately planted English country gardens.

Eyhorne Street alone has over 25 listed buildings, along with two pubs, a cute village shop and café serving the community and a babbling brook at the end of the lane.
Eyhorne Street, Hollingbourne
Jumping back in the car for the short hop north to Upper Street is the village of Hollingbourne.
Looking down Upper Street, Hollingbourne
Hollingbourne may appear reasonably small; however, it's full of character and has some beautiful historic cottages. You also won't fail to miss the Elizabethan Hollingbourne Manor, which takes pride of place.
The Pilgrims Way and the North Downs Way winds through the north of the village. Hollingbourne can also trace its roots back to 1086, as it appears in the Domesday Book as Hoilingeborde.

Hollingbourne also has a lovely flint church, take a little wander around the churchyard at the rear and enjoy the far-stretching views of the Kent countryside beyond.
All Saints Church, Hollingbourne
Just nearby Hollingbourne is the magnificent moated Leeds Castle. There is so much to see and do at
Leeds Castle
, you'll probably want to dedicate a whole day to it.
Heading onto our second destination just 6 miles (9km) east is the charming Market Village of Lenham.

Along with Hollingbourne, Lenham is also mentioned in Domesday Book, and it was granted its original Market Charter by King John in 1206.
The crossroads at Lenham village square
Daily life in Lenham revolves around the delightful village square, where you can park free of charge. Locals are coming and going, popping into the bakery, florist or the bustling Post Office, it really has a lived-in feel.

Several half-timbered listed buildings encircle the square, you can sit at one of the many benches or pop into a tearoom and watch the world go by.
Lenham also has a couple of historic pubs in the square. The Red Lion which dates from the 14th-century and the Dog and Bear which was originally built in 1602. This inn is also a hotel and was visited by Queen Anne in 1704, her coat of arms stands pride of place above the entrance.
17th-century Dog and Bear Hotel, Lenham
Just on the edge of the square and opposite the Sweeney Todd Barbershop is the rag-stone and flint St Mary's Church. Additionally, to be found on the edge of the village square is an unusual little chapel. Initially built in the 18th-century as a workhouse mortuary, in the 19th-century it became the parish gaol and then in the mid-20th-century was used as an air-raid shelter.
A picturesque street view of Faversham Road in Lenham
Lenham is full of character, and you leave feeling that you've experienced a little of village life.
If you're intrigued by Kent's weird and wonderful history, or all unusual stories around the county, then take a peek at "Kent's Strangest Tales".
You won't be able to put it down, you can pick it up for your Kindle or in good old paperback.
Jumping back in the car, we're off to the historic village of Charing. Nestled at the foot of the North Downs with the Pilgrims Way passing through en-route to Canterbury.

This little village really surprised me, as we've often driven close by; however, not really had a stroll around.
The High Street in Charing, Kent
Incredibly Charing has the remains of an ancient Archbishops Palace, which dates back to the 13th–century, located adjacent to the Church of St Peter and St Paul.

The remains of the palace are now part of a farmhouse and privately owned, nonetheless in its heyday it was visited by a number of Royals, including Henry VII and Henry VIII. They stayed on several occasions. It became the property of the Crown during the Dissolution of the Monasteries in 1545.
Archbishops Palace and Church of St Peter and St Paul, Charing
The village itself is extremely attractive, with the majority of the historic buildings located along The High Street. A lovely mixture of well-maintained timber-framed dwellings, elegant double fronted homes and quaint cottages, many dating from 16th-century.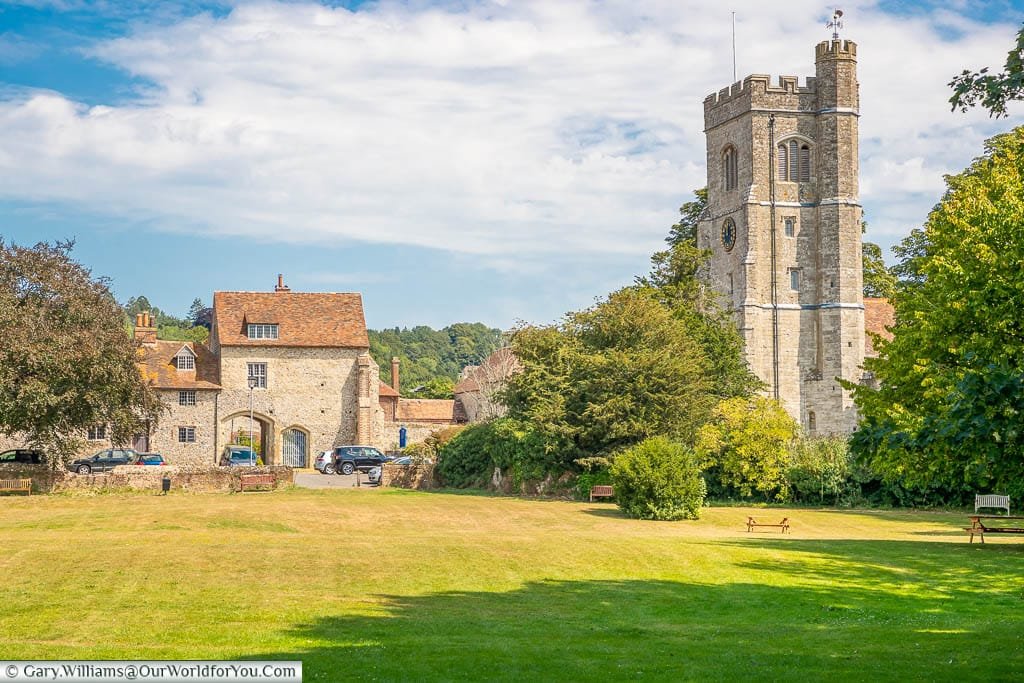 Charing village green, with Archbishops Palace beyond
In Charing, you may not find an old traditional pub anymore. Still, it now has a micropub, a village store, family butchers and a large village green where you could have a picnic. Take a peek at the commemorative paving stone and garden for the Charing's VC recipient Corporal Frederick George Coppins.
South down Charing High Street
There was free parking in the village.
We now head to the north of the Kent Downs to the picture-postcard village of Chilham. It really is like stepping onto a movie set, you'll undoubtedly see why some of Agatha Christie's productions are filmed here.
Timber fronted houses in The Street, Chilham
Chilham is extremely pretty, historic timber fronted homes, wisteria clambering around leaded windows and brimming hanging baskets clinging to the red-brick walls.

It's quite a small village which makes it even more appealing if there weren't the signs of modern-day life you would believe you were lost in another era.
Charming homes in the village of Chilham
At one end of the village square, is Chilham Castle Gardens which can be visited on selected days. However just strolling around the historic lanes, popping into a tearoom or enjoying local ale, it's a beautiful place to visit.
Picturesque cottage with St. Mary's Church beyond in Chilham
Have a tranquil wander around St. Mary's Church and grounds, there's even a little path that has been created out of old headstones. The church's stained-glass windows and monuments have earned it a place in Simon Jenkins's "A Thousand Best Churches".

Parking is limited in the village square; however, there is a large free car park which is only a 5-minutes' walk from the square
Our other Kent road trips
Discover Kent on a rural road trip, lush rolling countryside filled with orchards, vineyards, quaint villages and oast houses, so it makes for a perfick visit.
 
If you fancy heading to the seaside grab your bucket and spade and tour 11 of Kent's coastal towns.
We're now en-route to the
Market Town of Faversham
. Winding our way across the Kent Downs passing lush landscape and weighed down apple orchards. This region of Kent is renowned for its fruit of cherries and apples.
If you know anything about Faversham, then it's probably that it is home to Britain's oldest brewery, Shepherd Neame. You'll see their inns throughout this historic town.

In the heart of Faversham in Market Place is the eye-catching collonaded Guildhall, it's beautiful. On market days, Tuesdays, Fridays and Saturdays, this part of town is bustling with visitors buying local crafts and produce.
The 17th-century Guildhall in Faversham
Take a stroll along the lanes leading off of this charming square, the architecture down West Street, and Court Street is impressive. With the timbered framed dwellings, you'll be feeling like you stepped back into Dickensian times.
Court Street in Faversham
One area not to miss while visiting Faversham is Standard Quay, located along the side of the Creek. Amble along Abbey Street which is full of pastel-coloured homes and prior to the Dissolution of the Monasteries, an ancient Abbey once stood.
Abbey Street in Faversham
Turn left into Abbey Road, and you're greeted with old sailing barges, Victorian Warehouses and ancient granaries.
 
You can still appreciate how this quayside would have looked many years ago. However, nowadays you'll find a local fishmonger, butchers, cafes, restaurants and plenty of antiques and curios to rummage through.
Faversham is an ideal location to stay overnight, park up and enjoy the delights of one or two of Shepherd Neame's seasonal ales.
Walks and Trails around the Kent Downs
If you want to explore more of the Kent Downs (AONB) or Pilgrims Way, either on foot or cycling here are the trails to pick up.
Our next stop is Oare, just slightly north of Faversham and one close to my heart. Oare is where some of my relatives are from and have lived for many, many years.

Oare is a tiny place, and if you love nature, particularly birdlife and picturesque riverside walks, you'll love it here.
Tranquil stroll along The Swale in Oare, Kent
Oare Marshes which is a 176-acre Nature Reserve, is owned by Kent Wildlife Trust and is an important migratory route for many birds. It's pretty popular for twitchers too.

The landscape in Oare is amazing, you don't need to be a birdwatcher to appreciate a stroll around Oare and Faversham Creek.
A picturesque riverside walk in Oare all year round
Oare is also home to a delightful 13th-century church of St Peter, and along with Faversham, Oare played a significant role during the 19th-century producing gun powder and explosives.
Leaving Oare, we are now looping back towards Hollingbourne. However, there is one more village we've chosen to stop at in the heart of the Kent Downs, and that's Newnham.
Charming cottages in Newnham, Kent and Saint Peter and Paul Church
Quiet village life in Newnham revolves around the attractive 12th-century flint church of Saint Peter and Paul, with its charming traditional lychgate. Then just a short hop across the street, there's the George Inn which has been welcoming locals since 1718. Yep, you guessed it's a Shepherd Neame pub.
Timber-framed homes in Newnham, Kent
Newnham is a delightful little village with over 1,000 years of history. In centuries gone by, villagers would have been born, lived and worked all their lives in this one location. With so many orchards and acres of farmland around the residents wouldn't have needed to travel too far for work.

I love visiting villages like Newnham, as although there isn't a specific reason to lure you in, it is just so pleasant admiring the historic architecture. Dotted through The Street are timber-framed dwellings, weatherboarded homes and quaint cottages with traditional English country gardens.
18th-century Calico House in Newnham
One home to look out for is the Jacobean Calico House, with its striking red and white plasterwork, which resembled the calico fabric colours during early 18th-century.
 
Just outside Newnham is Doddington Place and Gardens. You'll need to book your visit in advance to visit their lovely attractive landscaped gardens.
It's now just 8 miles (13km) south-west back to Hollingbourne, winding your way through narrow country lanes and passing by grazing sheep fields, via the Ringlestone Road.
Would you like a little more?
We have created a little YouTube video of our road trip - why not check it out?
Why not subscribe to our YouTube channel and get the latest clips as we post them?
* This post may contain links to affiliated sites where we earn a small commission at no additional charge to you.
Inspired to tour Kent's North Downs on a road trip?
The open roads await, pop in your location details then
Rental Cars
will search well-known car hire brands and discover the deals that suit you the best.
(Why not Pin It for Later?)
If you enjoy what you see, and you'd like regular updates then join us for a monthly newsletter.