by Janis /
0 comments
- Orginally published:31st August 2021
Exploring four quaint, picturesque villages, discovering local ancient history, and a paddle in a ford
What I loved about this mini road trip in Kent was just how much there was to explore in the Darent Valley, all within a loop of around 16 miles. Added to the fact that it is just a stone's throw from the M25 and M20, it could easily be enjoyed at the weekend.

Just as a little bit of contention, I have named this road trip the 'Darent Valley' road trip. However, there appears to be a divided opinion as to whether it should be the 'Darenth Valley' road trip, as this small region of Kent is also referred to as the Darenth Valley.

But I'm sticking to my guns and keeping with Darent as it is the River Darent that meanders through this delightful Kent valley.
Why not Pin it for later?
The village of Shoreham, Kent
Our Darent Valley Road Trip Destinations
We'll be discovering the beautiful English villages of Farningham, Eynsford, Otford, Shoreham, and few little gems at the end.
You can click on the link to jump to the section, and to return, just click on the title.
We chose a circular route around the Darent Valley, starting and ending in Farningham. Farningham can be accessed very easily from the M25 (jct. 3) and the M20 (jct. 1); the road trip's entire loop is only around 16 miles (26km).
The Old Bakery - Farningham
This may be a short road trip; however, there's so much to squeeze in. Not only will you be visiting four picture-postcard villages, but there's also Eynsford Castle, Lullingstone Castle and World Gardens, Lullingstone Roman Villa and Eagle Heights Wildlife Foundation.

Okay, so let's stop wasting time and "hit the road, Jack"
The start of our Darent Valley road trip is to the charming and picturesque village of Farningham. Farningham holds many childhood memories for me, especially when my brother and I used to swing back and forth on the ancient Cattle Screen that straddles the River Darent.
And yes, I did regularly end up in the river below.
Farningham Watermill
The cattle screen, next to Farningham's old medieval bridge, and the historic Lion Hotel are quite an iconic sight in the village. Built around the mid-1700s, the cattle screen was erected to stop livestock wandering up or downstream of the River Darent.

It could have been built on a much simpler scale. However, the wealthy Hanger family who lived in Farningham wanted to convey their affluence and had it erected out of local Kent flint and stone. You'd almost believe it was another bridge.
The Cattle screen, Farningham
Farningham is full of so much history, from the Neolithic era and onto the existence of Roman settlements. It has even seen one of its Norman landowners who fought side by side with William the Conqueror on the Bayeux Tapestry.

All through Farningham High Street are immaculately kept cosy cottages with wispy and beautifully fragrant front gardens. The architecture in the village is a mixture of white weatherboarded homes and charming flint and stone cottages.

The other striking building to be found in Farningham is the historic three-storey watermill. The surviving mill dates from the late 18th-century; however, the presence of a watermill was first noted in the Domesday book in 1086.
The Lion Hotel, Farningham
Many years ago, villages like Farningham would have been totally self-sufficient, and you wouldn't have to stroll far for your daily essentials. It was wonderful to see that the local butchers were still flourishing. And of course, a village in Kent wouldn't be complete if it didn't have a village pub, although Farningham has three.
Where to visit near Farningham
There's plenty to discover on the doorstep of Farningham, especially around Lullingstone; however, if you are motor racing fans, just 2.5 miles (4km) along the A20 is the motor-racing circuit, Brands Hatch.
You can also explore the peaceful surroundings of Farningham Wood Nature Reserve.
Hiking the Kent Countryside
Farningham and Eynsford are located along the Darent Valley. They are just north of the North Downs (AONB), an Area of Outstanding Natural Beauty. To explore the hiking trails in this region of Kent, the Ordnance Survey maps that will help you along the route is
no. 162, 'Greenwich & Gravesend'
and
no. 147, 'Sevenoaks & Tonbridge
'.
We head onto our second destination, journeying through Farningham High Street and turning right onto the A225 towards
Eynsford
. This hop is about 1 mile (2km), so very short. There is a free car park in the centre of Eynsford village on the righthand side.
Eynsford War Memorial
It's now time to explore the picture-postcard village of Eynsford. All through Eynsford village are the most delightful cottages, some made of local flint and others surrounded by white weatherboarding. It's such a charming village.

However, once you stroll around the corner into Riverside, your face will light up. The idyllic scene of a narrow medieval hump-backed bridge straddling the River Darent and children giggling and laughing while playing in the adjacent ford really does bring a smile to your face.
It's such an enchanting location with the timber-framed cottages beyond, and the urge to throw off your shoes and socks and go for a paddle is hard to resist. I'm not too sure if you'll catch much in the river, but that doesn't stop the local kids from bringing along their fishing nets to try,

Take a stroll to the other end of Eynsford village towards Norman's family butchers and Rafferty's local general store, and you'll spot the signs to Eynsford Castle. Wander down by the village hall, and you'll discover the ruins of a rare surviving early Norman 'enclosure castle' constructed in the late 1080s by William de Eynsford.
Eynsford Castle
Eynsford Castle is managed by English Heritage and is free to visit. It's so peaceful to stroll around, and you'll also get the chance to see the wonderful views of the Darent Valley and beyond.
Where to stay in Eynsford
-
Castle Hotel
– Is located in the heart of the village, with Eynsford Castle opposite. The rooms are beautifully decorated, and if you are driving, they have an onsite free car park.
Where to visit near Eynsford
Within a short distance of Eynsford, there are plenty of other attractions and activities to keep you occupied. Within Eynsford village itself is
Eynsford Castle
, an English Heritage site which is free to visit.
Lullingstone Roman Villa
is a short hop away too and is free for English Heritage Members.  (There's an entrance fee and parking cost for non-members)
If you're intrigued by Kent's weird and wonderful history, or all unusual stories around the county, then take a peek at "Kent's Strangest Tales".
You won't be able to put it down, you can pick it up for your Kindle or in good old paperback.
So, let's jump back onto the A225, and we're heading south for 4.6 miles (7.3km). The next village we are visiting is Otford, further down the Darent Valley. There's a central carpark in the village, which is free for the first hour, and then there is a tiered tariff.

It's incredible how many beautiful villages are to explore just on a short stretch of the road. When you enter Otford, you'll undoubtedly stumble across the village duck pond as it also doubles as a roundabout.
The listed duck pond at Otford
However, this is not just any old duck pond; this is the only listed duck pond in the country and was granted this listed status in January 1975. The pond is believed to date back to Anglo Saxon times when it was probably used as a drinking hole for local livestock.

Like Eynsford, Otford is a bustling little place with some delightful boutiques and antique shops to rummage around. Take a stroll along the entire length of the High Street, and you'll see some striking cottages and manor houses hidden behind high walls and gates.
Pickmoss, Otford
Otford is nestled along the Pilgrims Way, the route pilgrims would embark upon from Winchester to the shrine of Thomas Becket in Canterbury Cathedral.

Otford has some incredible history dating back to the Iron Age, although it was Otford Palace, also known as the Archbishop's Palace, that raised Otford's profile with Royalty, bishops and noblemen.

Unfortunately, today only its gatehouse and tower remain from what was once one of England's largest palaces, covering 4 acres of land. The Palace was comparable in size with Hampton Court Palace. After the death of Henry VIII, Otford Palace slowly fell into decline and ruin.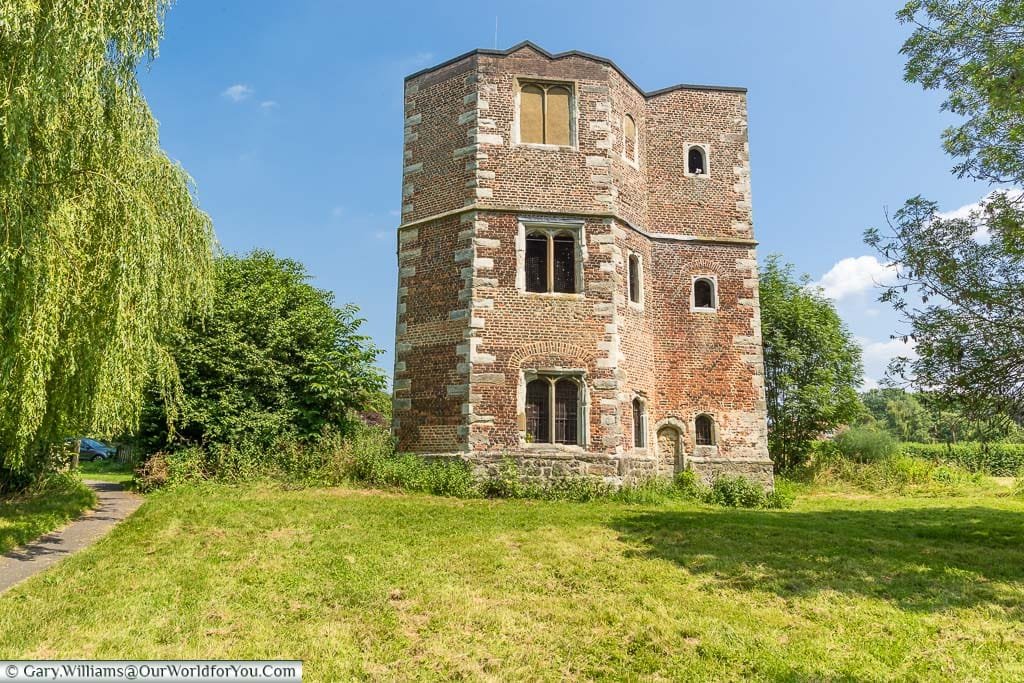 Otford Palace Gatehouse
Where to stay near Otford
-
Donnington Manor Hotel
– Is located just 1 mile from Otford along the London Road. The rooms are comfortably decorated, and it has an onsite restaurant. If you are driving, they also have complimentary parking.
Where to visit near Otford
If you fancy soaking up the fresh countryside air, then put on your comfy shoes and head off on the picturesque
Darent Valley Path
.
Inspired into creating your own adventure?
The planning starts here
Your perfect accommodation
Have a leisurely browse through the wide range of options that
Booking.com
offer. From a secret hideaway to an elegant luxury hotel.
The open roads await, pop in your location details, then
Rental Cars
will search well-known car hire brands and discover the deals that suit you the best.
Hopping back in the trusty steed, our next destination is the tranquil and delightful village of Shoreham, only 3 miles (5km) north.

Journey west from Otford, continuing along the High Street, which then transitions into Pilgrims Way W. When you reach Filston Lane turn right and head along this lane until you reach Shoreham. As you enter Shoreham village, there is a free car park on your right-hand side.
The King's Arms, Shoreham
Shoreham is one of those lovely villages that revolves around its community. You feel that if you would have visited fifty years ago, the beautiful characterful cottages and English country gardens would still look the same.
Buntings flutter around the Honey Pot Café, rambling roses clamber over doorways, and the village pubs feels like a home from home.
Charming cottages in Shoreham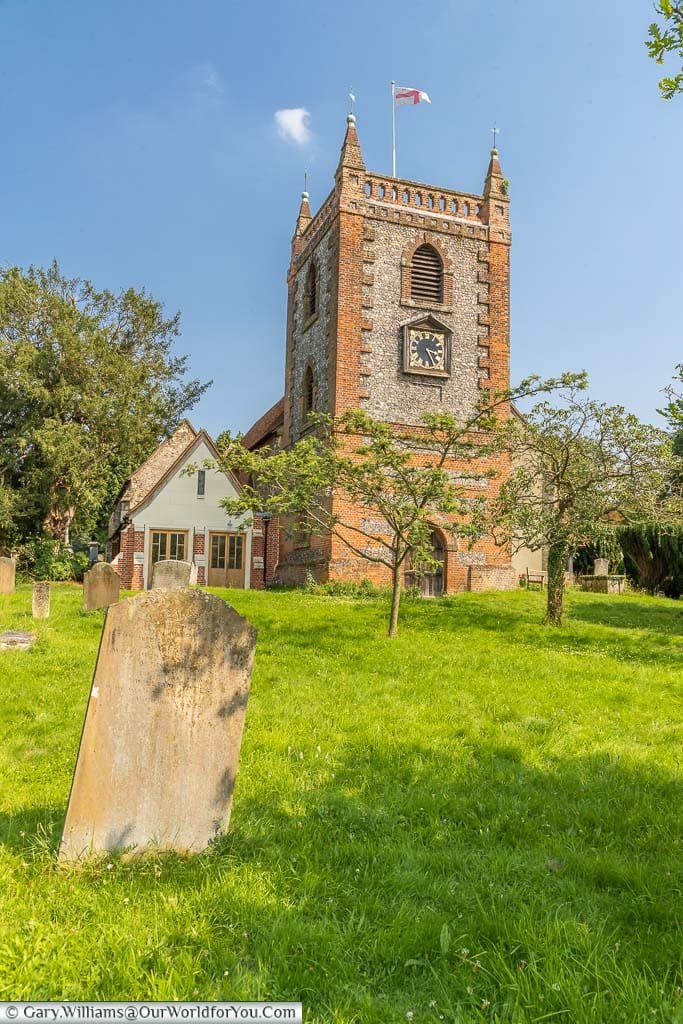 St Peter and St Paul Church, Shoreham
In one of the white weatherboarded cottages along the peaceful High Street is Shoreham Aircraft Museum, which is run by local enthusiasts. We were slightly surprised to see this fascinating little museum in such a remote location. Apparently, Shoreham was the most bombed village in the UK during WWII, as the Army moved into several manor houses in the area.
Prior to us embarking on this Darent Valley road trip, I never realised that this region in Kent was renowned for its flint. It is used to build of so many homes in this area and gives so much character to the cottages.
Myrtle Cottage in Shoreham
Take a stroll down Church Street towards the River Darent and the narrow flint bridge, and you'll discover even more delightful architecture. The river gurgles along the side of Church Street, giving it so much charm, it must be fun watching the annual Duck Race every May Day.
Along from Shoreham bridge, stroll towards the Norman Church of St Peter and St Paul, passing by The Mount Vineyard and even more quaint, pretty cottages. Shoreham is definitely a place I will return to.
Where to visit near Shoreham
Are you looking for that 'perfick' holiday hideaway to relax in while you discover the Garden of England?
After a day exploring the Kent coast and its many historic castles enjoy one of the handpicked properties and unique retreats at Holiday Cottages.
More adventures on your Darent Valley road trip
Lullingstone Castle and the Eagle has landed
Hopping back in the car, we are winding our way back across the Darent Valley countryside towards Farningham.

We continue north through Shoreham High Street and, at the V junction, turn right along Castle Farm Road towards Lullingstone. Turn right onto Redman's Lane at the T junction and continue onto Castle Road, passing Castle Farm and its lavender fields. If you're visiting during the lavender season, you'll spot rows and rows of striking purple lavender fields. Along this road, you'll also be able to visit Lullingstone Country Park.
Gatehouse to Lullingstone Castle & The World Garden
Continue along Castle Road, and when you reach the final junction, turn left onto Shoreham Road (A225). It will look familiar as this is the road into Eynsford from the south. We're proceeding part of the way through Eynsford until you reach St Martins Church on your right. At this point, turn left directly opposite the church along Riverside and onto Lullingstone Lane. You'll be venturing over the little stone bridge next to Eynsford ford.

Weaving your way along Lullingstone Lane, you'll pass under the eye-catching Eynsford Viaduct. Eagle Heights Wildlife Foundation is on your right, where you can watch graceful birds of prey soaring through the skies.

Just a little further, you can visit Lullingstone Roman Villa, run by English Heritage. The final stop of the Darent Valley road trip is Lullingstone Castle & The World Garden.
Lullingstone Castle
Lullingstone Lane is a bit narrow, so you'll need to be considerate to pedestrians and fellow drivers.

After visiting the castle, you will need to retrace your steps back under Eynsford Viaduct; a little further along, turn left into Sparepenny Lane. You are now heading back towards Farningham, where we started, passing through the Darent Valley countryside.

At the end of Sparepenny Lane, turn left, and you are now just a short hop away from the M25 and the M20.

Have a delightful time on your Darent Valley road trip, and don't forget to leave a comment below to let us know how you enjoyed your adventures.
The old forge, Shoreham and the Darenth Valley
If you've fallen in love with the county of Kent, we've created a few road trips around the "Garden of England" that we believe you will enjoy too.
More from our Darent Valley road trip
Available on YouTube
We have created a little YouTube video of our Darent Valley road trip, spread over two episodes. Why not take a look?
* This post may contain links to affiliated sites where we earn a small commission at no additional charge to you.