by Janis /
0 comments
- Orginally published:13th December 2019
A festive stroll by the River Thames & a spot of shopping
London is such a unique city to visit any time of year; however, at Christmas time, it is like no other.
Folks young and old embracing the festive spirit, wrapped up warm with a sparkle in their eyes.
After heading to the bustling west end of London and experiencing The Twinkling London Streets at Christmas. We decided to fire up the sleigh and navigate our way to the River Thames.
Why not Pin it for later?
Christmas by the River Thames
I just adore being by the Thames in winter or summer, and to see the iconic landmarks standing so proud in our capital city is stunning.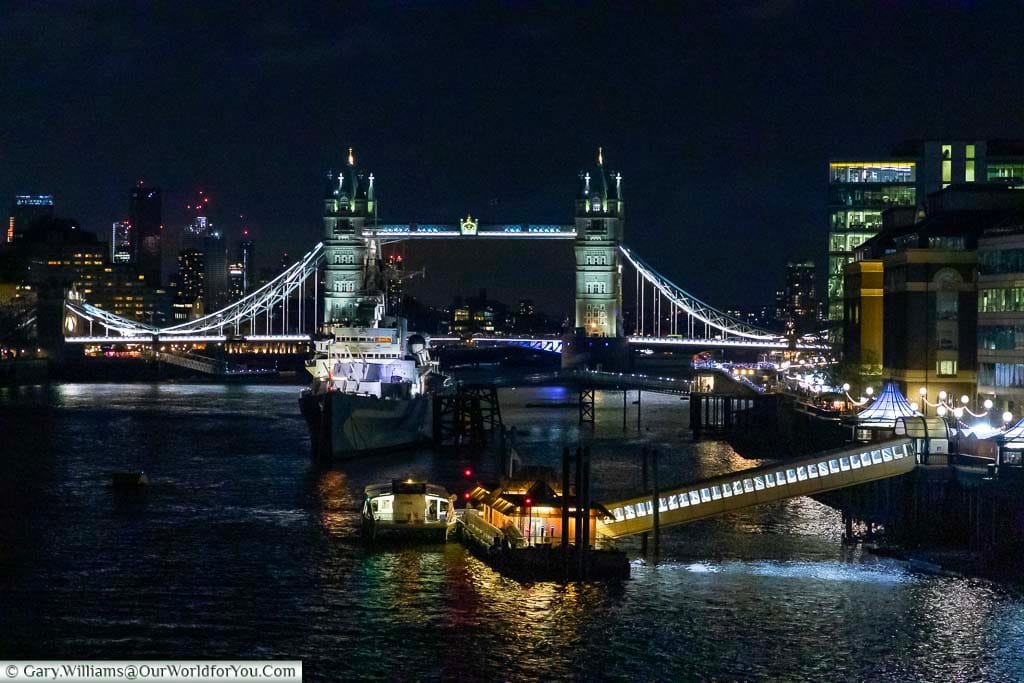 Tower Bridge at Christmas
Christmas on the Southbank
Riverside joy
How can you resist soaking up the atmosphere as the evening descends on the festivities at '
Christmas by the River
'. Strolling by the twinkling wooden cabins, watching people choosing that special gift for a loved one.
Christmas cabins along the River Thames
Then there are the children trying to tackle the delights of a Bratwurst. And one we've come to love the 'Chocolate Kisses', which is a delicate dome of chocolate filled with marshmallow.
London's riverside Christmas market
The moment then catches you when the deliciously sweet aroma wafts by of chocolate-covered nuts. London at Christmas will make big kids out of all of us.
A sweet tooth is required here
There are plenty of food stalls all along here, serving cuisine from many parts of the world.
A cup of vin chaud or mulled wine
On this occasion, we didn't indulge in a gluhwein, although we personally thought a couple of little beverage stalls dotted through the market wouldn't have gone amiss.
If you've yet to discover London and its ancient history, then let's start planning. I find these DK Eyewitness Travel Guides invaluable. They're extremely informative, easy to follow, and the pictures and maps tempt you into discovering more of those fascinating sites.
You can now grab a recently revised copy of this guidebook, so you won't miss a thing.
A little magic at Christmas
Walking in the air
If you're a Raymond Briggs fan, then you must pick up the 'Walking with The Snowman' trail. You'll discover giant Snowman sculptures, each with a different design depicting 'The Twelve Days of Christmas'.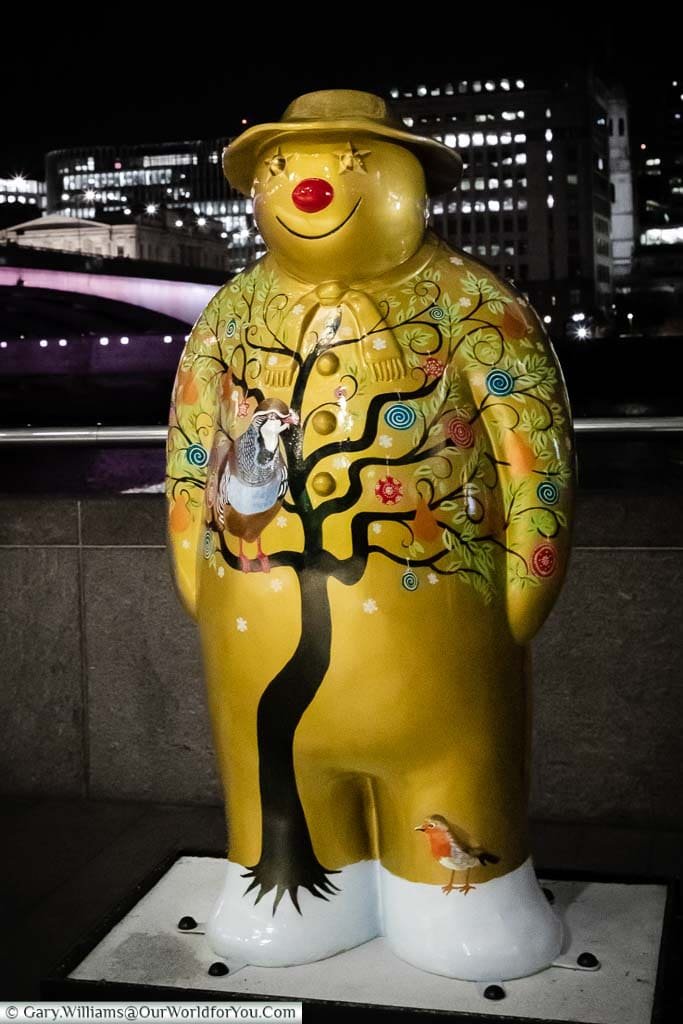 The Snowman on the 1st day of Christmas
The Snowman on the 4th day of Christmas
Discover London at Christmas
Hay's Galleria
Along the south of the River Thames by London Bridge, you'll find Hay's Galleria. This Grade II listed building is beautiful. Once used as a wharf for storage when London was a bustling working port. Now the eye-catching glassed roofed arcade is alive with shops and restaurants.
Inside Hay's Galleria at Christmas
Christmas tree in Hay's Galleria
More importantly, it embraces Christmas with gusto. Lovely little stalls throughout and a Christmas tree dressed to impress. I love it through here and how it's a pleasant place to visit all year round.
The Navigators in Hay's Galleria
If you are not a London dweller, then one of the easiest ways to get to the capital is by train.
Check the best prices with RailEasy.
Christmas by the Thames
City Hall
You'll be forgiven on a crisp day enjoying a gluhwein in the 'Riverside Lodge'; however, Tower Bridge is calling. Just beyond the festive cabins, head up to the striking Christmas tree and the dancing fountains by City Hall.
The City Hall Christmas Tree and Tower Bridge at Christmas
You may struggle to catch a snap of the tree without fellow revellers in it, as it's quite a popular spot for a selfie.

But hey, don't worry the views from here of Tower Bridge and the Tower of London are incredible.
City Hall's Christmas tree
Festive fun around City Hall
As we stroll across what is probably one of the most beautiful bridges in the world, the skyline across the financial district is breath-taking. I worked in the city of London for over twenty years and this view integrating the historical and the contemporary, I will never tire of.
Exploring London at Christmas
To the Tower
With the crisp London evening breeze cutting through as we cross the river, the ancient Tower of London is the next stop.
Tower of London at Christmas
Ice-skating is not quite Gary, and I's forte, so we leave that to others and watch from above. It's probably best for all concerned that we don't take to the ice.
However, the atmosphere as children are laughing, Christmas tunes echoing around and snowflakes dancing across the Tower of London it is a heart-warming sight.
Don't forget to book in advance
Christmas in the City of London
Leadenhall Market
Or Diagon Alley as Harry Potter fans would know it as. During the week when the City of London is bustling with office workers, Leadenhall Market is full of life and energy. On a Sunday it has a certain sleepy mood about it.
Sparkling Leadenhall Market
The wonders of Leadenhall Market
Admittedly the Christmas tree here could be a little more decorative; however, the architecture and captivating character are why you're visiting. It is stunning here, and you feel like you've stepped onto a movie set.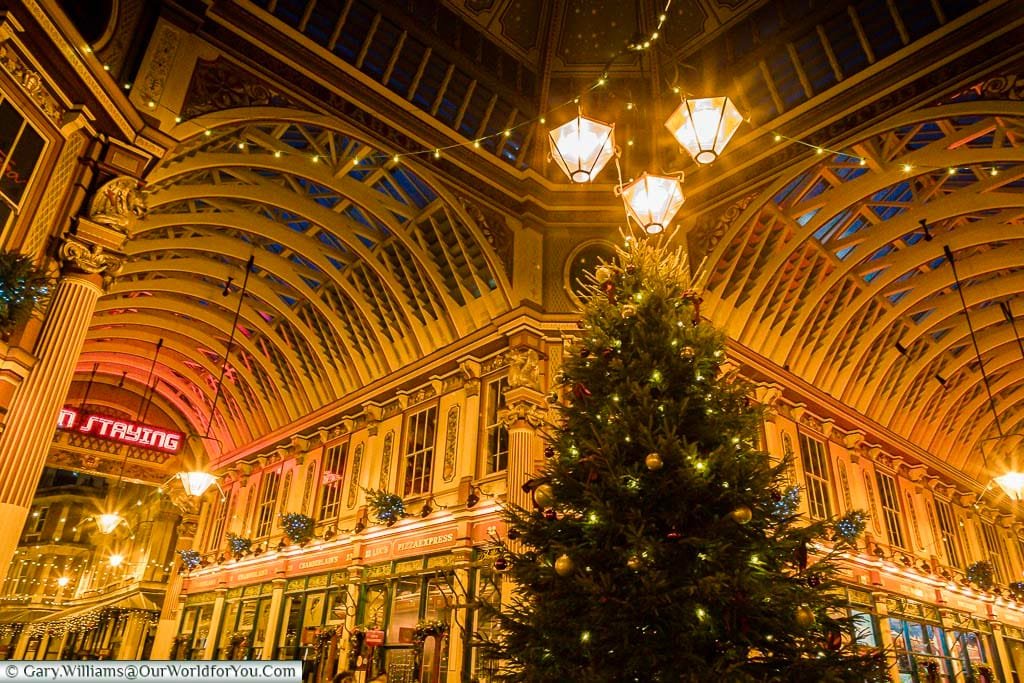 Leadenhall Market at its finest
If you are heading into London by car on a Sunday, then you'll find there are plenty of free parking spots in the financial district. From here you can either walk or jump on the London Underground to your festive locations.
Spitalfields at Christmas
A little more festive sparkle
Just up from Leadenhall, is a market in full swing, and that is
Spitalfields
. Spitalfields market is open all year round and is stylish, quirky and has such a relaxed and friendly atmosphere.
One entrance to Spitalfields Market
Unique gifts in Spitalfields Market
It is a fantastic place to grab that little something special for Christmas as the stalls here are so unique.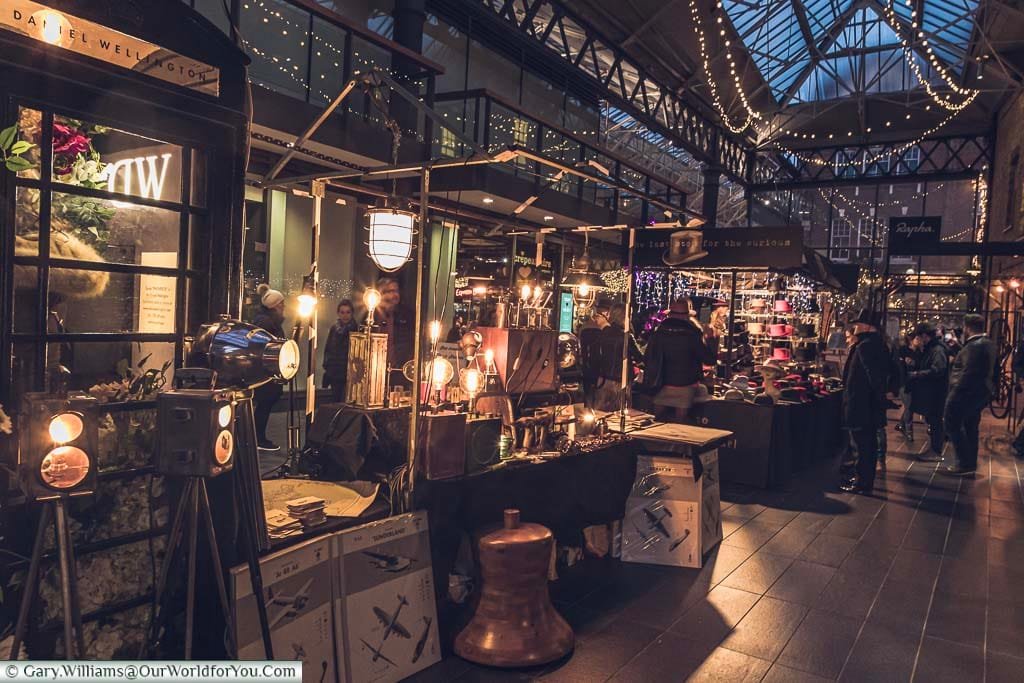 A little different in Spitalfields market
Meet up with friends and enjoy sampling the cuisine on the eclectic food stalls, and then after indulge in a little retail therapy in the trendy surrounding boutiques.
Stylish boutiques around Spitalfields
Shopping along Brushfield Street
Bring a brolly, a warm coat and comfy shoes, it is London after all.
Hidden Christmas in London
Broadgate
Just a short hop from Spitalfields in the East End, is the cosy Broadgate Circle, by Liverpool Street Station.
Giant glistening bauble at Broadgate
At the weekends it's peace and tranquillity when the evening twilight descends, this a location you'll undoubtedly want to snuggle up in and enjoy a festive Gin and Tonic.
The Winter Forest at Broadgate Circle
* This post may contain links to affiliated sites where we earn a small commission at no additional charge to you.