by Janis /
0 comments
- Orginally published:6th December 2019
It's beginning to look a lot like Christmas...
Ahh, London just surpasses itself at this festive time of year, the glistening historic streets embrace all that is ho ho ho.
Angel's soaring overhead along Regent Street, ice rinks full of children's laughter and shop fronts wrapped up like Christmas gifts.
So following on from a 'Few Hours in London' in 2016 & 'A Few More Hours in London' in 2017 we are ready to explore.
You're never too old to believe in Santa, London is a Christmas lovers paradise.
Why not Pin it for later?
Discover London at Christmas
Where did we start?
Unable to resist the lure of 'the smoke' at Christmas, we venture up to England's capital city to unwrap even more of those Yuletide locations.

This time Gary and I head to South Kensington, which is just a short stroll to the Natural History Museum.
Nightfall across the Natural History Museum's ice rink
Dust off your ice-skates and go for a spin, with the spectacular museum behind you. Festive tunes are playing and the irresistible aroma of chocolate-covered nuts as you twist and swirl around the ice.
Natural History Museum's merry-go-round
If trying to balance on two tiny blades isn't your thing then, take the more sedate option of the merry-go-round.
The best of London at Christmas
There is only one Harrods!
Meandering along Brompton Road, we see way ahead of us the beautiful lights that trace the iconic London store of Harrods. With the fluttering flags of the world around its rooftop, it looks so elegant.
Harrods is such an incredible sight in London, and it attracts so many visitors, just to view from the outside.

The Harrods department store covers around five acres which is quite a progression, from when it was founded way back in 1849.
Harrods, luxury department store
Shopping in London at Christmas
Retail therapy
Strolling further along into Knightsbridge there is certainly no lack of money here. We pass
Harvey Nichols
' flagship store on the corner of Sloane Street. This luxury department store is even older than Harrods as it was established in 1831.
Opposite Harvey Nichols is the stylish 5-star
Mandarin Oriental Hotel Hyde Park
. Recently undertaken a full refurb this exclusive hotel has welcomed some highly notable visitors, but I'm not a gossip.
Mandarin Oriental Hotel Hyde Park
If you've yet to discover London and its ancient history, then let's start planning. I find these DK Eyewitness Travel Guides invaluable. They're extremely informative, easy to follow, and the pictures and maps tempt you into discovering more of those fascinating sites.
You can now grab a recently revised copy of this guidebook, so you won't miss a thing.
Fun in London at Christmas
Winter Wonderland
We reach Hyde Park, to what has now become one of London's most popular Christmas events '
Winter Wonderland
'.
Entrance to Winter Wonderland
Entrance to Winter Wonderland is free, you can then either pre-book any rides or shows you want to visit. Or, see where the day leads and pay on arrival.
Rides in Winter Wonderland, your age doesn't matter
Take a stroll around the Bavarian Village, sample some bratwurst and gluhwein and if you're wrapped up warm then head to the ice bar for a cocktail.

There are plenty of things to keep the young and old entertained here.
Stylist London at Christmas
Stroll through Mayfair
What Gary and I love is just strolling around the streets of London and just seeing where the twinkling lights and the enchanting Christmas baubles guide us.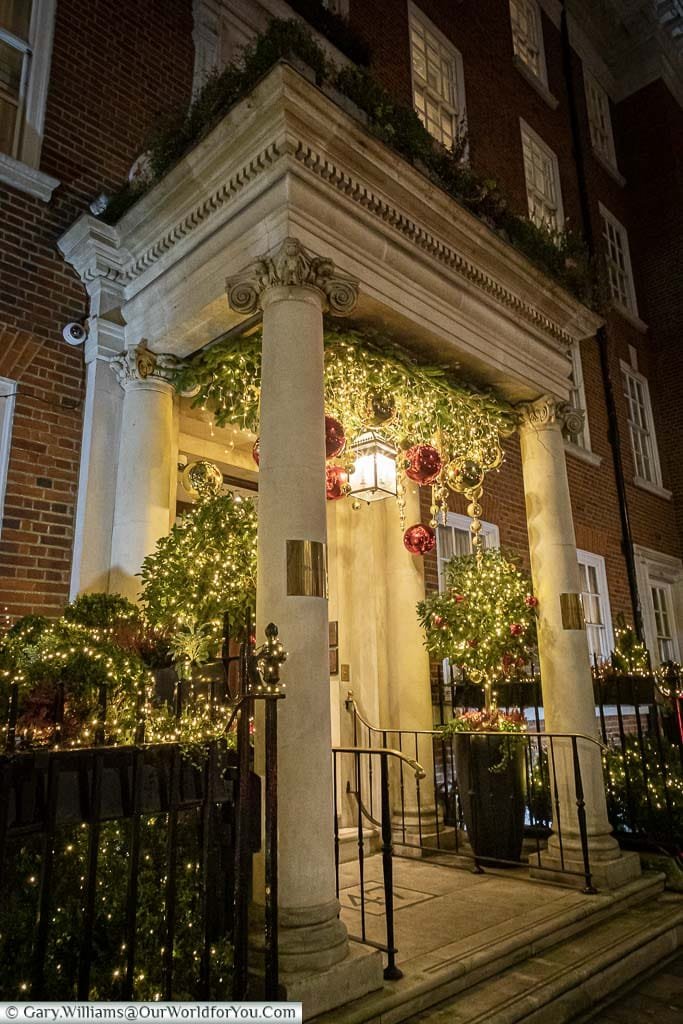 Festive doorway in Mayfair
In and around Mayfair, it is just wonderful, there are so many charming porches, shop fronts and hotels entrances, you just keep stopping.
Pasticceria Marchesi, Milanese pastry shop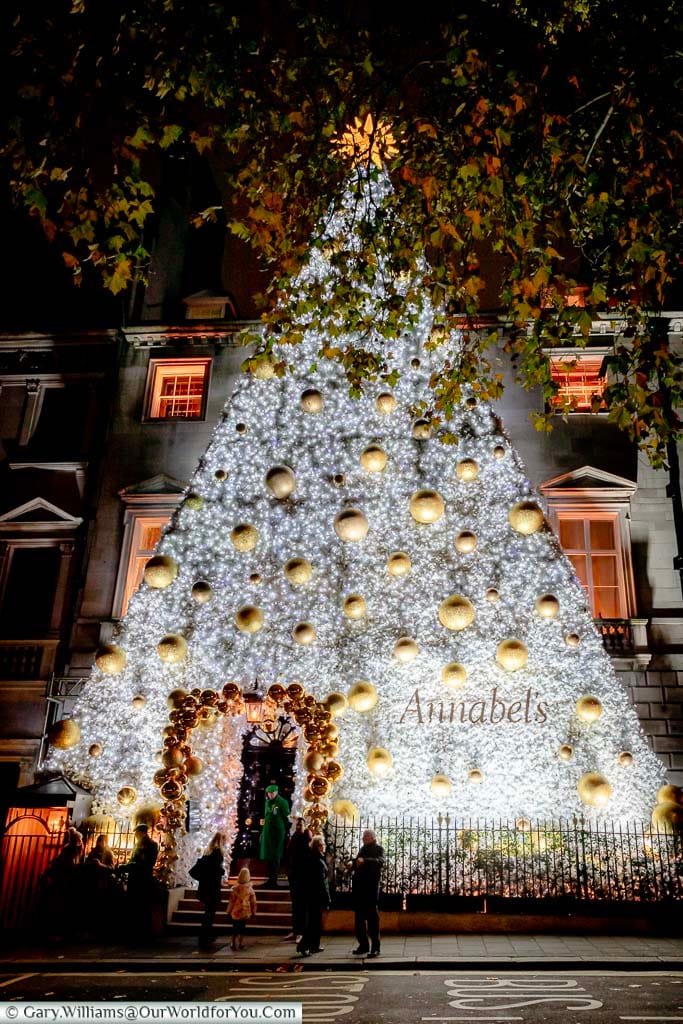 Annabel's Private Member's club
As we wander into Berkeley Square, we come across Annabel's, an exclusive private member's club. Recently opened in its new home, a Grade I listed Georgian mansion.

A little sophistication is called for to enter here. However, no expense is spared here on exterior illumination, and it looks stunning.
Exploring London at Christmas
Bond Street – Old and New
New and Old Bond Street just oozes sophistication, how can you resist stores like Bulgari, Louis Vuitton, Prada and Gucci.
Bulgari in New Bond Street
Well, I manage to, as Gary only brings me here when the shops have closed for the evening.
New Bond Street Chandelier
New Bond Street Christmas lights
My favourite decorative store along New Bond Street is Cartier. Every year they make it look incredible. It is charming to see how many shops make an effort; it really is appreciated.
Cartier, New Bond Street
Boodles and Cartier
As you effortlessly amble into Old Bond Street, you are met with the beautiful Tiffany & Co. and the bright lights of Stella
Tiffany & Co., Old Bond Street
Stella McCartney, Old Bond Street
Try and avoid always taking the tube, your favourite places maybe nearer to each other than you think.
Our next stop at Christmas
The Arcades
The elegant, stylish arcades around this part of London must be seen. They are the height of sophistication and have been serving their local patrons for over a hundred years.
The Royal Arcade
The Victorian 'Royal Arcade' opened in 1879, the Piccadilly Arcade opened in 1909. Although the Burlington Arcade is celebrating its 200th anniversary in 2019. An interesting fact about Burlington Arcade is that it has it's own police force, 'The Beadles', England's oldest police force.
We have a little book on our shelves that we sometimes delve into when we're about to hit an area of London.
Packed full of historical facts, and broken down into the different regions of London, it's a great resource to help you see what's hidden in plain sight.
Available in Kindle & Hardback editions, it's an excellent addition to anyone's collection who loves London.
The Elegance of London at Christmas
Doesn't she just look beautiful
Another store that always goes that extra mile is Fortnum & Mason along Piccadilly. This year their incredible front of house display was a huge advent calendar. Each twinkling sash window was lit up with a number.
Just a short hop from Piccadilly and you are in Regent Street. The home of some wonderfully elegant buildings and everyone's favourite toy shop 'Hamley's'.
Angels soaring above Regent Street
Bring a brolly, a warm coat and comfy shoes, it is London after all.
More of London at Christmas
Quirky London
For that little bit of something different, you must head to Carnaby Street. All along this pedestrianised lane in Soho, you'll see some unusual sights.
 
This year's festive theme on Carnaby Street is 'One Ocean, One Planet'.
As you stroll the full length of the street keep looking left and right, there is always something weird and wonderful happening.
For all, you non-believers out there, don't forget!
He sees you when you're sleeping
He knows when you're awake
He knows if you've been bad or good
So be good for goodness sake!
Have you been?
* This post may contain links to affiliated sites where we earn a small commission at no additional charge to you.