An enchanting visit to Provence, France
Honey-coloured villages, quaint towns and historical cities
Gary and I just love visiting France, any excuse that we can think of, and we are there.  It's not just the incredible food and wine, although that's a pretty good reason to visit France. But the far-reaching countryside and the delightful little quiet villages are so captivating. 
An old windmill in Fontvieille
However, if push came to shove and I really had to narrow down a region in France to tour, I think it would definitely be a visit to Provence.
The scent of lavender, rolling vineyards, charming hilltop villages and ancient Roman architecture, need I go on.
Provence in the south of France is appealing to so many people, you can head there for a mini-break, jump in your car for an incredible road trip. Or if the lure of cycling is your pleasure, then you can follow in the Tour de France tyre tracks and ascend Mont Ventoux.
The reminiscing of Provence is making me want to return to this beautiful part of France, the honey-coloured villages and towns are calling me.
If you love Provence as much as we do, you'll want to start planning your visit now. I so enjoy using the DK Eyewitness books, as they are extremely informative, easy to follow and the pictures and maps tempt you into discovering more.
We used a previous version of this book to plan our Provencal road trip, now you can grab the revised copy.
Location, location, location
Whether you like a bustling city, a laidback town or the tranquil lanes of a village, Provence really does have them all.
The Olive groves of Provence
We've visited a few destinations over the years, some by the sea, others on a hilltop and so often they are bathed in sunshine. My ideal is touring the Provencal countryside, weaving our way through the olive groves and vineyards and visiting the incredible Roman architecture, scattered throughout the region.
The French roads are so easy to drive upon, particularly on the autoroutes. They are often quiet and free-flowing. The main thing you need to bear in mind is that the autoroutes are usually toll roads.
Keep your credit card handy as it's one of the quickest and easiest ways to pay.
Yes, I must admit now, I do have a favourite place to stay, and that's Saint-Rémy-de-Provence. To me it has it all, charming lanes adorned with sunflowers and lavender and duck egg blue shutters flung open to the sunshine.
Alfresco lunches in Saint-Rémy-de-Provence
How could you not love strolling through streets full of cafés, galleries, boutiques and restaurants? Even when it's bustling, you can still find peaceful spots to sit and while away your day. 
Another reason I love Saint-Rémy-de-Provence is for its history. Vincent van Gogh lived here during a troubled period of his life.
He painted a few of his masterpieces, one of which was "The Starry Night". 
Also, in Saint-Rémy-de-Provence is the ancient Roman settlement of Glanum.
Saint-Rémy-de-Provence is the ideal location to base yourself to explore the surrounding Provence villages. There are so many restaurants when you return back of an evening.
Some larger Provence options
Personally, if you are visiting Provence then the 
UNESCO
 city of Avignon is a must to visit, it is so beautiful. Take a stroll north of the Rhône, and you can catch the incredible view of the medieval remains of Pont d'Avignon, the Palais des Papes and Avignon Cathedral.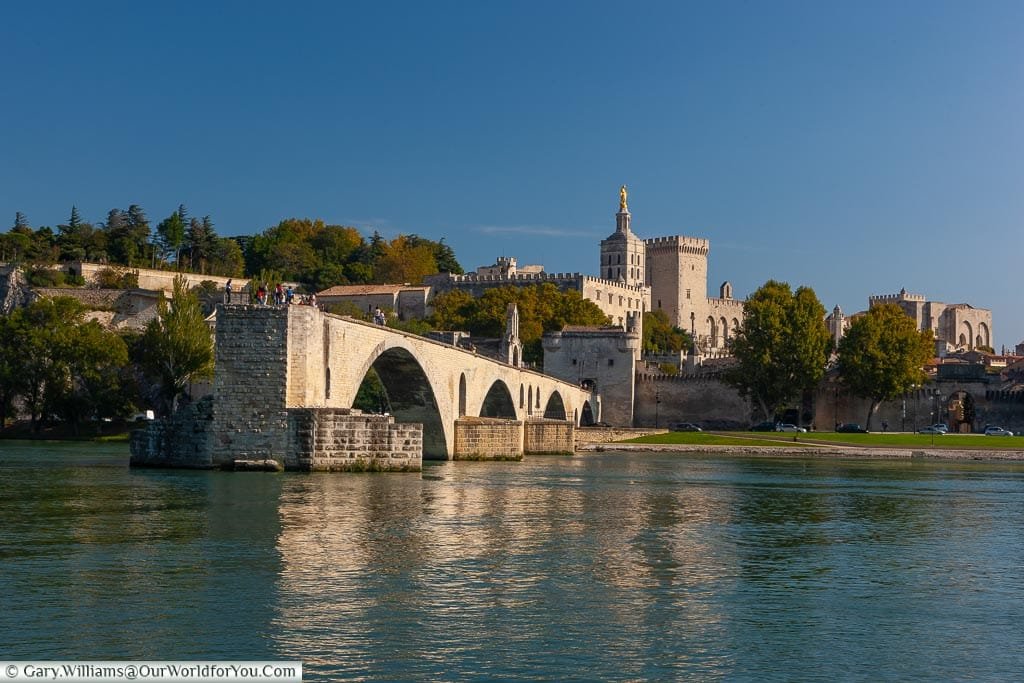 The architecture throughout Avignon is incredible, and so are some of their restaurants. Gary can undoubtedly vouch for the lavender crème brûlée.  
If you'd love to tour the Provence villages and don't have your own set of wheels, take a look at the full-day tour from Get Your Guide.
You'll be picked up in Avignon, and the Provence countryside hills await.
The ancient city of Nîmes is also located in Provence and has some incredible history dating back to the Roman Empire.
The Arena of Nîmes, in the heart of the city, is an imposing Roman amphitheatre was built in AD 70.
The arena is still used today, and if you're lucky, you may be able to catch one of their open-air concerts.
That the good old 'Demin' blue jeans derives its name from the textile city of Nîmes.
Arles is another excellent choice for you and is also on the 
UNESCO
 World Heritage List. Arles is just Provence through and through. Lovely rustic squares, fantastic restaurants and boutiques and history around every corner.
This is another city that can brag at having Vincent van Gogh as one of its residents. A visit to Arles wouldn't be complete without heading to the two-tier Roman Amphitheatre. It stands high in the town and was constructed in 90AD, it's unbelievable. 
Now, I'm going to be upfront with you, as we only really visited the hilltop Basilica in Marseille. Which I must say was pretty incredible, the views across the city are amazing.
The view over Marseille from the Basilique Notre-Dame de la Garde
We drove around the port and through part of the city and boy was it busy. It is France's second-largest city, so it isn't surprising. Also, Marseille has a large international airport, so it's ideal for flying into, hire a car and discover the region of Provence. But, hey, that's your choice.
Start creating your own French adventure and discover some the enchanting towns and villages in Provence for yourself.
Search for your flights in one easy place with ebookers.com and open up a world of options. Over 400 airlines are scanned for your favoured routes and chosen dates.
Les Baux-de-Provence is one of Provence's iconic hilltop villages. It is as equally stunning from a distance, as it is wandering through the tiny narrow streets.
A view of Les Baux-de-Provence
Little alleyways leading off winding flights of steps. Window boxes overflowing with colour and tiny shop doorways welcoming in visitors. I would advise visiting early, this pretty village can get very busy.
In the foothills below all around the surrounding countryside are olive groves, it is so picturesque.
Cucuron is another one of my favourite villages and if you've seen the film "A Good Year", you'll probably recognise it.
Cucuron village itself is reasonably small, and only has a population of around 1,900 people. However, when you walk into the main square, you are greeted with the Bassin de l'étang.
The Bassin de l'étang in Cucuron
I can only describe it as a huge rectangular pond, it dates from the beginning of the 14th century, and it is incredible. People are perched on the edge chatting with friends just passing the time of day. We had a lovely lunch sitting at a pondside table, celebrating Gary's birthday.
across the Provencal countryside.
The village is so picturesque, stroll through the narrow winding alleys and treat yourself to a bag of Herbes de Provence, as a little memory to take home.
La Renaissance restaurant in Gordes
Like Les Baux-de-Provence, Gordes can also get rather busy so again try and arrive early in the morning or late afternoon. Once again, you may recognise it from the movie "A Good Year".
Venasque is perched high on a rocky outcrop, and I'm trying not to sound too repetitive but, this is another lovely village. It was chosen as one of France's Most Beautiful Villages (Les Plus Beaux Villages).
When we visited late one afternoon, the streets were almost deserted. It was wonderful just strolling along the lanes, peeking around different corners and enjoying the peaceful village life.
Ahh, Cassis, this is a little different from the other villages I've mentioned, as it is on the coastline of the Mediterranean Sea. Cassis is only around 16 miles (26km) east of Marseille and most certainly worth a visit.
Arriving at Cassis harbour
It's a lovely harbour town to stroll around and such a pleasure to promenade around the bay. Cassis is nestled at the bottom of the cliffs, so its harbour and inlets are protected from the elements.
A large part of the enjoyment of touring Provence is the incredible scenery. As you drive across the open countryside, it just puts a smile on your face. Passing from village to village and seeing the ochre-coloured cliffs in the distance.
The view over the landscape from Bonnieux
Bonnieux is another iconic hilltop village in Provence dating back to the Romans. Bonnieux sits on the Luberon hills and has some magnificent views across the open landscape below.
However, just close by here is the Pont Julien (Julian Bridge). This you have to go and visit, the Roman stone arch bridge dates from 3 BC and was still in use for light traffic until Spring 2005.
We love embarking on road trips, so our preferred mode of transport is always jumping in a car. We find it's the best way to discover a country.
Discover more of Provence on a road trip like us, Rental Cars searches multiple well-known car hire brands and discovers the deals that suit you the best.
Unmissable sights around Provence
Well if you've made it to Provence, you really must visit the UNESCO World Heritage Site of Pont du Gard. It's only around 14 miles (25km) from Nîmes, and this bridge is breath-taking. It's such an incredible feat of Roman Engineering.
Pont du Gard was built to allow the aqueduct of Nîmes to cross the Gard river. Although it's not just a simple bridge, it is built across three levels and stands 50 metres high. You can even take a stroll across it.
The Camargue on the Mediterranean coast is a beautiful natural region in southern France and just a short hop from Arles.
Flamingos wading in the Camargue
The fleur de sel that you see for sale around Provence villages is obtained from the salt pans here. As you drive around the wetlands, you'll see the ancient breed of Camargue horses, flamingos, rice paddies and also herds of fighting bulls.
The bulls of the Camargue
It's a perfect area to visit and a lovely contrast to other parts of the region.
If you're staying in Arles and would love to discover the Camargue, join the 4x4 Safari that Get Your Guide offer.
You'll spend a very memorable four hours with your own personal guide.
You have various options when visiting Provence if you're travelling from the UK. Firstly, you can jump in your car and hop on Le Shuttle and head south, this is our preferred option.
Also, you have the choice of letting Eurostar take the strain. You can catch a train from London St Pancras International direct to Avignon. How good is that?
Alternatively, if you are flying in, head direct to Marseille Provence Airport, this is also a great option for travellers visiting from further afield. Why not check out Rental Cars, as they search multiple well-known car hire brands for the best deals.
* This post may contain links to affiliated sites where we earn a small commission at no additional charge to you.
Inspired to visit Provence?
Like us, why not base yourself at Saint-Rémy-de-Provence, it has everything?
Search for your flights in one easy place with
ebookers.com
and open up a world of options. Over 400 airlines are scanned for your favoured routes and chosen dates.
(Why not Pin It for Later?)
If you enjoy what you see, and you'd like regular updates then join us for a monthly newsletter.