by Janis /
6 comments
- Orginally published:24th September 2019
Bubbles in the "Garden of England"
A taste English sparkling wine
For a few decades now Kent in southeast England has been making a name for itself in the wine world and in particular the sparkling wine one.
Even French Champagne houses are starting to show an interest in this little corner of England that is gradually experiencing 'plus de soleil'.
Why not Pin it for later?
Where is Chapel Down?
and how to get there
The Chapel Down Winery is best reached by car, the public transport options are limited, and maybe unrealistic.
If coming via motorway, then my choice would be to leave the M20 at junction 8 and follow the signs for Tenterden. The vineyard is about 2.5 miles from there and clearly signposted.
A perfect vineyard location in Kent
Chapel Down nestled in the hamlet of New Hythe
Chapel Down vineyard is deep in the heart of the Kent countryside and located just outside Tenterden in the hamlet of Small Hythe. Is this important I hear you ask, well actually it is, as this was one of the reasons that this location was chosen.
Waaay back, prior to the "South of England Flood" in 1287, Small Hythe was a harbour and Tenterden was a Cinque Port, (now the sea is 11 miles away).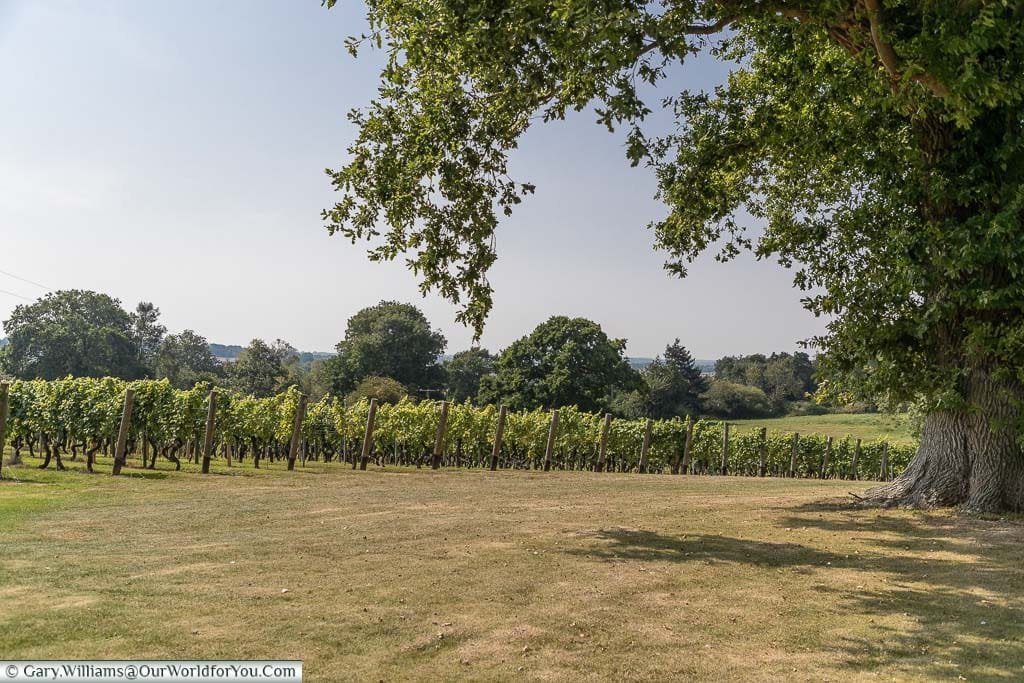 Countryside in Small Hythe, Kent
Standing at the top of the vineyards, a breeze blows up across the Kent countryside from where the harbour was once located, sending the vines all aflutter. All the while, the outstretched talons underground weave their way deep through the chalky soil, another essential element that vines thrive upon.
- The Woolpack Hotel – Located in the centre of Tenterden, this historic inn offers delightful rooms within traditional surroundings. A delicious full English breakfast is included in the price. - The White Lion – Situated along the traditional historic High Street, the White Lion offers stylish, comfortable rooms. It has an in-house restaurant and free on-site parking.
Bacchus vineyard in Chapel Down
The Chapel Down vineyard tour
The do's and don't of your wine tasting experience
I've digressed a bit, now back to the Chapel Down tour.
Prompt and ready to impart his extensive viticulture knowledge to us all, is our cheery tour guide, Tony.
Tony gives us a brief run-down of the do's and don'ts of a working vineyard, then kindly handouts out our haute couture orange gilets.
Perfect location for strolling
Janis in her Chapel Down gilet
Off we go to our first field of vines, passing by the fragrant herb garden which also doubles as a tranquil wedding location. 
Herb garden and wedding venue
As I see the sweeping Bacchus vineyards flowing down the hill, I'm immediately transported back to the rolling patchwork quilt vineyards in France.
It's such a lovely sight.
If you're also considering heading to France, take a peek at our 
Champagne road trip
 posts, to find out where we visited.
Whether you're planning a road trip, plotting a hiking route or cycling one of UK's scenic trails, there's nothing quite like using a tactile paper map.
The Ordnance Survey folk are here to help, with maps, guides, gadgets and more. Take a browse through their vast array of maps and grab your ideal companion for your adventure.
The art of making English wine
It's all in the detail
Tony starts with explaining about the history of Chapel Down vineyards, how the venture all started, why Tenterden was chosen as the initial location. Its development since the 1970s and where the business is today.  
Tony, our Chapel Down tour guide.
Tony then guides us around part of the lush Bacchus vines which were planted in 1987.
Explaining in more detail the process of planting and maintaining the vineyard.
Several of the vines are now knocking on to 30 to 40 years old, and like me are maturing pleasantly with age.
1987 Bacchus vines in Chapel Down
Kentish through and through
The importance of the terroir
As the delightful English wines of Chapel Down have become more and more sought after, further locations around the southeast were scouted, for the ideal growing conditions. One of which was Eccles/Bluebell Hill in Kent and these are the vineyards which we are very familiar with. As they are literally down the end of our lane.
Kits Coty vineyard from the air
So, to show our love and support to the local venture, we decided to have a vested interest and purchased a few of their shares. One of the perks is that you get discounted wines, but, additionally, two of you also get to go on a Chapel Down wine tasting tour. And this is why we are here today.
Looking along the vines at Kits Coty
The grapes are ripe for harvesting
It's all hands on deck when September arrives
Chapel Down vineyards grow various grape varieties to allow them to produce different styles of wine. Our next stop was to one of their Chardonnay vineyards, which was planted out in 2004.
Grapes capturing the full sun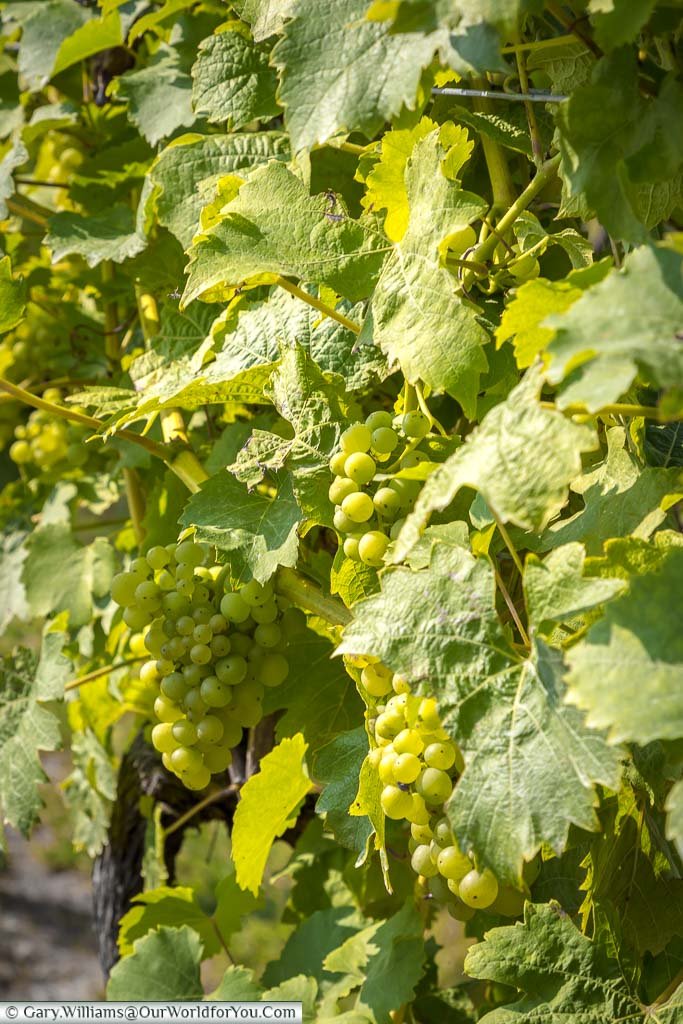 Bacchus vines nearly ready for harvesting
The vines at Chapel Down are planted from north to south, to allow maximum sunshine to the grapes and vines as the sun passes over east to west.
We visited towards the end of August, so the grapes were in abundance and very near their ripening peak. The harvest for 2019 is due to be gathered during the first two weeks of September.
Visit some of Kent's Historic Towns, Villages & Cities
Kent is not short of picturesque historic towns & villages,  Why not check out our posts on those we've visited with tips & inspiration to get the most out of your visit?
Behind the scenes at Chapel Down
Where the vinification magic begins
Continuing on with our 'behind the scenes' tour, Tony then leads us into the pressing room. Gone are the days when you squelched the grapes through your toes, the stainless-steel grape press machines were huge and held thousands of tons.
A grape press ready for the big day
Once pressed for their juices, the grapes aren't discarded, they are then distilled and used to produce Chapel Down's spirits. They are Chapel Down Bacchus Gin, Pinot Noir Gin and Chapel Down Chardonnay Vodka. I think I may have to sample the gins as well soon; it would be rude, not too.
Tony explaining the winemaking processes
The art of riddling sparkling wine
In France it's remuage
Tony then guides us into a converted barn and explains to us the art of 'riddling' or if you're French 'remuage'. This is a process of slowly rotating a filled sparkling wine bottle, which is placed at an angle. The sediment gradually releases into the neck of the bottle. The bottle is then cooled to a temperature where the residue freezes, and then cleverly removed from the bottle and resealed, et voila.
Manually riddling sparkling wine
French oak barrels for Kits Coty Coeur de Cuvée
Chapel Down's Kits Coty Coeur de Cuvée is the only one of their wines which is partially fermented in French oak barrels. This gives the wine a delicate toasting flavour from the seven months spent in the traditionally made oak barrels.
Would you like to tour the beautiful English countryside and discover the ancient castles and little villages dotted around Kent for yourself? You can do it all on a road trip, 
Rental Cars
 searches multiple well-known car hire brands and discovers the deals that suit you the best.
The Chapel Down 'Wine Sanctuary'
In view of the rolling vineyards
Now that we have all been educated in the art of wine growing and production, it was time to head to the 'Wine Sanctuary' and enjoy a few samples.
The Wine Sanctuary is an old converted farm building, which now houses a bar, communal and separate tasting tables. All of which have a glorious view over the vineyards and the Kent countryside beyond.
The Chapel Down bar in the Wine Sanctuary
Chapel Down mainly specialises in producing white wines, sparkling and non-sparkling. Though their delicate range of rosé wines are wonderful.
They no longer produce red wines as the soil and climate in the UK, is better for lighter reds and apparently, market forces tended to desire full-bodied reds. I must admit I do enjoy a light red, particularly when it is slightly chilled. But, hey ho, what do I know?
View from the Wine Sanctuary
Tony imparted an additional snippet of knowledge to us that, unbeknown to Chapel Down, William and Kate chose the Rosé Brut for their wedding reception in 2011.
It's time to taste the Kentish wines
Enjoying the delicate notes and tones
Now for the tasting, our first wine was the still Bacchus.
Tony then proceeded to give us a masterclass in the art of smelling and tasting a glass of wine.
It's incredible when you sample the wine intending to pick up the notes and flavours, you really get so much more from a glass of wine.
It also gives you an understanding of how your palate works by picking up different tones to the wine.
Get me, who do I think I sound like, I'll be giving Oz Clarke a run for his money soon.
Seven Chapel Down wines to sample
White, rosé, sparkling and non-sparkling
Tony then talked us through tasting a further six wines, we had a mixture of white and rosé, sparkling and non-sparkling. All of which was interesting and delightful to taste, but of course, depending on what you were pairing them with, you would need to be more precise in your choice.
The notes and tones of each wine
We were given a leaflet on all the wines we tasted and others available, educating us a little further on the flavours involved.
I must say that this tour was extremely informative and easy going. Gary and I have enjoyed a few wine tours over the last two or three years and found this to be the best in terms of knowledge and variety of tastings.
Tasting the English Rose - rosé wine
I know we had this tour as part of a shareholder's benefit; however, at £20pp for the tour, I think it was excellent value. The length of the visit was meant to be for 1 hour 45 minutes, though ours lasted 2 hours. The other point I will make is that there was no pressure whatsoever to buy any wines. It was your choice if you wandered back through the shop.
The tour is certainly worthwhile, although, if you just want to visit the vineyard it's a lovely place to wander around. There are two signposted walks through the vineyards the 'Blue Walk' which is 0.62km/0.39 miles and the 'Red Walk' which is 1.02km/0.63 miles.
Additionally, there is the onsite Swan Restaurant and picnic area for you to enjoy.
Did someone say Chapel Down gin?
Let's not forget the vodka and Lamberhurst Brandy too
In the vineyard shop, you can purchase all things Chapel Down and other carefully selected products from local artisan producers, as well as all kinds of wine paraphernalia.
As mentioned a little earlier, Chapel Down additionally produce spirits; currently, they have two gins, a vodka and a Lamberhurst Brandy.
If you head to the Chapel Down Gin Works & Restaurant, just by the Regent's Canal in Kings Cross, London you'll be able to sample the gin and vodka on the Spirits Tasting tour.
- 2021 Pricing; Adult £20.00, Concessions £15 - There is a sizeable onsite carpark, which is free of charge - You'll need to choose a designated driver. - Ideally wear comfy shoes, the walking segment isn't too long; however, the ground is uneven in places. - It's advisable to book your tour in advance
Picnic area in Chapel Down
* This post may contain links to affiliated sites where we earn a small commission at no additional charge to you.
Thanks very much, Gary will be pleased. I drew the short straw and was the designated driver this time.

This looks like a lovely day out in the Kentish countryside. Not too far from us so we'll have to drop by for a tasting.
Have you been to Rathfinny in East Sussex?

No, we haven't I'll keep a look out for Rathfinny. The Chapel Down tour was really interesting and it was also lovely as there was no pressure on you to purchase any wine at the end.

Doing the wind tour this weekend, trying to arrange a taxi for collection, so was wondering how long the tour , and tasting lasts, as I don't want to be rushing off ?
Many thanks

Hi Andrew,

The tour and tasting took about 2 hours; however, you are able to stroll around the vineyard paths and also stay for food and drinks in their restaurant if you wish.

Have fun, it's a lovely tour.

Janis