by Janis /
0 comments
- Orginally published:17th August 2021
Discover Eynsford's ancient history and take a paddle in the ford
When Gary and I recently visited the village of Eynsford in Kent, it was like strolling down memory lane for both of us. Separately as children, we were taken to Eynsford by our respective parents to the quaint, historic village.

Although at the time, I don't believe it was the charming, characterful architecture that was luring us in. It was most certainly the fun to be had at the riverside ford.

Today when I see Eynsford through the eyes of an adult, I see a picture postcard setting with a charming medieval hump-back bridge straddling the River Darent. However, as a child, I couldn't wait to run to the ford and splash my feet around and venture under the dark narrow bridge to discover what lurks beyond.
Why not Pin it for later?
Eynsford ford and St Martin's Church
By Train - You can catch a train from London Victoria to Eynsford Station, which takes around 45 minutes. Eynsford Station is about ½ mile (800m) from Eynsford village centre, so about a 10–15-minute walk.
By Car - Eynsford can be easily accessed from the M25 (jct. 3) and M20 (jct. 1). There's a free car park in the centre of the village opposite St Martin of Tours Church.
The ford at Eynsford
Don't forget to bring your fishing net
Fast forward forty-odd years, and children are still having the same enjoyment in the English sunshine. The simple things in life are often the best. Kids were tightly clutching their brightly coloured fishing nets, hoping that they would be the one to catch the elusive little tiddlers flitting around the edges of the riverbanks.
Enjoying Eynsford ford
The delightful ford makes for such an idyllic scene.  The Tudor timber-framed cottages overlook the riverside and the ancient single lane stone bridge masking the transition of time. If it wasn't for our modern-day comforts and needs, you'd believe you were in another era.
Spoiling the fun
Eynsford bridge is only used for cars and pedestrians. If a tractor or a lorry arrives, they are going for a swim. They temporarily halt the fun of the frolicking children. But no sooner the vehicle passes through, and the enjoyment resumes.
Eynsford country charm
In the heart of Darent Valley
Don't be mistaken into believing that Eynsford is all about the River Darent; even before you've visited the ford, you'll discover how attractive the village is itself.
Eynsford High Street
Eynsford is surprisingly only 2 to 3 miles from the M25, but it feels like you are deep in the heart of Kent and still retains its country charm. Eynsford, along with its neighbouring villages, is nestled within the Darent Valley.
Eynsford village sign
St Martin's Church from Eynsford bridge
The lush Darent Valley forms part of the Kent Downs, an Area of Outstanding National Beauty (AONB). If you'd like to explore more of the Kent Downs, take a look at our road trip around the AONB region.

We've also created a post on the historic village of Farningham just 1 ½ mile along the road.
If you're intrigued by Kent's weird and wonderful history, or all unusual stories around the county, then take a peek at "Kent's Strangest Tales".
You won't be able to put it down, you can pick it up for your Kindle or in good old paperback.
Eynsford Castle
Explore the rare stone curtain
There's plenty of ancient history to be found within the surrounding Darent region; Eynsford itself can retrace its past back to 864 AD during the Anglo-Saxon period. Prior to its mentioning in the Domesday Book of 1086.
Eynsford Castle, a rare enclosure castle
Just off the central High Street in Eynsford by the village hall is Eynsford Castle. This rare surviving early Norman 'enclosure castle' was constructed in the late 1080s by William de Eynsford.

As centuries passed and its inheritance was disputed over, Eynsford Castle fell into disrepair and ruin. Although there are significant sections of the impressive stone curtain wall that can still be seen.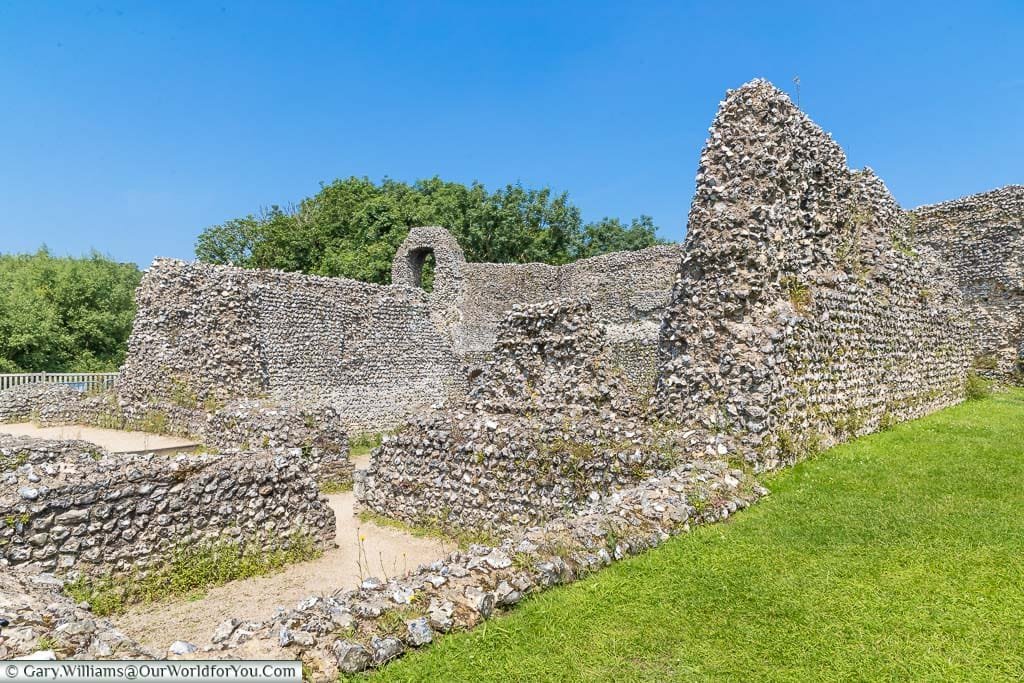 Inside Eynsford Castle
Eynsford Castle is now managed by English Heritage and is one of their sites that is free to visit and so peaceful to stroll around. You can see wonderful views of the Darent Valley and beyond.

Nearby Eynsford is the Lullingstone Roman villa, which was constructed during the late 1st century. The Roman Villa is also managed by English Heritage, and there is a charge to visit.
Hiking the Kent Countryside
Farningham and Eynsford are located along the Darent Valley. They are just north of the North Downs (AONB), an Area of Outstanding Natural Beauty. To explore the hiking trails in this region of Kent, the Ordnance Survey maps that will help you along the route is
no. 162, 'Greenwich & Gravesend'
and
no. 147, 'Sevenoaks & Tonbridge
'.
Eynsford's picturesque High Street
Discover the beautiful flint cottages
As you stroll along Eynsford High Street, there are beautiful timber-framed, and white weatherboarded cottages dotted all the way through. This region of Kent is renowned for its flint, so you'll notice there are some striking examples of how this stonework blends with its surroundings.
Eynsford War Memorial
Willow Cottage - Eynsford
The main route through Eynsford can get a little busy at times but don't let it distract you from its quaintness and charm. It truly is a village that has stood the test of time.
Eynsford's population has grown over the years; however, it still feels like it retains a strong sense of community. Norman's traditional family butchers and Rafferty's Village Store certainly look like they could divulge a tale or two.
Norman's Butchers
Rafferty's Village Store
Just along by Eynsford's ford, you can enjoy tea and cake by the riverside or grab yourself a mouthwatering ice-cream. If you're feeling lucky, pick up a fishing net at Bridgehouse Newsagents and try catching your evening dinner (only kidding).
Are you looking for that 'perfick' holiday hideaway to relax in while you discover the Garden of England?
After a day exploring the Kent coast and its many historic castles enjoy one of the handpicked properties and unique retreats at Holiday Cottages.
The legacies of William de Eynsford
He certainly made a name for himself, in more ways than one
In the centre of the village is the Church of St Martin. It was built during the 11th & 12th-centuries out of local Kent flint and stone. Various parts of the church were then continually added to over the centuries.

You know me, I never miss an opportunity to have a wander around a churchyard.
St Martin's Church at Eynsford
The land of Eynsford was given to one of William the Conqueror's Norman Knights (Unspac), once William of Normandy was crowned King of England in 1066.

Unspac's son (Ralf) proceeded to have Eynsford Castle and the St Martin's Church built and named himself William de Eynsford out of respect for his King.
It is believed that Thomas Becket is reputed to have excommunicated William de Eynsford. This was cancelled by King Henry II and fuelled the quarrel that led to Becket's murder in 1170 in
Canterbury Cathedral
.
-
Castle Hotel
– Is in the delightful neighbouring village of Eynsford. It is located in the heart of the village, with Eynsford Castle opposite. The rooms are beautifully decorated, and if you are driving, they have an onsite free car park.
The thirsty villagers of Eynsford
Have a choice of four inns
Like Eynsford's neighbouring village of Farningham along the road, it also has its fair share of pubs. They must have been a pretty thirsty bunch in this part of Kent.
The Castle Hotel
The four pubs and inns at Eynsford are The Castle Hotel, originally named the Harrow Inn and first mentioned in 1829. It was later owned by Elliott Till of Eynsford and was a teetotaller; he decreed that only one alcoholic drink per person per day was to be served. The brewery was not happy with this decision and took him to the high court. The Castle Hotel is now a Shepherd Neame pub.
Just a few doors down is The Five Bells Inn; the earliest record of this building is 1745. The Five Bells serves the local community in a relaxed atmosphere. In the winter months, you can enjoy an ale around their wood-burning fire.
The Malt Shovel
At the other end of the High Street heading south out of the village is The Malt Shovel. This welcoming timber-framed old inn offers a selection of local beer and serves food seven days a week.
The charming and often bustling riverside pub in Eynsford is The Plough Inn, located nearby the ford along the River Darent. A wide selection of cuisines is served at The Plough; you'll be spoilt for choice, but make sure you save room for a scrumptious dessert.
Eynsford's bohemian lodgers
The composers E.J. Moeran and Peter Warlock
Keep a lookout for the blue plaque on the little cottage with the blue door next to Rafferty's Village Store. This quaint stone cottage was rented by the composers E.J. Moeran and Peter Warlock (Philip Arnold Heseltine).
A commemorative plaque
I'm not really too sure that they were welcomed by the locals in the village, as they regularly held wild, drunken parties. It is believed that Warlock would ride naked through the village on his motorbike.
Things to see and do nearby Eynsford
* This post may contain links to affiliated sites where we earn a small commission at no additional charge to you.