by Janis /
2 comments
- Orginally published:10th December 2021
Christmas is such a magical time of year to visit Germany, and the elegant city of Münster glistens so beautifully during the festive season. Six enchanting Christmas markets weave their way amongst the cobbled streets, leaving a twinkling trail of joy.

The gabled houses along Prinzipalmarkt are transformed into a garland paradise, and Münster's striking Rathaus and Stadtweinhaus radiate a warm, majestic presence.

Münster's six Christmas markets are all charmingly distinctive in their own festive way. Each offers a gorgeous selection of unique gifts within an enjoyable, friendly atmosphere and a mighty fine choice of aromatic glühwein.
Why not Pin it for later?
- By Car
If you're venturing from the UK, jump on Le Shuttle and tour Germany under your own steam.
Alternatively, it's so easy to visit on a road trip. Rental Cars searches multiple well-known car hire brands and discovers the deals that suit you the best.
- By Air
Start creating your own German Christmas market adventure and discover festive treats amongst the charming city streets.
Search for your flights in one easy place with ebookers.com. Over 400 airlines are scanned for your favoured routes and chosen dates.
A German Christmas market to remember
Festive fun for all the family
Münster offers such a memorable Christmas market experience whether you're young or old; everyone is welcome. If it's the heart-warming melodies of a traditional brass band that you love or watching your children having the time of their life on an illuminated carousel, Münster is perfect.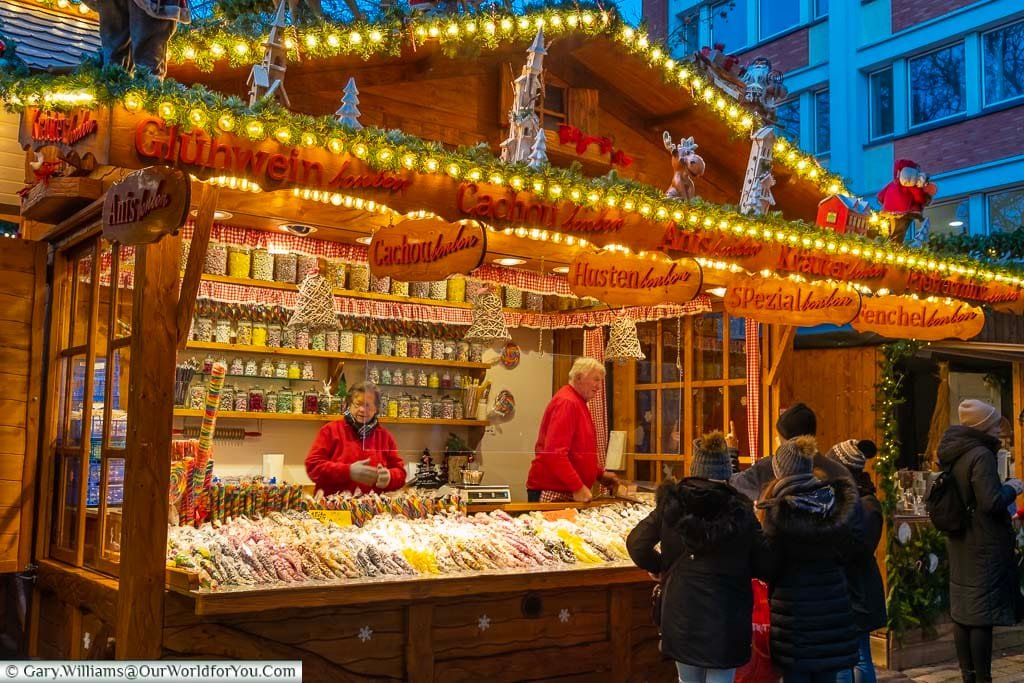 Sweet treats at Münster
With 300 stalls to explore offering unique gifts and an abundance of local fare to be indulged upon, you're going to need to treat yourself to a couple of nights stay.

The heartening effect that the whole Christmas market experience has on the senses will remain with you forever. Street vendors are roasting fresh chestnuts, the sight of rows and rows of flame-grilled bratwurst and of course, the tempting aroma of a mug of steaming hot glühwein.

Go on, there's nothing quite like immersing yourself in German culture than experiencing it first-hand amongst the locals. I don't think Gary and I will ever tire of visiting the Christmas markets in Germany.
Giebelhüüskesmarkt glühwein
Exploring Münster's Yuletide markets
Lights Market St. Lamberti
Sitting at the feet of the towering St Lamberti Church and nestled alongside Münster's magnificent twinkling Christmas tree is the Lights Market St. Lamberti.

All around the enchanting square are charming blue and white gabled cabins offering a varied selection of handmade gifts, sweet treats, and heart-warming hot chocolate.
Lights Market St. Lamberti
Delightful stalls at Lights Market St. Lamberti
As you stroll around the St Lamberti Christmas market, all you want to do is keep smiling, as the joyful atmosphere and the laughter amongst friends and families is infectious.
The cosy and colourful woolly hats and scarves are incredibly tempting, and that's before we're lured in by the aroma of bratwurst and glühwein.
The backdrop to this market is incredible, especially as the evening draws in and St Lamberti is illuminated. This church has a gruesome tale to tell, as hanging on the side of the tower are three iron cages. During the mid-16th-century, Anabaptists tried unsuccessfully to convert Münster from Catholicism to Protestantism. Their tortured and murdered bodies were hung on display to warn others.
Ceramic gifts at Lights Market St. Lamberti
Münster's Weihnachtsmarkt
Christmas Market around the Town Hall
Münster's oldest and largest Christmas market is located around the Rathaus and the Old Town Hall's inner courtyard. A blanket of glistening fairy-lights envelops you from above while you're meandering through the Weihnachtsmarkt, seeking out the perfect artisan gifts.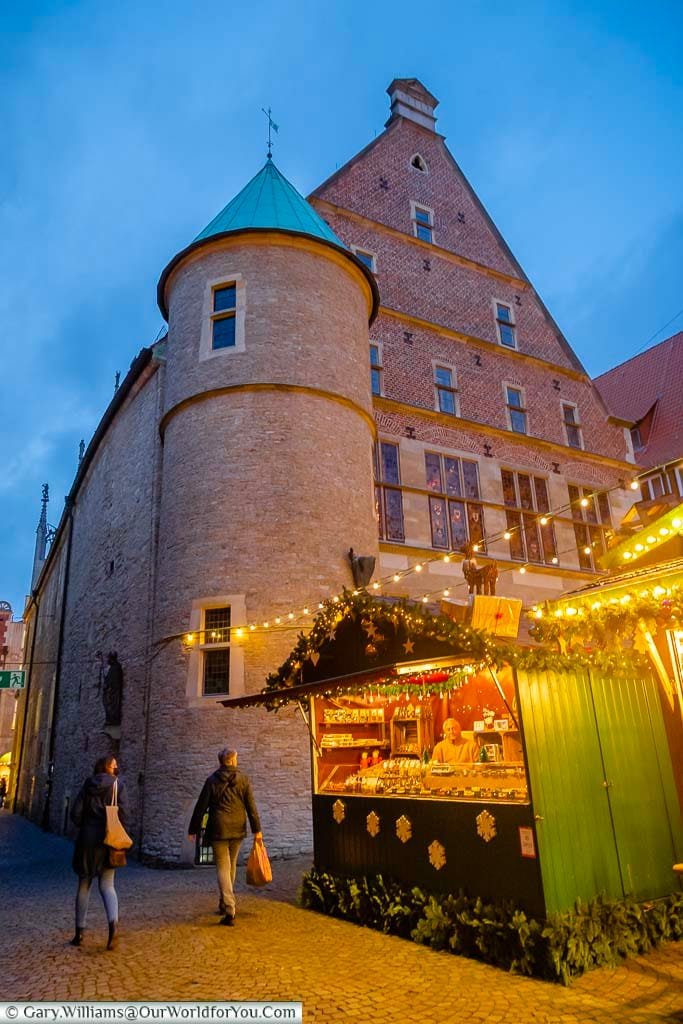 The rear of Münster's Rathaus
The front of Münster's Rathaus
The Old Town Hall market has a lovely atmosphere. The yuletide wooden cabins are such a delight to wander around. The sparkling festive detail on the roof tops brings the market alive with teetering reindeer overhead, waiting for Santa to complete his deliveries.
Gifts for everyone
There's a wonderful mixture of stalls in the Rathaus market; you'll find handmade gifts and crafts, intricate jewellery, and eye-catching Christmas decorations.
Interspersed between the festive huts offering gifts are plenty of food and drink stalls tempting you with mouth-watering aromas. The sticky chocolate coated nuts are my particular favourite; however, the savoury choices take some beating.
Münster's Town Hall market
If you're tempted to visit Münster, the local tourist office provides some extremely useful information and handy pointers for around each city.

You can also download a Christmas Market map from Münster Tourism.
Strolling around Giebelhüüskesmarkt
Münster newest addition
The Christmas market around Überwasserkirche is one of the prettiest of Münster's markets. The church is also known as Liebfrauen-Überwasser, and the name means "church beyond the water", and yes, you cross a narrow river to get there.
Entrance to Giebelhüüskesmarkt
The welcoming little Christmas cabins at Giebelhüüskesmarkt are nestled along the medieval walls of the church and create such a beautiful setting. This particular Christmas market was one of my favourites; I loved the enchanting atmosphere and the delightful wooden huts throughout.
Choosing the perfect gift
Once again, there are so many unique and charming gifts to buy, local produce to tempt your tastebuds and scented candles that lure you to an evening by an open fire. And of course, it would have been very impolite of us if we didn't stop for a glühwein or two.
Glühwein stall at Giebelhüüskesmarkt
I love nothing more than planning a trip and so often I use the DK Eyewitness books.  I find them extremely informative, easy to follow and the pictures and maps tempt you into discovering more.
We used a previous version of this book to plan our Germany road trips, now you can grab the revised copy.
Christmas Village around Kiepenkerl
Discover the Westphalian specialities
The next delightful Yuletide market in Münster is the Christmas Village around Kiepenkerl. The charming little market with its sparkling Christmas tree is positioned by some stunning gabled and half-timbered houses. It creates such an attractive setting around the Kiepenkerl statue and fountain.
Kiepenkerl Christmas village
Even though this market is relatively small, it has a lovely cosy atmosphere. Like any German Christmas market, a joyous wave of festive fun descends when the sun begins to set.
Metalcraft stall
We visited the Kiepenkerl market a couple of times. They had some unusual handicrafts, Westphalian specialities and an unusual glühwein. The glühwein here was served not only in the traditional local mugs, but it had almonds and raisins too.
Local Westphalian produce
Visit St Paulus Dom: - get your timing right to hear the Astronomical clock chime
Feel History in the "Hall of peace"
Take in some culture at the LWL Museum, the Kunstmuseum Pablo Picasso or the Stadtmuseum Münster
Don't forget to listen out for the Tower Keeper at St. Lamberti.
If the weather's fine, head to Aasee Park
Enjoy Münster X-MS Christmas Market
Visit Aegidii Christmas Market
Last but by no means least is the X-MS Christmas Market on Harsewinkelplatz and the Aegidii-Weihnachtsmarkt in Aegidiimarkt plaza.
Kirschensäule in X-MS Christmas Market
The X-MS Christmas Market is located just by the "Kirschensäule" (Cherry Column) sculpture by Thomas Schütte. This charming, friendly market prides itself on being regional and sustainable. There are some delicious foodie delights here, including hearty soups, organic snacks, and artisan coffees.
At X-MS Christmas Market, you can also treat yourself to some unique pieces of art, delightful handmade crafts and locally produced preserves and liqueurs.
X-MS Christmas Market
The Aegidii Christmas Market is ideal for all the family, young and old, as nobody is left out at Germany's Christmas markets. In the Aegidii market, amongst the overflowing festive stalls, you'll discover a towering wooden Christmas pyramid and a traditional nativity scene.
Strolling Prinzipalmarkt
Putting on the style is Münster
The Prinzipalmarkt just exudes elegance; one after another, the stylish gabled topped buildings stretch as far as the eye can see. At Christmas time, the marketplace is pedestrianised and allows you to appreciate the enchanting street in its full glory.

During the festive season, every arch that runs the length of the Prinzipalmarkt has a beautiful, illuminated Christmas garland. These decorative wreaths replace the exquisite historical lamps that hang in their place, depicting notable events in Münster's past.
Prinzipalmarkt
Along this stylish street, you'll discover Münster's Rathaus, which is home to the 'Hall of Peace'. It's here that the Spanish-Dutch Peace Treaty was ratified in May 1648. In October of the same year, the Thirty Years' War ended with the signing the Peace of Westphalia.

Not to be outshone, located next to the Rathaus is the magnificent Stadtweinhaus, Münster's city wine store.
Stadtweinhaus
Christmas Wreaths
The city of Münster has a very unusual tradition, and that's the sounding of the Tower Keeper's horn at the top of St Lamberti Church tower. The custom has taken place for over 630 years; today, the honour is undertaken by Martje Salje, the first lady to hold the role.

Each evening, except Tuesday, the Tower Keeper blows the horn in the direction of north, south and west at 9pm until midnight, every 30 minutes. As long as there isn't anything untoward, Martje sounds the all-clear toot, that the city of Münster is free from fires or enemies beyond.

So, ensure you head to the northern end of Prinzipalmarkt from 9 pm and listen out for Martje.
St. Lamberti
To ensure that you make the most of your Münster mini-break, why not stay for a couple of nights?
Discover Münster's fascinating historical past and the delightful museums in this beautiful German city.
Eating at Münster Christmas markets
Enjoying the festive tipples
There is such an appealing selection of food and drink at Münster's markets you are spoilt for choice. Whether you enjoy sweet or savoury, the array of cuisine is incredible. The speciality of Germany is undoubtedly sausages, and the bratwurst and currywurst didn't disappoint.

Although at Münster's Rathaus market we stumbled across a Münsterland specialty at 'Grillschinken'. Rotisserie ham was served in a roll with kraut salad and remoulade sauce; it was delicious.
Rotisserie ham
Throughout the market, dishes are tempting you like báckfisch, kebabs, flammkuchen and reibekuchen. However, there appears to be an even more extensive choice for anyone with a sweet tooth.

There are crepes, waffles, strudel, chocolate dipped fruit, gingerbread, sweet dumplings, and chocolate nuts. I'm sure there were more, and honestly, it was just the apple strudel I indulged in.
Apple strudel
No Christmas market would be complete if you didn't sample the glühwein, and Münster's were pretty good. Rather than the regular red or white glühwein, they spiced it up a bit, which made a pleasant change. As I mentioned at the Kiepenkerl Christmas village, they added almonds and raisins to theirs; once you reached the bottom of the mug, it was quite a feast.
In Münster, the red and white glühwein's were €3 each, and the deposit on the festive mug was €2.
Glühwein at Lights Market St. Lamberti
Our video of Münster's Christmas Markets
The festivities through our eyes
We have created a little YouTube video of Münster at Christmas.  Why not take a look?
Also, why not subscribe to our YouTube channel and get the latest clips as we post them?
Where we stayed in Münster
A hotel with a quirky modern twist
During our Christmas stay in Münster, we were hosted by Factory Hotel.

The Factory Hotel offers a rustic modern twist within the heritage-listed walls of a former Germania Brewery. The exposed terracotta-coloured bricks and steel railings add an urban, contemporary feel to the friendly and quirky hotel.
Factory Hotel – renovated from an old brewery
Factory Hotel entrance
The staff were very accommodating and friendly, and they allowed us to check in to our room early. The hotel adhered strictly to the 2G COVID rules, and everything was very clean throughout.
The Factory Hotel is located around 1.5 miles (2.5km) from Münster Old Town. The hotel is on bus routes no. 15 and 16 and is about a 20-minute journey into the city centre. The bus fare is €3.30 each way or €12 for a day ticket. A taxi is around €12.
Our room at the Factory Hotel
Our bedroom was very comfortable, clean, had suitable lighting and an outdoor balcony. The desk area was a reasonable size, allowing us to set up our charging station and work on the laptop. The rooms also had plenty of electricity points which was a plus.

The bathroom was spacious, had a large modern walk-in shower, and provided Naturals Remedies toiletries made from plant-based ingredients.
Factory Hotel foyer
There was a wide variety of food and drinks for breakfast, and all were served in a very light and airy location. The food was constantly being replenished, and there were ample coffee, tea and fruit juices.

We visited Münster as part of a Christmas market road trip, so the underground car park was perfect and reasonable at €8 per day.
Everyone we interacted with at this hotel was friendly, polite, and helpful. A pleasurable experience.
The bedroom was clean, comfortable, and very peaceful.
A full continental breakfast with a wide selection to cater for all needs in a light and spacious dining area.
We were able to get 126mbps download speed, and 37mbps upload speed in our bedroom.
The hotel is located around 1.5 miles (2.5km) from Münster Old Town, in a reasonably quiet area of the city. The convenient bus route is no. 15 and 16 and is about a 20-minute journey.
The car park is directly under the hotel, the spaces are reasonably sized, and a daily charge applies.
This article was produced in partnership with Stadt Muenster in exchange for an honest review and an account of our personal experiences.
* This post may contain links to affiliated sites where we earn a small commission at no additional charge to you.
Ahh, thank you very much, we loved our visit to Münster, some fascinating history. Do you live there?

I hope your friends enjoy the post too, it may entice them to visit.

Take care