Münster a city of incredible history, a tower keeper and one or two cyclists
In Lambertikirchplatz, Münster
Ahh, Münster, Germany, isn't it wonderful when a charming city lives up to your expectations? and Münster in the Westphalia, did just that?
Attractive gabled buildings along the cobbled street of Prinzipalmarkt, the eye-catching central cathedral, St. Lambert's Church and a beautiful Gothic Rathaus. Ohh, and that was just the start.
Munster, Germany is perfect for a weekend break.
The view from Café 1648, Münster
Places to visit in Münster
With so many tales of ancient history, a rebellion, and the signing of the Treaty of Westphalia, ending the Thirty Years' War in 1648. Gary and I jumped at the chance of joining a 2-hour guided walking tour.
Historical lamps through Münster
Our tour was organised through Münster Marketing with Annette from Stadt-Lupe. Annette, our guide, took us on an incredibly interesting informal tour of Münster. Explaining how the centuries of history, intrigue and turmoil shaped Münster into the friendly city, it is today.
Whether you are located in the heart of Münster or just out of the centre, the
Münster Card
will come in very useful. With unlimited free public transport, we could easily pop into the city. You pick and choose what suits you best, whether you love museums, galleries, guided tours the Münster Card has it all.
Münster City's town hall like in so many others in Germany cities takes pride of place in the heart of the town. Standing elegant and proud, Munster's Rathaus has many stories to tell.
 
The gothic building has been lovingly restored in the 1950s to its original character from the mid-14th-century.
The Münster Rathaus at dusk
The Friedenssaal "Hall of Peace" located within the Rathaus, is the most important room in the historic town hall. It's within these four walls that the Spanish-Dutch Peace Treaty was ratified in May 1648. It's also here in October of the same year that the Thirty Years' War ended with the signing of the Peace of Westphalia.
Original wood panelling in the "Hall of Peace", Münster
The Friedenssaal has been preserved in its original state with portraits of the key figures involved in bringing to an end this awful war. The original wood panelling and seats were returned after being kept in storage during WWII.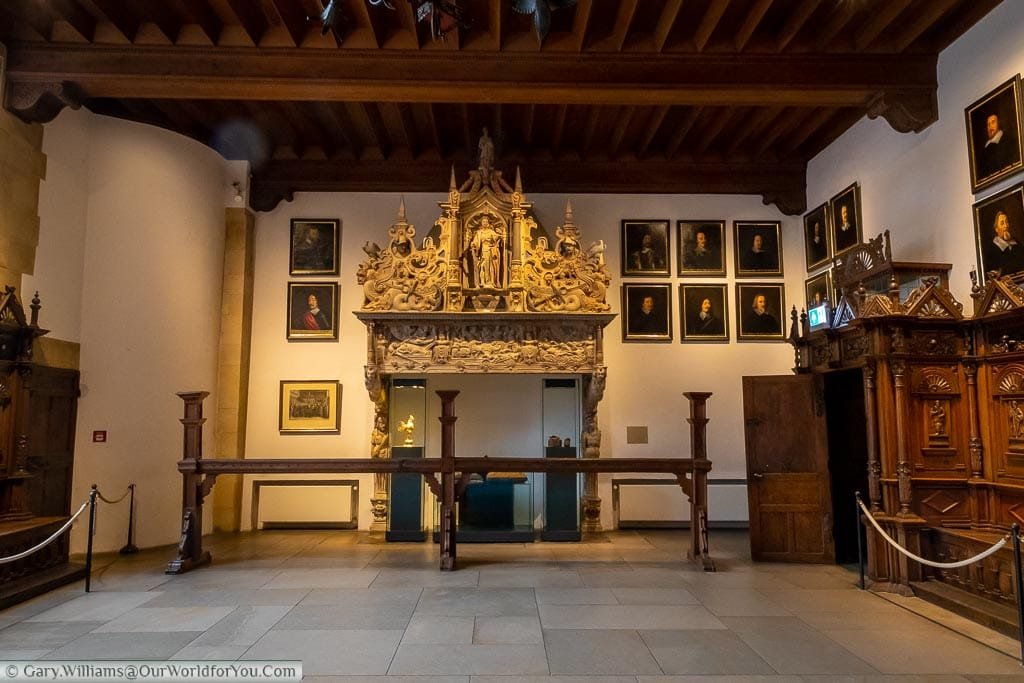 Fireplace inside the "Hall of Peace", Münster
Ensure you book your slot to visit the Friedenssaal it is a spectacular hall. You can enter free of charge with your Münster Card.
The stadtweinhaus, the cities wine store stands pride of place next door to Munster Rathaus. Who can blame them for keeping an eye on it? Restored to its original glory from 1615, the stadtweinhaus house once housed the city scales and wine stores.
Stadtweinhaus on Prinzipalmarkt, Münster
Stadtweinhaus, Münster – city wine store
The external balcony on the wine store was used to make important city announcements.
The prominent St. Paulus Cathedral takes pride of place in the centre of Munster city. It has been restored to its original 13th-century late Romanesque and Gothic style architecture.
St Paulus Dom, Münster
Inside St Paulus Dom, Münster
One of the Dom's unique charms is the 16th-century Astronomical Clock. The magnificent clock chimes at 12 noon every Monday to Saturday and 12:30pm on a Sunday and public holidays.
Astronomical Clock in St Paulus Dom, Münster
It's incredible to watch as the top section revolves depicting the adoration of the magi.
If you're visiting Münster on a Saturday or Wednesday, be sure to head to the traditional morning market located around the base of the Cathedral. Lots of local produce and always the bustling heart of any town or city.
The main street through Münster is the historic Prinzipalmarkt.
Lined with beautiful gabled buildings, this wide road would have always been a busy market street.
Full of locals purchasing their goods from merchants and market traders.
Prinzipalmarkt, Münster
Giving Münster city's Prince Bishop quite a resounding impression that the Münster townsfolk were building their own wealth.
 
Today you can still imagine how this prosperous city would have looked. The arched colonnades have upmarket, stylish stores lining the magnificent buildings, giving a feel of wealth and pride.
Prinzipalmarkt, Münster at night
St. Lamberti and its gruesome tales
At the end of Prinzipalmarkt is St Lamberti Church. At first glance, you may be thinking it looks like many other churches, we particularly thought it had a resemblance to Cologne's beautiful cathedral.
St. Lamberti Church, Münster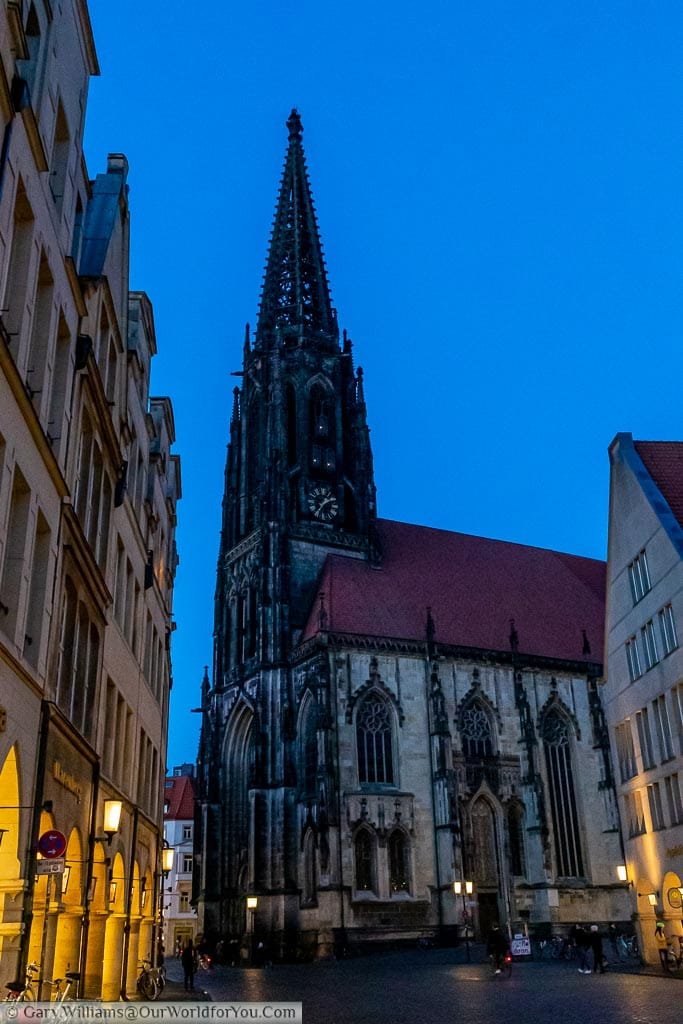 St. Lamberti Church, Münster at night
However, take a closer look at the tower, and you'll see three iron cages, hanging on the side. The three cages have a gruesome story to share. As it is here that three bodies of the Anabaptist rebels were left on display after being tortured and murdered.
The three iron Anabaptist cages
An Anabaptist cage close-up
In the mid-16th-century, the Anabaptists tried unsuccessfully to convert Munster from Catholicism to Protestantism. Their bodies were then hung on display as an act of warning to the town.
 
The original cages remain and as part of the Munster city's public art. In 1987 three faint lights were placed inside as part of the city's art exhibition, to denote their three souls.
As a little behind the scenes treat, we were given the opportunity to visit Münster's Tower Keeper. Martje Salje has been the very proud holder of the Tower Keepers role since 2014. Martje is also the first lady to hold this role in over 630 years.
St. Lamberti, Münster, Tower Keeper's Door
The Tower Keeper's plaque, St. Lamberti
It was an incredible experience, even climbing the 300 spiralling stone steps. When we reached the top, it was magnificent and the night skyline across the city breath-taking.

When we chatted to Martje, she was completely honoured to have been given this historical role and privileged to be carrying on the tradition for Münster.
Martje the Tower Keeper at St. Lamberti, Münster
Münster Cathedral from St Lamberti Tower
Each evening, except Tuesday, the Tower Keeper blows the horn from the top of the tower. In the direction of north, south and west at 9pm until midnight, every 30 minutes. Unless there is anything untoward, Martje sounds the all-clear toot, that the city of Münster is free from fires or enemies beyond.
Horn of the Münster Tower Keeper
We peer over the top of the 246 feet (75 metres) vantage point.
As this is such an iconic tradition, we see people waiting in the streets below for Tower Keepers nightly call.
There's more to Münster, Germany
As we stroll further around the city, there are more and more interesting buildings to see. The Baroque architect Johann Conrad Schlaun left his mark in a few places in the city. The Erbdrostenhof Baroque palace, which was built between 1753 and 1757, and to make more of an impact the palace is positioned diagonally on a rectangular site.
Erbdrostenhof, Münster Baroque palace
Another of Schlaun's work is the circular Baroque church Clemenskirche, built between 1745 and 1753. It's quite eye-catching on the outside, however, once you step inside the Rococo styling is incredible.
Clemenskirche, Münster
The Rococo styling in Clemenskirche, Münster
Another of attractive and important church in Münster is Überwasserkirche, a hall church. Located just nearby the cathedral and along the banks of the River Aa.

Opposite here is also a bookshop that is used in a popular German TV detective series "Wilsberg".
Überwasserkirche, Münster
If you are in need of a well-deserved break, I would highly recommend heading up to the recently opened rooftop café "1648". Which not only offers delicious coffee but has panoramic views across the city's rooftops.
Enjoying the view from Café 1648, Münster
A little more Münster culture
To make even further use of your Münster Card visit the Kunstmuseum Pablo Picasso. This museum was the first Pablo Picasso museum to open in Germany and is free to enter with you Münster Card.
Pablo Picasso museum Münster
Head to the upper floor of the Picasso museum and take a peek out of the window, you'll get a great view of Picasso's head detailed in the paving stones below.
 
LWL - Museum for Art and Culture is another venue you can visit free with your Münster Card. It displays over a thousand years of art history, from the middle ages to today. The LWL Museum also has some wonderful exhibitions; unfortunately, we were too early for the Turner exhibit, which starts in November 2019.
LWL - Museum for Art and Culture, Münster
You may also notice while strolling around the city, the sculpture and public art exhibition.
Over 60 exhibits are dotted around Münster for you to find and they have been increasing since 1977.
Cherry Column by Thomas Schütte
You'll find Münster to be a lovely compact city, and to me, this is part of its charm. However, there are always more to delightful qualities to keep an eye out for.

Firstly, the six carillons (glockenspiels) located around the town, there is the one I mentioned in the Dom. Another on Nonhoff House along Rothenburg but see if you can spot the others.
Carillon (glockenspiel) on Nonhoff House
The Kiepenkerl Fountain, Münster
Also, the Kiepenkerl statue and fountain, located by Bergstrasse. This charming statue depicts the local roaming merchant in the Münsterland. They roamed from the town to the countryside carrying their laden down panniers, "Kiepe".

One thing that certainly will not go unnoticed during your visit to Münster is the number of bikes and how well the city has become very bike-friendly.

There are on average 2 to 3 bicycles per person in Münster, and lots of the streets are now for only bikes and public transport. They even have dedicated underground bike parks, just like a car park to keep your bike safe during the day.
Bicycles along Kreuzstrasse, Münster
Bicycle getting festive in October
We have created a little YouTube video of time in Münster - we hope you enjoy it.
Why not subscribe to our YouTube channel and get the latest clips as we post them?
Schloss Wilkinghege, Münster
During our stay in Münster, we were hosted by
Schloss Wilkinghege
. The hotel is set in an incredibly peaceful location, just nearby the local golf course. The morning quack of ducks was a pleasure to wake up to.
Our suite in Schloss Wilkinghege, Münster
The staff were extremely accommodating and friendly.
The hotel is slightly out of the city centre, which was ideal for us, as there were ample free parking and only a 20 minutes bus journey into town.
The room was incredibly comfortable, clean & very peaceful.
There was plenty of room in the lounge area, and the desk was a good size, allowing us to set-up our charging station, and work comfortably on the laptop.
There was a wide variety of food and fresh drinks for breakfast, and all served in the Schloss Wilkinghege cellar.
When Gary and I travel anywhere, we always make an effort to try the local food and drink. Also, keep an eye out for some traditional inn's and restaurants to sample them in.
Altes Gasthaus Leve, Münster´s oldest inn
Well, there could only be one place for us to head and that was "Altes Gasthaus Leve". Münster's oldest inn and has been in existence since 1607.
Münsterländer Wurstpfanne
If you fancy sampling one or maybe two of Germany's beers, you can also try these in Altes Gasthaus Leve. They have a range of beers from local Brauerei Pinkus Müller, which dates from 1816.
A range of beers in Altes Gasthaus Leve
This article was produced in partnership with Münster Marketing, in exchange for an honest review and an account of our personal experiences.
* This post may contain links to affiliated sites where we earn a small commission at no additional charge to you.
Inspired to visit Münster ?
It's full of ancient history, public art and exclusive shopping.
It would make a great location for a Christmas market trip, or base to explore the region.
During our stay in Münster, we were hosted by
Schloss Wilkinghege
.
(Why not Pin It for Later?)
If you enjoy what you see, and you'd like regular updates then join us for a monthly newsletter.