by Janis /
6 comments
- Orginally published:19th April 2019
A little bit different from your usual seaside town
Where is Hythe? I hear you say, well, it's a coastal market town in Kent, in the southeast of the UK. Charming location for a family day out or a lovely weekend break. On a clear day, you can even see France, but hey we're not going there today, we're off to the English seaside.
Hythe had been on my list of places to visit for quite a while, not only as it's on the coast and I love anywhere with a shoreline.
But Hythe has an ossuary, and if you've read some of my previous posts, you'll know that I have a bit of thing for visiting cemeteries and churchyards.
This was going to be interesting!
Why not Pin it for later?
Up close, inside the Ossuary
I don't want to put you off immediately, if visiting a crypt isn't quite for you, so, I'll let you into a few other secrets as to why you'd enjoy a visit to Hythe, Kent.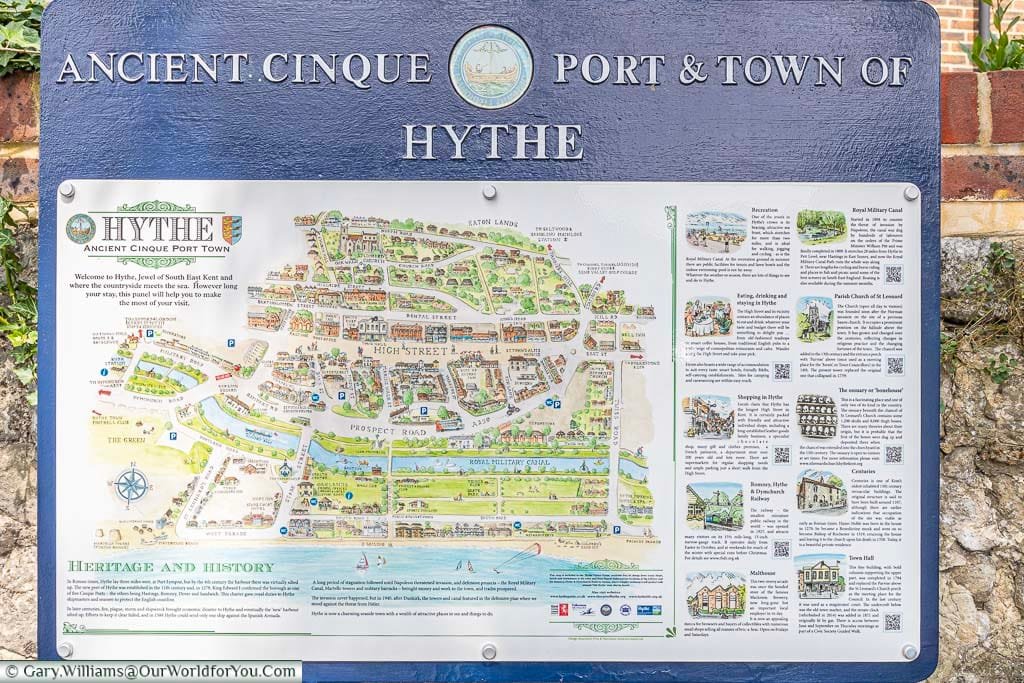 The heritage town sign
The open roads await, pop in your location details, then
Rental Cars
will search well-known car hire brands and discover the deals that suit you the best.
Exploring Hythe
What no sand?
Now, firstly as a coastal town you may be thinking, yay we're going to the seaside; however, that's what's different about Hythe in Kent. It's not candyfloss, arcades and sandy beaches, this is a coastal town with a difference.
The Pebble beach at Hythe
Griggs of Hythe for seafood
The seashore is awash with pebbles and is still used by the local fisherman to haul their daily catch across.
So, definitely, a place to visit for some fresh fish.
A bit of Hythe History
The Martello Towers
You can certainly sit on the beach and enjoy the sunshine and sea; I'm just saying you'll need sandals. Take a stroll along the coastline, and you'll see the working fishing boats and also two of Hythe's Martello Towers.
The working shoreline
Once there were 74 Martello Towers all along the coastline from Folkestone in Kent to Seaford in East Sussex.
They were originally built as a defence against an invasion by Napoleon and then later used to combat smuggling, a trade that was quite prevalent along this coast.
Martello Tower on the shore at Hythe
During the 12th-century Hythe, Kent became one of the five main "Cinque Ports". This was set up by Royal Charter pre-Royal Navy to supply ships to The Crown and recruit local mariners.
Town signs at Hythe
We have a new little book on our shelves that we delve into when we're heading to the coast.
Packed full of historical facts, and broken down into the different counties of England.  It tells tales of the history of the shoreline that surrounds our country.
Available in Kindle & Hardback editions, it's an excellent addition to anyone's collection who loves the English seaside.
Discover Hythe
Different from the norm
Now, what is slightly unusual about Hythe, Kent is that the town is around ½ a mile inland from the sea, so it almost doesn't feel like a seaside town.
Quaint lanes of Hythe
When wandering into Hythe from the coast, you stroll through some quaint streets and lanes passing by cottages that were once home to local fishermen, traditional pubs and businesses from an era gone by.
The Hythe Garage
The Royal Military Canal at Hythe
Row, row, row your boat
Then what also gives Hythe its unique character is the Royal Military Canal that runs through the middle.
Boats on the Military Canal in Hythe
This 28 mile (45km) stretch of canal was also built as a defence against Napoleon.
It runs from Seabrook near Folkestone to just outside Hastings in the south.
Nowadays it has a tree-lined walkway along its edge, and you can hire a boat to enjoy the canal first-hand.
The Military Canal in Hythe
Strolling along the canal is really pleasant, there are some delightful statues and memorials, children's play areas, gardens and it's a lovely place to sit and watch the world go by.
Have you visited any of Kent's ancient historical towns, drop a
comment
below to tell us where you enjoyed visiting?
The best of Hythe
Head to the Old Town
Crossing over the canal, we arrive at Hythe's historic market town centre.
The Old Post Office & Malthouse in Hythe
There are so many delightful shops and old stores. It really does make you wonder how some of these businesses survive when there is so much competition from the "Big Boys". It proves that local support is still thriving in some towns and villages.
The historic High Street of Hythe
Over the years the old town in Hythe has developed, although it has still managed to keep several of its charming Medieval and Georgian buildings.
It is interspersed with some of today's modern stores, where possible the locals have tried to blend with the character of the town.
King Head pub & Hendricks of Hythe Chocolaterie
Along the main High Street is Hythe's Town Hall a former Guildhall built in 1794. There are some beautiful half-timbered buildings, traditional old pubs and I certainly wouldn't say no to the chocolaterie.
Hythe's Town Hall
If you head up the lane to the side of the Town Hall, you'll discover some of the lovely little streets, with beautiful cottages and manicured gardens.
Also, the 12th-century ragstone building 'Centuries House', which was the birthplace and home of the Bishop of Rochester. In 1336 he founded St Andrew's hospital for the poor in this same building.
-
Hythe Imperial Hotel, Spa & Golf
- This charming 4-star Victorian hotel nestled within 44-acres of land with views across the English Channel. It offers spacious rooms and spa facilities.
Visit some of Kent's coastal towns
Kent is not short of picturesque historic towns, particularly along the Kentish coastline., and we have a collection of posts you may enjoy - why not check one out?
Something unusual about Hythe
Off to the Ossuary
If you keep heading up, you'll arrive at St. Leonard's Church and Crypt. Yes, you've reached the Hythe Ossuary. This place is incredible, it's around £2 admission and so worth it.
Skulls in the Ossuary
The Crypt was created as the chancel was to be extended. Therefore, graves were dug up to accommodate for this.
The earliest written evidence of this collection is from 17th-century.
Ossuary "All you need to know"
The
Ossuary
in the crypt of St Leonard's Church is only open from Easter through the summer months, so check on the link for more information.
It is the largest and best-preserved collection in Britain. Just within its four arched alcoves are 1,022 skulls. Go take a look is fascinating.
Additionally, there is a stack of bones and skulls measuring over 25 feet (7.8 metres) in length by around 6 feet (1.8 metres) in width and height. It is believed that the total number of individuals represented is about 2,000.
Inside the Crypt
The larger stack of bones was placed on a concrete base in 1910 and has never been dismantled since. I certainly wouldn't want to do it. Although in July 2018, some nasty 'erberts stole 21 of the skulls from Hythe Ossuary, it's unbelievable why someone would do this.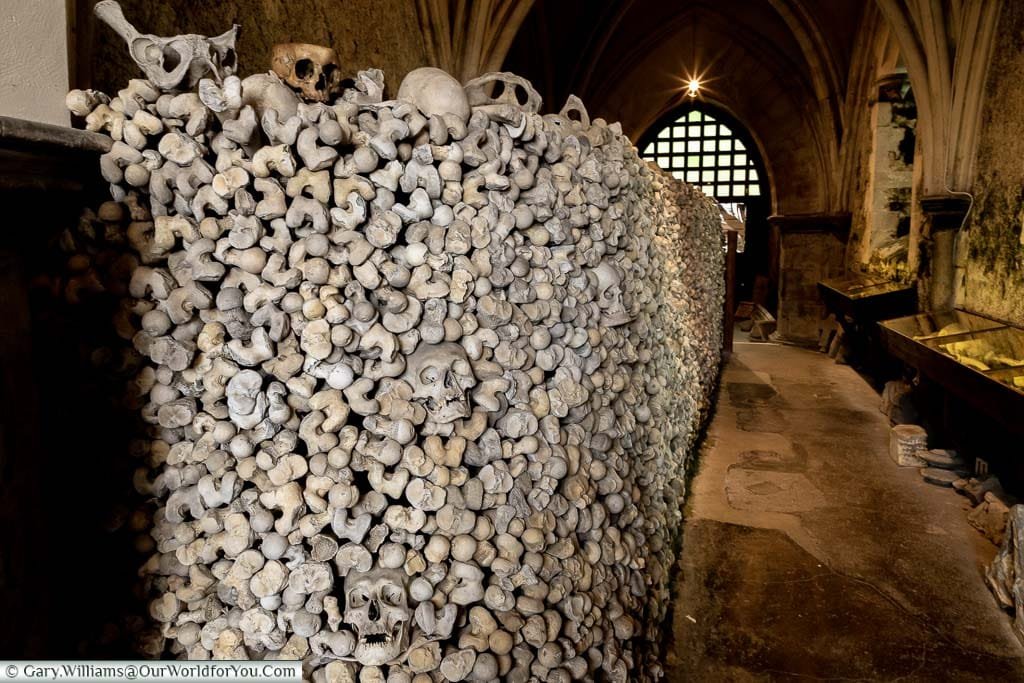 A look inside the Ossuary
This is not the first time we've visited an Ossuary. While we were in
Evora
in Portugal in 2018, we visited the Chapel of Bones, which has around 5,000 bones from 500 monks.
Things to do in Hythe
There's more
Steam in miniature at Hythe
The next train departs...
The train isn't full size though, it's a one-third size steam & diesel locomotive. It runs along a 13½ mile line, stopping at seven stations en-route.
Starting from Hythe and terminating at the very intriguing coastal Nature Reserve of Dungeness. The locomotive has been chugging through the countryside since 1927, today it is run by a very friendly and enthusiastic group of volunteers.
Vintage steam on the Romney, Hythe and Dymchurch Railway
You can buy your tickets online in advance and save 10%. The prices vary depending on how far along the route you want to go.
Or if you just wanted to have platform pass and take a look at the locomotive, then it is only 25p.
Our video of Hythe
A look through our eyes
We have created a little YouTube video of Hythe.  Why not take a look?
Also, why not subscribe to our YouTube channel and get the latest clips as we post them?
If you're intrigued by Kent's weird and wonderful history, or all unusual stories around the county, then take a peek at "Kent's Strangest Tales".
You won't be able to put it down, you can pick it up for your Kindle or in good old paperback.
* This post may contain links to affiliated sites where we earn a small commission at no additional charge to you.
Thanks, it's a lovely town with so much fascinating history.

Anne Lucas

looking forward to staying there for 5 nights next week. Anything interesting going on? if not then we just explore like tourists!

Oh, fantastic Hythe is a lovely town, the coastline is wonderful.

It's also pleasant all along the Royal Military Canal, which separates the town from the seafront.

You may have heard about the RHDR (Romney, Hythe and Dymchurch Railway), which runs from Hythe through to Dungeness. This is undoubtedly a fun journey on a heritage railway. Dungeness at the end of the line is surreal a must to visit, lovely fresh fish too.

Although it's not for everyone, I would recommend a visit to the Ossuary in the Crypt at St Leonard Church in Hythe. It's only open for a few hours from Monday to Saturday and closes from early October until Spring. It is incredible to see, and very few of these remain.

Also, if you have the time, I suggest a visit to Folkestone. An open-air Urban Contemporary Art Exhibition is going on throughout the town. New pieces have been added this year for the Folkestone Triennial. There's a Folkestone post on our website that will help with your visit. We're hoping to head back in a few weeks.
https://www.ourworldforyou.com/a-colourful-day-in-folkestone-kent/

Have fun, and I hope you enjoy Hythe, where are you visiting from?

Bridget

Thank you, I really enjoyed seeing your photos. I grew up in Hythe from 1937 to 1955. A happy childhood despite the war: A good place to grow up in.

No mention of the [then] all important brewery in the Red Lion Square. It was fully functioning when I was there but we could only see it over the high stone wall from the top of the bus on the way to school. Still used the horse-drawn drays so the forge was there too. No view of the church but difficult to get good shots of that if I remember. The Imperial Hotel is still going. We have lived in Australia for the past 50 years. I was actually looking for an image of an old local fishing boat – without success unfortunately.

Best wishes Bridget. Canberra

Hi Bridget

Thanks very much for your kind comments; Hythe is a lovely place to visit and live, I imagine.

Wow, Hythe to Canberra, that must have been a huge change. Have you had many chances to revisit the UK since you have been in Australia?

The Red Lion pub is still in Hythe, but there doesn't appear to be a brewery associated with it anymore. Along the road opposite next to the old Post Office is Malthouse Arcade (now an indoor market), which I believe was once a brewery.

Your childhood sounds like a fascinating time to be in Kent. The horse-drawn drays can still be seen at Detling's annual Kent County Show. It's a lovely event to go to; there is so much going on, gymkhanas, steam engines and old fairground rides.

In our YouTube video, we show some of the working fishing boats; however, they may not be the ones you were looking for. I have attached a copy of our video in the link below (the video is also near the bottom of our post). If you see one, let us know, as we have a few photos of the boats in the video.

The video also shows the outside of St. Leonards Church. We have photos of the outside of the church, too, although I didn't include any in the post.

Take care, and I hope you enjoy the video.

Janis