Where Wellington departed
Kent undoubtedly has its fair share of castles scattered around the county, and particularly along the far east coastline.
Armed with our English Heritage cards, Gary and I ventured off to the seaside to discover Walmer Castle.
Walmer Castle was built by Henry VIII between 1539/40 and was part of a chain of coastal artillery forts to be constructed along this shoreline.
The threat of invasion from Spain and France led to three castles (Walmer, Deal & Sandown) being built along with earthwork defences in between. The King certainly wanted to make sure the British were protected.
English Heritage now maintains the preservation of this low-lying stronghold.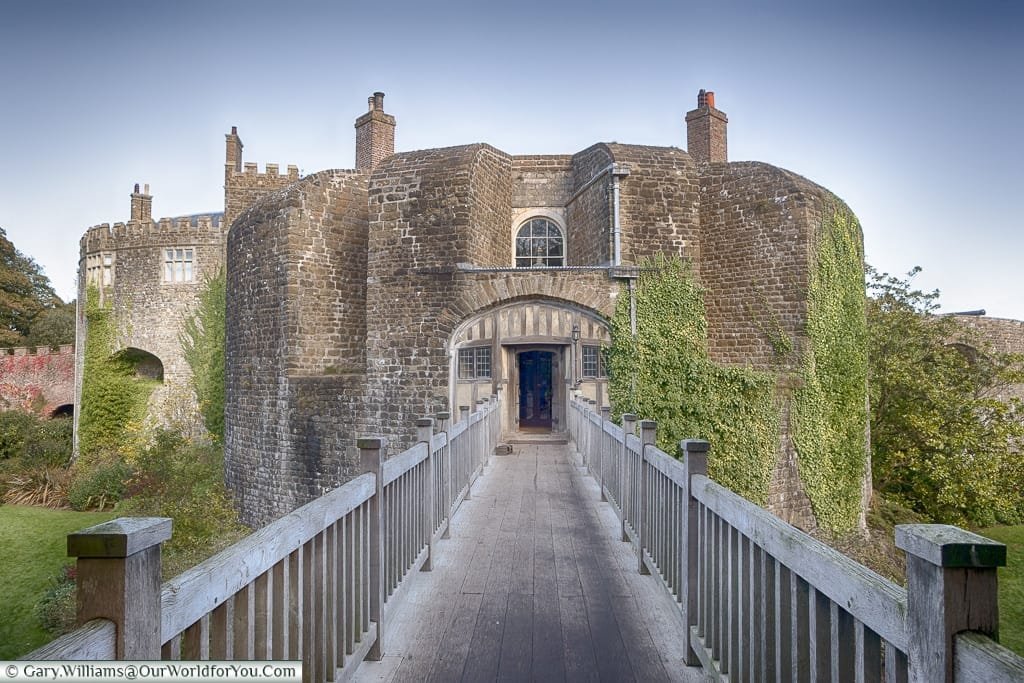 Welcoming it visitors to tour not only inside its Keep but also around the four circular bastions and deep into the moat that encircles it.
It's great fun for the family, as children are free to enjoy the freedom of the lawned moat.
Unfortunately no photography is allowed within the Castle.
Although Walmer was originally built as Tudor Fortress, in 1708 the bastion was to become the official residence of the Lords Warden of the Cinque Ports.
A position not to be sniffed at, as many distinguished people including the Duke of Wellington, Sir Winston Churchill and the late Queen Elizabeth the Queen Mother, held this post.
Therefore, Walmer Castle was to evolve over the years and was refashioned into a comfortable home.
Queen Elizabeth the Queen Mother, was Lords Warden of the Cinque Ports from 1978, although her stay at the castle was fairly brief, she would visit for three days every July.
Entrance to Walmer Castle for an adult is £12.00 (2019) with GiftAid
Walmer Castle's most celebrated resident was the Duke of Wellington. Who famously defeated Napoleon in the Battle of Waterloo in 1815. He was also the UK Prime Minister in 1830 and briefly again in 1834.
Duke of Wellington was made Lord Warden in 1829 and claimed Walmer Castle as his favourite residence; Wellington died at Walmer on 14th September 1852.
A state funeral was held for Wellington on 18th November 1852, an honour only given to a few British subjects.
He is buried at St Paul's Cathedral in London.
If you're intrigued by Kent's weird and wonderful history, or all unusual stories around the county, then take a peek at "Kent's Strangest Tales".
You won't be able to put it down, you can pick it up for your Kindle or in good old paperback.
William Pitt the Younger held the post from 1792, until 1806. His niece stayed with him for three years from 1803, and it was during this time that she transformed the simple kitchen garden into a beautiful formal landscape garden, that can be seen today.
You can catch a direct train from London St Pancras to Walmer Station. Additionally, if you also wanted to visit Deal Castle, this is on the same train line and the stop before to Walmer.
During your visit, take your time to wander amongst the attractive vegetable and fruit gardens. A lot of care and attention is taken by the gardeners, to ensure it looks attractive all year around.
You must also take a stroll through the greenhouses, when we were there it was like a Harvest Festival.
In 1997, a commemorative garden was laid within the 19th-century walled garden, for Her Majesty Queen Elizabeth the Queen Mother, to celebrate her 95th birthday. It has an elegant 92ft long pond (complete with fish) and an ornate classical pavilion at one end.
Been tempted to venture to the seaside to discover Walmer Castle for yourself?
Inspired to visit Walmer Castle?
Walmer is close to Deal on the Kent Coastline.  An ideal base to explore the area.
Why not checkout the latest deals on Booking.Com?
(Why not Pin It for Later?)