by Janis /
0 comments
- Orginally published:8th November 2017
Walmer Castle, Royal holiday home
and where the Duke of Wellington departed
Yay another English sunny day, this meant only one thing, Gary and I were venturing off to the Kent coast. We combined two of our favourite pastimes, discovering more about our historical past and visiting the seaside. This time it was Walmer Castle.
Kent undoubtedly has its fair share of castles scattered around the county, particularly along the far east shoreline.
 
Armed with our English Heritage cards, we jumped in the car, picnic onboard and travelled off to the coast to uncover the intrigue behind Walmer and Deal Castle.
Dover Castle we were saving for another day.
Why not Pin it for later?
Where is Walmer Castle & How to get there
- By Train
You can catch a direct train from London St Pancras to Walmer Station. Additionally, if you also wanted to visit Deal Castle, this is on the same train line and the stop before to Walmer.
- By Car
Walmer Castle is very close to Dover Castle and Deal Castle, so why not combine all three. Head down to the Kent coast along the M2 & A2 and follow the A258 to Walmer. If you are, an English Heritage member parking is available at all the castles.
Henry VIII's defences
Protecting UK shores
Walmer Castle was built by order of Henry VIII between 1539/40 and was part of a chain of coastal artillery forts to be constructed along this exposed shoreline.
The shoreline in front of Walmer Castle
The threat of invasion from Spain and France led to three castles (Walmer, Deal & Sandown) being built and earthwork defences in between.
 
King Henry VIII wasn't taking any chances to ensure his British turf was protected.
We have a new little book on our shelves that we delve into when we're heading to the coast.
Packed full of historical facts, and broken down into the different counties of England.  It tells tales of the history of the shoreline that surrounds our country.
Available in Kindle & Hardback editions, it's an excellent addition to anyone's collection who loves the English seaside.
Walmer Castles Bastions & Cannons
Picturesque fortress on the Kent coast
Immediately we arrived at Walmer Castle, I was struck at how picturesque and beautifully maintained the fortress was.
 
This magnificent ancient castle is now preserved by the meticulous people at the English Heritage.
Walmer Castle from across the moat
Visitors are welcomed to tour Walmer Castle at their own leisure and pace. As you stroll around this low-lying stronghold, there are friendly faces to stop and ask any questions you wish.
 
Within Walmer Castle, there's so much to discover. Not only are you able to wander around the Keep, but there are also four circular commanding bastions to head out upon with cannons strategically pointing out across The English Channel.
A cannon pointing out to sea from Walmer Castle
The view of Walmer Castle from its moat
Another area of Walmer Castle I particularly enjoyed was its surrounding deep moat that encircled the citadel.
 
The moat is no longer full of water and discouraging anyone who comes near, it is all laid to lawn and lovingly planted out all the way around for everyone to enjoy.
Unfortunately, no photography is allowed within the keep.
Walmer Castle, a comfortable retreat
From working citadel to a pleasant home
Although Walmer Castle was originally built as Tudor Fortress, in 1708 the citadel was to become the official residence of the Lords Warden of the Cinque Ports.
Walmer Castle in the evening light
A position not to be sniffed at, as many distinguished people including the Duke of Wellington, Sir Winston Churchill and the late Queen Elizabeth the Queen Mother, held this post.
 
Therefore, Walmer Castle was to evolve over the years and was refashioned into a comfortable home.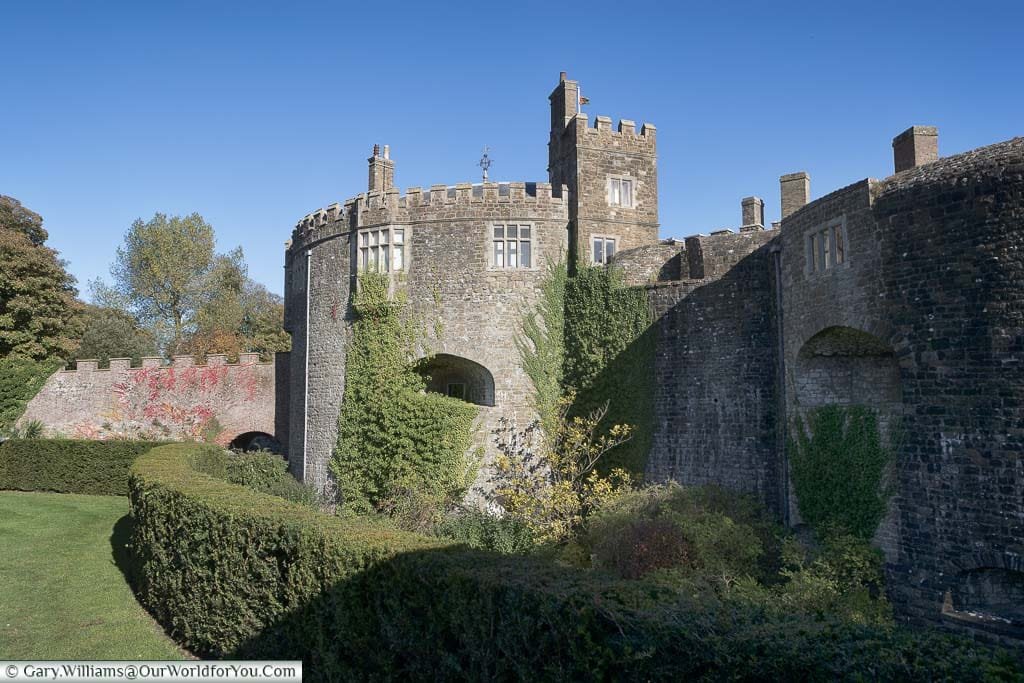 Walmer Castle from across the moat
Discover 11 of Kent's charming and historic 
coastal towns on a road trip
. Uncover the delights of Broadstairs, Deal, Margate, Hythe, Folkestone and more.
A scenic coastal road trip around the shores of Kent, UK
by Janis on  14 Jul 20
Royalty
Visits from Queen Elizabeth the Queen Mother
Queen Elizabeth the Queen Mother was Lords Warden of the Cinque Ports from 1978 until 2002. Although her stay at Walmer Castle was often fairly brief, she would visit for three days every July and enjoy the Kent coast's peace and the beautiful castle gardens.
Walmer Castle from the gardens
English Heritage Membership
If you plan on visiting multiple English Heritage sites, you may want to consider an annual pass. You'll be amazed at how much you will save, just click on the banner below.
 
Free parking is available on site.
Arthur Wellesley
The Duke of Wellington left his boots
Walmer Castle's most celebrated resident was the Duke of Wellington. Who famously defeated Napoleon in the Battle of Waterloo in 1815. He was also the UK Prime Minister in 1830 and briefly again in 1834.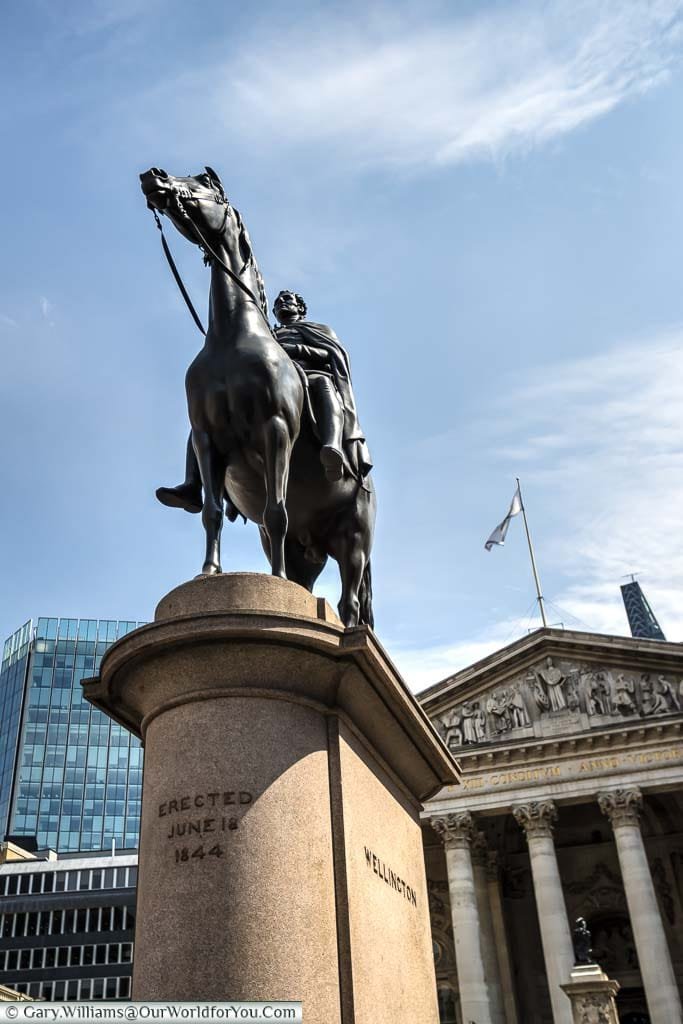 The Duke a Wellington at Bank Station
The Duke of Wellington was made Lord Warden in 1829 and claimed Walmer Castle was his favourite residence. Wellington died at Walmer Castle on 14th September 1852.
 
A state funeral was held for Wellington on 18th November 1852, an honour only given to a few British subjects. He is buried at St Paul's Cathedral in London.
Discover Kent on a 
rural road trip
, lush rolling countryside filled with orchards, vineyards, quaint villages and oast houses, so it makes for a perfick visit.
A road trip around the Kent countryside
by Janis on  22 Nov 19
Walmer Castle's beautiful grounds
Pitt the Younger
William Pitt the Younger held the post of Lords Warden of the Cinque Ports from 1792, until 1806.
 
Pitt the Younger's niece, stayed with him at Walmer Castle for three years from 1803. It was during this time that she transformed the simple kitchen garden into a beautiful formal landscape garden, that can be seen today.
Walmer Castle from the kitchen gardens
The gardens at Walmer Castle are delightful, with a mixture of scented rose beds, structured planting and a charming air of relaxed planting you would see in an English country garden.
Where to stay near Walmer
- The Royal Hotel – Located on the seafront of Deal offers incredible views across the bay. The 18th-century charming hotel is a perfect base for exploring Deal and touring the Kent coast.
- The Waterfront Hotel – Overlooking Deal pier this historic family-run hotel offers a delicious breakfast ready to sustain you for a full day ahead.
The open roads await, pop in your location details, then
Rental Cars
will search well-known car hire brands and discover the deals that suit you the best.
Walmer Castle's Kitchen Garden
A harvest to be proud of
During your visit to Walmer Castle ensure you allow plenty of time to appreciate the wonderful garden. Take a wander amongst the eye-catching vegetable and fruit gardens. So much care and attention has been undertaken by the castle gardeners to ensure that it looks attractive and lush all year round.
The vegetable garden at Walmer Castle
Oh yes, you must also take a stroll through the colourful greenhouses, when we visited it was like a Harvest Festival. Plump gourds and pumpkins, juicy ripe apples and plenty of courgettes and tomatoes.
The harvest from the kitchen garden
If you're intrigued by Kent's weird and wonderful history, or all unusual stories around the county, then take a peek at "Kent's Strangest Tales".
You won't be able to put it down, you can pick it up for your Kindle or in good old paperback.
The Queen Mother's Garden
A Tranquil escape in a fortress
In 1997, a commemorative garden was laid within the 19th-century walled garden, for Her Majesty Queen Elizabeth the Queen Mother. This was to celebrate the Lord Warden's 95th birthday.
The Queen Mother's garden at Walmer Castle
The charming contemporary garden has an elegant 92ft long pond (complete with fish) and an ornate classical pavilion at one end. The tranquil garden is a lovely place to relax and enjoy the incredible backdrop of Walmer Castle beyond.
When you're nurturing the seed of a road trip, plotting your destinations across a paper map just brings the adventure to life. Whether it's the touchy-feely aspect of the map or the rustling sound of mastering the art of origami while trying to fold it away, I'm not too sure. Nonetheless, the good old Ordnance Survey guys and gals always come up trumps.
Take a look at the vast array of maps you can choose from.
* This post may contain links to affiliated sites where we earn a small commission at no additional charge to you.