by Janis /
30 comments
- Orgininally published:2nd October 2018
I want to keep Saint-Rémy for myself
Provençal sunshine in an idyllic French town
Saint Rémy de Provence is a town we came across in 2012 and from the day we left, I yearned to return to this captivating oasis.
It's unlike its larger contemporaries in the same region of Provence Alpes Côte d'Azur, of Avignon and Arles, which are equally attractive, I'm not denying it (and places you should visit).
However; Saint Remy de Provence has all their charm and allure, but with a small-town feel. Making it perfect for a long weekend break or part of a Provencal road trip.
Why not Pin it for later?
Where is St-Rémy-de-Provence
- By Plane
The nearest international airport is Marseille Provence Airport (MRS) around 50miles/75km away
- By Car
Saint-Rémy-de-Provence is 10 miles from the A7 on France's D-roads
For us it's a road trip from home with a stop in west France, starting with Le Shuttle with a stopover in say Troyes for a night or two.
We can't keep away from Saint Remy
A relaxing getaway in the South of France
This was the second time we'd stayed at Saint Remy, and it didn't disappoint. The town itself is very picturesque, and as you stroll around you get the overwhelming feeling that you are in the heart of Provence.

The aroma of Lavender infusing the streets and the cheerful yellow and russet tones from the sunflowers, welcoming you through doorways.

For Gary & I it's the ideal location to use as a base and explore the enchanting Provence landscape beyond.
On the approach to Les Baux-de-Provence
Heading out amongst the olive groves to discover the surrounding hilltop towns, what could be better. Knowing that each day when you return, you can try another one of St Remy's delightful cafés & restaurants, and there are plenty to choose from.
Yet, even though this region has so much to offer on its doorstep, you must spend time exploring Saint Rémy de Provence itself.
Where to stay in Saint Remy
Luxury in the historic old town
Our hotel for the four nights we were in Saint-Rémy-de-Provence, was at Hotel Gounod, where we stayed in 2012. It's a wonderful hotel, fantastic service and very friendly staff.
It was a pleasure each morning strolling down into the patio/lounge area, to enjoy your breakfast in the dappled sunshine.
Breakfast at Hotel Gounod
St Remy has it all
History, culture and sunshine
Saint Rémy de Provence is where the artist Vincent van Gogh painted his famous masterpiece "The Starry Night", and for the history buffs amongst us, it is home to the ruins of the ancient Roman city of
Glanum
.
Thr Triumphal Arch at Glanum,
Before I tempt you with Vincent and the Roman's, let's take a stroll along the shiny cobbled lanes and through the charming squares of Saint Remy.
Explore the charismatic streets of Saint Remy de Provence
Unwind a little in Provence
The Old Town is almost a village within the town, encircled by plane tree-lined boulevards, which give you dappled shade while enjoying your fromage and a Provencal glass of rose.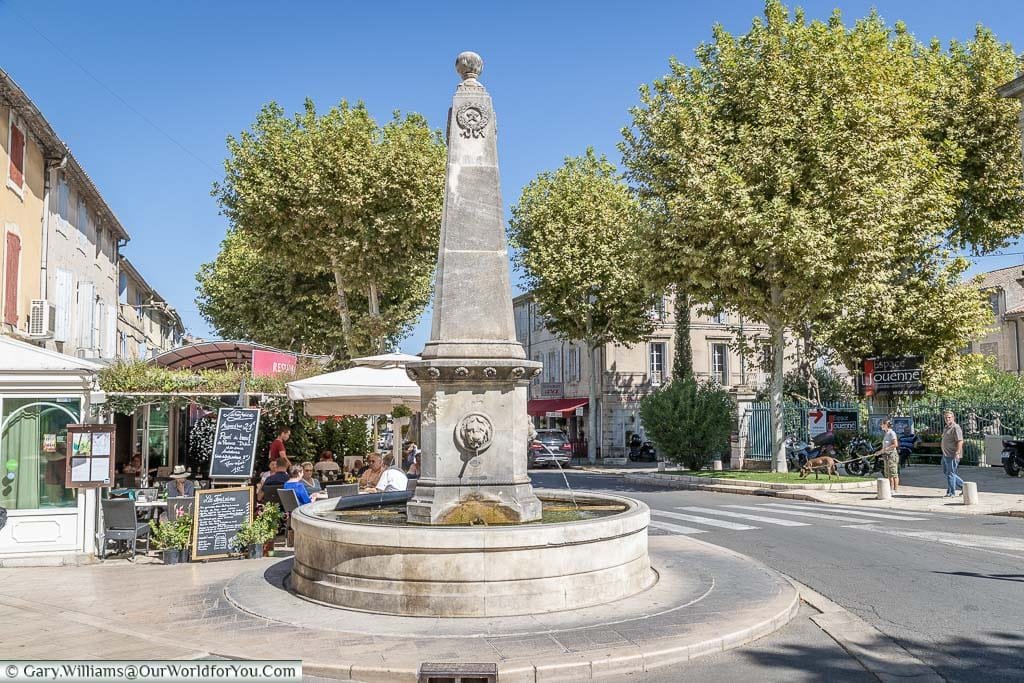 Rosé & fromage
The narrow-tiled streets are mainly pedestrianised, which is quite handy as you often find yourself stopping to admire the old stone buildings and enticing shops. Offering local delicacies and curios, it's difficult not to be tempted by the lavender, nougat & of course the "Herbes de Provence".
If you love Provence as much as we do, you'll want to start planning your visit now.
I so enjoy using the DK Eyewitness books, as they are extremely informative, easy to follow and the pictures and maps tempt you into discovering more.
We used a previous version of this book to plan our Provencal road trip, now you can grab the revised copy.
St Remy is perfect for a Provence mini-break
Character and charm around every corner
Don't just stick to the central streets of Saint Rémy de Provence, ensure you go and explore. It's idyllic strolling amongst the quieter lanes and finding tiny courtyards and squares that almost seem forgotten, with their fragrant window boxes & painted shutters.
The markets in Saint Remy de Provence
Go on, try a delicious sweet treat
We stayed for four nights St Remy and on Sunday that we were there, they were holding Les Route des Artistes contemporary art market with over 100 exhibitors. It's only held a few times of the year, so we were quite lucky with our timing.
The art market in la place Jules Pelissier
Then another little treat was the Tuesday evening handicraft market, that was held from 7pm.
Discover more of France and create your own Provence memories? It's so easy to do this on a road trip. 
Rental Cars
 searches multiple well-known car hire brands and discovers the deals that suit you the best.
Vincent van Gogh in Saint Remy
The serenity of Saint-Paul-de-Mausole
Vincent van Gogh was in Saint-Rémy-de-Provence in a troubled period of his life, the previous year he had severed off his own left ear.
A statue to Vincent with his sunflowers
The cloister in Saint-Paul-de-Mausole
The time he spent here during May 1889 and May 1890, was at Saint-Paul-de-Mausole an asylum, which was once a monastery. He lived in two barred cells one of which he converted into a studio, but the raw conditions were very harsh, even seeing it now.
The bedroom where Vincent stayed
The Provence influence for 'van Gogh'
That 'starry, starry night' in St Remy
Van Gogh made several studies of the interior of the asylum; however, the influence I could see from his paintings was from the Provence countryside beyond.
The gardens of the Monastery
Vincent painted his famous masterpiece "The Starry Night" from here. During the summer months the gardens were full of iris, sunflowers & lavender, and proving some welcome shade were the cypress and olive trees.
A sunflower in the gardens
Today the gardens and cloisters paint an attractive picture, however, wandering around Gary and I felt an overriding feeling of sadness, it was quite moving.
If you'd love to tour the Provence villages and don't have your own set of wheels, take a look at the full-day tour from Get Your Guide.
You'll be picked up in Avignon and Saint-Rémy-de-Provence, Pont du Gard and the Provence countryside hills await.
The Romans in Saint Remy de Provence
The ancient city of Glanum
Just across the road from Saint-Paul-de-Mausole are the ruins of the ancient Roman city of Glanum. I have previously put together a little post on this.
Well preserved remains at Glanum
If you are visiting Saint Remy de Provence, it is definitely worth a visit.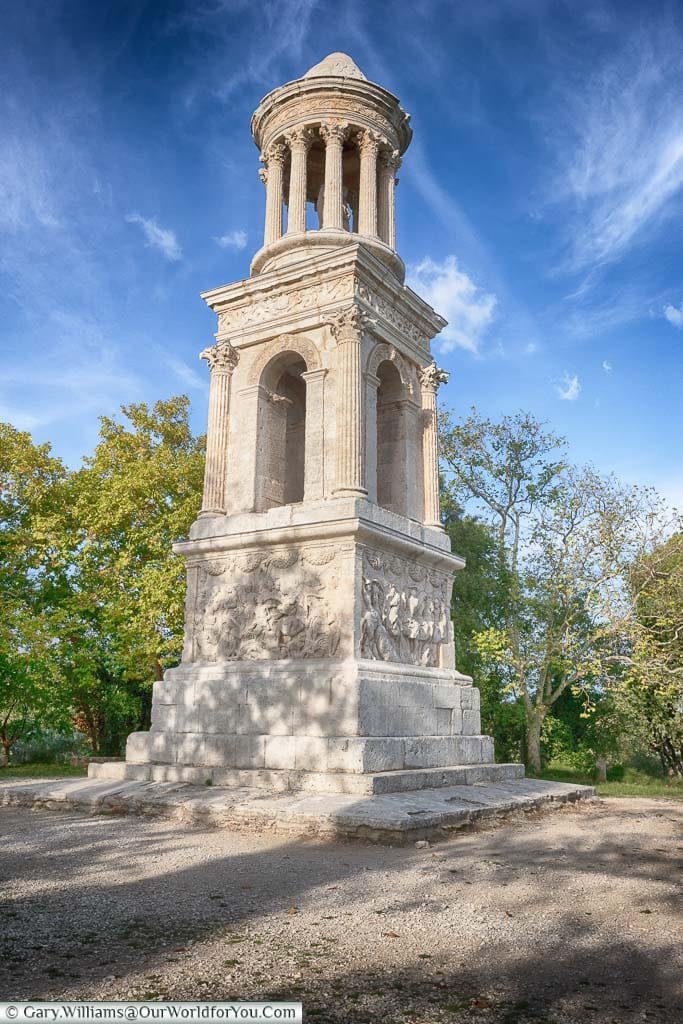 It was built during the early years of Emperor Augustus' reign around 27 BC and gives an amazing insight into how the colony was formed.

We arrived reasonably early had nearly had the place to ourselves.
Where to stay in Saint-Rémy-de-Provence
Hotel Gounod
– As we said we've stayed at this delightful hotel on two occasions and would return again in a flash. Hotel Gounod is centrally located with very welcoming staff, delicious Provençal breakfast in the patio/lounge, and private off-site parking is available nearby.
Hôtel Sous les Figuiers
– Is located along a peaceful street just a short walk from the centre of town. The hotel is fully air-conditioned and you can enjoy the dappled sunshine in their charming garden or laze by the pool. Parking available on-site.
Where to eat in St Remy
You're spoilt for choice
Our favourite restaurant from the four nights that we were in St Remy was at La Cassolette. The dishes were local produce, had a reasonably priced set menu, and the staff were extremely friendly and accommodating.
Where to eat & drink in St-Remy
We have eaten at, and can recommend.
Make a reservation in St Remy
If there is a restaurant you like the look of in St Remy, ensure you make a reservation. You wouldn't want to be disappointed.
A video of St Rémy-de-Provence
A little something from our YouTube chanel
We have created a little YouTube video of St Rémy-de-Provence.  Why not take a look?
Also, why not subscribe to our YouTube channel and get the latest clips as we post them?
Start creating your own French adventure and discover the enchanting Provence countryside for yourself. Search for your flights in one easy place with ebookers.com. Over 400 airlines are scanned for your favoured routes and chosen dates.
Or alternatively, catch a Brittany Ferry and tour through France under your own steam.
What's not to love about St Remy?
Wild horses wouldn't keep me away!
J'adore Saint Rémy de Provence and would return at the drop of a hat. There is so much more for us to explore.
Visited any beautiful towns or villages in the Provence-Alpes-Côte d'Azur region of France that you'd love to share? I'll add them to my wish-list?
* This post may contain links to affiliated sites where we earn a small commission at no additional charge to you.
I love Paris as well.France is such a beautiful country, lovely scenery, food & wine. We have been to France so many times, I've lost count. We're lucky that we live not too far from Le Shuttle, in Kent.One of my favourite regions is most definitely Provence, the villages around there are so picturesque.I hope you get there soon.

Carolyn Murrow Glick

Loved your piece and photos of St Remy!! We are heading there the end of this month for 2 weeks! Not our first visit – really enjoy everything about it! Thank you!!
Dave & Carolyn
Melbourne Florida

Thank you very much for your kind comments.

Oh I'm so envious, I'd love to be heading back to St Remy, like you say there is so much to love about it and an ideal base to explore the region. Where do you usually stay?

Have fun and I hope the markets are open.

Janis

I can see why you want to keep this beautiful town a secret! It has so much to offer!! Next year I want to start traveling more to the west as we keep going east, so that means more trips to France! This has now made my list! Pinned! #FarawayFiles

I missed this little treasure when I was travelling through the south of France – quel dommage! It looks like just the sort of place I would love to spend some time … especially all those delightful back strreets. #farawayfiles

It really is worth it. What we loved was that not only is it a delightful town to explore in its own right, it's great to use as a base, to tour around Provence. There are so many restaurants to choose from each evening, you're a bit spoilt.

At least you now have an excuse to return. It was amazing that even though some of the streets in Saint-Rémy-de-Provence were bustling, you could very easily find some tranquil spots.Which towns did you stay in when you toured the south of France?

Rosie

Gosh, it was LONG time ago – definitely Arles and Saintes-Maries de-la-Mer and we cycled round part of The Camargue.

Time just flies, it was about 10 years ago that we stayed in Arles.The Camargue is beautiful, great place to cycle around.

Deborah Regen

Sigh! How do the French make something as simple as a continental breakfast look so darn good? Such a charming place to stay and take your time strolling about. You were definitely lucky to be in town during that art festival too. Thanks for the hotel recommendation, I'm saving it. #farawayfiles

I've always wanted to go to St. Remy – de – Provence. It's so picturesque and beautiful, and I love the Van Gogh history. Beautiful photos. I really hope to make it there some day soon, it's on my radar! Thanks for linking up with #farawayfiles

The hotel I can highly recommend, they made you so welcome and the location is fantastic.Yes we were lucky with the art festival, I think it is only on a few times of the year, it made the town even more attractive.

It's one of those towns I never want to leave. As I mentioned, we have stayed there before & we find it just an ideal location to discover the surrounding region.Thanks for the compliments on the photos, that's all Gary's work.I hope you make it there soon, the Van Gogh monastery is definitely worth visiting, even though it is a little touching.Perhaps I'll have to give it another 6 years before I return again.

Taste of France

You have to go back: you absolutely have to eat at le Mas de la Pyramide. Lolo, a 90-something bachelor, lives there in a troglodyte house in what was the quarry for the nearby Roman ruins–his place is just a few meters beyond Saint-Paul-de-Mausole. The "pyramid" is a tall stone the Romans left to show how deeply they dug. Lolo runs a "table d'hôte," cooking dinners himself at a prix fixe. Not to be missed. Here's an article about him: https://www.dwell.com/article/mine-dining-10ba111c

Wow, you're right I have to go back. He sounds fantastic and what an incredible place. I love the classic cars that he owns as well.I now have an excuse to return, thanks for sharing.

We spent nearly a week at St Rémy when the boys were little. It's a lovely town with a gorgeous atmosphere. I remember being struck by Van Gogh's room in the Asylum too. Thanks for sharing on #FarawayFiles

It's wonderful how one town can tick so many boxes, St Rémy was a pleasure to head back to each evening. When we return to Provence in years to come to explore of the region further, I think I would still consider it as a base.

Kosher River Cruise

Every excursion stop over during our river cruise truly was breathtaking. One of the most memorable stops was the one we had in Saint-Rémy-de-Provence. Everything you'd only dream about seeing in Pinterest comes to live in this place. Truly amazing.

Stuart

Aha, we are the lucky ones, having lived in St Remy now for 12 years. Very little has changed in that time which is for the best.

You most certainly are the lucky ones, St Remy won our hearts in 2012. We returned a few years ago and as you said, little had changed in the town and what had changed was for the better. I'm sure we'll return again as it is such a perfect location to explore the surrounding landscape.

Sally

Glad I found this site. We will be in Saint Remy-des-Provence in just a couple of weeks. We have two full days on our own! Your enthusiasm has sparked mine. This will be my first trip to France. We are doing a driving tour ending in Paris which was originally planned just as the world shut down. Thank you for sharing your pictures and experiences. I am even more excited now!

Thanks very much for your kind comments, Sally.

I'm very jealous, we last visited in 2018, and it was wonderful. The surrounding countryside is stunning; I'm sure you'll love it as much as we do.

France is a beautiful country; we've completed many road trips to France as we live in the southeast of the UK, and it is so easy to hop across.

If you have any questions, don't hesitate to ask; where else in France are you visiting on your adventure?

Take care
Janis

Sally

Janis,
How wonderful for you to be so close and travel easily to surrounding areas. That is our plan for seeing our United States, via a travel trailer! We will start doing that when we return from France.

We fly into Marseille, drive up to Saint-Remy for 3 nights, then to a cute B&B in Montreal for 2 nights. Bordeaux is next for 2 nights – we do have a little non-touristy tour there, then to Amboise for 2 nights. I made reservations at Restaurant Les Arpentis. We will end up in Paris for 4 nights. Two bike tours, one to Versailles. I also booked us a dinner cruise for the first night although they have not re-confirmed with me. I do have the email confirmation, however.

I am looking forward to just experiencing France. The sites, sounds, smells, and of course the world famous French food and wine. Just being with a little bit of touring!

Any other suggestions would be very helpful. Of course I'm overthinking packing since we just travel with one carry on suitcase!

Thank you,
Sally

Sally,

Yes, it's great having mainland Europe on our doorstep, and we love road trips. It's been a while since we visited the States; we embarked on a road trip around Texas and New Mexico on the last occasion. That was great fun, although I would love to spend time around the Deep South.

Your trip sounds fantastic, and every region of France offers something different. When you are in St Remy, you should definitely visit Glanum, the ancient Roman city, just a mile outside the town. Next to Glanum is the Monastery of Saint-Paul de Mausole, where Van Gogh was cared for.
If you are exploring the Provence villages, the charming little town of Cucuron is beautiful. If you've seen the movie A Good Year, you'll recognise the vast pond.

We've never been to Montreal; it looks lovely; it's just nearby Carcassone, amazing. There's also a delightful town called Mirepoix worth visiting and not too far.

Amboise is new to us too, we've stayed in nearby Loches, but Amboise looks delightful.

Paris is just incredible; you've saved the best until last, and there is no other advice than to be a tourist. It's beautiful. I just adore strolling along the Seine and sitting in the evening sun at a streetside cafe. It doesn't get any better.

One last thing is that learning a few keywords and phrases goes a long way.

Your trip will be so much fun and full of great memories.

Enjoy
Janis

Suzanne

I used to live near Amboise..beautiful! I assume you will also see Chambord/Sully sur Loire/Sologne..a concert at Chartres cathedral maybe??.beautiful! Enjoy xx

Thanks Suzanne, some great suggestions I'll take a look.

Sally

Janis,
Thank you for all your suggestions! Yes, learning a little of the language would be good. I tried learning French last year using Babble but it just got to be overwhelming and at 68 I wasn't retaining as much as I wanted to so go discouraged. My husband, not being interested, made practicing difficult. ha ha. But, I have written down a few key phrases and hope I can actually say them at the right time once "in the moment." Without a doubt we both have the obligatory "bonjour" down!! ; )

We leave a week from today! And I just booked us a hot air balloon ride in Amboise, France which ought to be spectacular!

Will let you know how it goes when we return!

Again, thank you!
Sally

That's not a problem at all, it sounds like you're going to have great fun.

When we are in restaurants we often get a menu in French and English, then you become to recognise different types of foods and dishes.

We'll look forward to your updates, have an amazing time.

Kind Regards
Janis