A visit to our favourite festive destination
Germany, we're returning, and we still believe
I can hear what you are saying, "why return to the same town every year, with the same markets and the similar festivities?"
But it isn't like that honestly, yes, we are creatures of habit and each year when we arrive, which is usually around early afternoon, we head straight for 25-metre-high (82 feet) Christmas tree, with the towering cathedral beyond.
The Dom towers over our first Christmas Market,
However, in our defence, the hotel we choose to stay at in Cologne is the Eden Hotel Früh am Dom, right in the heart of the city and directly opposite the Dom (cathedral).
Alpenpower and Glühwein - No prizes for guessing who has the one with cream on it!
So, what does that mean? Well it means we are a hop, skip and a jump away from the historical Dom Market and our first bratwurst & glühwein.
A sausage to start with...
This Global Block does not have any content.
From Calais to Cologne it is only around 260 miles (420km) and should take around 4 to 4 ½ hours, weather dependent (as snow is sometimes a factor).
If you're interested in driving why not check out our 'Your first German Christmas Market by car' post
Although, over the years that we have been visiting Cologne, we do often see or do similar things, however; times do change, for us every year is different.
Illuminated trees at the 'Market of the Elves'
The markets have continually evolved, and now in Cologne, there are seven Christmas markets sprinkled around the city, which all have their own unique theme.
Book early as these markets are very popular.
The one with the Cathedral
The Dom and the Christmas tree
Cologne's centrepiece is Weihnachtsmarkt am Dom which the cathedral looks down upon; it is a festival of little red wooden cabins, draped with hundreds of tiny lights, which gives the effect of a twinkling parasol
Gathering under the blanket of lights for a carol concert
This Global Block does not have any content.
Somewhere that you return to, and it changes each time? Do you love the Christmas markets too?
(These options are provided by GetYouGuide.Com. We will earn a small commission, at no extra cost to you if you book through our site)
Entrance to the 'Home of the Elve's - This is from 2012 when it snowed for us.
The second market and probably our favourite is 'Heimat der Heinzel' market, in Cologne Old Town, and also known as 'Home of the Elves'. The elves theme is carried throughout the whole market, with little gnomes hiding everywhere. Watch out they don't steal your gingerbread!!!
Here is where we have seen one of the largest changes, what was once a standard rectangular ice rink, has now been transformed into an fantastic attraction, looping past glühwein stalls, under bridges and around statues.
Skating around the statue to Friedrich Wilhelm III
Want to make more of you stay in Cologne?
If Cologne is the city for you, and you fancy some
further reading
to ensure you don't miss a thing, grab your travel guide and start planning.
The third market is the 'Market of Angels' at Neumarkt, full of delightful twinkling white wooden cabins with angels soaring above.
One of the entrances to the Angel Market at night
The Market of Angels is the temporary home of the Kthe Wohlfahrt store, a very popular haunt for Christmas lovers. If you want to look around, arrive early as there are often queues out of the door.
The Kölner Stollen stall - plenty of different varieties.  A favourite of Garys
Market number four is the 'Village of St Nicholas' located in Rudolfplatz, which has the Hahnentorburg gate as its backdrop. This was one of the original gates that would have connected the city wall.
The 'Village of St Nicholas' in the shadow of the Hahnentorburg gate
This smaller market has been transformed over the last few years and is a magical place for all the family; it has some excellent food stalls. This a great place to meet with friends and enjoy a couple of glühweins in the 'Gasthaus'.
Santa's house at the Village of St Nicholas
Medieval to Swashbuckling
The fifth market, Cologne's 'Harbour Market', was originally a medieval market when we first started visiting Cologne. Located on the banks of the River Rhine, it now has a swashbuckling theme, where all your nautical desires can be fulfilled.
The ironsmith at the old medieval Christmas Market - 2009y
Located on the banks of the River Rhine, it now has a swashbuckling theme, where all your nautical desires can be fulfilled.
Everything nautical at the Harbour Market,
The sixth market is at the Stadtgarten, set within Cologne's oldest park and its cabins nestled amongst the trees.
It first appeared in 2009, so a relative newbie, it's smaller than the other markets. However, we found some different arts and crafts stalls here, so certainly worth a visit.
Around the Stadtgarten Christmas market
The seventh of Cologne's markets is  'Heavenue' the LGBT Christmas market, and one that doesn't appear to pop up in so many searches for markets in Cologne. It used to named 'Christmas Avenue' market, full of colour and certainly fun, your Christmas gifts may be on the little unusual side from here.
Pink heaven - full of suprises
When we went in 2012 it was particularly special, not only as we took my parents to enjoy the experience, but it snowed for most of the weekend and transformed it into a Christmas paradise even more than usual.
The Domkloster tree the under snow
Snow in Cologne - so much better than rain
Dress warm and wear comfy shoes ohhh & don't forget your Santa hat
It's all about the sausages
We have often found year on year that the culinary delights have a different twist each time we visit.
Big Sausage, Small Bun - How we like it.
Well, I say that, but a German Christmas market wouldn't be complete without its staple diet. It's a sausage lover's paradise, bratwurst, currywurst, feuerwurst, rinderwurst, krakauer and there were more. I think Gary has tried them all….
Currywurst with plenty of sauce
There are so many dishes to tempt you with, one of my favourites is gulaschsuppe. I can't seem to get it so much on the market stalls anymore; it appears to be more of restaurant dish.
I once even had it with an edible bowl.
So, it can sometimes be disappointing if you can no longer have your favourite, but hey ho, there are always new delicacies to try.
However, one of the pleasures of a German Christmas and that has been consistent over the years is glühwein. The most popular is the red, although white is available, and if you are feeling brave you can have it with a shot of rum, amaretto or calvados.
Glühwein in the souvenir mugs - will you bring your back with you?
Sipping at your glühwein on a cold winter evening, standing around hugging your mug, is a feeling that is never forgotten.
One drink that wasn't available when we first started visiting was feuerzangenbowle. It's a glühwein with a rum-soaked sugarloaf balanced on top. The sugarloaf is lit, and the alcohol burns and then drips into your glühwein. Perhaps not one for a school night!!!
Flaming feuerzangenbowle, - To be honest we do struggle to ask for this one!!
After a long day on your feet, another pleasure is finding one of Cologne's warm and enticing bars. Sit there snuggled in a corner, while the snow falls outside.
We have chatted with quite a few people on the markets over the years, and Cologne just draws people back time and time again. It really has that something special.
Friends gather at the Angel Market
What we particularly love about visiting Cologne is the warmth and friendliness of the people, and that Christmas is for everyone, not just for children.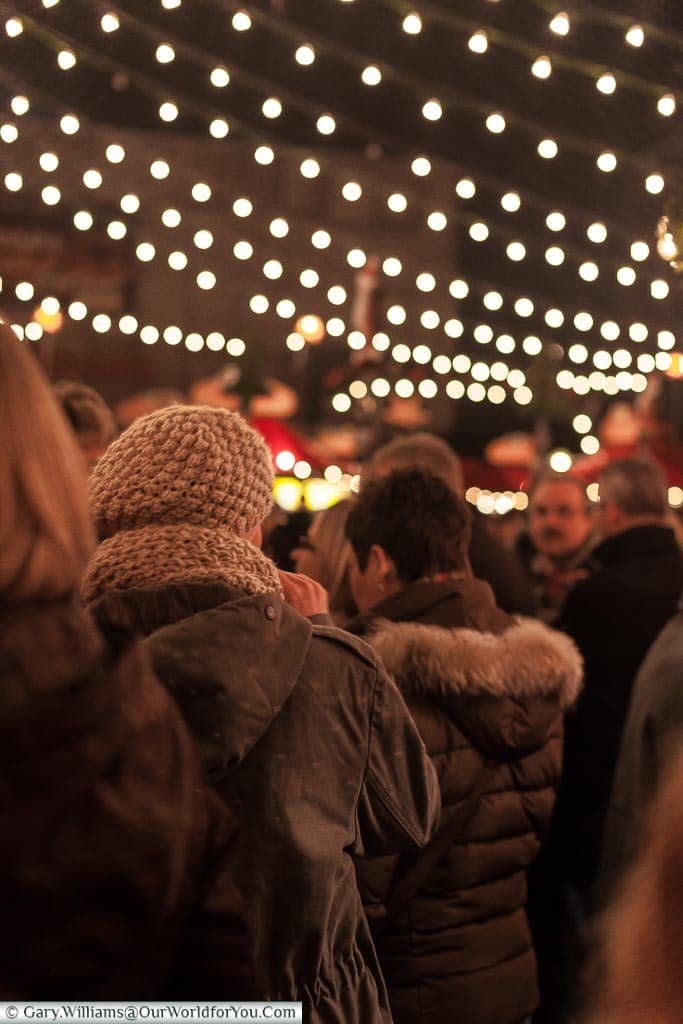 The crowds at the Christmas Markets
Friends gather at the Market of the Elves
Wandering through the Christkindlesmarkt in Nuremberg,
Then in 2017, not only did we go to Cologne, we revisited an old haunt in France (Strasbourg) before heading onto Munich  & Frankfurt.
The centre of the village market in Munich
Now, not to give up the challenge in 2018 we are making our way to Bremen first, then off to Berlin and Hamburg and back to our old friend Cologne.
Will any of the 2018 adventures knock Cologne off of the top spot, for Gary and me?
Cologne, I'm sure we'll see you again.
This Global Block does not have any content.
Embark on a mini road trip from your own doorstep and catch the Le Shuttle from Folkestone, it only takes 35 minutes.
Inspired to visit Cologne?
What's not to love about Cologne. It's our favourite - why not make it yours?
Check out the latest deals on Booking.Com?
(Why not Pin It for Later?)