by Janis /
4 comments
- Orginally published:20th November 2018
What you can drink while visiting a festive market
Glühwein is just the start...
A lot of people when they think of a German Christmas market, their immediate reaction would be sausages, and of course, they would be right. However, if you were to forget about the food (just for one minute) then the next image to be conjured up would probably be glühwein (mulled wine).
I mentioned in our
feasting
at a German Christmas market post that in 2017 not only did we revisit
Cologne
for the 10th time, but we additionally travelled to
Munich
&
Frankfurt
. We also visited
Strasbourg
, I know, geographically it's France, but considering how close Strasbourg is to the German border, the markets are so different.
Why not Pin it for later?
The Angel Market, Cologne
Sipping the hot glühwein
The favourite drink on the German Christmas Markets
It has to be - the red one
There are certainly some differences from town to town. However, there is definitely a constant theme, and that is red Glühwein.
Glühwein in the souvenir mugs in Cologne
You'll notice that depending on which town you are in the mug will be a different design, and in some towns, the mug then differs from market to market. Some of them are so cute; it's irresistible not to acquire one.
Warming Glühwein in Rothenburg ob der Tauber
A new design is generally created each year.
Glühwein in Düsseldorf
The designs can often incorporate the local features of the town or city or particular features of a given market.
Glühwein in bright red mugs in Stuttgart
You'll often find many different designs in the larger cities as you navigate between the different, individual Christmas markets.
Glühwein at the Schadowplatz in Düsseldorf
You may even find different mugs & glasses on the same market.
A collection over the years in Nuremberg
Steaming glühwein in Rothenburg ob der Tauber
Glühwein in Stuttgart
Glühwein at the bandstand in Düsseldorf
Steaming Glühwein in Munich
Glühwein at the Angel Market, Cologne
How it works on the German Christmas Markets
Your Memento
A story to be told
The glühweins are around €3.50 each, and then a deposit (pfand) is charged. If you don't want to keep the mug just hand them back and you'll deposit will be returned.
Glühwein in Snowmen mugs, Düsseldorf
Depending on the time of day and if you're a bit cold you may want to add an additional shot (schuss), of either rum or amaretto.
But beware this could turn out messy!!!!!
Supping Glühwein at the Elf Christmas Market, Cologne
Cheeky little gnomes in Cologne
Start creating your own German Christmas Market adventure. Search for your flights in one easy place with ebookers.com. Over 400 airlines are scanned for your favoured routes and chosen dates.
Or alternatively, like us discover a few of Germany's Christmas markets on a road trip. If you're venturing from the UK, jump on Le Shuttle.
Although, if you're unable to bring your own car or you are flying into this lovely country give Rental Cars a go. They search multiple well-known car hire brands for the best deals.
Don't like red wine?
The white one
Weiss or Weiß glühwein is also available, I quite like the white one every so often (but it isn't to everyone's taste), be wary though it is quite nice with an additional shot of calvados.
Weiß and regular glühwein in Düsseldorf
I love nothing more than planning a trip and so often I use the DK Eyewitness books.  I find them extremely informative, easy to follow and the pictures and maps tempt you into discovering more.
We used a previous version of this book to plan our Germany road trips, now you can grab the revised copy.
Let's discover the regional differences on the German Christmas Markets
Nuremberg at Christmas
Now in Nuremberg they have a couple of extra additions to the glühwein menu, firstly they have the Nuremberg Glühwein which is made from blueberries and slightly spicier than the norm and a little pinker.
Two different glühweins
Then there is the Winter Warmer which is produced by Hausbrauerei Altstadthof and contains malt, hops and a special mix of nine spices.
2 mugs of Winter Warmer in Nuremberg
Both of which are very good.
It's a good job Christmas is only once a year
Other differences on the German Christmas Markets
Frankfurt at Christmas
In 2017 when we visited Frankfurt, they had stalls that offered quite a wide range of hot and cold drinks.
So for research purposes only (honestly), we tried their apfelwein (apple glühwein) and also brombeerwein (blackberry glühwein), I got Gary an extra topping of cream.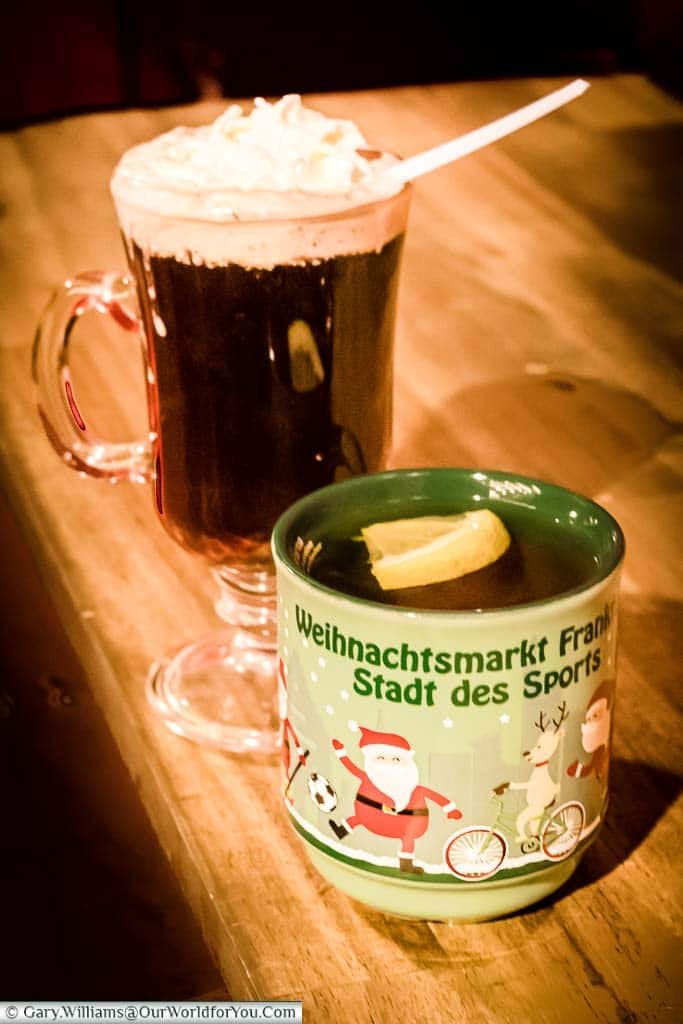 Local tipples in Frankfurt
A spectacle on a few German Christmas Markets
Feuerzangenbowle
That's easy for you to say!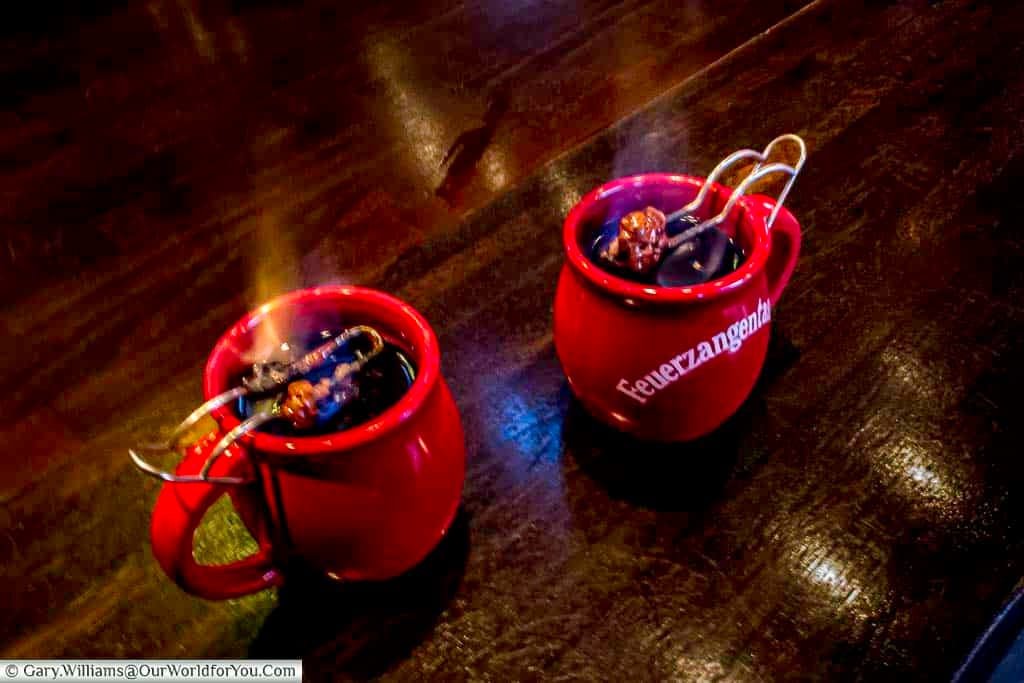 Flaming feuerzangenbowle
This is the fiery one, so after a couple of these, I'd doubt if you could say Feuerzangenbowle. (Unless you are German, of course!)
Not only is it red glühwein, but it also has a lump of sugar balanced on top of the mug, which has been soaked in alcohol and then set alight.
Flaming feuerzangenbowle
In Nuremburg, the Feuerzangenbowle cabin has a giant punchbowl on the roof.
The whole German Christmas Market experience is something else, a more adult-oriented feeling, where the Christmas spirit runs freely. Sure kids are welcome but don't expect all the markets to be aimed at the little ones.
Recommended for the big kids that still believe.
Another traditional Christmas drink
Then the egg one
Eierpunsch, now this isn't really my choice.
Refreshments by the ice rink in Stuttgart
Although, Gary has a soft spot for this, as it brings back memories of when he had an egg-nog at Christmas with his family.
Eierpunsch for Gary, Glühwein for Janis
Eggnog and glühwein
It is quite sweet and apparently even better with a cream topping
Most of the festive drinks are served 0.2ml quantities
A touch of Après Ski at Christmas
Alpenpower
This drink isn't so common, it is also known as Kirschglühwein on certain markets. It's glühwein with cherry brandy so over to Gary (I'm not a fan, are you?)
Alpenpower and Glühwein in Cologne
Actually Gary loves it "Mit Sahne", or with cream - what can be done?
Other options when visiting the German Christmas Markets
It's not all alcohol
There isn't a lot that can surpass a lovely hot chocolate, and when it is topped with cream, it's even better.
Hot chocolate at Fassbender's in Cologne
In Düsseldorf, the Lindt hot chocolates were made with pure chocolate you could either have milk or white.
Lindt hot chocolate in Düsseldorf
I know I said it wasn't all alcohol. However, if you buy a hot chocolate from the market, you may also be asked if you would like it "mit" Baileys.
And of course - German Beer
But hot or cold?
Beer, surely not hot….oh yes, not only are you able to get your cold little Kolsch from Cologne or your cold Altbier from Düsseldorf.
Beers just off the market in Cologne
Beer at the market in Düsseldorf
Schumacher Alt beer in Düsseldorf
You can also buy a hot beer, try one at the Harbour market in Cologne.
Gluhwein & hot spiced beer in Cologne
Then we found a local hot beer in Munich (gluhbier) I decided to stick with the apple wine (it would have been rude not to).
Hot wine and beer in Munich
Alcohol & cars don't mix. Make sure you're parked up before enjoying the markets.
Also, if you're driving the following day then take it easy - we all know alcohol stays in the system for hours.
* This post may contain links to affiliated sites where we earn a small commission at no additional charge to you.
We didn't keep all of them, but over the last 11 years of visiting the markets we probably have quite a few, we use them as decorations now. We seem to get more and more picky.

It is amazing the types of glühwien, different regions tend to put a different twist on theirs. Nuremberg had some unusual ones.

I love how seriously you take your Christmas drinks research! I'm with Katy, I hadn't realised that there was such a variety of different glühweins. I do like the idea of wandering around the markets with a mug of something warm to sip along the way. Thanks for sharing on #FarawayFiles

That's dedication for you, we love it really. It surprises me how many there are, we noticed more warm beers appearing last year.

I do enjoy sipping a glühwien, while watching the skaters whizzing around on the ice rink.