by Janis /
3 comments
- Orginally published:13th November 2018
What to eat while visiting a German Christmas Market
It's way more than just sausages
2017, for us, was another bumper year for German Christmas markets. Not only did we revisit our old friend Cologne, but, we additionally travelled to Munich & Frankfurt. We also visited Strasbourg, I know, geographically it's France but hey, it's only a stone's throw away.
This was one less destination than on our 2016 trip, however, for us "Christmas market lovers" it was still jam-packed. We find it fascinating how one country's food, differs so much from region to region. There's an incredible variety available, and you certainly won't go hungry.
We learnt fairly early on that you don't need to be seated at a restaurant, to get the most out of the German Christmas market food experience.  You can feast on the markets themselves, or just graze in a bar whilst enjoying a beer or two - you are in Germany after all.
Why not Pin it for later?
I think the theme here is stocking up for the winter.
Here is a sweet and savoury taster for you, but obviously only in the visual sense, sorry!!
The choices on the German Christmas Markets
Food, glorious food
Top of the list has to be the much-loved German sausage.
A grill on the one of the markets in Cologne
There are so many different varieties available, bratwurst, currywurst, krakauer to name but a few.
Selecting your sausage at the Angel Christmas Market in Cologne
Currywurst with plenty of sauce
In Nuremberg, they had their own rostbratwurst version; "Drei im Weggla" – "Three in a bun"
Three in a bun in Nuremberg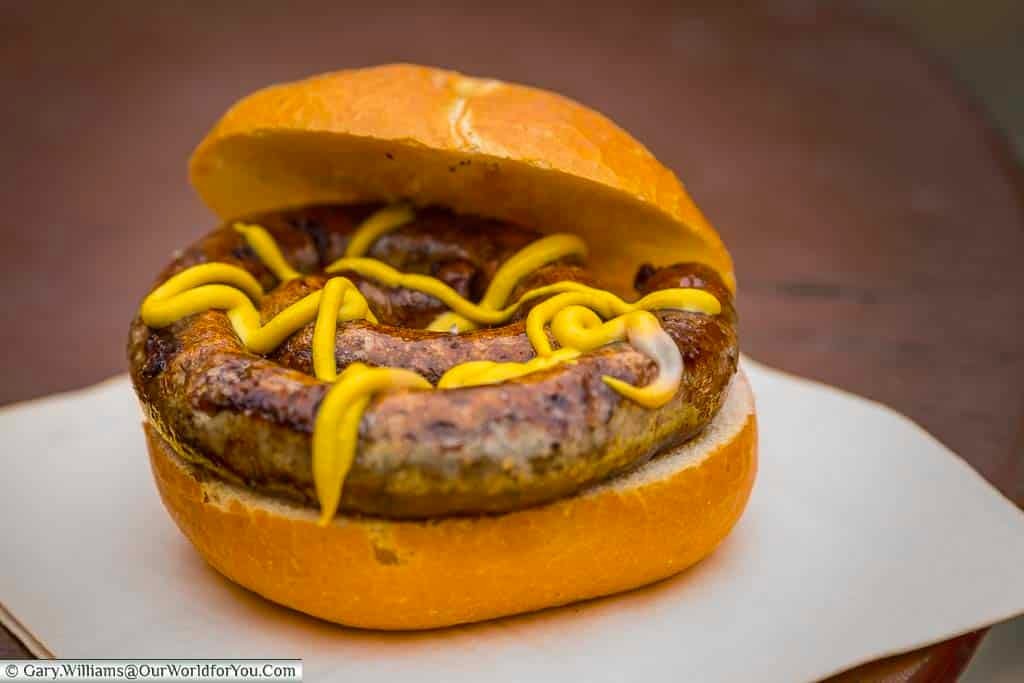 My first curly wurst in Rothenburg ob der Tauber
Start creating your own German Christmas Market adventure. Search for your flights in one easy place with ebookers.com. Over 400 airlines are scanned for your favoured routes and chosen dates.
Or alternatively, like us discover a few of Germany's Christmas markets on a road trip. If you're venturing from the UK, jump on Le Shuttle.
Although, if you're unable to bring your own car or you are flying into this lovely country give Rental Cars a go. They search multiple well-known car hire brands for the best deals.
Plenty of variety on the German Christmas Markets
Honestly, there is fish as well
There are also some tasty fish options, particularly the flame cooked salmon.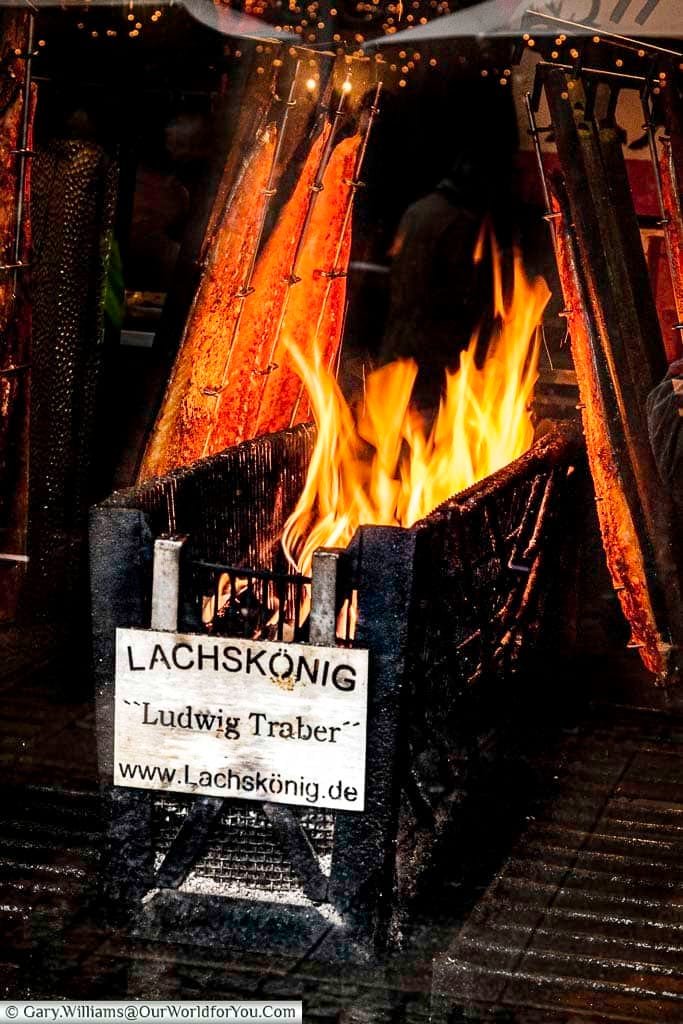 Salmon the traditional way in Cologne
We also came across mackerel in Stuttgart, which we hadn't seen anywhere else.
Cooked over charcoal in Stuttgart
The Flammlachs Stall in Düsseldorf
Backfish in a roll in Cologne
The whole German Christmas Market experience is something else, a more adult-oriented feeling, where the Christmas spirit runs freely. Sure kids are welcome but don't expect all the markets to be aimed at the little ones.
Recommended for the big kids that still believe.
It's a meat-eater's heaven
Back to the grill
If the carnivores amongst us fancied a change from the sausage, other meats are available. There are the foot long kebabs in Cologne and the sticky doughy option in Stuttgart
Something new from the markets in Stuttgart
Bread & pork kebabs from Stuttgart
A meat feast in Cologne
A smoking grill in Cologne
Meat and Chicken Kebabs in Cologne
Steak at the Dom Christmas Market in Cologne
We find it enjoyable sharing a lot of these dishes, that way you get a taster of each.
Traditional German cooking
Just the pure meat in a roll
Amazing Pork in Cologne
The choices here were glazed baked ham or marinated pork steak.
A generous ham roll in Cologne
You certainly don't get short changed on the portion sizes
I love nothing more than planning a trip and so often I use the DK Eyewitness books.  I find them extremely informative, easy to follow and the pictures and maps tempt you into discovering more.
We used a previous version of this book to plan our Germany road trips, now you can grab the revised copy.
Look for differences on the German Christmas Markets
Hearty option
One of my favourite dishes is the gulaschsuppe (goulash soup to you and me, not too sure if you needed the translation), this one even came with its own edible bowl.
Gulaschsuppe & gluhwein
Then there are the carb's
When you have had too much meat
The reibekuchen is a deep-fried potato cake often served with apple sauce, in Cologne they are bought in 3's. In my opinion, they have to be shared, but I'm not German.
Potato cakes with apple saucein Cologne
Potato cakes with sour cream in Stuttgart
Different towns & cities have different 'rules' - Stuttgart, and it's two with a sour cream sauce.
Flammeckeuche to share
The flammekueche or tarte flambée - it looks like a pizza, but the similarities end there. Quite light to eat, and you can even get a vegetarian option.
Flammbrot choices in Rothenburg ob der Tauber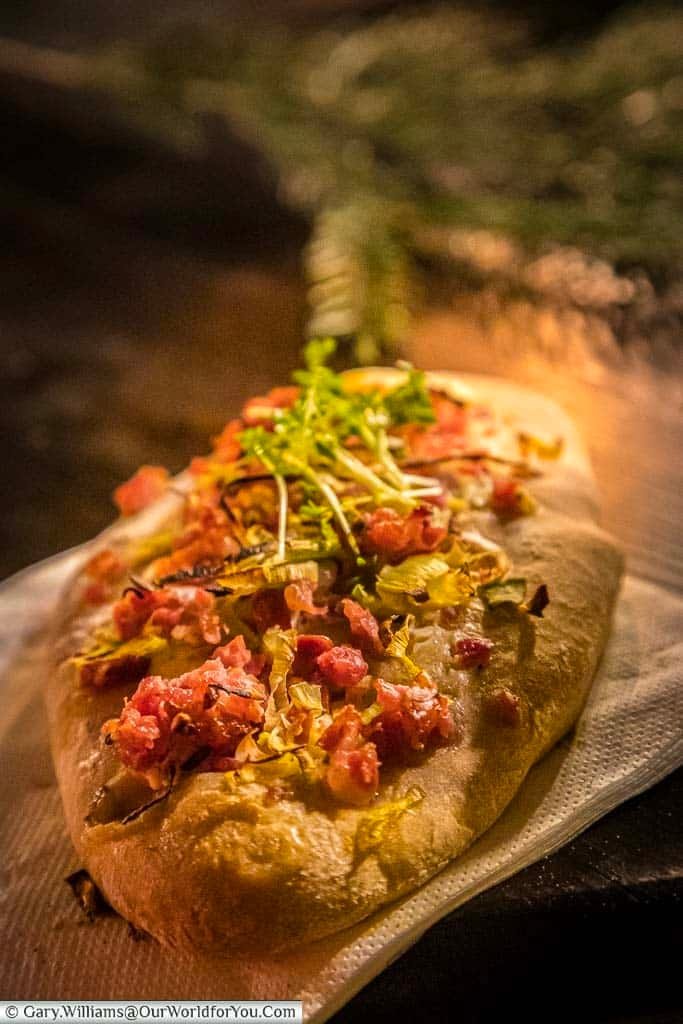 Oh Flammbrot
The flammbrot has a thicker base than the flammeckeuche; we tried this in Rothenburg ob der Tauber.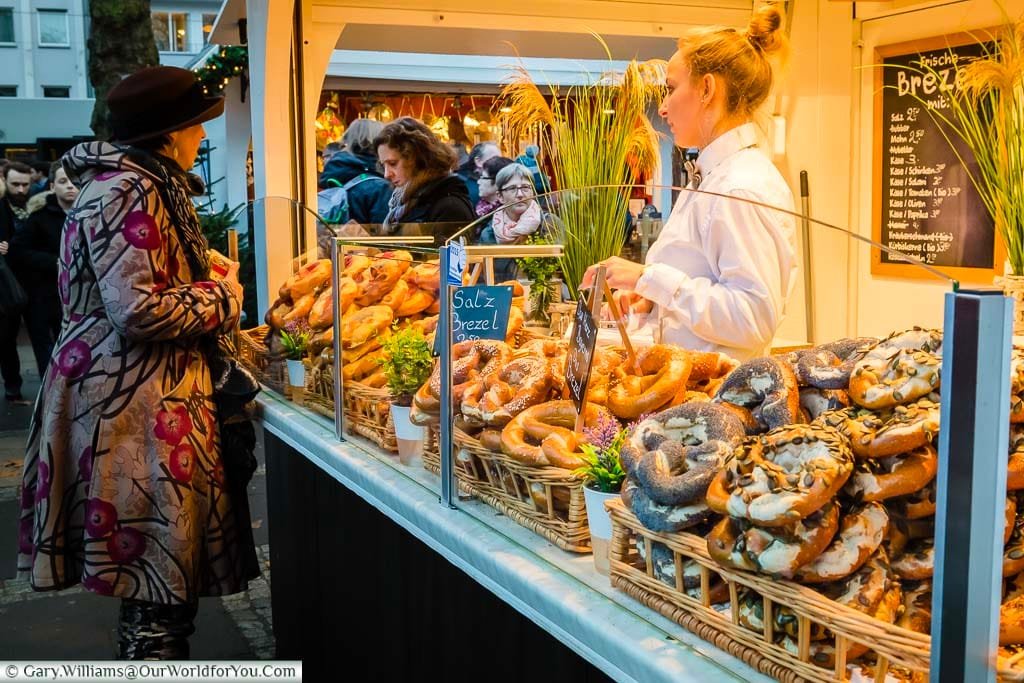 Pretzels, or Brezels in Cologne
A popular snack amongst many Europeans particularly in Alsace and Bavaria is the pretzel or Brezel, not only are they dusted with salt, but you can also get them grilled with cheese.
Gary and I did not sample all of these on one trip, with a have been visiting Cologne for years.
Finally, something sweet on the German Christmas Markets
Again, the options can be overwhelming
There are so many choices here this is just the tip of the iceberg. Waffles, crepes, gingerbread or lebkuchen, baked apples, glazed apples, chocolate marshmallows, schneeball, sweet sticky nuts.
Now my mouth is watering.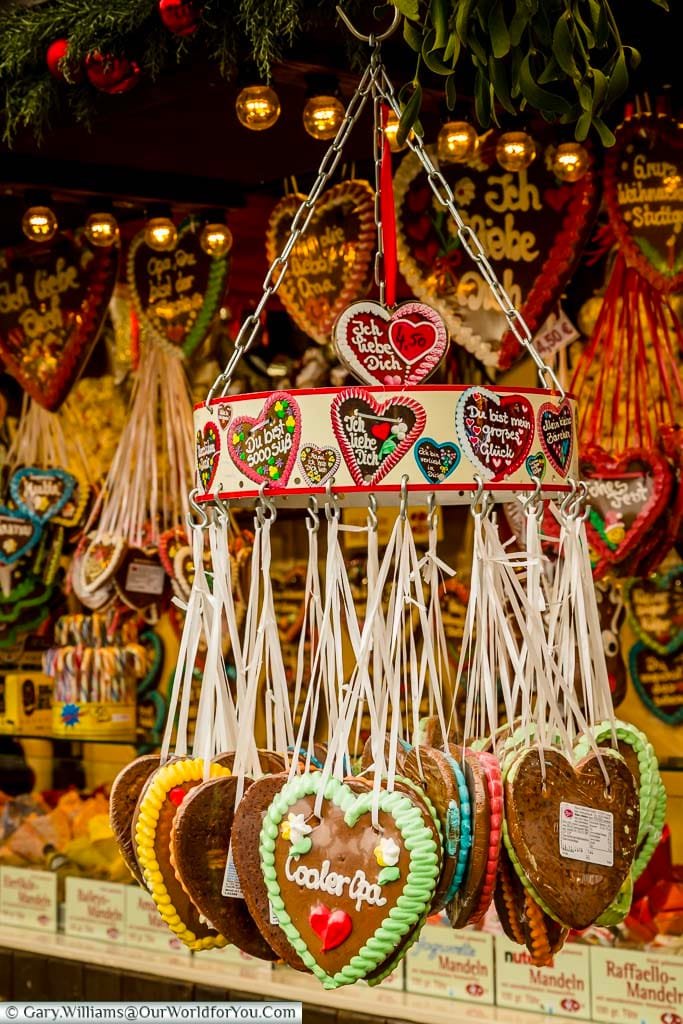 Gingerbread hearts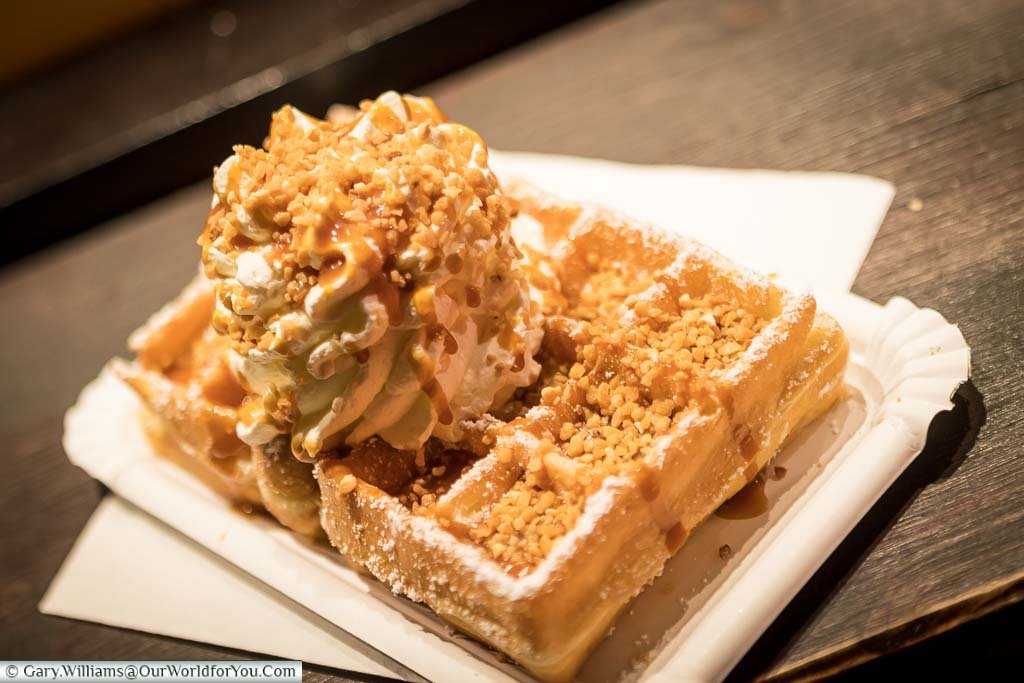 A waffle with cream and nuts in Cologne
A waffle selection
Aachener Printen for sale at the Dom Christmas Market, Cologne,
Carefully selecting the Lebkuchen hearts at the Christmas Market
Sweet Stuff in Stuttgart
Gingerbread loaves for sale
The nut seller in Nuremberg
The Crepe Maker at the Angel Christmas Market, Cologne, Germany
Something sweet at the Christmas markets in Düsseldorf
Mum enjoying a baked apple in Cologne
To be honest each year more options seem to be added, and we've skipped a few because we don't want to spoil all the suprises do we.
Don't forget the differences
Of the regions
A selection of the sweeter delicacies can be found across Germany; however, some are more localised than others.
Greetings and gingerbread from Nuremberg
Such as the schneeball (a shortcrust pastry ball), which is quite synonymous with Rothenburg ob der Tauber & Nuremberg gingerbread, which traditionally I believe needs to be produced within the city limits to be classified as Nuremberg gingerbread.
The Schneeball and hot chocolate in Rothenburg ob der Tauber
While we were in Munich we came across Apfelschmarrn, apple pancakes with nuts and a plum sauce, you were even able to eat the bowl that it came in (it tasted like an ice cream cone).
Trying Apfelschmarrn in Munich
This warming dish was very welcome, as boy, Munich was cold.
Our preferred mode of transport for visiting these markets is always the car, that way it doesn't matter how many Christmas treats we return with for family and friends; there's room for it all. If you're not taking your car save a little bit of room in your suitcase, surely everybody loves gingerbread.
Why not check out our post 'Your first German Christmas Market by car'
* This post may contain links to affiliated sites where we earn a small commission at no additional charge to you.
Yes, I preferred the goulash soup, Gary enjoys trying the different kinds sausages.We've been toying with heading to Vienna for the Christmas markets, it's meant to be lovely there at Christmas. Look forward to hearing your thoughts.

Hilary

I think my favorites were the he foot long kebabs in Cologne and the pretzels. Yes please! We've never been to a Christmas Market in Germany, but I think I must find my way to one at some point as it seems quite magical! #farawayfiles

Yes, I must admit I do like the turkey kebabs. There's just not enough time to try all the things you like, you end up picking your favourites.I highly recommend visiting a Christmas market in Germany, they certainly know how to embrace all the fun.

Lyn - A Hole in my Shoe

Wow this took me back to our time at the Christmas markets a few years back. The food was simply amazing and it was great to experience the Cologne markets and all the unique foods.

It is a fantastic experience; the Germans certainly know how to embrace Christmas. The only problem is that there is not enough time to try all the different foods. Although it's a good excuse to keep returning.