Now, there are aqueducts and there are aqueducts
Seeing truly is believing…..
To think the simple task of carrying water can be made to look so elegant. This feat of Roman engineering was purported to have been constructed around the end of the 1st Century AD, and remained in use until the mid 19th century.
Now nearly some 2,000 years later the Segovian aqueduct stands as proud as it did all that time ago. Enduring all that man and the natural elements could throw at it.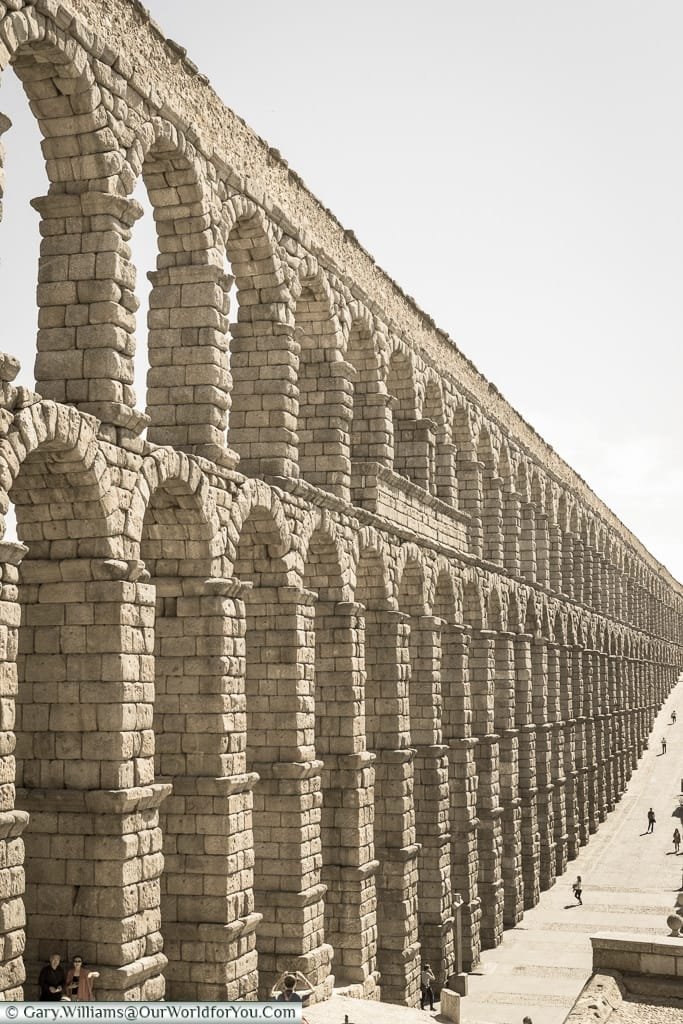 The Romans required water to be fed to the high lying part of the town, which was then being occupied by their military, today this is now the Alcazar.
 
The source of the aqueduct lies in the nearby by mountains some 11 miles (17 km) from Segovia in the Frio river.
This is essentially a filter water tank, which allows the sand to settle before continuing along the waterway to the start of the main structure of the aqueduct.
The mountain water continues to flow down the aqueduct at a one percent gradient.
At the corner of Plaza de Diaz Sanz it curves around and unravels at an astounding pace onto Plaza Azoguejo.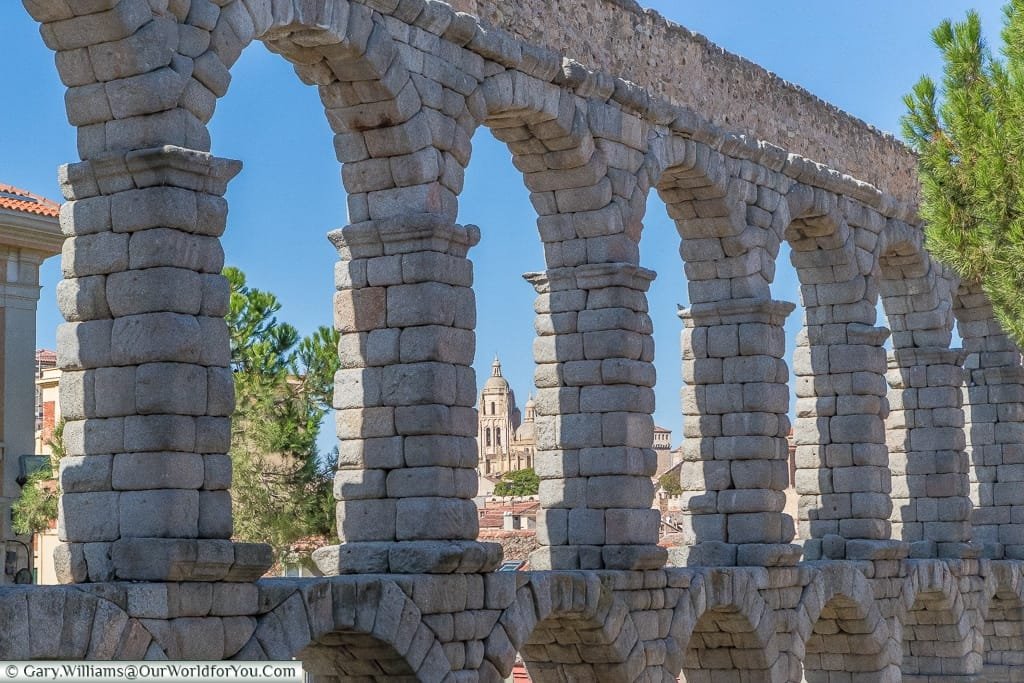 This is where the aqueduct is at its highest, an overwhelming 93ft 6in (28.5m). The grandeur of this structure is immense with its single and double arches along vast imposing pillars.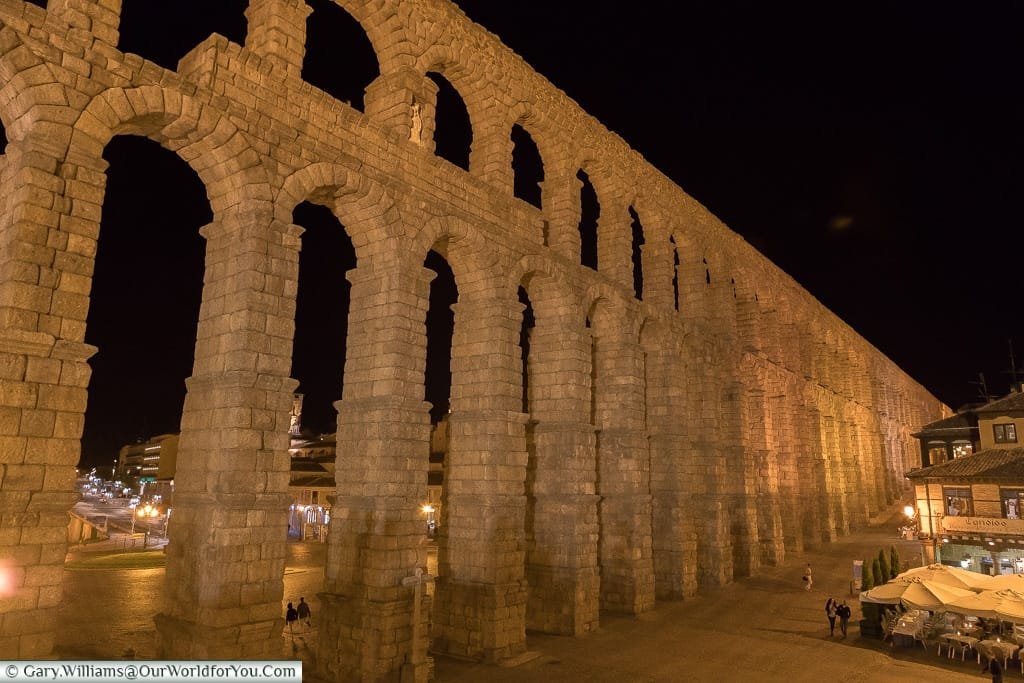 Arches, pillars, pillars, arches
The aqueduct is comprised of 166 arches (it could be 167 – I didn't count them), supported by 120 pillars, using over 20,000 granite ashlars. What is even more astounding is that no cement nor mortar was used in the construction, just an innovative art of balancing.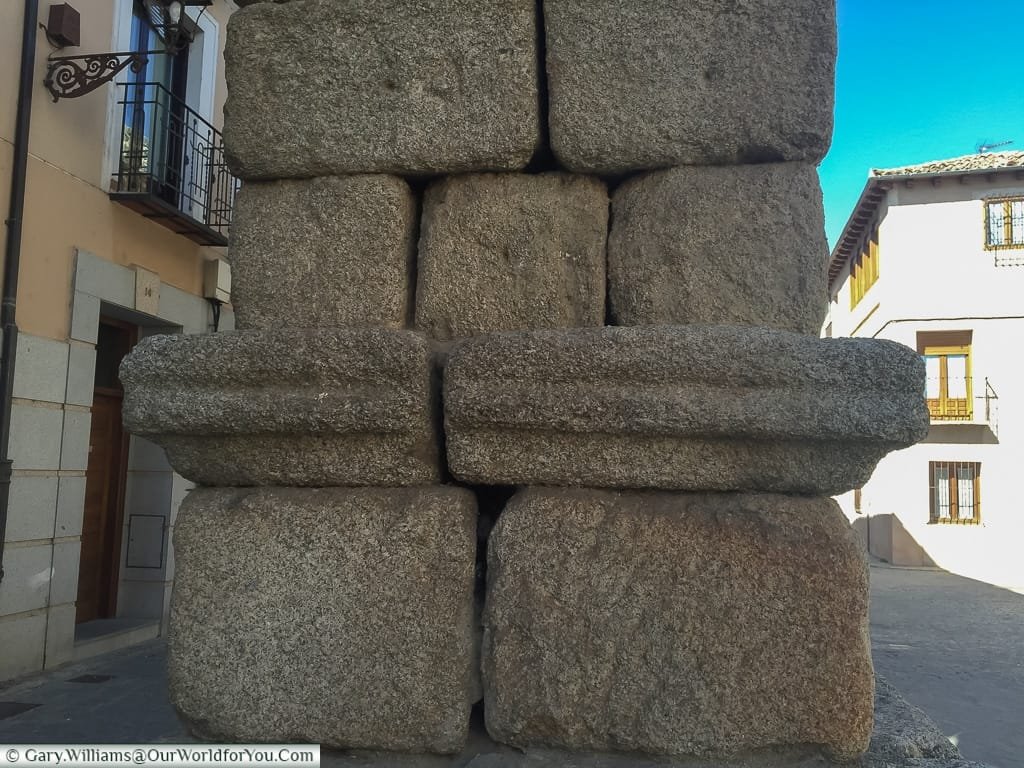 As the arches disappear into the town and the water travels underground, its journey continues supplying water throughout the city and onto the rocky outcrop, now the Alcazar.
The hidden route 'Canal Madre' or Mother Channel has been traced around the city. You are now able to follow this course of the subterranean channel, by searching out the 24 10x15cm bronze plaques inserted into the pavement.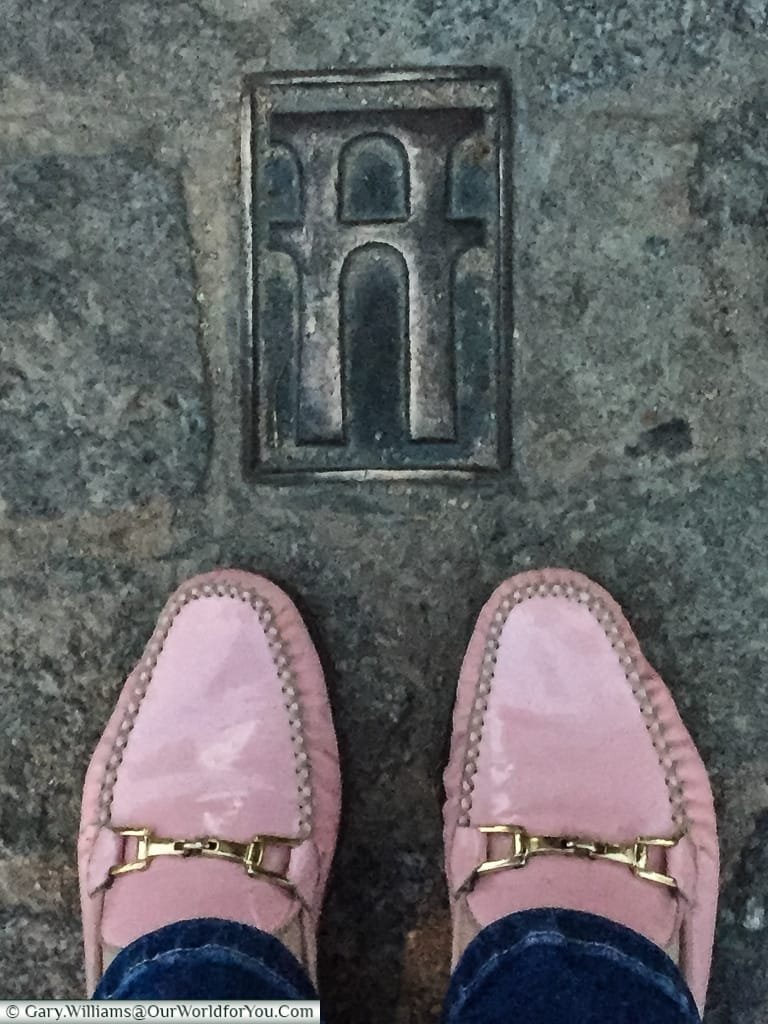 The first plaque can be found at Calle Seminario the beginning of Calle de Domingo de Soto. Weaving its way through the city follow the signposted plaques all the way to plaque no. 24 at Plaza la Reina Victoria Eugenia, just before the entrance bridge to the Alcazar.
I cannot stress enough how breathtaking this structure is, it's no wonder it was declared a National Monument in 1884 and inscribed as a UNESCO World Heritage site in 1985, along with the Old Town of Segovia.
The aqueduct is also used as the main emblem on Segovia's coat of arms.
If aqueducts are your thing there is another amazing example in southern France, named Pont du Gard, which actually stands taller than the aqueduct at Segovia. This was constructed to supply water to the city of Nimes.
The Aqueduct, a centuries old water carrier, Segovia, Spain
was last modified:
June 13th, 2017
by