Bagatelle Kalahari Game Ranch, Namibia
The memories never leave you
The journey from Windhoek, Namibia's capital, and our starting point for this adventure totalled 160 miles/258km.
The last 15 miles/24km of our journey was along a gravel track to Bagatelle Kalahari Game Ranch.
This was our lodgings for nights 2 & 3, and where we first spotted a Springbok, which is Namibia's most populous antelope.
A little later we came across an Ostrich, which was on the other side of a perimeter fence, but it decided that it would run along at full speed with its legs outstretched and try and outrun us.
Our wheels for this trip, 'Heidi', a Toyota Hilux was not built for speed.
The ostrich's co-ordination was incredibly amusing, as it darted left & right, head bobbing around and soon it decided to admit defeat. (For those who remember, images of Bernie Clifton came to mind.)
Then just before we arrived at the camp, we came across the biggest antelope in Namibia, the kudu.
If you're considering a road trip through Namibia, then your in for a holiday of a lifetime. I always find it incredibly useful to plan our trips with the help of a guide book.
Take a look at this informative Bradt guide, it will give you great tips and advice.
Home for the next couple of nights
The drive from the resort gatehouse to reception was a little under 2 miles, and it's a drive through the thick red sand of the Kalahari Desert.
The main lodge at Bagatelle was an old converted farmhouse with a lovely thatched rambling area, and a very welcoming swimming pool and a superb outdoor boma, set around an open fire, (this was going to be fun).
The Kalahari Desert evokes so many images in your mind, what were we going to discover?
The lodge offers a selection of activities and as they work in association with the CCF (Cheetah Conservation Fund) you can experience up close and personal cheetah feedings.
Bagatelle is the custodians of three orphan cheetahs which are unable to fend for themselves in the wild. Therefore they are kept in a secure 12-hectare enclosure.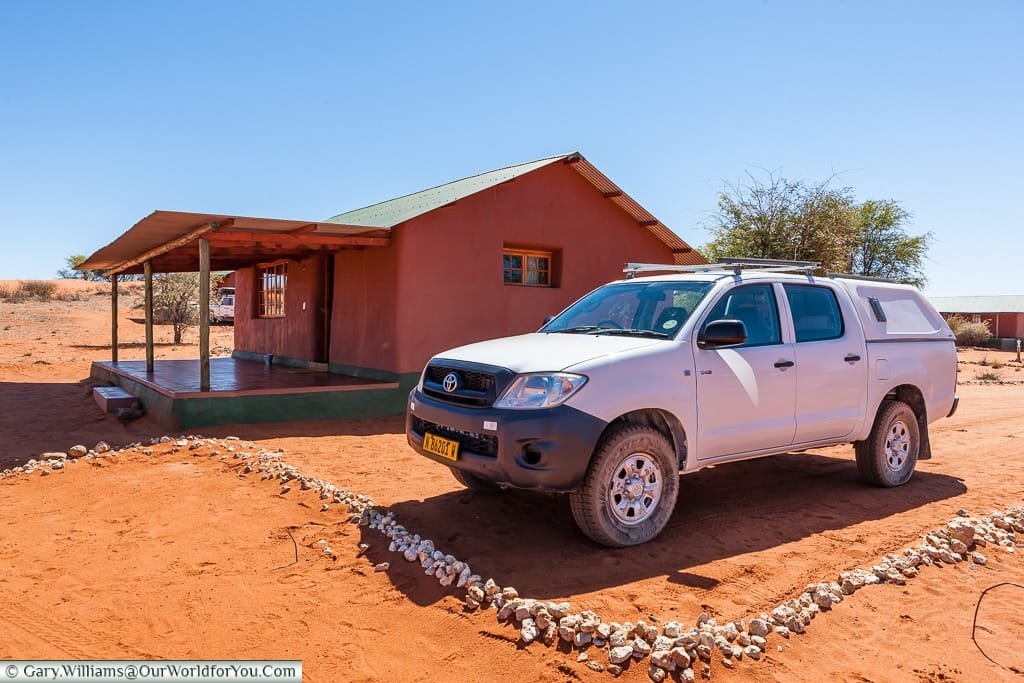 We wanted to make the most of our time here, so over the next day and a half, we opted for a night game drive, a morning drive and an afternoon drive followed by cheetah feeding and a sundowner.
We were maxing out as these opportunities do not come along every day.
We headed out on the night safari just after our BBQ in the boma; there were only four of us, so it felt very personal.
We had never experienced a night safari before, so wrapped up warm with blankets we were full of anticipation.
A strong spotlight was used to track the animals; we managed to catch a glimpse of the wide eyes of various nocturnal wildlife.
However, what is outstanding is the uniquely African soundtrack that you hear echoing everywhere around you, but you are unable to see anything.
We stopped part of the way through the drive, and our guide helped us out of the truck so that he could explain to us further, the nocturnal habits of our surroundings and also share a little tipple with us.
Start creating your own adventure, and discover the amazing scenery & African wildlife of Namibia for yourself.
We chose British Airways, and it was all done with a few clicks, a brief stopover in Johannesburg, and our luggage was there for our arrival in Windhoek.
For us though the most memorable experience of the evening was the stunning African night sky. There isn't any light pollution in this area so not only is there a vast magnitude of stars, but you can also see the galaxies & nebula with the naked eye.
We headed back to the lodge and even with the lights of the lodges the sky was still something to behold.
The following morning after breakfast we set off on our 7 am game drive, how lucky were we it was just the two of us and our guide.
With the mid-day heat upon us, we relaxed around the camp and enjoying the stunning red desert scenery and the wildlife on our doorstep.
These drives can be done separately, but what completes the day on each of the trips is the sundowner on the beautiful red dunes.
We came across some Sociable Weaver Bird colonies a few times when we were out and about.
These nests are the largest built by any bird and can house up to a hundred pairs of Weavers.
The birds live within the small separate little chambers of this substantial hanging nest.
Experiencing the African sunset over the Kalahari Desert, whilst sipping a gin & tonic really does take some beating, does life get any better?
Inspired to visit Namibia?
Why not have a look at all our posts from our Namibian adventure?
Hopefully, there's plenty to inspire you, and you'll get the urge to plan that trip of a lifetime.